News
Learning From Tiger's Absence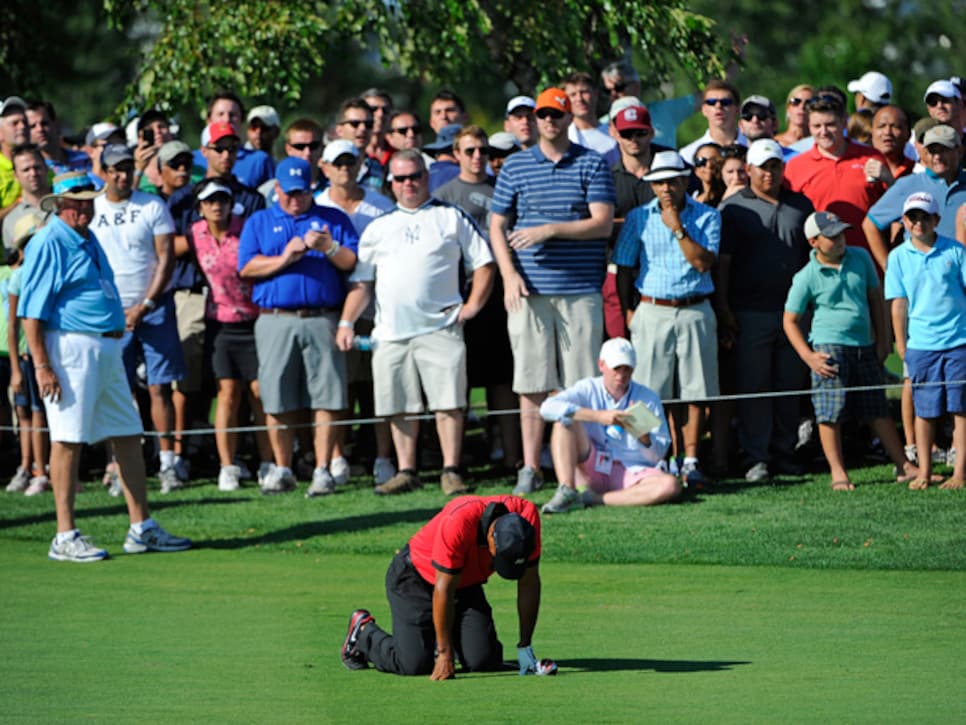 No one makes golf bigger than a healthy Tiger Woods. But it's not healthy for an injured Tiger Woods to seem bigger than golf.
The thought occurred to me at the Players Championship, where a not-physically-present Woods was virtually everywhere.
Some of it was unavoidable. He was the defending champion. There were four players in the field who, with good performances, could replace him at No. 1. His "better than most" putt kept getting replayed.
But where Woods really lived was within the wistful sentiment that at a time when golf badly needs him to play well again, his return to competition is distant and uncertain.
Such talk often includes references to the game suffering from low television ratings, diminishing participation and economic shortfalls. The Atlantic last month ran a long article under the headline, "Golf's Future After Tiger Woods: Bleak." Meanwhile, commentators Johnny Miller, Nick Faldo and Gary Koch last week all expressed how much they miss Tiger, while anchor Dan Hicks assessed the landscape and added, "I believe we're in for a correction."
It's as if golf is chasing its ghost. However, I get the cycle of Tiger addiction and withdrawal. Woods' impact goes far beyond his sport, and his relentless excellence over most of the last two decades was such a historical aberration that we are only beginning to fully appreciate its force. Even harder to quantify but impossible to deny is how observing Woods' maniacal sense of mission intensified our deep need to get close to human greatness. Special people like Tiger -- in any domain -- are destined (he might say doomed) to be studied.
Still, for me, Woods' absence did not diminish the sublime drama of the Players. Martin Kaymer's triumph epitomized the classic golf story of a gifted player who mysteriously fell into and finally found his way out of the limbo between instinct and intellect. After Sunday's rain delay the former No. 1's three-year journey of supremacy, fall and redemption played back in microcosm over the last four holes. The 29-year-old German may be mild-mannered, speak English with an accent and possess a minimal Q rating, but his graceful performance reminded us that, as Bobby Jones wrote, golf is a game of considerable passion "which burns inwardly and sears the soul."
Identifying and empathizing with that battle within is what makes watching tournament golf quietly thrilling, whomever the victor. It's a capacity that has given Johnny Miller, who has never lost an intimate connection to what sears the soul, his best broadcasting moments.
And it's why those who regularly use the shortsighted term "boring winner" (see Jack Fleck, et al.) only reveal themselves as facile fans. What it comes down to is this: You either like com-petitive golf or you don't. If to stay interested in a tournament you need bonus material like a leader board of big names, a masterpiece course or a flock of eagles, you don't like it enough.
This doesn't preclude being a sucker for the game's romance. Each time I reread the narrative of the 1955 U.S. Open, I still root for Hogan, and I always wished victories for Arnold and Seve well past their primes. Jack Nicklaus rising up to capture the 1986 Masters at age 46 against the very young guns that had replaced him endures as the perfect win because it checked every romantic box possible, the very definition of rare.
But Woods, with his legendary victories at the U.S. Amateur, Augusta, Pebble Beach and St. Andrews, made romance seem normal, and skewed our expectations. It has caused the huge achievements like Kaymer's to be undervalued when they should be exalted.
What's interesting is that Woods himself has always had deep respect for any tournament winner. As a teenager he knew more about individual tour players -- strengths and weaknesses, playing styles, career records -- than anyone of a similar age I have ever met. He wasn't into romance. He was into what it was going to take to beat seasoned pros, men he admired for having the right stuff.
In this time when the game's biggest figure is on the shelf, we should do the same. To some extent, it takes a golfer -- present or former -- to fully appreciate an achievement like Kaymer's. Without in some small way being familiar with the experience of playing and competing, a critical empathetic capacity is dulled.
So even as golf fights getting smaller, let's make our Tiger correction a determination to play more. It will increase our awareness and reverence for the winning moments ahead. And when Woods comes back, it will be he who is smaller, and the game healthier.