News
Quail Tale: Furyk's Not Done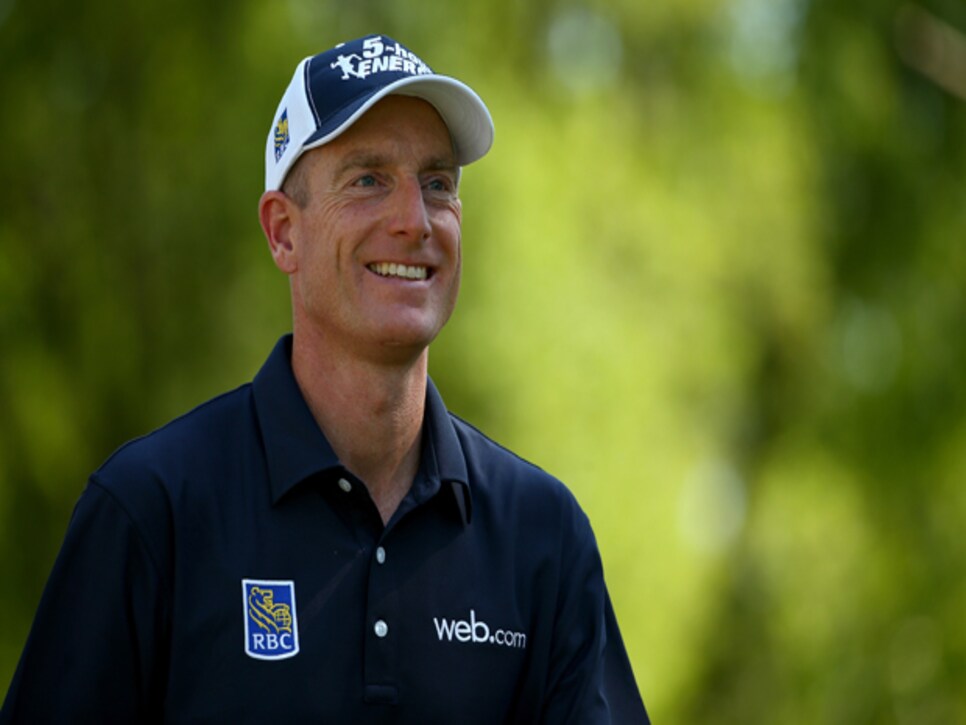 A common refrain over the last few years is that Jim Furyk is basically through being a force in the game.
The 16-time winner on the PGA Tour, who turns 44 on Saturday of the Players Championship, is widely considered too old and too short, a now-poor putter who can no longer handle Sunday pressure, too battered by recent disappointments to win again.
Exhibit A in the Peanut Gallery versus Furyk is a victory drought stretching to 2010 -- the longest in the Pennsylvanian's career -- which has included two extremely high-profile failures: an abrupt fade after leading the 2012 U.S. Open deep into the final nine, and being the goat during the U.S. team's Sunday singles collapse at the 2012 Ryder Cup. Sprinkled in between was a gory double-bogey finish at Firestone that handed victory to Keegan Bradley. In 2013, Furyk was unable to hold the 54-hole lead at the PGA Championship. Even when he shot 59 at last year's BMW Championship, he didn't win.
The case has holes because for all the apparent futility, Furyk has continued to put himself in serious contention. He isn't done. Not even close.
The latest evidence occurred at Quail Hollow, where Furyk put together a final-round 65 that overcame a seven-shot deficit to momentarily tie for the lead before ultimately finishing a shot back. Sure, it was another runner-up, but the round itself was a tour de force of Sunday closing.
I'll admit to being partial to Furyk. I'm fascinated by his seemingly wild but actually ultra-precise swing, one that his only coach, his father Mike, had the wisdom to never change. I admire his longtime relationship with caddie Mike (Fluff) Cowan, who in 2009 told Golf World, "I've been with him 10 years, and literally, not once has he blamed me for a [bad shot] . . . When you never have to worry about being wrong, it makes you work harder." I respect his effort, his accountability after losing, and the way other players look up to him as an understated leader. I don't love that he plays so slowly, but in every other way, Furyk is a pro's pro, everything a player should be.
Observing him in recent years, I see some erosion, but not a lot. Furyk remains a superb striker, in control of his ball to such an extent that it nearly equalizes his lack of distance against longer players when they are on, and usually beats them when they are off. His problem in recent years has been putting, the stats reflecting that it has bordered on abysmal at times. But at Quail Hollow, Furyk used a new 38-inch counterbalanced model that saw him start making big putts again.
Bottom line: Furyk, even in his mid-40s, retains too much skill and tenacity to give in to some painful losses. When Furyk bogeyed the last two holes at Medinah to lose 1 up to Sergio Garcia in the key match of the 2012 Ryder Cup, it was reminiscent of Curtis Strange, who like Furyk had been a captain's pick, making late bogeys to lose the cup's pivotal match in 1995, also 1 down. Strange, then 40, never played well again, and many expected the same fate for Furyk. But there was a key difference. Strange was already fighting burnout. Furyk had remained a spirited warrior after three very difficult losses in the U.S. Opens of 2006, 2007 and 2012, and he handled Medinah with the same toughness.
In retrospect, the thing that knocked Furyk off his stride was his greatest year, 2010. After winning the Tour Championship, the FedEx Cup and being voted Player of the Year, at 40 he finally stopped to smell the roses, always a precarious move for an all-out grinder. He misplaced some of the intensity that has made him special, and 2011 was the worst healthy season of his career since his rookie year, as he never finished better than sixth in any tournament. As much as he has rededicated himself, Furyk is still recovering.
Another intangible negative has been the specter of the World Golf Hall of Fame. Seemingly stuck on 16 victories and one major, Furyk has been on the cusp of the apparent but never stated minimum standard for induction. Although he has never acknowledged it, chances are good that knowing another victory -- especially a second major -- would greatly enhance his prospects caused him to press. But with the Hall's recent policy reassessment tacitly acknowledging that 15-victory careers will need to gain entrance to make a steady flow of future inductees possible, Furyk should relax. Moreover, that 59 will serve as useful extra credit.
For great players with an ardor for competition, it's a long story in golf. No professional sport offers as many opportunities for them to rethink their approach to pressure and come back even better. Jim Furyk has done everything else in golf well. He will be good at that also.