News
Tracing Scott's Road To Success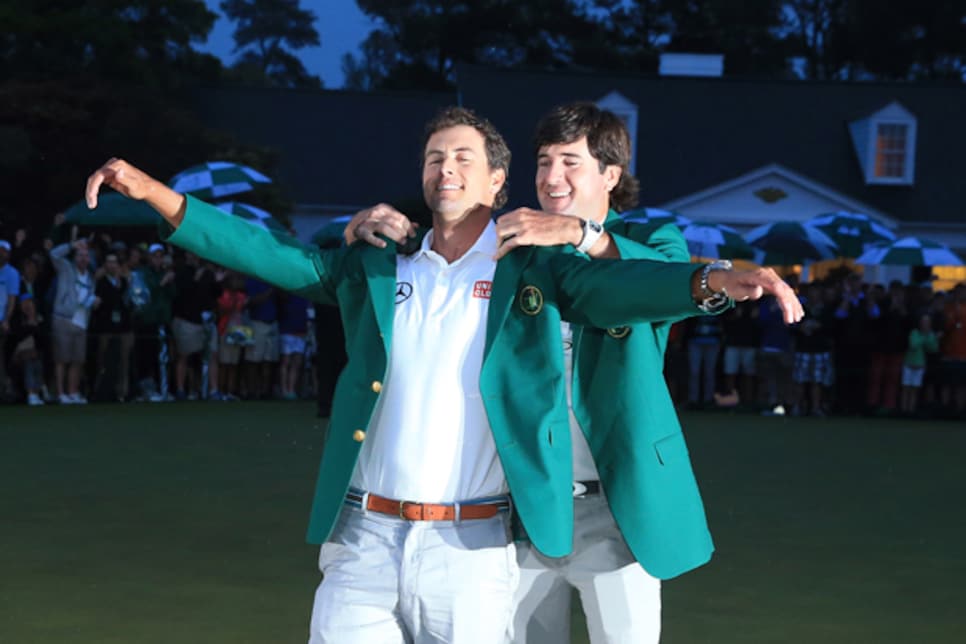 Scott recieves his green jacket from 2012 Masters champ Bubba Watson
Geoff Ogilvy wasn't going to pay attention to this year's Masters. An uncharacteristic spate of recent bad play caused him to miss the tournament for the first time in eight years, and anything that reminded him of that fact "was just too annoying." But on Saturday night, he couldn't help but notice that his best friend among pro golfers, Adam Scott, along with two other fellow Australians, was seriously in the hunt. All day Sunday, Ogilvy was nervous and obsessed, but finally ecstatic when Scott dramatically seized the green jacket.
That's how it is between these two natives of Adelaide. When Ogilvy surprised by winning the U.S. Open at Winged Foot in 2006, Scott came back from the airport through 30 miles of New York traffic to help celebrate the victory.
"That's Adam," said Ogilvy from his home in Scottsdale. "I've known him since he was 14, and he's always been like that. So his victory is very personally gratifying for me, but also because the Masters is like the last Australian sports frontier, since we finally got the Tour de France last year. We had Greg Norman, who was the favorite in the tournament for a 10-year stretch, and should have won a few. Everyone in Australia stays up all night to watch the final round and comes to work late. For anyone my age, it's been like 25 years of desperate craving."
Even factoring in a natural bias toward his friend, there are few better students of the game than the 35-year-old Ogilvy, and when he speaks of Scott's golf, his admiration is profound. He acknowledges that Scott lacks innate short-game genius and has always been streaky. But he sees a late bloomer with truly special long-game skills, who at 32, owns a sense of purpose designed for improvement and longevity, but most of all, more majors.
"From Day One Adam has been a long and straight guy, a total driver of the ball," said Ogilvy. "It always seemed like the farther away from the hole he was, the better he was, just a stunning ball-striker with this majestic swing. But he's become more complete, even if I don't think he really putts better with the longer putter. The thing is, it lightens him. He feels like he's a better player if he doesn't have to worry about the short ones. It's let him step up to world class in everything."
According to Ogilvy, Scott -- whose results in major championships at the time were comparatively poor -- embarked on a new path at the beginning of 2011 under the guidance of his swing instructor and brother-in-law, Brad Malone. "I've had dinner with the two of them 100 times since they got together," he said. "Brad is both cerebral and wise, and he thinks about golf in a very forceful way. Adam doesn't need much technical help, but he needed more direction and structure, and Brad laid it out -- here's what you need to do as far as fitness, practice and schedule. Adam has bought the whole plan, and it has put him on a mission."
Another crucial component is Steve Williams, who has now been Scott's regular caddie for almost two years. "Steve has a unique ability to make whoever he is working for feel like a great player," said Ogilvy. "He's always had that, even before he worked for Tiger. It's not just the information he gives, it's that he carries himself in a way that says, 'There is only one reason we are playing these four rounds, and it's to win this tournament.' Adam definitely walks a bit taller with Steve on his bag."
As for the calamity of last year's British Open, where Scott lost after leading by four with four to play, Ogilvy admits he was crestfallen for his friend but not worried. "Adam has always been the resilient guy who could miss two cuts and then win," he said. "He's so balanced he's never sweated the small stuff. There was nothing small about Lytham, but I knew he would get over it because he was capable of looking at it as part of the road to success."
That road led to a monumental Sunday in Augusta, and if Ogilvy's projections are right, more majors. But probably none will be as meaningful as last Sunday's.
"This is a big day for Greg [Norman], especially," said Ogilvy. "It's very appropriate that of all the Australians, it was Adam who did it, because he is the closest of all of us to Greg. Right now, I know Greg is 100 percent joyous."
That's how it is when a desperate craving ends, and a long suppressed capability is finally unleashed.