News
An Event That Rarely Disappoints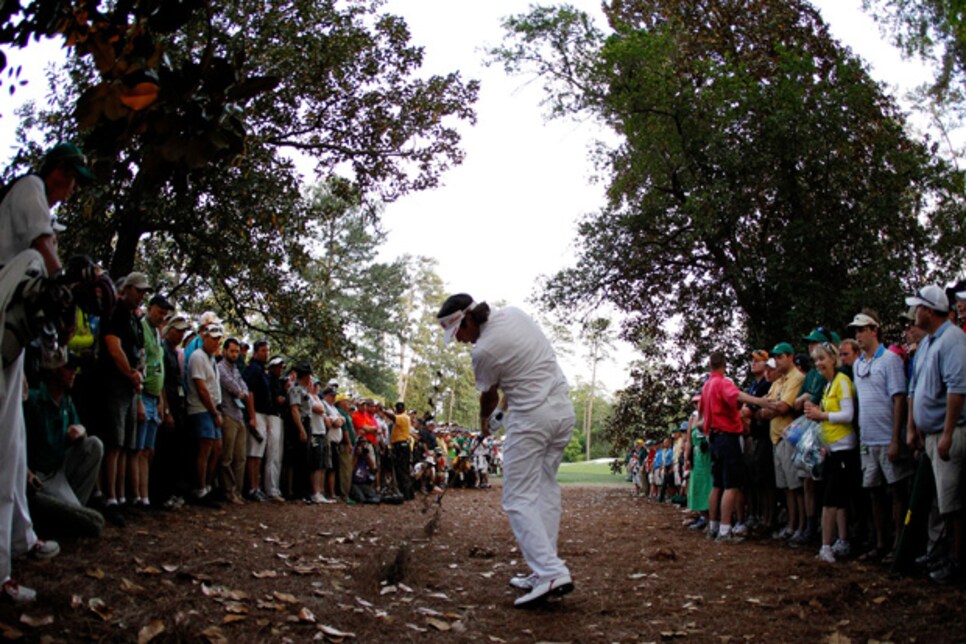 Magic Moments: Shots like Bubba Watson's on the second sudden death playoff hole at Augusta are why the Masters packs the most punch of any major.
For all of golf's ancient charms, the major championships are the essence of its history. And even though it's the youngest of the group and technically not even a championship, the Masters has produced more of the majors that mattered most. We're talking about the tournaments that instantly became imbedded in golf's timeline -- or, upon further review, were given their rightful spot. Almost by definition, they star the all-time greats.
The U.S. Open, which has brought the world's best together more than any other major, leads in quantity. Francis Ouimet beating Harry Vardon and Ted Ray in 1913 at The Country Club is forever. The most important of Bobby Jones' four was his first, at Inwood in 1923, which got him off his major schnide. Merion in 1950 was the most significant of Ben Hogan's four, Cherry Hills in 1960 announced Arnold Palmer, and Oakmont in 1962 served notice that Jack Nicklaus was inevitable. Tiger Woods' 2000 victory at Pebble Beach will always be iconic, while 2008 at Torrey Pines remains mythic.
The British Open seems like it should have more, but perhaps that's a New World bias. Post 1900, there's Harry Vardon's sixth at age 44 in 1914 and Hogan's finishing the 1953 triple at Carnoustie with his final major. Then Palmer's 1962 romp at Troon, Nicklaus' restorative win in 1970 at St. Andrews, as well as his loss to Tom Watson in the Duel in the Sun at Turnberry in 1977. Seve Ballesteros, Nick Faldo and arguably even Woods had their finest hours at St. Andrews in 1984, 1990 and 2000, respectively.
The PGA, for whatever reason, hasn't rung the bell as often. Certainly Walter Hagen's fourth straight championship at match play in 1927, and Ben Hogan's first -- and dangerously overdue -- major in 1946 make the cut. Had Palmer and Watson been able to capture PGAs to complete their career grand slams, it would have provided the championship an epic boost.
Pound for pound, however, the Masters packs the most punch. Gene Sarazen's double eagle in 1935 put the tournament on the map, Byron Nelson besting Hogan in an ultra-grim 1942 playoff cemented its major status, and the 1954 showdown between Hogan and Sam Snead was a score settler (and final major) for Sam. Nicklaus was a magnificent bully in winning by nine in 1965, while in 1975 and 1986 he was pure theater. Woods' most important victory will always be his runaway in 1997, even more than the 2001 win that completed the Tiger Slam.
If there's a reason why the Masters stands tallest, it's that Augusta National before its 2002 redesign was a canvas made for masterpieces. Snead's 67-67 finish in 1949 was the most forceful major run of his career. Hogan said his five- stroke victory in 1953 represented the finest ball-striking he ever attained over 72 holes. Nicklaus maintains Palmer never played better than his six-stroke victory in 1964, while Raymond Floyd's 14-under performance on the par 5s in 1976 keyed his eight-stroke win. Meanwhile, the two greatest 63-hole performances ever in a major arguably came from Ballesteros, who in 1980 led by 10 with nine to play, and Woods in 1997, who after an opening-nine 40 went 22 under the rest of the way.
Regardless of course setup, the Masters is due for another huge history maker, and the leading candidates are obvious.
If Woods wins, it will blow the roof off the game. The long psycho-drama will be largely over, restarting the climb up Mount Nicklaus. Woods, exactly even with Nicklaus' pace right now, would again go ahead of the Golden Bear with 15 majors in 61 tries as a pro. Will he catch him? The thinking here is that if Woods, at 37, can again win one, he can win five.
If Rory McIlroy wins, it will give him three legs of the career Grand Slam before age 24. It will put him back on the throne, but no longer as a Boy King. It will also retroactively elevate his previous eight-stroke major victories at the U.S. Open and PGA Championship.
Two fortysomethings would also qualify. A Phil Mickelson victory would make four green jackets and five majors, moving Lefty exponentially up the all-time list. It would also lead to another Philapallooza lovefest. Tear ducts would also open with an Ernie Els victory. He too would have five majors, and finally a Masters. It would also mean that Ben Els saw his dad's two greatest wins.
If one of the above doesn't win, the Masters victor will still make history. Maybe just not the timeline.