News
The Sin (And Virtue) Of Swagger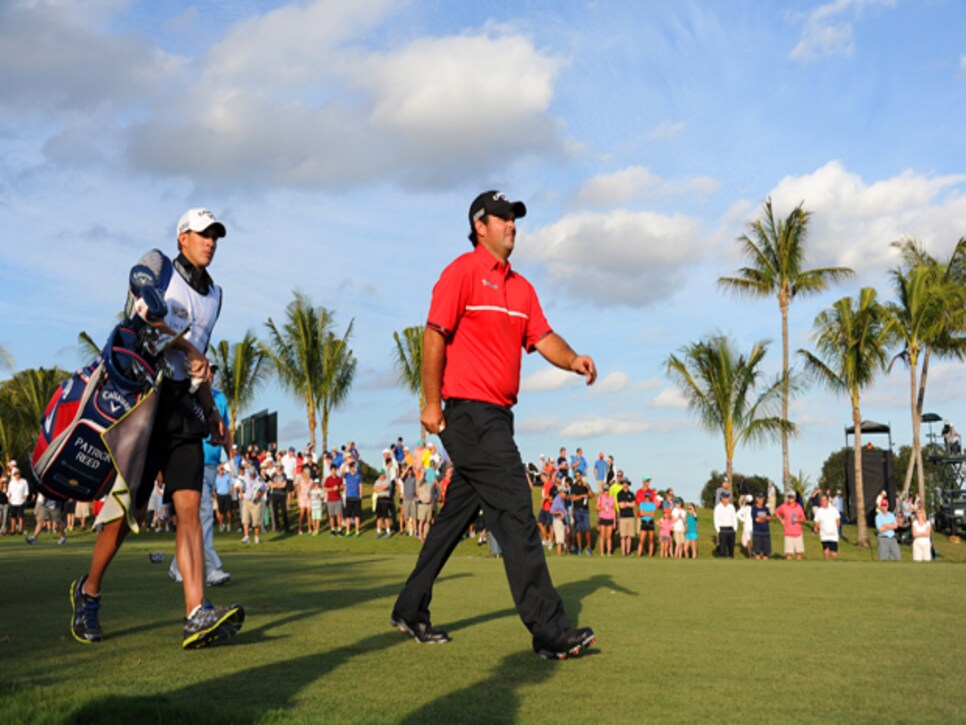 Reed walks with his caddie Kessler Karain on the 15th hole during the final round of the WGC-Cadillac Championship.
Patrick Reed struck a nerve last Sunday -- golf's publicly avowed aversion to all things cocky.
Just moments after putting out for a one-stroke victory at the WGC-Cadillac Championship, the 23-year-old, now-20th-ranked player in the world riled up traditionalists when he extolled his three wins in his last 14 events and declared himself "one of the top five players in the world."
Commentators on NBC and Golf Channel soon let Reed have it ("He really shouldn't be saying that," said Johnny Miller, who said the same kind of stuff when he was 23), as did many on Twitter. "Game I guess is easy for 1 player," tweeted tour veteran Stuart Appleby, "hope he has 20 plus years of 3 wins every seven months."
Golf feels better about itself when it makes a point of censoring the cocky. While the rest of the sports world in the '60s learned to love the initially-jarring boasting of Muhammad Ali and Joe Namath (and considers the bragging of Floyd Mayweather or Richard Sherman an indispensible part of competitive armor), golf continues to hold up as a model the modest Bobby Jones, whose namesake award is the sport's highest honor.
There are practical reasons. The pro tours are marketed to sponsors looking for a respite from all the "swag" of team sports. And in golf locker rooms, vanquished competitors beaten up by the cruel game tend to look upon gloating winners as so much salt rubbed into fresh wounds.
Which is not to say golf hasn't had plenty of cocky champions going all the way back to Johnny McDermott and Gene Sarazen, who blustered upon winning the 1922 U.S. Open at age 20, "All men are created equal. I'm just one stroke better than the rest." In the last 40 years their most dauntlessly cocky descendants have included Miller, Lanny Wadkins, Jerry Pate, Jim Colbert, Payne Stewart, and, most recently, Ian Poulter.
All of the above earned their right to be cocky, even as they engendered a rankling envy. Cockiness springs most naturally from the young, whose irrepressible energy too vividly reminds elders -- of whom there are plenty in golf -- that they are losing theirs. The self-assuredness that winners can't help bugs the game's constant oversupply of losers. Then there are the short-game artists, who to superior ball-strikers can't seem anything but cocky as they keep picking the ball out of the hole.
Reed was all three of the above, and was thus flirting with a very tight trip wire, which he, by accepted golf norms, stomped on.
But the truth is that golf secretly admires cockiness. In a lonely sport of constant losing, the collective wisdom recognizes that self-effacement is for losers. Indeed, it's almost impossible to be too cocky. In projecting future champions, Rory McIlroy gives some pause because while he walks cockily, he isn't cocky. Rickie Fowler looks cocky but isn't. And Adam Scott, who has every reason to be cocky, isn't either.
Cockiness is also resented because it raises fear in opponents. The guts it takes to pronounce prowess indicates the guts to handle the resulting heat. All the strutting Poulter did at the Ryder Cup made his run of clutch putting late on Saturday that much more inspiring to his teammates and that much more deflating for the U.S.
The veteran move is to hide cockiness while retaining as much of it as possible. Phil Mickelson and Matt Kuchar are masters of the publicly saccharine and the privately salty. At the same time, cockiness is almost too crude a term for most of the greatest champions, who simply know they are the best, and are very clear others know it as well. By all accounts, Harry Vardon never bragged, nor did Jones. Byron Nelson, Ben Hogan, Sam Snead, all very different people, never did. Arnold Palmer and Jack Nicklaus never needed words or extra attitude to assert dominance. And though Walter Hagen, Gary Player and Lee Trevino had plenty of cockiness, they transcended it with showmanship, charm and humor.
Woods is often considered arrogant, but never really cocky. He still lets his clubs do the talking, though privately he can strut. After Poulter's contention in 2008 that when he plays to his potential "it will be just me and Tiger," Woods' greeting to the brash Englishman became, "Hi, No. 2."
Perhaps Reed will be good enough to bring cockiness out of golf's closet. Although it has often been analyzed as the flip side of insecurity, there's now a school that considers it simply a more intense belief in one's own story. On Sunday at Trump National Doral, the cockily-redshirted Reed's got better.