News
McIlroy And Life At The Top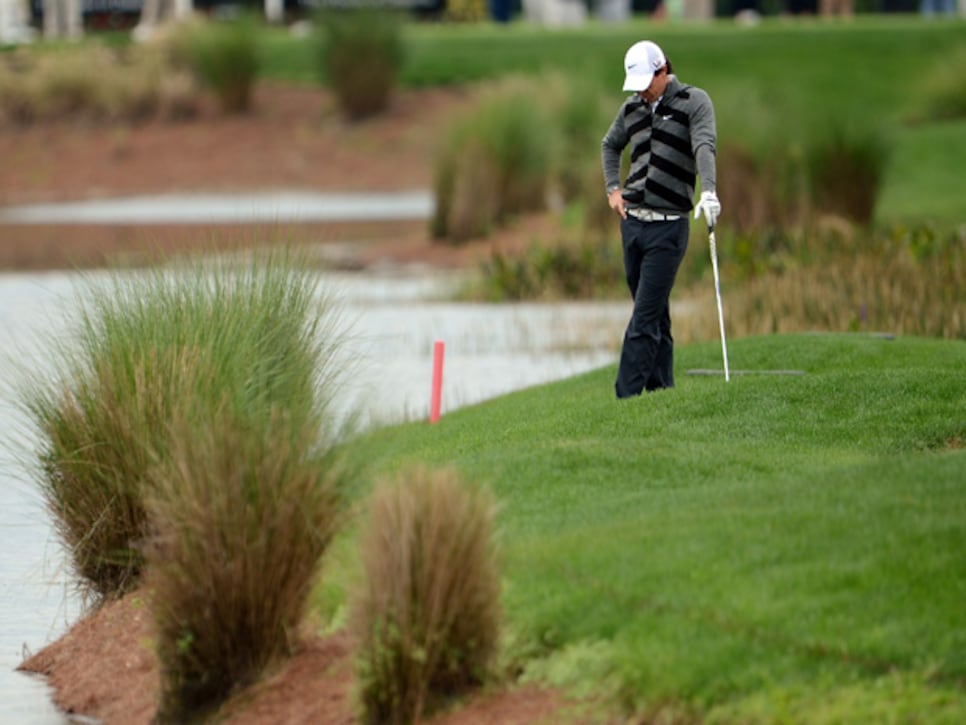 Such is the distorting power of being No. 1. The exalted position breeds both entitlement and resentment. It takes a particular temperament to handle that contradictory mix.
Sure Rory McIlroy's bad play in 2013 has been incongruous, but it was much more jarring to see the erstwhile charmed young man vainly trying to retain his jauntiness as he walked off in the middle of his second round at the Honda Classic.
In his wake there grew a bunch of reasons, the least interesting (or believable) of which involved a wisdom tooth. The blogosphere was loaded with speculation on the swing, the clubs, the ball and, of course, the girlfriend. McIlroy's cryptic initial comment, "I'm not in a great place mentally," added a dose of drama.
Whatever happened, it was enough to cause McIlroy's vaunted character to momentarily break down. The humble kid who answered every question after a fourth- round collapse at Augusta in 2011 suddenly felt he was above the unwritten rules. Acknowledging that failure is probably what caused him to tell his fans on Twitter after he withdrew that he was "gutted."
Such is the distorting power of being world No. 1. The exalted position can breed entitlement from all the praise and resentment from all the criticism. It takes a particular temperament to handle that contradictory mix, and at the moment, McIlroy's isn't a perfect fit.
Attaining No. 1 is mostly about talent and drive. McIlroy has the former in abundance and -- despite a proclivity for streakiness -- enough of the latter. But what separates those who make a quick stop at the pinnacle and those who stay longer is the unremitting focus it takes to keep beating everyone. History has proved that more sensitive and sociable personalities have a harder time sustaining the necessary sacrifice. Bobby Jones, ever gracious and considerate, was worn out and done at 28.
I sought out for a 2005 Golf Digest article players who had been official or unofficial No. 1s since 1960 to explain the experience. Arnold Palmer, whose supreme competitive toughness is outstripped by his generosity, called his too-short time at the top "draining." It was one of the ultimate measures of Jack Nicklaus' greatness that he carried the mantle, in the words of Gary Player, "in such a remarkably relaxed way." But closet loner Lee Trevino admitted that his ascension in 1971 was so brief in part because he "wasn't ready for what everybody wanted." Touchy Greg Norman said "the ancillary stuff was a huge burden. … You are forever trying to defend yourself." Fred Couples and David Duval both conceded they were uncomfortable at the very top.
Tiger Woods wasn't, carrying himself as if born to the position. From a young age, either intuitively or through calculation, he exhibited a Hoganesque ability to keep the world at bay. He jettisoned all baggage without flinching, put on his armor and walked over and through the competition. None of it made him loved, but surely it was part of why he became the most relentlessly consistent No. 1 in history.
McIlroy is more "normal." He engages more and seems to care a lot about how he is received. He has been rewarded for those qualities with the affection of the public and the press. He is, in the words of a veteran Irish journalist, "a soft kid" whose reception has allowed him to stay that way. But his huge Nike contract and its flashy introduction at Abu Dhabi unleashed the contrarians and the critics, and after the 23-year-old didn't play well under the resulting pressure, he wasn't tough enough to ignore the noise.
"He is trying to prove to the world that he is good enough with Nike equipment, and it is [still the] early days," said McIlroy's good friend and mentor, Graeme McDowell. When you start trying to prove things to other people and you stop playing for yourself, it is a very dangerous place to be."
To avoid such danger in the future, McIlroy will likely learn from those who have been there. He'll get something sage from his new neighbor, Nicklaus. He'll pay extra attention during his moments with Woods, who will likely offer some variation of what he once told Sean O'Hair: "You need more [jerk] juice."
Close observers of McIlroy have already noticed the candor lessening, the access being limited. After the Honda bashing by a media more instantaneous than even Woods knew, the process will accelerate. The resulting adjustments will probably mean a less winsome Rory. But golf at the top is a hard game for hard men, especially those who want to stay No. 1.