News
Finchem And 'The Greater Good'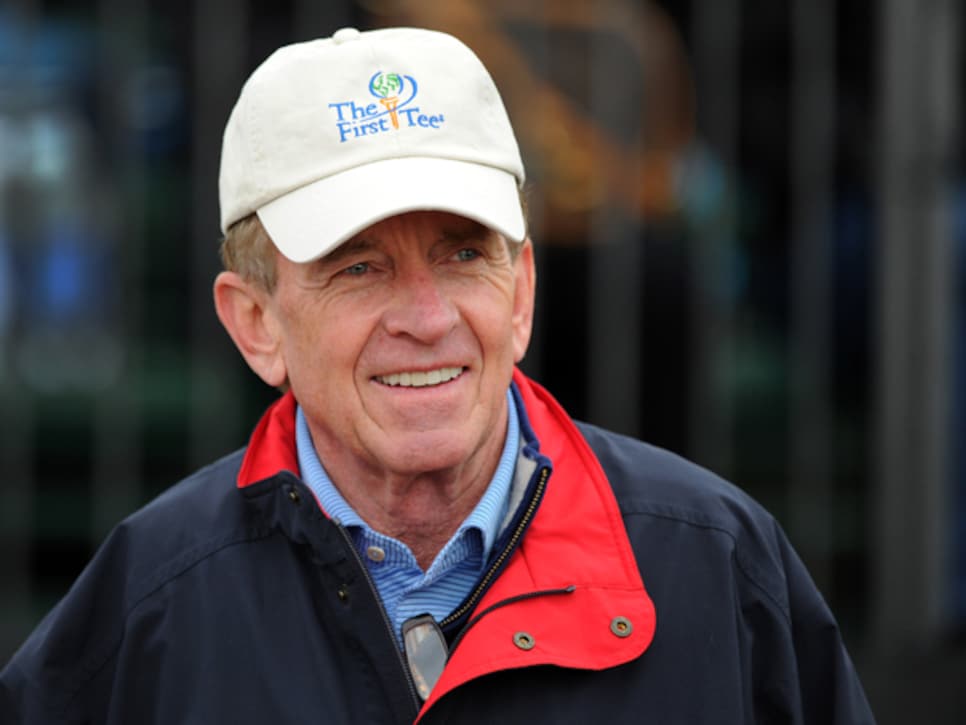 Tim Finchem during the first round of the World Golf Championships-Accenture Match Play Championship.
It was disappointing watching PGA Tour commissioner Tim Finchem voice opposition to the USGA's and R&A's proposed ban of anchoring during last Sunday's WGC-Accenture Match Play Championship.
Certainly Finchem was doing his job in standing up for the approximately 10 percent of PGA Tour players and 18 percent of Champions Tour players who use a belly or long putter. To give him the benefit of the doubt, perhaps the commissioner was establishing a record that could protect his membership in the event of a future lawsuit by an aggrieved anchorer. Or maybe he is angling for a grandfather clause like the one that allowed Burleigh Grimes to keep throwing legal spitballs even after baseball banned the pitch in 1920. Finchem usually makes the smart play, and this may go down as the latest one.
But the performance certainly felt wrong in terms of the greater good of golf.
It would have been easier to accept if the commissioner hadn't been so obviously spinning. Like claiming that 20 percent of amateurs anchor, which is patently ridiculous compared to Golf Datatech research that puts the number at less than 5 percent. Or saying that the USGA had allowed anchoring since 1975 when the first long-putter cases occurred in the mid-1980s. Or maintaining that the USGA and R&A have conceded that anchoring provides no competitive advantage, when the associations have taken no stance on that criteria. Or that Webb Simpson and Keegan Bradley "grew up" with the belly putter, when Simpson switched from conventional in college and Bradley a year after turning pro. All things the old debate champion wouldn't have done with a real opponent in front of him.
But the USGA is currently silent, waiting for the "comment period" on the proposed ban to end Feb. 28. Instead, Finchem shared his time on NBC with a pliant Johnny Miller, who despite a long record of calling anchored putting an advantage, said he agreed with Finchem that it should stay in the game. It's the trendy position among players at the moment, a mixture of concern that the ban could drive more golfers away at a time participation is down, and loyalty to popular players such as longtime anchorer Tim Clark, whose recent presentation at a player's meeting drew sympathy. That mindset, at least among 13 of 15 members of the tour's Player Advisory Council, gave Finchem another opportunity to spin. "You can't point to one negative impact of anchoring," he said. "Most players are saying, 'Listen, without a significant upside and no competitive advantage, let's [not] do it.' "
Of course, the leaders of the USGA and R&A, Mike Davis and Peter Dawson, have already made a different evaluation. It is based in part on the steady drumbeat from prominent players past and present, starting with Arnold Palmer and Tom Watson, who believe strongly that anchoring provides a competitive advantage and doesn't belong in the game. "I just believe that the art of putting is swinging the club," Tiger Woods said recently, "and controlling nerves and having it as a fixed point … it's something that's not in the traditions of the game."
Still, it wasn't until late last year that Davis and Dawson decided that anchoring, burgeoning as it was among some of the game's best young players including recent major winners Bradley and Simpson, had to end. All along, they've known that their biggest challenge would be justifying "why now?" with "better late than never."
Both associations also emphasized that the proposed ban is based solely on the determination that anchoring isn't a proper golf stroke. Predictably, Finchem is now asking the USGA for data to show that anchoring provides a competitive advantage, knowing that such data will be inconclusive.
At the moment, Finchem is being cheered by a membership that doesn't want to be dictated to for standing up for players perceived as being unfairly singled out. His stated wish is that the USGA will back off its position, but if the association did that in the face of what is still a vague threat by the tour, it would truly lose its authority.
Much more likely is that the USGA and R&A will forge ahead with the proposed ban, at which point the question will become, does the PGA Tour really want to make equipment rules? The answer has always been no.
If it remains so, Finchem probably has an end game figured out that will produce a symbolic victory for the tour. The commissioner will be an obstructionist, but for the good of the game, only in the short term.