News
Victor Dubuisson And The Greenside Greats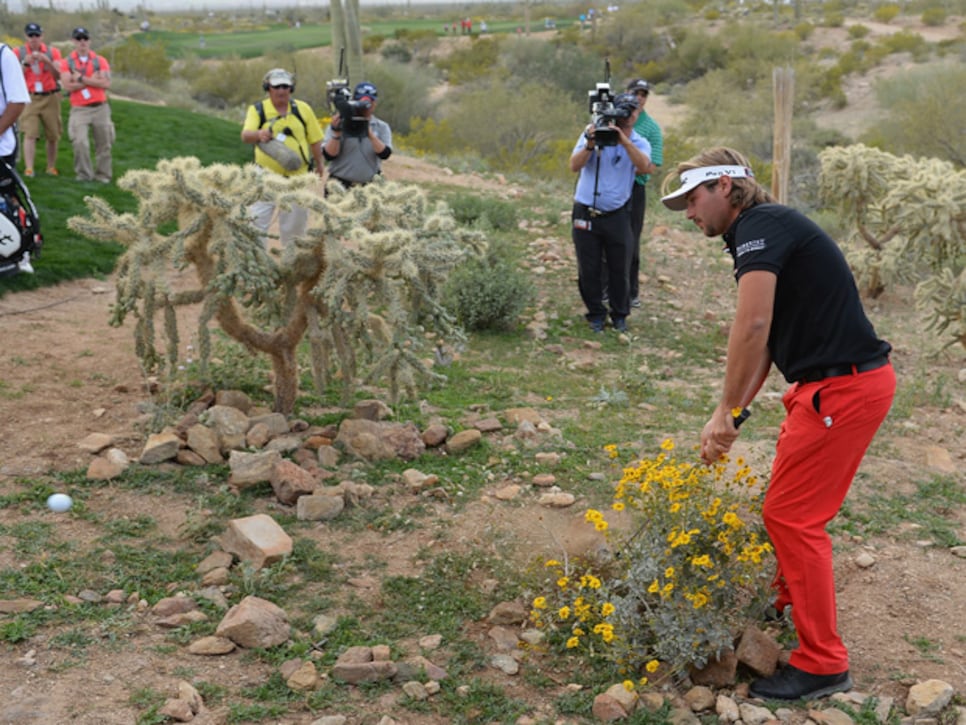 Victor Dubuisson chips from a cactus on the 20th hole during the final match of WGC-Accenture Match Play Championship.
We dimpleheads welcome unofficial golf history wherever we find it, and Victor Dubuisson made some in the WGC-Match Play final. With the East Coast edging into prime time, the French flat-liner gave the game a jolt with the three greatest consecutive up-and-downs ever executed by a contender at the end of a tournament.
For inside dope, such specialized data goes down with Jerry Barber's holed putts from 25, 40 and 52 feet on the final three holes to get into a playoff for the 1961 PGA Championship. As for Dubuisson, that Golden Hands nickname is going to stick.
Of course, there should be a high standard for inclusion on the game's highlight reel, especially with so many new candidates via YouTube. New media actually provided validation in Dubuisson's case, as the estimable threesome of Gary Player, Tom Watson and Nick Faldo (23 majors among them) all gave their endorsement via Twitter.
Personally, I've always had a soft spot for such scrambling shots, having been a junior player whose customary 3-wood approach to a par 4 rarely ran onto the green and usually left a lot of recovery work. My inner motto was, "Where there's a wedge, there's a way."
It's my secret bond with truly great short-game players, many of whom -- including Player, Raymond Floyd, Phil Mickelson and José Maria Olazábal -- spent much of their childhoods inventing shots around a practice green. A few years ago John Anselmo, who coached Tiger Woods in his formative teens, pointed out a small practice green at Meadowlark GC in Huntington Beach, Calif., and said, "He didn't hit a lot of balls. That's where he spent all his time, chipping and putting."
That formula of youthful immersion has influenced the norm. "I see the young guys logging more time around the putting green," says Deane Beman. "It's made them way better at the ordinary shots."
It's doubtful few young guys have logged more such time than Dubuisson -- considering that he quit school at 12 to devote himself to golf -- which no doubt helped him achieve the extraordinary. But for all the tumult about his two recoveries from cactus-bush-covered lies, my favorite was the sand shot on 18 that had to be nipped just so and landed precisely, with no acceptable in-between, to get into the playoff.
Still, that shot wouldn't make my own top 10 of great greenside shots. Criteria: Has to be played while in serious contention, the later the better. Has to have a serious degree of difficulty. Has to demonstrate tremendous skill and will. Points off for sheer luck. (A note: All took place in the final round, and only Floyd and Woods didn't win.)
1. Raymond Floyd, 14th hole, 1992 Masters. Closed-down 60-degree wedge lined into severe slope, ball pops up with spin and goes in. The ultimate shot.
2. Corey Pavin, 14th hole, 2012 Allianz Championship (Champions Tour). Left-handed with a turned-over 8-iron from a deep rut next to a root, pitched to five feet to save par.
3. Tiger Woods, 18th hole, 2001 World Cup. 60-degree wedge to a short-side pin from a severe downhill lie to uphill green, holed out to get the U.S. into a playoff.
4. Tom Watson, 17th hole, 1982 U.S. Open. 58-degree wedge from downhill lie in deep rough, ball lands amazingly softly on baked green before rolling in.
5. Charl Schwartzel, 1st hole, 2011 Masters. From an impossible angle right of the green, 100-foot bump-and-run with a 6-iron goes in.
6. Paul Azinger, 18th hole, 1993 Memorial. 60-degree wedge from deep bunker to short pin. Best reaction to a winning hole out ever.
7. Ben Crenshaw, 13th hole, 1986 Buick Open. Left-handed, turned-over 9-iron from under a tree struck so purely ball checks to six feet.
8. Ernie Els, 13th hole, 2002 British Open. Against the wall of a Muirfield pot bunker, swings hard at wide open 59-degree to stop ball within inches.
9. Phil Mickelson, playoff, 2013 Scottish Open. 64-degree wedge from dusty links lie, clips ball perfectly to spin it close on rock-hard green for winning birdie.
10. Seve Ballesteros, 18th hole, 1988 British Open. 56-degree sand wedge from greenside rough, lips out shot with perfect execution to clinch the win.
Feel free to argue. Larry Mize didn't make it for his 1987 Masters chip-in because the shot wasn't quite difficult enough. Bob Tway failed to qualify with his winning sand shot at the 1986 PGA because the hole got in the way.
Harsh, I know. But it's a list to aspire to. Just don't let your kid quit school at 12.