News
Giving Bifurcation Its Due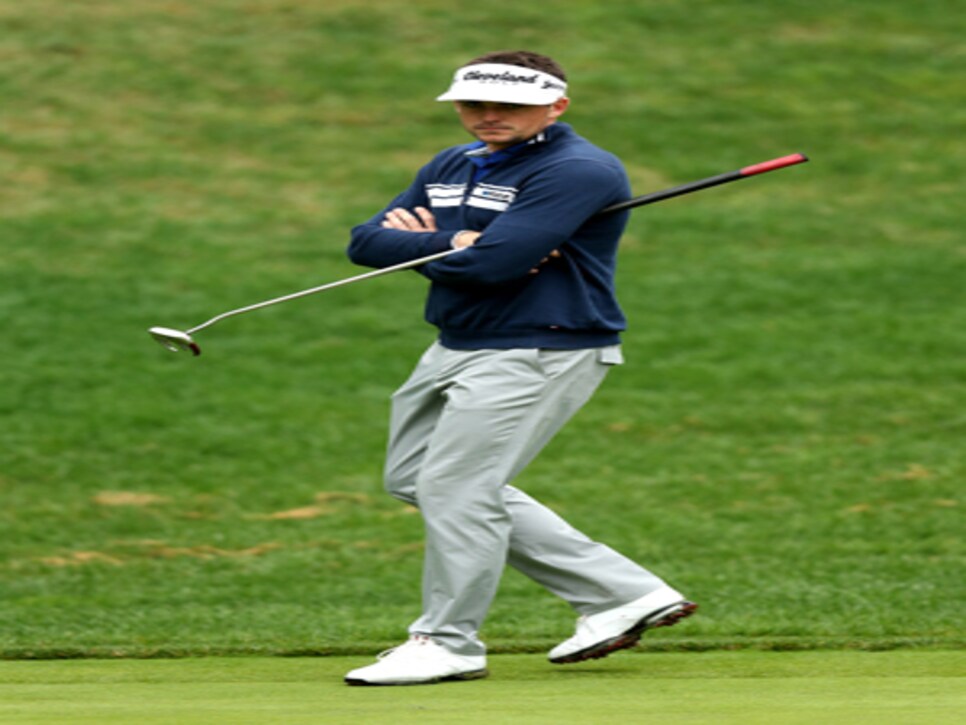 Just because Keegan Bradley can no longer anchor his putter, does that mean the recreational golfer shouldn't be allowed to as well?
About a decade ago in St. Andrews, R&A chief executive Peter Dawson smiled slyly and said, "I will admit that there are mornings when I wake up wondering if I might be a bifurcator."
The comment wasn't off the record, but I hadn't written it until now because Dawson was at least half-kidding, and because it might have put him in a fix. But as of last week, that's no longer the case.
At both Torrey Pines and the PGA Merchandise Show, the subject of bifurcation -- one that golf's leaders have perennially either avoided or belittled -- gained a new legitimacy and respect.
Why now? Well, golf's problems have gotten more complex. The game's organizations are feeling the heat, and each seems energized to both re-mark and protect its turf. In such a tense time the proposed ban on anchoring has acted as a trip wire.
The ban is the USGA's first foray under executive director Mike Davis toward reestablishing the organization as the staunch protector of golf's traditions. But the PGA of America has positioned itself as the chief "grower" of the game, and taking long putters away doesn't square with that mission. Meanwhile, the PGA Tour wants to present a nice, conflict-free show and serve its players, a few of which are fighting mad at the prospect of having to go back to conventional putting in three years.
Tim Finchem, considering his history of artful dodging on the subject, surprisingly entered the fray at Torrey Pines, citing instances such as the "one-ball rule" in which the tour has departed from the Rules of Golf. While stating that "our objective is to follow the rules and keep the rules together," he provocatively added, "the whole question of bifurcation is always out there to be discussed. ... Personally, I think in some situations bifurcation is OK."
In Orlando new PGA of America president Ted Bishop heard this and almost outran his blocking. "I think those are pretty interesting and powerful words from somebody of his stature," Bishop said of Finchem. "I think that in a lot of ways, it signals what I view to be changing times."
Such a new climate was red meat for the most high-profile advocate of change in golf -- remember the 15-inch hole? -- TaylorMade CEO Mark King. He not only urged the tour and the PGA of America to make their own rules apart from the USGA, but predicted that within 10 years the USGA "will be a non-factor in golf because they are choosing to be on the outside and no one is signing up for what they represent."
Administrators in Far Hills, N.J., who decided that their role is to listen until the 90-day comment period on the proposed ban runs out Feb. 28, must have bitten their lips hard enough to draw blood.
But it's unlikely Davis is panicking. He remains confident that the anchoring ban will be uniformly enacted. While no one is questioning that especially longtime users of anchored putters are being hard done by, the USGA believes the majority of elite players agree the method is not a golf stroke and unfairly reduces the role of nerves that are so much a part of the competitive game. At the same time, the organization's research shows that any projection that the ban will have golfers leaving the game in droves to be wildly overstated. They are betting that, historically, anchoring will be but a blip.
What looms larger -- particularly with the U.S. Open about to be played at Merion -- is whether bifurcation can be an effective way to deal with what some believe to be a problem of increased distance. The USGA is firm in saying that if the golf ball or drivers were ever rolled back, it would be across the board for all golfers.
However, asking the recreational golfer to give up distance is a tough sell. Furthermore, a large portion of such golfers are -- with every mulligan, improper drop and raked four-footer -- de facto bifurcators. If there was a ball rollback, such customizers would have no qualms about playing old balls that would be illegal -- or continuing to use long putters after the anchoring ban takes effect.
Recreational golf is what recreational golfers want it to be. As Dawson tacitly acknowledged, bifurcation is not some crazy concept, but one that smart people can consider as a possible solution to a game that is increasingly cornered. That's why the term has endured in the shadows all these years, and why it's finally on the table.