News
She's Back in the Picture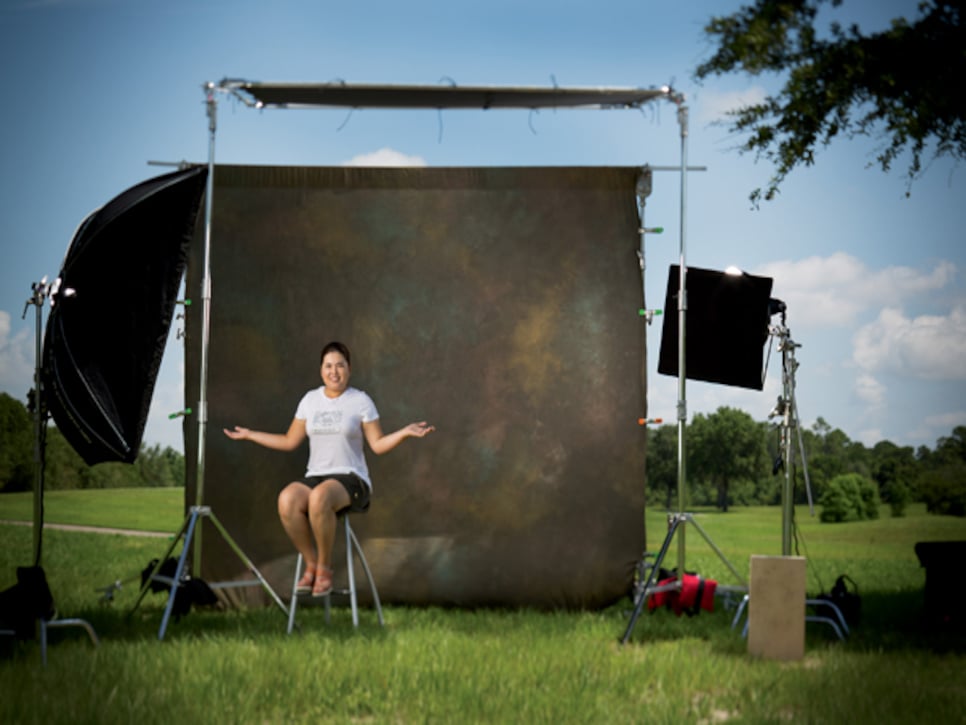 History doesn't always read like you think it will. This was supposed to be the Yani Tseng Era for the LPGA, or at least it seemed that way when she won five major championships by age 22. But Tseng hasn't won a tournament in 15 months, and the spotlight is brightly on Inbee Park, who a year ago was barely a blip on anyone's radar but now finds herself in a conversation with the greats of women's golf.
Park goes into the U.S. Women's Open having won the first two majors of the year, a feat accomplished only seven times by legends such as Patty Berg, Mickey Wright, Pat Bradley and Annika Sorenstam. Only Babe Zaharias in 1950, the birth year of the LPGA, got the first three. How Park, a 24-year-old South Korean, climbed into such heady company is a story of love, independence, perseverance and a potent putter. And there is reason to think she might be able to pull off the rare hat trick.
Sebonack GC in Southampton, N.Y. -- known for its sharply contoured greens and wind that can whip in off the Atlantic Ocean -- is a mystery to virtually everyone in the field, but Park has proven to be a tough USGA player. In addition to victories in the U.S. Girls' Junior and U.S. Women's Open, Park, who took over the top spot on the Rolex Rankings in April, has finished in the top 10 in four of her other five starts in the Open. Plus, she is the best putter on tour, a trait that should serve her well at Sebonack, a design collaboration of Jack Nicklaus and Tom Doak that opened in 2006.
"I just love playing in major championships," says Park, who seemed unfazed by her chance at history after winning the recent Wegmans LPGA Championship. She now has won three of the four LPGA majors in her career and started her victory burst at last year's Evian Masters, which in September becomes the tour's fifth major. "[This year] instead of four [majors] there's five, so there's more tournaments to win," she says with good humor, liking the possibilities.
The only females to win a season's first two majors since the founding of the LPGA were Berg (who did it two times), Zaharias, Wright, Sandra Haynie, Bradley and Sorenstam. And the only ones in the women's game to win three majors in a year were Zaharias, when there were only three majors; Wright, who won three majors in 1961 along with a third in the Western Open; and Bradley in 1986 when she added the du Maurier Classic after finishing T-5 in the U.S. Women's Open.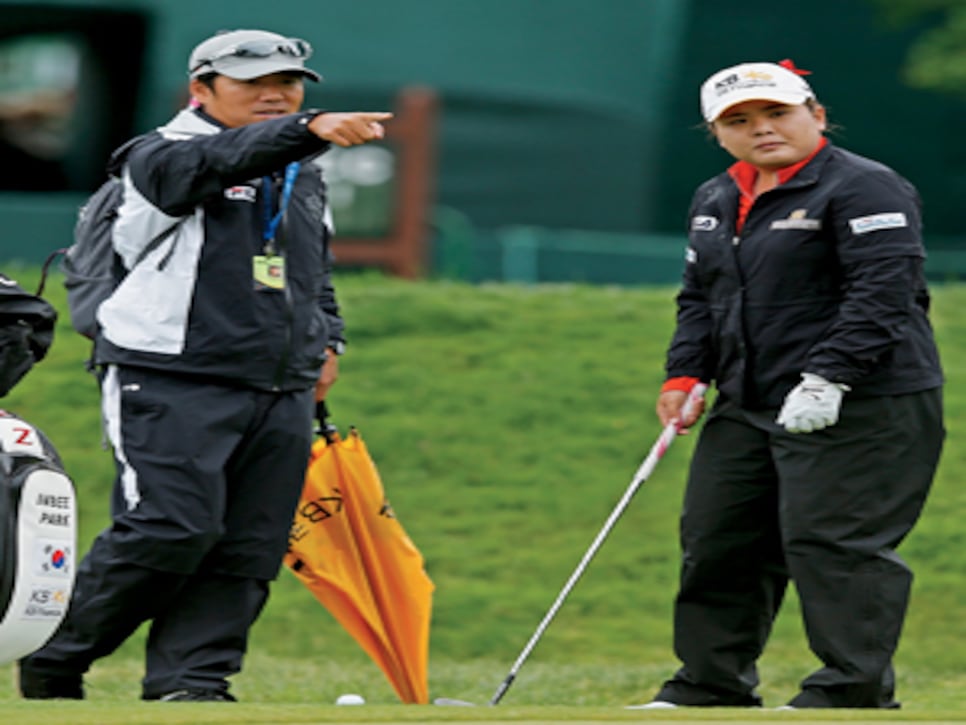 Sorenstam, who was T-23 in the 2005 U.S. Women's Open after triumphs at the Kraft Nabisco and LPGA Championship, is well aware of the burden Park will bear as she goes for the triple. "There was a lot of outside attention, and I was obviously aware of the history at stake so there was extra pressure," Sorenstam says. "My game just didn't click that week -- I think because I was forcing things. Looking back, I wanted it badly and just tried too hard."
Park understands competitive frustration. She burst on the scene by winning the 2008 U.S. Women's Open at 19, becoming the championship's youngest winner, but then went winless on the LPGA for more than four years. Now, however, she seems to have found something that will prevent her from being a flash in the pan, a fate common to her countrywomen: a peace rare for anyone, especially an athlete and particularly one coming from the highly competitive Korean culture where one of the few professional avenues open to women in a male-dominated society is sports.
And Park may be inspiring Korean girls in the same way Se Ri Pak did 15 years ago, providing them a new blueprint for success. Instead of traveling with second-guessing parents, she finds shelter, support and a bit of instruction from her constant companion, Gi Hyeob Nam, a former Korean PGA Tour player who is both her fiancé and swing coach. They have been dating since 2008, and he has been her coach since mid-2011. It has made all the difference.
While still a model of the impressive Korean work ethic -- she practices as much as anyone -- Park finds time to go to the movies, watch Korean TV on her iPad, play the piano, occasionally ski, shop and, with lightning ease, smile. And rarely is she far from Nam.
"I really started playing well since I started traveling with him, and he has been a big help on my swing and mentally and everything," says Park. As for when the wedding will be, she says playfully, "I'll tell you when it's two months before."
In the brief break between rounds of the 36-hole Sunday finish at the rain-interrupted LPGA Championship earlier this month, Park and Nam sat alone beneath a tree and shared lunch. The moment spoke of the calm she has found with him, a serenity that allowed her to regroup after a sloppy final five holes of regulation to outlast Catriona Matthew on the third extra hole at Locust Hill CC for her sixth win in her last 22 LPGA starts.
Traveling with her fiancé instead of her parents is just one of the advantages Park has over most of the 35 or so Koreans on the LPGA. First off, she came to the United States at 12, learned English and developed friendships with her AJGA contemporaries such as Paula Creamer, Morgan Pressel and Brittany Lincicome. When she began life as an LPGA pro, Park was already acclimated to America. She also doesn't have the pressure to support her family, as do some Korean LPGA members, because her parents both own successful businesses in South Korea.
Now Park has a chance to do something that, remarkably, no Korean has ever done. Although eight have been the Rolex Louise Suggs Rookie of the Year, none has been LPGA Player of the Year. Back when Pak was a star, Sorenstam, Karrie Webb and then Lorena Ochoa were combining to win the award every year from 1997 through 2009.
Park, who won the money title and the Vare Trophy for lowest scoring average last year, has a chance to be the kind of dominating player from her homeland that only Pak has been. Of the 34 South Koreans who have won 111 LPGA events, 16 have only one win and nine more have won only twice.
With seven career LPGA wins, Park is tied with her friend Na Yeon Choi -- another Korean who left her parents at home -- for fourth all-time among Koreans, trailing Pak (25), Jiyai Shin (11) and Mi Hyun Kim (8). Of the 10 Koreans who have won majors, only Pak with five, Park with three and Shin with two are multiple winners. Since Pak won the 1998 LPGA Championship, Koreans have won 17 of 61 women's majors -- one more than American golfers.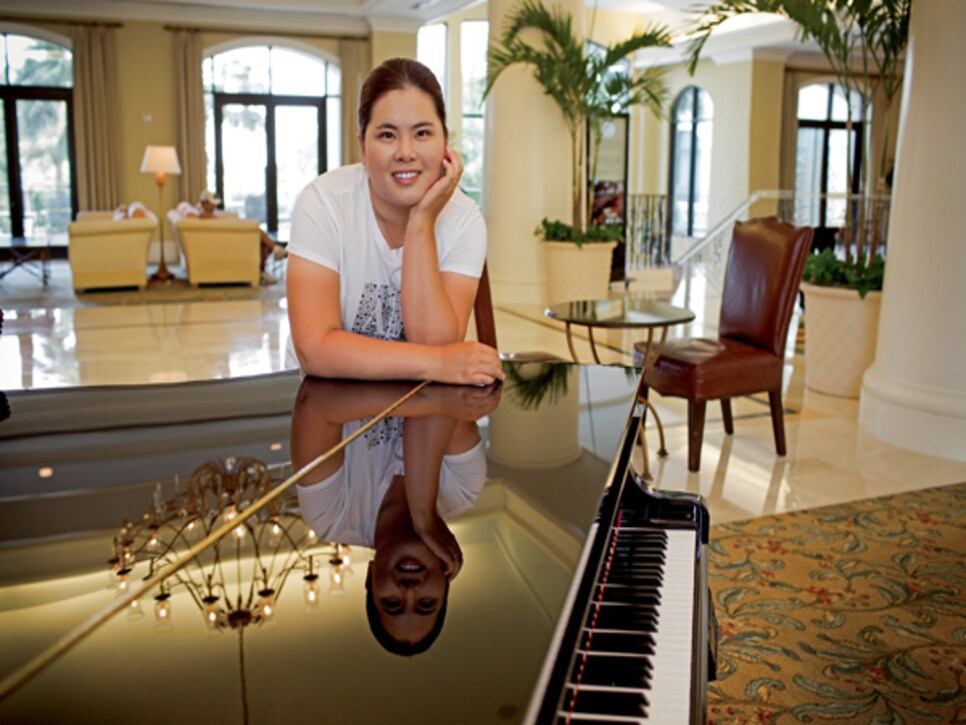 "I think the turnaround for her has been mental," says Pak, who knows very well the parental and societal pressures of being a female athlete from Korea. Pak ended the 1998 season hospitalized with exhaustion and now speaks openly about the burnout she experienced later in her career. "She is settled down in her life out here now," Pak says. "Having her fiancé travel with her, there is [no pressure]. She is in a happy place. I am very proud to see what is happening right now."
For Park, the climb to No. 1 began with a T-9 finish at the 2012 Wegmans LPGA Championship, which she entered No. 26 in the world. In 26 events beginning that week, Park has had six second-place finishes to go with those half dozen wins and 18 top-10s. She took over as No. 1 on April 15. A year earlier, she was No. 36 and a massive 14.89 points behind No. 1 Yani Tseng. Now she is 4.46 points ahead of her.
Park, who lives in Las Vegas, left the Wegmans to spend the off-week at Choi's house in Orlando to practice for the U.S. Women's Open, June 27-30. There were rounds at Isleworth G&CC as well as The Concession GC, which has undulating greens like Sebonack. Choi, who has made cooking one of her non-golf passions, planned on making some Korean barbecue. And there was also going to be some girl time spent shopping.
Park's grandparents were the first in her family to play golf and now her entire family does. Her sister, Inah Park, played at USC with Belen Mozo and Lizette Salas and hopes to be on the KLPGA next year. Inbee was 10 when she started playing and was in sixth grade when she moved to America with her mother, speaking no English. Her goal was to play golf and study, because her family felt that in Korea the focus was too much on golf and not enough on education. She went to Eustis, Fla., where her mom had found a Korean golf coach.
Park's mother, Sung Kim, owns a three-year-old company, KIB (which stands for Kim and Inbee), that makes milk and water bottles. Inbee, who has won more than $6 million in her seven years on tour, has invested $2 million in the venture. Her father, Gun Gyu Park, owns UWrapCo, which makes bottling labels. The company, started by Inbee's grandfather 40 years ago, produces labels, such as those for Arizona Iced Tea.
Inbee speaks fondly of her father, perhaps appreciating the space he has given her. Gun Gyu had a plane ticket to get to California in time for the final round of the Kraft Nabisco, but Inbee told him not to come, fearing she would be too nervous. After her victory, she filled a bottle with water from Poppie's Pond and kept it with her until she saw him again. "Yeah, we met him in Hawaii and I poured it over his shirt," she said with a broad smile.
Like most of the Koreans on the LPGA, Inbee's connection to golf can be traced to Pak's emergence. "I didn't watch it [the 1998 U.S. Women's Open] live because it was on so early in the morning," Park says, "but after Se Ri won, it was on TV every day and they made advertisements of her hitting it out of the water. I watched it a lot of times and I said to my parents, 'I can do that.' "
Two years later Park moved to the U.S. and became a star, winning eight AJGA events and earning Rolex Junior All-American status four times, including the 2002 AJGA Player of the Year, when she won the U.S. Girls' Junior, an event in which she was runner-up in 2003 and '05. She made it to the semis of the 2003 U.S. Women's Amateur at 15.
In 2005, during her senior year at Bishop Gorman High School in Las Vegas, Park appealed for an exemption to the LPGA minimum age of 18 and was denied. She instead joined the Duramed Futures Tour, where the age minimum is 17 and earned an LPGA card for the 2007 season by finishing third on the 2006 Futures Tour money list.
Park easily kept her card as a rookie in 2007, finishing No. 37 on the money list. Then in 2008, she won the U.S. Women's Open at Interlachen in Edina, Minn., joining Wright, JoAnne Carner, Amy Alcott, and Hollis Stacy as the only players to win both the U.S. Girls' Junior and U.S. Women's Open.
"I experienced American golf courses when I was younger and played a lot of USGA and AJGA tournaments," Park says. "That helped me a lot. There are a lot of players I competed against in junior golf who are out here now -- Paula, Morgan, Brittany -- we all played together as juniors. That helped me a lot. It feels like a second home to me."
Park struggled in 2009 and ended the season 50th on the money list. Bradley Beecher, an Australian who has been Park's caddie since September 2007, paints a picture of distraction and self-doubt familiar to lots of players who stumble after winning their first major. First success changes the routine, and then there is a growing urgency to prove the big victory wasn't a fluke.
"She lost a lot of confidence after she won the Open," Beecher says. "There was lots of pressure on her, and her schedule in 2009 didn't help. She used to play eight in a row and get into a rhythm. Then it became three on and two off. But after the 2009 season, she went to Q school in Japan. That was a great move. We won twice there [in 2010], and she started to get her confidence. Things started to turn around here last year."
Park believes it was merely a matter of time. "I think it was just that I was getting used to the tour and getting used to traveling and trying to get used to my job," she says. "The first win came very quick, and I didn't know what it meant to win a major championship. I was a teenager, I was very young. I didn't know what I was doing. I just needed some time to get settled in on the tour. I'm really comfortable now."
Although fairly short off the tee, No. 87 at 246.7 yards per drive, and ordinary in driving accuracy at No. 59, Park is 19th in greens in regulation. Perhaps most importantly, she is first in putts per GIR and second in total putts per round. Last year, she was first in both of those categories, which led to No. 1 in scoring average, a category in which she is second this year.
"Putting is always the key for her," says Beecher. At 5-foot-6 and with a fireplug build, Park swings with a slow, graceful tempo that repeats reliably, which should serve her well if the wind blows at Sebonack. "My ball-striking has gotten a lot better," she says. "I've always had a good short game."
Americans enter the U.S. Women's Open having gone nine consecutive majors without a victory. That's the longest drought ever for the Yanks, exceeding by one the winless stretch from Meg Mallon in the 2004 U.S. Women's Open until Sherri Steinhauer at the 2006 Women's British Open. And beginning with Park in 2008, Koreans have won four of the last five U.S. Women's Opens.
"I'm just really proud of my country, and I'm really proud of all the friends that are playing out here," Park says. "Being able to sit here 10 years later when we started playing as junior golfers and being here on the top on the LPGA where we dreamed [of being] all the time, it's just living my dream every day."
When asked why the Koreans have done so well, Park looks bemused. Smiling, she says: "It's in our blood. I think maybe we have dominant blood." That attitude, and a hot putter, just might earn Park a place in history shared by only a few in the women's game. After Sebonack, they may be talking about Inbee and the Babe.