News
My Town: Ian Kennedy's Phoenix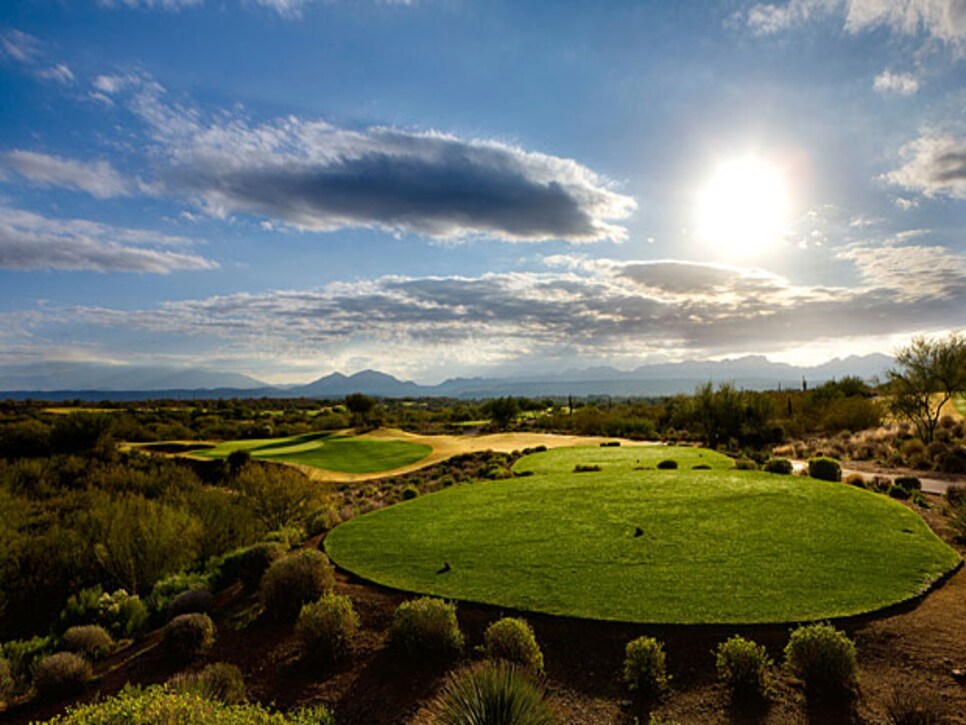 After doctors performed surgery on Ian Kennedy to remove an aneurysm near his right shoulder in May 2009, the then-New York Yankees pitcher was forced to sit out most of the season. The injury, however, didn't keep him from trying a new sport: golf.
"I took some lessons and got hooked," says Kennedy, a Huntington Beach, Calif., native who was traded that winter to his current team, the Arizona Diamondbacks.
Moving to the Phoenix/Scottsdale area, where he could play year-round on dozens of quality courses, only increased Kennedy's appetite for the game. For his 27th birthday last December, his wife, Allison, surprised him with a membership to Ancala CC
in Scottsdale. "She knew the repercussions," he says, "that I was probably going to play a little more."
Kennedy, a 21-game winner in 2011 who helped Arizona claim the National League West title, believes his baseball acumen comes in handy with his other passion. "I can relate the two," he says. "Not just the swing and the mechanics, but the head too. The mental approach you have to take with each is really similar."
Before I joined Ancala, I played many of the area's public courses. Among my favorites are the Monument
courses at Troon North GC. The scenery on both is stunning. The elevation changes offer a lot of challenges and require you to be thinking all through the round.
There are two courses at__Talking Stick GC__ I take buddies to when they come to town. I like the South course
a bit better than the North
is a good choice. There are three courses that let you have fun no matter your handicap.
One other spot I like is We-Ko-Pa GC. The two courses there are always in excellent shape, with really nice greens. The Cholla
course is more of a desert, target-golf layout, while the Saguaro
I love Mexican food. In the Old Town section of Scottsdale is one of my favorite places, The Mission. They don't serve really big portions, but the food is very good. My favorite is the carne asada tacos. The pork and chicken tacos are good too. And don't skip the guacamole. It's fantastic.
Don & Charlie's on East Camelback in Scottsdale is another good option. Their ribs and steaks are great, and so is the salmon.
Oregano's Pizza Bistro has the best pizza in town. They have a handful of places all over Phoenix. The locations have a 1950s feel to them, which is pretty neat.
Alice Cooper owns a sports bar near Chase Field called Alice Cooperstown. That's where a lot of my family goes to eat when they're in town for a game. It's got music memorabilia and plenty of big-screen TVs.
Talking Stick Resort is a pretty neat place. There's a casino for those who want a little more action besides what they'll see on the course.
If you're looking for something a little fancier, you might try the Fairmont Scottsdale Princess. The TPC Scottsdale is just across the street, and there are stay-and-play packages available for tee times on the Stadium course. Plus it's got the amenities of a first-class resort: spa, restaurants, pool.
Besides, of course, going to a D-Backs game, the Phoenix Zoo is a great place to go if you're with your family. I've taken my nephews and had a nice time. ... Another kid-friendly place is The Railroad Park in Scottsdale. There's a train for kids to ride as well as a big jungle gym.
I also really like Old Town because there are a lot of shops you can't find elsewhere. It has that feel of the Old West.
If you don't mind putting the clubs away, I highly recommend heading north to see Sedona. It's about a two-hour drive. We've gone a few times. The views are incredible.