News
Whatever happened to Homero Blancas?
Blancas returned to the scene of his record round in the Premier Invitational, an event that attracted a lot of local interest.
The weeds, wild blackberries and overgrown trees exist with a mystery spawned by an abandoned place. The shuttered buildings, cracked pavement and rusting tanks suggest how long it has been since this location on the outskirts of Longview, in east Texas, was a working oil refinery surrounded by a nine-hole golf course where men laughed and gambled and invented shots to tame its quirks, and where one man, Homero Blancas, once had a day of golf like no other.
In addition to the course, time has claimed the scorecard and the trophy and attached an asterisk to the achievement. Blancas knows what some people contend--that the events of Aug. 19, 1962, unfolded in a county fair of a tournament on a cupcake of a course--and it bothers him not at all.
For years Blancas' feat was listed in the Guinness Book of Records, but it was purged when the recordkeepers limited their low golf scores to those shot on courses of at least 6,561 yards in length, and at 5,002 yards, the funky, claustrophobic par-70 Premier GC--on which two slightly different sets of tees formulated 18 holes fraught with out of bounds and creeks--didn't qualify. But if you're the man who had the 55, the lowest competitive score any golfer has ever shot, there is nothing but beauty in the details.
How many golfers ever made Ripley's Believe It Or Not? How many other players have made 13 birdies and an eagle, totaled 27 for one nine and 28 for the other, hit 17 greens in regulation and required only 20 putts? "And the thing is," says Blancas, "I shot 62 in the morning. That might be the most amazing thing."
He was 24 and competing in the Premier Invitational, part of a cluster of amateur tournaments that from the 1940s into the 1960s thrived in towns such as Longview, Center and Kilgore. The events, also known as the "East Texas Tour" or the "Barbeque Circuit," were a breeding ground for a couple of generations of Texas golfers, from Jackie Burke to Marty Fleckman. Longview was home to the eight Cupit brothers. Jacky Cupit, the youngest, who would lose the 1963 U.S. Open in a playoff, finally did something his brothers couldn't do when he won the Premier in 1959 and '60. "It was a real short course, but there were no bailouts," says Cupit. "You had to be as straight as an arrow." Until Blancas, Cupit held the course record, 60.
The course was built in 1938 by Sylvester Dayson, a native of France who had been a World War I aviator before getting into the oil business and immigrating to the U.S. in the 1920s. By the mid-'30s, he had started the Premier Oil Company. "He was a fanatic about golf, but he had a skeet-shooting course first," says Dayson's daughter, Suzette Shelmire. Dayson held a skeet shoot to raise money for a local hospital, but with World War II came an ammunition shortage, so golf took its place.
Competition was keen, scores were low and interest--spiked by calcutta betting pools that could bulge with more than $50,000, a "monster calcutta," according to former Texas A&M golfer Jim Fetters--was high. "The world was a different place back then," says Fred Marti, Blancas' teammate at the University of Houston and a central character in his epic day. "Those tournaments were big deals in those towns. There weren't a lot of entertainment options."
On the eve of the final day at Premier, in fact, Marti, Blancas and a couple of others drove over the border to Bossier City, La., to sample a night that wasn't so still. Driving back Sunday near dawn, they missed a turn. "We skidded through a gas station, but missed the pumps," says Blancas. "We were lucky we didn't get killed." Blancas napped briefly before trying to make up a seven-shot deficit to Marti with 36 holes left. "I was a little groggy," he says. "Maybe my instincts just took over."
The son of a Mexican immigrant who was a greenkeeper at Houston's exclusive River Oaks CC, Blancas grew up in modest quarters on the grounds and began caddieing when he was 8 years old. Not big enough to tote larger bags, Blancas looped for younger golfers with small bags and good games. Conditioned to believe everybody played well, Blancas wore out his hand-me down clubs practicing to become like those players. "I would absorb their talent," Blancas says. "All I saw were good swings, guys shooting in the 70s. And all I wanted to do was hit golf shots. I'd play three holes or five holes at dusk. The first or second time I played 18 holes, when I was about 10, I shot an 89."
He turned into a birdie machine, firing at flagsticks regardless of their position or his. "Homer never saw anything but the flag," says Frank Beard, who became one of Blancas' best friends on the PGA Tour. "When he was off, he never knew how to play to the safe side. But when he was on, he went low."
As far back as his high school days, Blancas always had good luck against Marti, but with 18 holes left at Premier he still trailed him by five strokes--which was quite a working margin at Premier. "Some of the greens were so tiny you could hop across 'em," says Marti, "and you could hardly get around without penalty strokes." Roy Pace, a Longview golfer who played at Louisiana Tech and who was the defending champion, stood between them, four shots off the lead. "The greens were built up, like big anthills," says Pace. "It was tricky."
Blancas' final-round heroics were an intersection of crisp shots and good bounces. He began with a birdie at No. 1. At the par-5 second, he skulled a chip but the ball clanged off the flagstick and dropped for an eagle. After two more birdies, he missed a three-foot birdie attempt at No. 5, then came back with two straight birdies. Another birdie at No. 9 put him eight under for the day. "I really was thinking one shot at a time," Blancas says. "It was, 'Got to put it in the fairway, got to hit it close, got to make a putt, got to catch Fred.' "
The back nine was a blur of birdies and hooting from a growing gallery that found out what was going on. Blancas was an implacable force in the middle of it all. "He just looked so loose," recalls T.C. Hamilton, who witnessed the round. "No jumping around, just a lot of smiles." But by the 17th hole, 13 under for the day and having overtaken Marti, Blancas got nervous. He hit a 45-foot birdie putt much too hard but it banged the hole, popped six inches into the air and fell in. At No. 18, a 500-yard par 5, he pushed his drive, but it hit a tree and bounced safely back into play. After pitching his third shot to four feet, Blancas managed to sneak in his final birdie. "I was feeling it the last two holes," he says. "I hit that sucker as hard as I could, and it barely rolled in."
Dan Jenkins chronicled the round two weeks later in Sports Illustrated, bringing Blancas national attention and giving him a bigger sense of achievement. After a couple of years in the Army, Blancas started a good-but-not-great pro career: four PGA Tour victories, one Senior PGA Tour win, $1.9 million in career earnings. He was partial to his kids and a good time more than he was to Hoganesque practice sessions. "Homero didn't log a lot of time on the practice tee, but I didn't, either," says Jacky Cupit, 63. "We weren't lazy, but we just didn't have that desire."
When recalling Blancas, it is common for peers to note his all-or-nothing style and how often he was hurt. Blancas' 11th surgery, a partial replacement of his right knee, occurred Feb. 26. He recently played his first round of golf since the procedure, and he is pain-free for the first time in years. If his recovery continues well, Blancas hopes to play a couple of senior events next year. Now 63, he gives lessons at Glennloch Farms GC in Spring, a Houston suburb.
One of his most loyal pupils is Dr. Fred Hansen, a Houston dentist who won the gold medal in the pole vault at the 1964 Tokyo Olympics. Hansen, 60, has made it to the finals of Senior PGA Tour qualifying three times, including last year, when he missed his card by five strokes. "I've never been with a guy so knowledgeable about golf," says Hansen. "He talks about moments that every great player has in his swing." Blancas' go-low karma has rubbed off on Hansen, who has shot a 62 himself.
Blancas and his wife, Noel, have two sons, Tommy, 33, a club pro at Greatwood GC near Houston, and Jerry, 31, a replay producer for the Houston Astros' telecasts. When golfers encounter Tommy, his last name often rustles the recall of his customers. "They think he shot a 59," Tommy says. The son will offer a gentle correction. "He's told me some stories about the 55," says Tommy, "but he's very modest. I think he's very proud that it happened, and he knows part of it was luck."
But there is the part that wasn't luck, too, and that is the way Blancas let the birdies keep flowing, undamned by limits or expectations golfers usually burden themselves with, the comfort zones sports psychologists now try to shake them out of. "Nine out of 10 golfers would have put the brakes on when they got to the 60 level," says Beard. "Call it choking or feeling like a deer in the headlights, or whatever you want, but it would have happened. People talk about it being a little country course, but I don't give a darn where it was, it was remarkable, miraculous golf."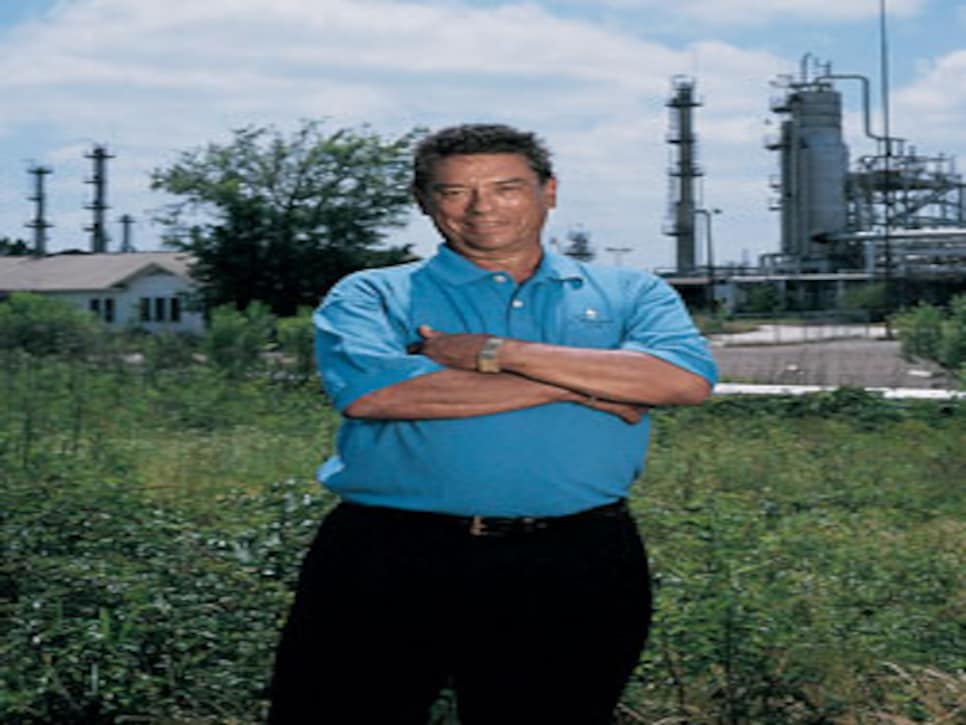 Stepping foot on the property for the first time since he departed it nearly 40 years ago, Blancas gazes around like someone going back to an old neighborhood where the house is long gone. Squinting through the years and the pines, he sees a green, places a fairway, envisions some of the many OB stakes. Pace, who recently left Wee Burn CC in Connecticut to return to his hometown to run a practice range, contributes his mental compass, sketching a configuration of the layout. They agree that the oddest hole was the 300-yard seventh, a dogleg par 4 that dared a player to try to drive the green with a tee shot that flew or skidded atop a huge oil storage tank. Blancas played it safe in '62, but Fetters pumped four drives OB in the third round and walked in.
Longview still loves its golf. Pace's lesson book is full. At Longview CC, where a couple of working wells recall the boom days when the city gushed with oil and money, a regular gang throws a few dollars in the pot and tees off every afternoon at one o'clock. One of the favorites is the course's owner, 73-year-old Buster Cupit, who regularly shoots in the 60s on his 5,497-yard layout, and holds the course record, 58, which is noted in the shop on the type of bulletin board that often denotes a sermon or a daily special.
The day Blancas visited Longview, the Ladies Day prizes were about to be distributed and lunch was on the counter in the banquet room, steaming in metal trays. Blancas is invited to help himself to the barbequed chicken, corn and rolls before the ladies begin to fill the room with chat and giggles. The food is down-home tasty, and the fare and the banter take Blancas back to the meals he shared at the bustling Cupit household when he was just a young golfer stoking up to see how good he could become. "We'd usually stay with people in homes near the courses," Blancas says. "We met a lot of nice people." As the only minority in his elementary school Blancas was an outcast, but his golf talent helped him assimilate into the white culture. At college, where the cutthroat competition sharpened Blancas' shotmaking, teammates tried to soften any racial slants. "If I couldn't get into a movie," he says, "they wouldn't go."
Not far from the old Premier course there is a historical marker at a Longview city-limits sign. It has not been erected to honor Blancas, but its presence in the vicinity makes him smile nonetheless. And with not an asterisk in sight or mind, he happily poses for a picture. He doesn't have much to mark the occasion of his 55. He didn't think to keep the golf ball he used. The scorecard and trophy were destroyed by a fire at his parents' house in the mid-'60s.
Blancas can live with those who believe his record doesn't stack up to more famous rounds shot by more famous golfers. Although sub-60 scores are more common now, many hall of famers haven't done it. Just last year, Tom Watson was saying one of the few regrets of his career is that he never shot in the 50s. Blancas couldn't really explain how the magic happened then, and he can't now, but when he watches NBA star Vince Carter make the hoop look like an oil drum and light up an arena with an easy 50 points, he can relate as few can. "You get in a zone," Blancas says, "and to some extent I never felt like I did during the 55, ever again."
He didn't get rich and famous from his 55. Blancas won't say how much money he made that day in addition to the $125 he got for selling the set of irons given to the winner, a common practice then. This is not surprising, since he did not turn pro until 1965, about the time the NCAA and USGA were cracking down on the appearance of high-profile amateurs in the big-money calcuttas. "But in our day," says Marti, "everybody knew what was going on. Some of the college coaches would be there. Walker Cup players would be there. Everybody knew, and they didn't do anything."
It was customary then for the winner of the calcutta pool to share 5 to 10 percent of his windfall with the golfer who made it possible. According to the handwritten notes on a mimeographed breakdown that Pace's father has had tucked away all these years, Blancas was bought for $1,875 and the pot totaled $10,875. The winner's take was 31 percent of the championship-flight pot, so Blancas likely pocketed a couple of hundred bucks, and for a boy who grew up in a barn, that must have seemed like the world.
From the men who competed against him that day and saw him do the impossible, though, he earned something else--something he still has. Surveying the remains of the old course as a hot wind blows, he doesn't feel like a footnote.