News
Friend In Need, Friend Indeed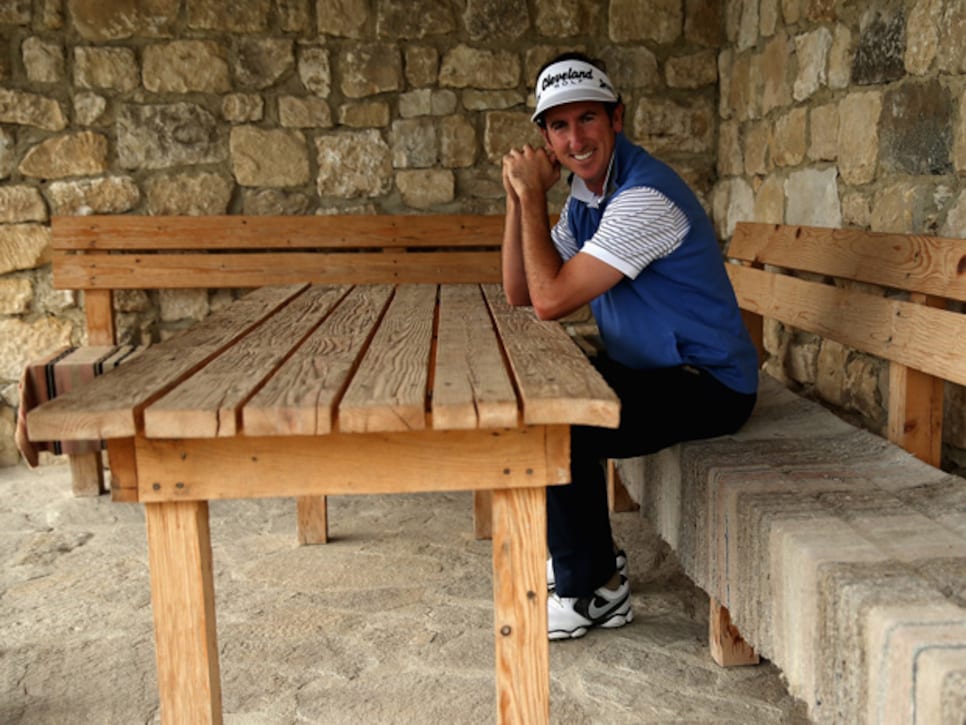 After his "fried chicken" reference to Tiger Woods kicked off a media malestrom May 21, Sergio Garcia couldn't have been paired with a better person at the BMW PGA Championship than Gonzalo Fernández-Castaño. The Spaniard familiarly known as "Gonzo" is one of the most respected players on the European Tour, and Garcia certainly needed a friend inside the ropes at Wentworth. The original plan was to share a house with Gonzalo during U.S. Open week but sensing fallout in Philadelphia over his comments, Sergio is going a different direction.
"Unfortunately he changed his mind and decided to stay in a hotel, which is a shame," Fernández-Castaño said after a Thursday range session at Muirfield Village GC during the Memorial. "I would have liked to have stayed with him because I think it will be a tough week for him at the U.S. Open after what happened at Wentworth."
That quote alone says what kind of person, and friend, Fernández-Castaño is -- and not just to Garcia. At the Masters he started a tradition in 2012 by hosting a Monday-night dinner that features wine and beef he has flown in from Argentina and driven up from Miami by instructor Mariano Bartolome. A mix of young and old -- from Masters champions José Maria Olazábal and Sandy Lyle to the likes of Thorbjørn Olesen and Matteo Manassero -- were on the guest list this year along with Garcia and Gonzo's equipment reps from Cleveland Golf.
At the Memorial, where he finished 68th, Gonzalo was telling friends about his impending trip from Ohio to Spain to attend the wedding of Alvaro Quiros in Sotogrande. He admitted this wasn't the ideal way to prepare for the U.S. Open, but Fernández-Castaño has known the 30-year-old Quiros since he was 16, and Quiros is godfather to his youngest child. "I hate weddings," he said. "But I love being a great friend. I think he would do the same if it were the other way around."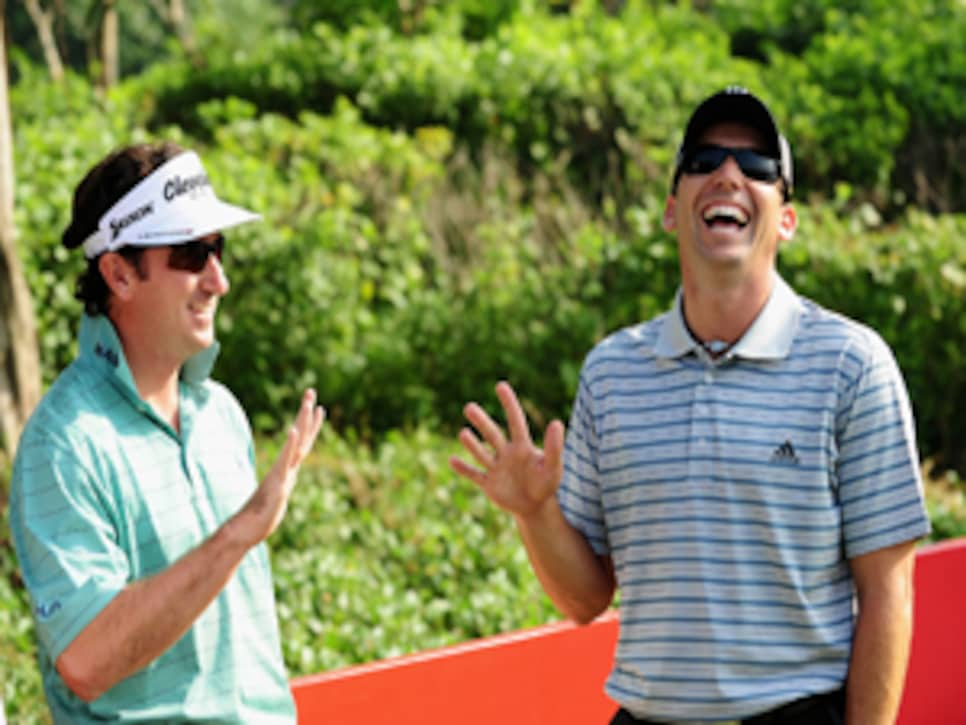 Although he is a mentor to Quiros and an understudy to a legend like Olazábal, Fernández-Castaño's relationship with Garcia is unique in that they're contemporaries who could not be more opposite. Garcia, 33, is world famous and a lightning rod for drama; Fernández-Castaño, 32, is relatively anonymous and seemingly always at peace. Garcia dates tennis stars and went into a slump when Greg Norman's daughter broke up with him; Fernández-Castaño married his high school sweetheart and has three children under 4. Garcia has been a Ryder Cup star; Fernández-Castaño has yet to make a team.
Their bond goes back to their days as juniors, when they won the 1996 European Boys Team Championship for Spain. After that their paths diverged. When the 19-year-old Garcia was finishing second to Tiger Woods at the 1999 PGA Championship, Fernández-Castaño believes he was "probably watching on TV" and getting ready to enroll at San Pablo CEU University in Madrid. "Golf was never in my mind at that point," he said. "I didn't realize I was good enough to play pro golf."
Fernández-Castaño graduated with a business degree and used it to form a company, GFC Golf & Business. He forged a partnership with countryman Miguel Angel Jiménez's company to promote two European Tour events in Spain from 2008-11, until the economy turned. By then Gonzalo realized his day job could be more profitable. Although he didn't turn pro until 2004, he has accumulated six European Tour victories (four fewer than Garcia) and has ranked inside the top 50 in the world since last June.
As a special temporary member of the PGA Tour, Gonzo hopes to earn full-time status and be eligible for next year's FedEx Cup playoffs. "I've always said the PGA Tour is a different league," he said. "It's always been hard for me to perform here, but all of a sudden this year it just happened. I do know that if you want to play here full-time, you need to be here."
Gonzalo and wife Alicia are moving to Key Biscayne, Fla., both as a commitment to the PGA Tour and also to educate their children in the United States. She stands 6-foot-3 and is attention-grabbing whether in caddie coveralls at the Masters Par-3 Contest or in a red evening gown at the European Tour dinner. They met as teens and were engaged following the golfer's victory in the 2006 BMW Asian Open. Gonzalo proposed on the green in Shanghai.
"He's just a solid gentleman, and his wife is virtually a carbon," says Lon Fellenz, tournament official of the Dunlop Phoenix. "He talks about his kids and his eyes light up. You can't ever find him without a smile on his face."
At a pre-tournament clinic, Memorial host Jack Nicklaus asked Gonzo about his first victory. The Spaniard told the gathering it was the 2005 KLM Dutch Open, the year he won the Henry Cotton Award as the European Tour's rookie of the year.
"Believe it or not, just like Seve, our first wins came at the KLM Dutch Open," he said. "I remember the following day after the victory I got a phone call at 7:30 in the morning, from a number I did not recognize, so I picked it up and it was Seve. He said, 'Gonzo, I am very proud of you.'"
Seve would have been proud of Gonzo Sunday, when he held his own playing with Woods for the third time this season. This wasn't a featured pairing on Saturday at Augusta, but it showed just how far Fernández-Castaño has come that he could feel comfortable around Woods as a player -- and still be one of Garcia's best friends. "It was great!" he responded quickly in a text before leaving for Spain. "We talked about sports but not about Sergio."
On the practice green last week at Muirfield Village, International Presidents Cup captain Nick Price was shaking hands and catching up with prospective members of his team such as Australia's Marc Leishman and South Korea's Sang-Moon Bae. "We still are a long way away, especially if you see how [the standings] have moved since Augusta," said Price of the matches scheduled to start Oct. 3 at Muirfield Village. "Now we have three major championships coming, so it's still going to move even more." Price is counting on Australians Adam Scott and Jason Day, along with South Africans Ernie Els, Charl Schwartzel, Louis Oosthuizen and Branden Grace, to be the heart of his team. Price mentioned he would like to see Masters runner-up Angel Cabrera make the team. "But he's got to play a little better than he has," said Price, who hit balls just prior to his trip to Ohio for the first time since left elbow surgery in January.
The rise of the Honda Classic under Ken Kennerly's direction has proven that Palm Beach County can support a PGA Tour event. Now the Palm Beach County Sports Commission, of which Kennerly is a key member, is hoping to prove it can stage one of the most successful events on the LPGA Tour, the Solheim Cup, as well. Executive director George Linley told the Palm Beach Post last week that the commission has discussed bidding on the event more than once. Kennerly confirmed LPGA officials toured PGA National during this year's Honda Classic and were impressed. The sticking point is raising a guaranteed $2-$3 million, and the dates would have to be moved into the fall, but after selling his company, International Golf Partners, to IMG, Kennerly has the resources to put a global deal like this together.