News
Making Every Number Count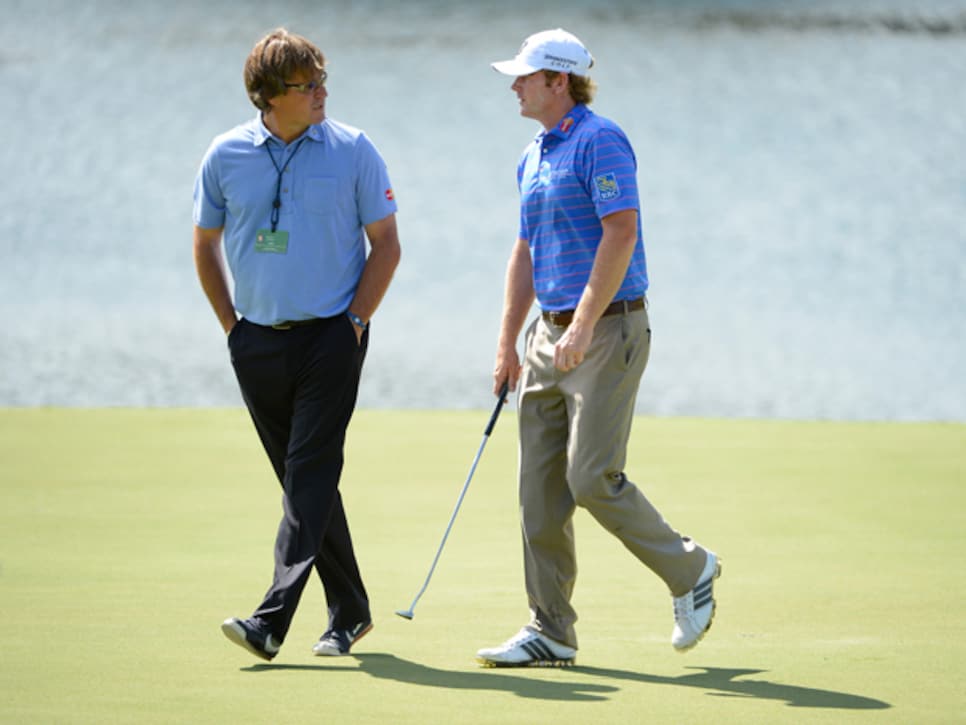 Snedeker relies on Horton (left) for stats-based advice.
With all the numbers being crunched in the PGA Tour's ultimate Moneyball game at East Lake GC, Mark Horton was applying his version of golf calculus. Standing behind Brandt Snedeker on the range during warm-up sessions before each round at the Tour Championship, the Englishman gave the defending FedEx Cup champ a mathematically desired game plan for the day. The information is classified, shared in most cases only within Team Snedeker.
For lack of a better description, Horton is Snedeker's numbers guy, a stats man who swing instructor Todd Anderson describes as Brandt's "accountant." He is also one of several experts in the world of analytics being employed of late by high-profile PGA Tour golfers. BMW champion Zach Johnson, Jason Day, Jonathan Byrd, John Rollins, Kyle Stanley and Ben Crane are also tapping into what Snedeker has relied on with Horton since the 2012 British Open.
"Whether he [helps] or not, I think he does … I believe he does, so that's all that really matters," Snedeker explained as we walked a practice round late Wednesday at East Lake. "I've got confidence in what he tells me. He's turned into my mental guru, I guess. He gives me peace of mind in what I'm doing."
Horton's job is to drill down on ShotLink and match up Snedeker's game against the course he's facing -- the goal being to play percentages and pick up shots on the field through better course management. On a referral from Ian Poulter, Snedeker and Horton began working at Royal Lytham with immediate results. After missing the cut at his three previous British Opens, Snedeker tied Nick Faldo's 36-hole record and finished third. Since then Snedeker has won three times, including last year's Tour Championship and the 2012 FedEx Cup title.
While Snedeker didn't have the best of performances last week at East Lake, finishing T-20, he did have his best overall year on tour in 2013, with two wins, two runner-up finishes, nine top-10s and $5.3 million in earnings.
"The lines [between a good and great season] are so thin, so I'm trying to find any edge I can get," Snedeker said. "Mark's done a great job for me of understanding who I am as a golfer. We, as professional golfers, have a tendency of thinking we're strong in particular areas, and that may not be the case at all. He does a great job of identifying what I need to work on, what my strengths are so I play to those, and what my weaknesses are, so I can play away from them."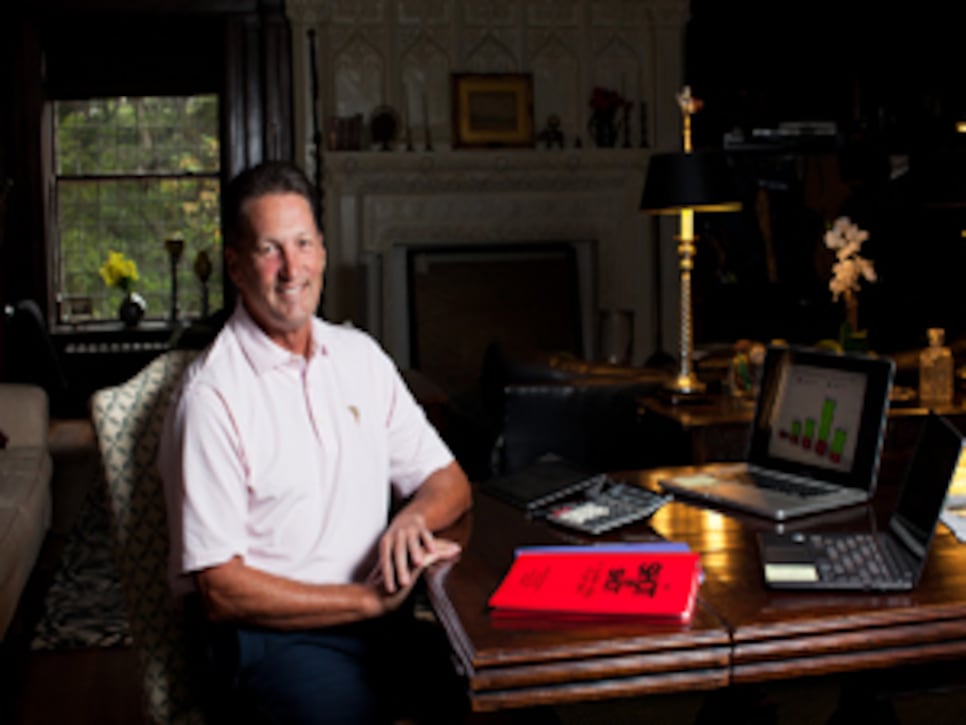 At East Lake a year ago, Horton worked his computer in the clubhouse, and Snedeker executed a game plan that resulted in a sweep of the final playoff event and the FedEx Cup title for an $11.44 million payday. At the end of the year, Snedeker said Horton was the difference for him in jumping from 38th to ninth on the World Ranking.
Five months later, at this year's AT&T Pebble Beach Pro-Am, Snedeker rose to fourth in the world when he won the tournament -- in his mind -- by shooting 68 on Spyglass, the toughest of the event's three courses. Horton's advice there: Be passive with most hole locations but aggressive with wedges on the par 5s.
The most recent payoff occurred during July's RBC Canadian Open at Glen Abbey. Snedeker only hit 44.64 percent of his fairways (T-58 in the field) but won by three. The details of how he managed to lead the field with 23 birdies remain in the vault. "I can't share," Snedeker said with a smile. "I'll share it with you once the tour says we're not going back [to Glen Abbey]."
Less secretive, and less dependent on a tournament-to-tournament basis, is Johnson with his numbers guy, Peter Sanders. The 2007 Masters champion was the first to explore the benefits of performance metrics when Johnson invited Sanders in 2011 to the annual team meeting he hosts at Sea Island with his entire support staff. At the prompting of his instructor, Mike Bender, Johnson reached out to Sanders, who already was sifting through the next generation of player improvement with an online website he created called Shot By Shot.
Sanders, who works out of his house in Connecticut, contends that ShotLink stats are "myopic" and "one-dimensional answers to multi-dimensional questions." The blunt comments point to the theory that identifying tangible areas of improvement that can truly help improve scoring comes from a more focused exploration of the data.
Sanders' work with Johnson involved breaking down how he putts bentgrass versus Bermuda greens, or how he plays at East Coast venues versus West Coast ones. This next-level questioning is where patterns surface that can have a real impact when understood and exploited.
"I just kind of sit there and listen," Johnson said. "There are some things that are obvious, other things where you say, 'Yeah, but you have to factor in this.' Others like, 'Wow, that's interesting.' " Sanders also provides info for Byrd, Rollins and, most recently, Stanley.
Australia's Day, who has had six top-10 finishes in majors since 2010, relies in part on his caddie Col Swatton, who doubles as a stats maven, creating his own spreadsheets to come up with his analysis. Swatton bounces ideas off Mark Broadie, the Columbia professor who invented the strokes gained/ putting statistic that has become the new standard for measuring performance on the greens.
Broadie is also working as a consultant with tour pros. Ben Crane, on the recommendation of his manager Tommy Limbaugh, recently started talking to Broadie in hopes of figuring out a more concentrated way to improve his results.
"Breaking it all down and looking at it in a different way; I think there are some interesting things there," Lim- baugh said. "There may be too much information, yet it's worth looking at."
In a way, it's not unlike Snedeker saying whether it helps or not, he believes it does and that's all that matters. As golf enters its own Moneyball Era, every number counts for something.
The hot date for the United States team in the upcoming Presidents Cup is not a pairing with Tiger Woods or Phil Mickelson, but with 20-year-old rookie Jordan Spieth. "I put in my dibs," Webb Simpson said after their Friday pairing at the Tour Championship. "I'd love to play with him," added PGA champion Jason Dufner after Spieth finished T-2 at East Lake. "He's playing great right now." Mickelson wanted a closer look himself so he invited Spieth into his weekly practice game in Atlanta. "Not only is he a great player but he's got a great demeanor," Mickelson said. "He's very easy to be around and very likable. That adds a lot to the team room and adds a lot to him as a partner for whoever plays with him."
The compressed FedEx Cup season took its toll on some this year. In the midst of his 16th PGA Tour event of 2013, Tiger Woods came off the course Friday at East Lake claiming exhaustion led to the late double and triple bogeys. "I'm tired," Woods said, questioning whether the concentrated, late-season grind that began at the British Open and extended through the Tour Championship was just too much golf. Woods and Mickelson, the power brokers among tour players, both wondered about the four straight weeks of FedEx Cup Playoff events set for 2014 -- with a break coming afterward before the Ryder Cup in Scotland -- and were looking ahead to 2016 and how the Olympics in Rio de Janeiro might wreak havoc with the tour schedule. Of course European players such as Luke Donald, now focused on October and November's Race to Dubai tournaments, have a different perspective. "He's only played 17 events [worldwide]," Donald said with a smile. "I don't know what he's talking about. Try playing both tours."