News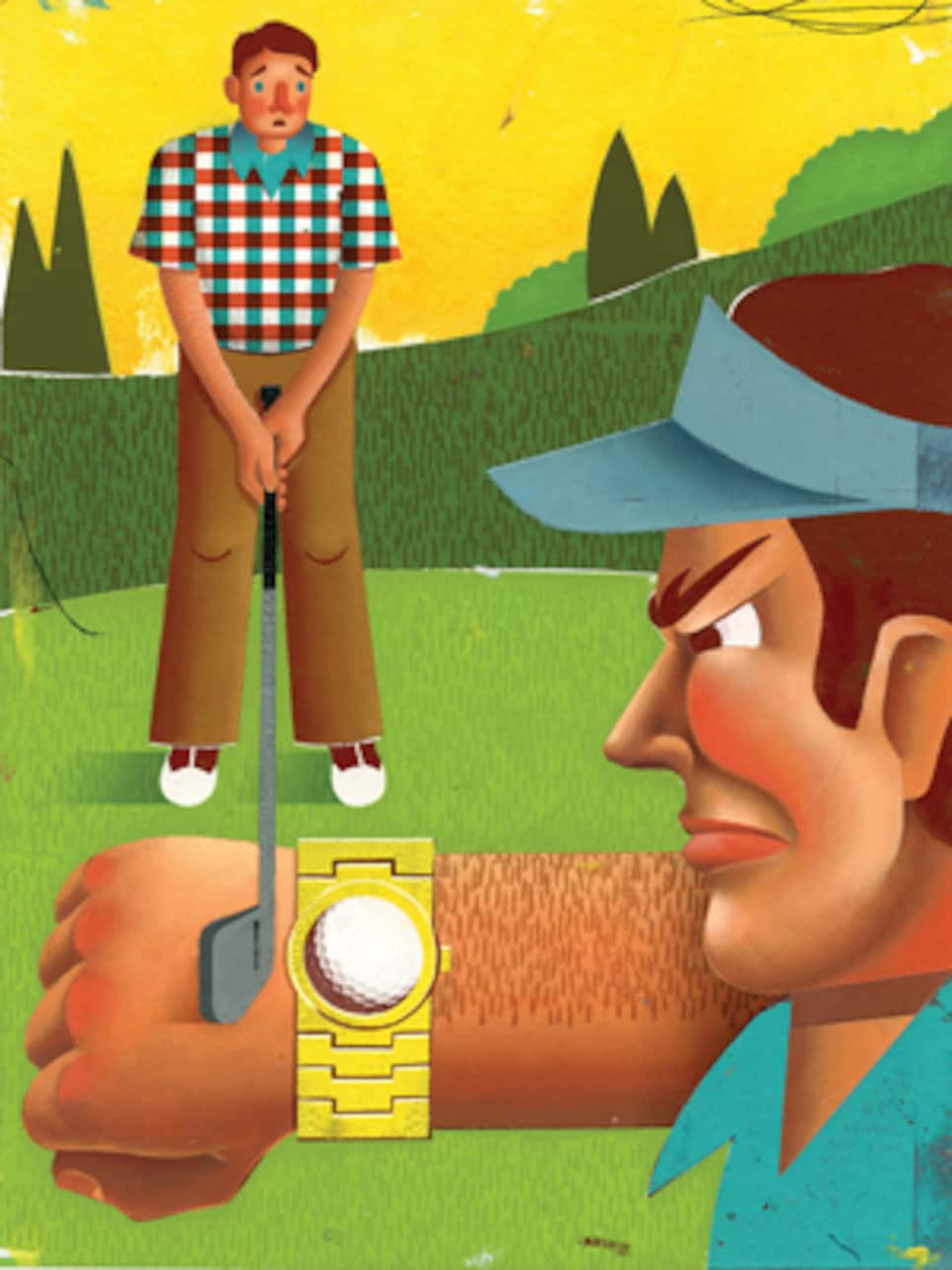 Sure, there was an outcry of sympathy when veteran rules official John Paramor assessed 14-year-old Chinese amateur Tianlang Guan a one-stroke penalty for slow play during the second round of the Masters. It's true that Guan isn't fully fluent in English, and that he was unfamiliar with professional golf's arcane (and easily circumvented) pace-of-play policy. But perhaps the moment will go down as a tipping point.
The fact is the gruff but highly respected Paramor had painstakingly implored Guan on four separate occasions to play faster. The teenager had nodded receptively, but then persisted in taking way too long to hit a shot. Sentiment aside, it was a case of a player -- even one of Tianlang's tender age -- unable to break an ingrained habit. Indeed, when American golf writers later approached three Chinese journalists to ask if they thought their young countryman had been unfairly victimized, their answer was unequivocal. "Oh, no," said one, as the others nodded, "he's really slow. He must speed up."
That's exactly the common belief about professional golf: really slow and in need of speeding up. Over the last year exasperating moments have kept the issue front and center. At the Players this week, the agonizing pre-shot ordeal and intentional whiffs of last year's 54-hole leader, Kevin Na, will be recalled. Next week the rewind will be on Morgan Pressel losing a crucial hole in the semifinal of last year's Sybase Match Play Championship for taking too long. In January at Torrey Pines, when Tiger Woods saw his eight-stroke lead with five holes to play turn into a four-stroke victory, he said constant waiting for the group in front had caused him to lose his concentration. And even the Guan controversy couldn't obscure the fact that it took Friday afternoon threesomes at the Masters 5 hours and 40 minutes to finish.
Still, anyone with a grasp of golf history can legitimately respond with "So what?" Outcries over slow play started even before Bobby Jones' address-to-impact time was less than three seconds and Gene Sarazen was missin' 'em quick. The dawdling of Ben Hogan and Cary Middlecoff would show the unenforceability of Rule 6-7, which directs competitors to "play without undue delay." In 1950, after the final second-round threesome in the previous year's U.S. Open required four hours, 21 minutes to complete its play, USGA chief Joe Dey said: "The time has come to act if the game is not to be seriously injured." After television began presenting golf regularly in the 1960s, many criticized Jack Nicklaus' interminable time over the ball for setting a damaging example. A 1965 cover story in Golf Digest headlined "Crisis in American Golf," stated in its first sentence that "the game of golf is slowing to a sickening near stop." Lee Trevino, whose brisk style recalled Sarazen, loved zinging slowpokes with lines like, "Just once, I wish I could play behind myself." The final round of the 1983 Kemper Open, still known among veteran officials as "The Longest Day," would prompt the PGA Tour to initiate a timing policy, but to little effect. In 1989, Jake Trout and the Flounders, fronted by Peter Jacobsen, sang "Slow Play" to the music of Eric Clapton's "Cocaine," changing the chorus to: "We don't like, we don't like, we don't like ... slow play."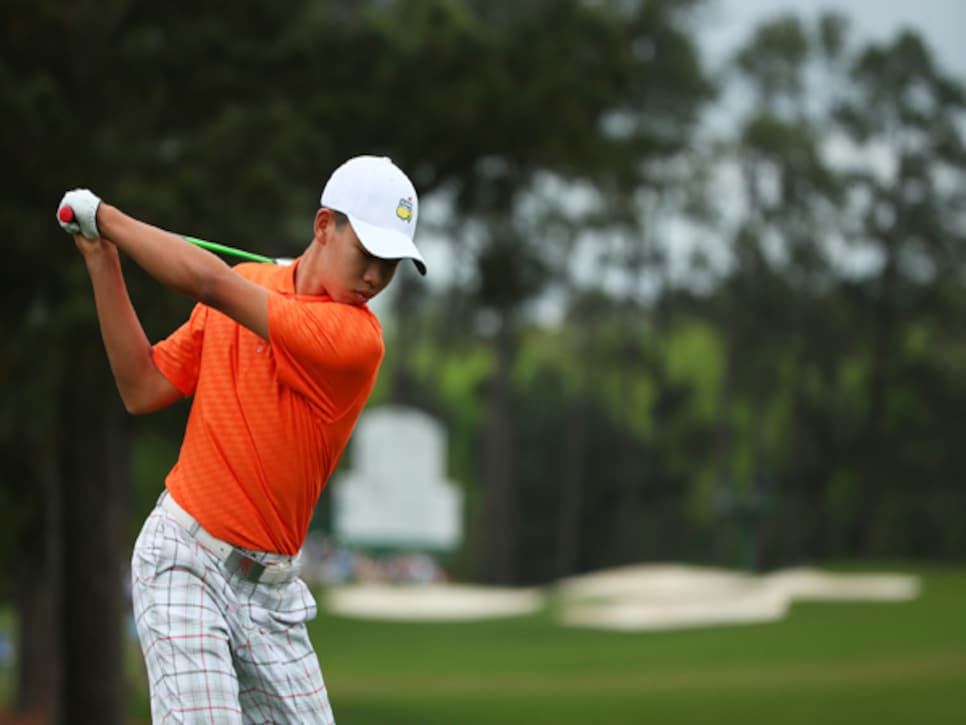 The widely held belief that today more players -- and watchers -- like it even less adds to the sense that something significant might be in the offing. Golf participation has been going down at the same time Americans report being busier working. Time is of the essence in keeping people in the game. The USGA and PGA Tour are both in the midst of their most extensive studies ever on pace of play. Meanwhile, as the rest of life gets faster, well-known moves such as the Jim Furyk fake out, the Keegan Bradley stutter step, the Ben Crane waggle and the Jason Day eyes-closed zone out, have all become sources of annoyance to golf fans (and probably fellow players), not endearing quirks. Luke Donald has tweeted, "Slow play is killing our game."
"It feels like an emergency situation," says Geoff Ogilvy, a member of the PGA Tour's player advisory committee and one of the game's most perceptive observers. "Something is going to have to be done." Perhaps. But so far, Na was more successful at pulling the trigger during the Players than golf has been on a slow play policy with some teeth. Players continue to complain but won't confront, and leaders continue to study but don't lead. Meanwhile the exasperated golf fan continues to wait.
Why? Well, it's complicated.
First of all, competitive golf -- playing by the rules, counting every stroke, putting out on every hole -- is a far different animal than recreational golf. One careless stroke can ruin a round, a tournament, even a year. When millions of dollars -- and the fate of careers -- are at stake, the game's rulers long ago agreed that at the highest level, players should have a right to be deliberate.
The PGA Tour thought it was taking a big step toward controlling and deterring slow play when it instituted an enforcement system in the 1980s that remains largely intact today. In it, players are only subject to being timed when their group falls more than a hole behind. The players in the "out of position" groups are then given 40 seconds -- and in certain circumstances 60 seconds -- to hit their shots. If they incur a "bad time" once, they are given a warning (players put on the clock 10 times in a year are fined $20,000). If it happens again while the player's group is still out of position, he receives a one-stroke penalty. However, no player at a regular PGA Tour event has been issued a one-stroke penalty since Glen Day at the 1995 Honda Classic (see page 52). Under the system, players who are not out of position are free to take as long as they please to hit a shot.
At the same time some critics say the system has to be toughened, in the last couple of decades, changes in the game have made it slower. They include:
• Firmer and faster greens, which lead to more careful study of all shorter shots, and many more second putts that are marked. It has been estimated that speeding greens up from a reading of 10 to 12 on the Stimpmeter adds about 20 minutes to the average round.
• Longer, more difficult courses. When 3½ hours was considered the average time for a tour round, most courses measured less than 7,000 yards. Today, many are longer than 7,400 yards. There is also more time- consuming "backward" walking required between greens and lengthened back tees.
• As distance averages go up, there are more reachable par 5s and drivable par 4s that force more players to wait and cause longer backups.
• Longer pre-shot routines influenced by more work with sport psychologists.
• More involved yardage books, including separate "green reading" charts.
• The common practice of precisely aligning a drawn line on the ball on most putts.
• Longer and more frequent discussions with caddies.
"A lot of new time layers have been gradually added," says Ogilvy. "It took a long time for them to build up, and they aren't going to be eradicated overnight."
Changing back to softer and slower greens, shorter and easier courses is something the guardians of the game have resisted, as it would lessen the demand on skill that is the hallmark of crowning the most deserving winner.
On the other hand, many believe changing behavior could be achieved by toughening the system. The big one would be to forego the warning, which is what the LPGA does. It's a change favored by many, including Joe Ogilvie, whose Twitter avatar is "slow play" with a line drawn through it, and Tiger Woods, who last year said, "I think it's very simple. If you get a warning, you get a penalty. I think that would speed it up."
However, Ogilvy reports that in player meetings, discussions of slow play are delicate because it is a subject that is often taken personally and can strain friendships. "A surprising number of slow players don't think they are slow," he says. He added that while 2013 was intended to be a year in which the players spoke more frankly about the problem, "the issue kind of got hijacked by the anchoring debate."
"I don't come down on the side of radical change," says Ogilvy. "I don't agree that people should expect pros to play as fast at Sawgrass as people do at a club. There are a lot of little things about our game -- raking a bunker at the right time, not standing on the through-line -- that are not things you would worry about in club golf. But I think our whole thing could go a little faster. Long pre-shot routines, not being ready, backing off for odd noises, just by everyone being conscious of the time wasted, a lot of those things could go away."
Ogilvy is a fast player who has learned to play slower to avoid frustration. Still, he says he has never been fined for slow play. "I'm like 80 percent of the tour, I flow with who I'm paired with," he says. "Which means most guys could go faster if everyone went a little faster. I like to think that when playing with notoriously slow guys, when they get on the clock and have to speed up, they play better."
Mark Russell, the PGA Tour's chief rules official, concurs. He tells of Swedish tour pro Richard S. Johnson, a notoriously slow player who one year was playing in the first twosome of the final day in Reno, which had officials nervous because Johnson would in effect be setting the pace for the entire field. Johnson assured them there would not be a problem because he had a plane to catch that would require him to finish in less than four hours. Johnson sped around in 64, an experience that was so profound that, according to Russell, he has ceased being a slow player.
But Russell, an official for 32 years, also defends the current system. While he doesn't deny that the pro game has gotten slower, he believes officials have sufficient tools to manage an acceptable pace.
"I really think it's a pretty good system, nine times out of 10," Russell says. "Competitive golf is not meant to be played fast. When they get out of position, we get on their case immediately, and they get back into position. Could we get them to play in 4:30 instead of 4:40 by pushing them a little more? Sure, but I don't consider that such a big a deal. I also don't think one- stroke penalties would do that much. The big thing is having to wait, sitting on bags. That's hard on the players and hard on the spectators. I guarantee you if a player never waits, he doesn't know or care what time he played in. As long as they are constantly moving, they will never complain."
According to Russell, the biggest factor in standstills is full fields of 144 and, especially, 156 players.
"That's just too many," he said. "When they go off both tees on Thursday and Friday, once the first group makes the turn, it's gridlock, nowhere to go. With the tournaments of 120 or smaller, there is usually a constant flow and nobody waits."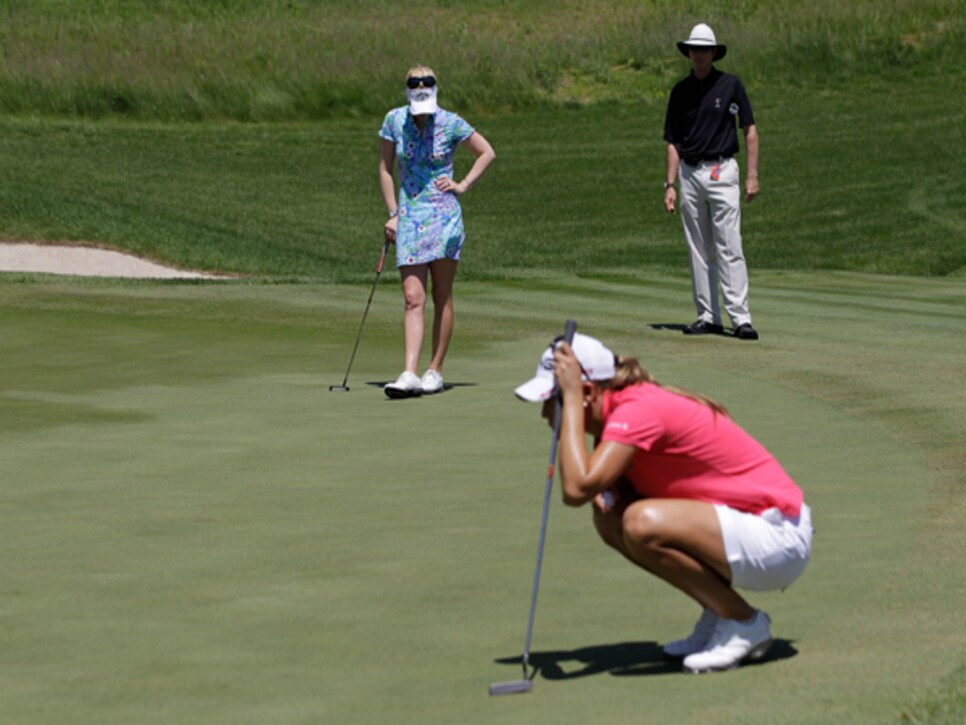 But the larger fields are a trade-off that tour commissioner Tim Finchem has deemed for the greater good. "As much as we like to see a stronger pace of play," he said before last year's Players, "the playing opportunities for the number of players we have are more important, and we'll generate the playing opportunities first and take our lumps second."
Russell believes most of the annoyances can be resolved by basic etiquette. "Get to your ball quickly, be ready when it's your turn to play. Simple." But Ogilvy sees that standard eroding as riches have increased.
"The PGA Tour is the slowest place to play golf," he says. "Europe is faster, and on the Japan Tour, they almost run when they get put on the clock because it's a shame-based culture. In America we have gradually gotten to a place where guys take as long as they want to take, especially around the greens and on tough shots. There's more of an attitude of, 'It's my time to do what I want to do.' Peer pressure can be a big thing, and there's not a lot of peer pressure about slow play on the PGA Tour."
Ogilvy says that, in general, it is the younger players who tend to be slower.
"The guys in their 20s, that's the way they learned. It's all the coaching and technique, getting the distance perfect to the point of factoring the incline, it's a science project as opposed to painting a picture. Trying to get them to cut some corners in their routine, they have a lot of trouble with that, because it's the only way they know how to hit a golf shot."
Many point to sport psychology as the culprit, especially for lengthening pre-shot routines as well as the practice of starting them all over when interrupted. Gio Valiante concedes that sports psychology, as well as watching how deliberate great champions such as Nicklaus and Woods get at the biggest moments, has furthered the impression that slower can be better.
"For the best players, there is more information to wade through in every area, including psychology. So sport psychology is part of the problem because some players find more to think about. But it's also part of the solution, because the training should be in focusing on what matters and removing the rest. Besides, there is absolutely no data that supports the slower-is-better result. If anything, it's the opposite."
By consensus, the slowest high-level golf in the world is played by Division I colleges. This is startling because so many good college players played on the AJGA, which is lauded for stringent pace-of-play policies -- including time stations every several holes -- that have steadily decreased the average times of its rounds for several years, and this year has set the goal at 4:19.
But the good habits tend to break down in college, where coaches are allowed to give advice during play, and where there is pressure to play well individually and for the team.
Steve Desimone, in his 34th year as the men's coach at No. 1-ranked Cal, wants to change college golf's reputation as well as stop breeding slow future pros. "We talk about it every year, and nothing ever happens," says Desimone. "In my opinion too many coaches are afraid to take a bold step. But it's what the game needs. I believe in tough love."
To Desimone, ideally that would mean imposing a 40-second shot clock in college golf. He was won over to the idea by the recently retired long-time coach at Arizona, Rick LaRose, who in 2010 and 2011 used it at a tournament his school ran.
"The first day, two or three guys were given penalties on the front nine," Desimone said. "After that, no one had a problem conforming. We took 30 minutes off the average round. And after it was over, everyone, coaches and players, said that it was more fun, they were less tired. They were moving.
"I think there has to be flexibility. It could be 50 seconds for some courses, or when it's windy. But it's very doable."
Imposing similar tough love in professional golf would take master diplomacy and massive political will. Perhaps the determining point will be when the leaders of the game decide that presentation of the sport -- ultimately the product -- is being significantly damaged.
Television has masked the problem with editing, but in person, golf requires more patience from its spectators than any other big-time sport. What is often perceived as a picnic atmosphere is uncomfortably close to being considered boring.
"We're entertainers," said Ogilvy. "I think the product is better when it is played a little faster than it is now. That might be what gets the players finally in the room having the conversation. Sit everyone down and ask: 'Do you all truly want to play faster?' If the collective is yes, we work it out.
"One incentive might be that it's not just about the tour, it's about the game. I see the average player at the club taking four practice swings, or bringing out three drills their pro taught them, or backing off shots, or looking at putts from both sides. It's part of what people enjoy, feeling like pros. But our sport suffers because people copy us."
If that's the tipping point, it will be because of more altruism than professional golfers are commonly given credit for. On the other hand, by all accounts, Tianlang Guan speeded up significantly at New Orleans.