News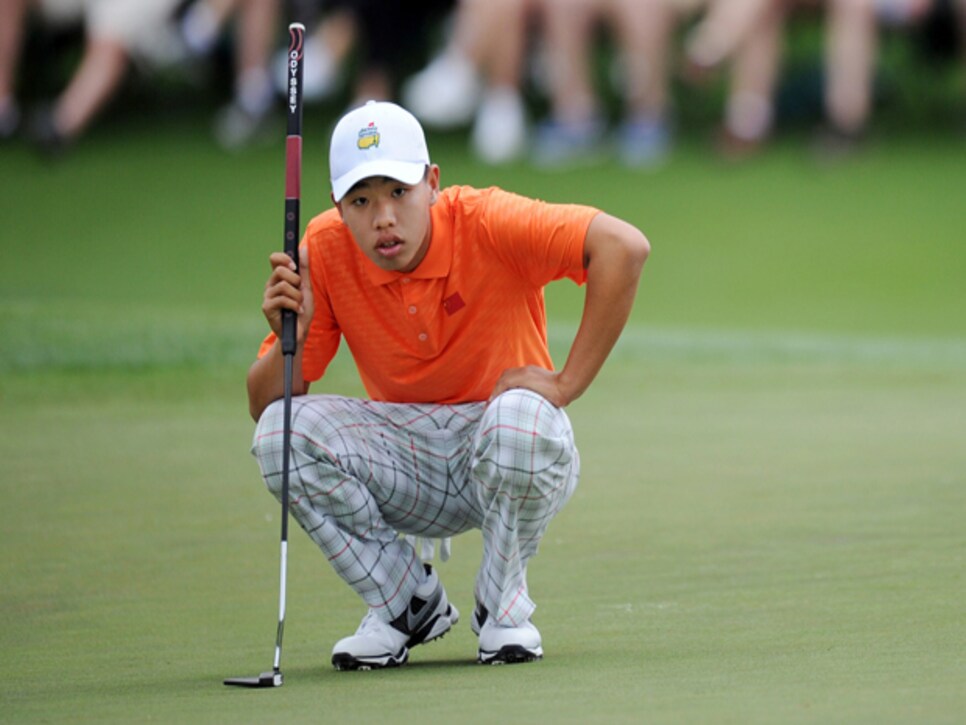 As Tianlang Guan, the 14-year-old amateur from China, walked off the 16th green at Augusta National GC Friday afternoon, John Paramor stood waiting for him -- wishing he was almost anyplace else in the world at that moment.
He had already spoken to Guan three times about his pace of play. He had been timing him, as the rules dictate when a group is out of position, since the 12th hole. Now, as Guan walked to the 17th tee, Paramor was almost pleading as he spoke to him again.
"You must try to play faster," Paramor told Guan (right), according to several people who later heard Paramor's description of what happened. "This is the last time I can speak to you without penalizing you."
As he had done previously, Guan nodded and thanked Paramor for warning him. Then, for the first time, he asked a question.
"When does the 40 seconds begin?" he asked.
"When it is your turn to play," Paramor answered.
The question is important given what happened next because it seemingly proves that Guan understood he needed to pick things up.
On the 17th fairway, he took 65 seconds when it was his turn to play. At that moment, Paramor had no choice but to inform him he had incurred a one-stroke penalty, turning a par 4 on 17 into a bogey 5. Remarkably, Guan still made the 36-hole cut at four-over 148, an extraordinary performance for the youngest player in Masters history.
Paramor has been the chief referee for the European Tour for 37 years and officiates annually at all four majors. He is respected by his peers and by players. A bear of a man with an easy smile and an endless collection of golf war stories, he has done battle with Seve Ballesteros and Colin Montgomerie and encountered the wrath of Tiger Woods four years ago at Firestone when he put the notoriously slow Padraig Harrington on the clock late on Sunday afternoon. So, the notion that he was somehow picking on a defenseless kid is ludicrous.
Because only Fred Ridley, the chairman of the championship committee, is allowed to publicly speak about rules issues, Paramor was reluctant to answer questions about what happened or how he felt about it. But other officials willingly came to his defense.
"He had absolutely no choice in the matter," said another rules official. "He spoke to the kid four times, and [Guan] never picked it up. If I had John Paramor following me down a fairway with a stopwatch, I'd be running."
This was not the first time Guan had been spoken to about his deliberate style of play. When he played in a British Open qualifier last month, officials spoke to him about his pace of play, warning him that he might run into trouble at the Masters if he didn't pick up his pace.
"This is my procedure," Guan supposedly told officials at the qualifier.
"You must edit your procedure," he was told.
If he did edit his procedure at Augusta, it wasn't enough. Even on Thursday his painfully slow pace was noticeable. Ben Crenshaw, who played with Guan both days and defended him after the penalty, admitted the youngster was very slow at times.
There is, of course, a larger issue. Many players were upset that a 135-pound eighth-grader was penalized when brutally slow PGA Tour players always seem to get off with warnings. No player in a regular tour event has been given a stroke penalty for slow play since Glen Day -- 18 years ago.
Paramor, a former golf pro himself, has a reputation among players for enforcing the rules but not for empathy or compassion. He knows from experience that the game isn't easy.
He is also a believer in getting to where you need to go as quickly as possible. On the Monday before the Masters, as he was making the drive from Atlanta to Augusta on I-20, Paramor saw flashing red lights in his rear-view mirror.