News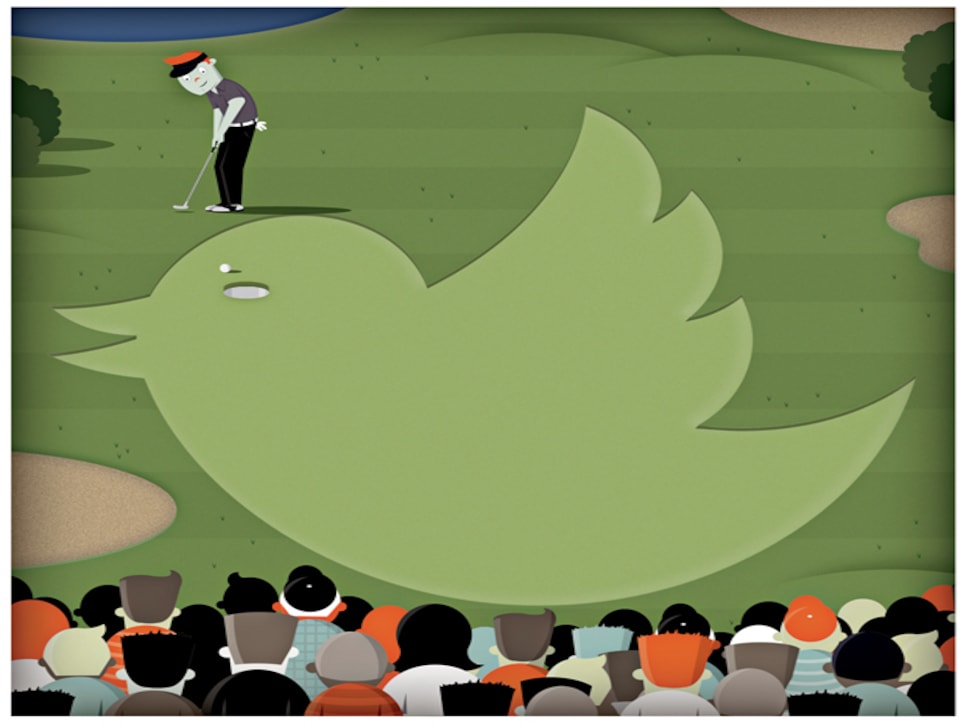 Tiger Woods revealed the news of his back surgery in a traditional story posted to his website. Yet that item, which ended hopes that he would play in the 2014 Masters, only became worldwide breaking news when Woods' Twitter account sent out a link to the story, accompanied by this short missive to his 3.83 million followers: "Sad to say I'm missing the Masters. Thanks to the fans for so many kind wishes."
The tweet, a 140-character-at-a-time social media message described by Twitter co-founder Jack Dorsey as "a short burst of inconsequential information," has exploded as a primary source of consequential information. Tweets have also become an entertaining way to better understand the world of golf, communicate with like-minded souls and get tips on green-fee deals or, in the case of renowned instructor Hank Haney, free swing advice. Eight years after Dorsey and friends invented Twitter during a brainstorming session, and another four years after the world of golf's involvement reached critical mass, the PGA and LPGA tours are now playing a pioneering role in the sports world's rush to embrace all things Twitter.
Fewer detractors than ever cling to the myth that Twitter is a silly medium for people mindlessly posting photos of their dinner, followed by a series of LOLs and smiley faces. While some of that harmless inanity still takes place and always will, the social media giant has become the place pro golfers break news of engagements, injuries and equipment switches. It's where they vent about slow play, engage in playful banter with colleagues and, most of all, reveal something about their personalities that 18 holes of tournament golf will not allow.
"Golf's what we do, not who we are," says Christina Kim, one of the first pro golfers to use the medium to raise both her personal profile and that of the LPGA. "And that's what I love about Twitter: We can show who we are." As a business tool, Twitter allows companies, golf associations, courses, media outlets and professional tours to directly reach fans in more personal and informative ways. Network television has embraced tweets for something as simple as reminding viewers that a telecast has started, while also valuing the virtual water-cooler role Twitter plays in embellishing the viewing experience with analysis, humor or quick access to back stories.
"How can you go through life without knowing what's going on while you're watching something?" wonders Kim. "We want to know what's happening immediately."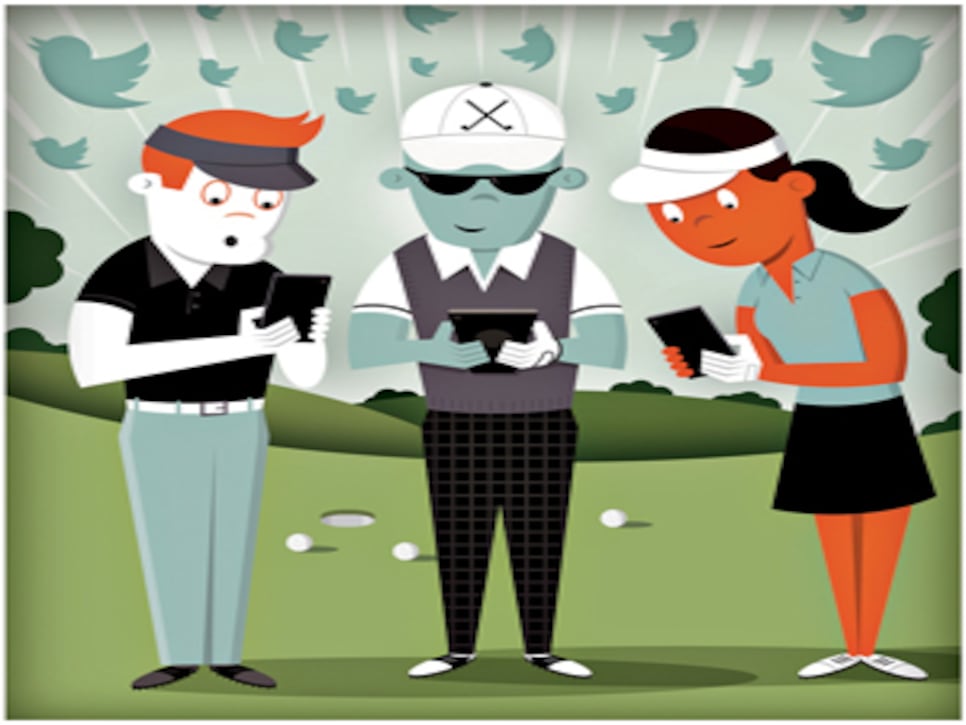 Amid its popularity Twitter's growing pains have been eye-opening and almost too numerous to list. In 2014 alone, Ian Poulter (a massive presence driven by his daily interaction with fans, eccentric mix of content and tweeting of deals on his clothing line) called out Hideki Matsuyama on Twitter the night before their pairing at the WGC-Cadillac Championship after the 22-year-old Japanese star damaged the surface of a green in anger while playing in the group ahead of the Englishman. The next day they met and eased the tension before the round, which we learned from a photograph tweeted by a writer covering the event.
Former PGA champion Steve Elkington added to his long list of tasteless tweets by making a lame joke about the first openly gay NFL prospect, Michael Sam, though he claimed he was actually targeting ESPN's excessive coverage of Sam's NFL combine performance. Elkington tried to backtrack, but the damage was done and there was widespread outrage in the sports world. Although he has otherwise been way ahead of the social-media curve for a couple of years, Elkington has not put out an original tweet since, nor did he play in the same March events on the Champions Tour he played last year, fueling speculation that he was suspended for his incendiary tweet. The PGA Tour does not comment on fines or suspensions.
Even something as simple as a change of Twitter "avatar" -- the photo on a profile identifying the user -- led some to speculate that Rory McIlroy and Caroline Wozniacki had broken up last summer. The couple announced their engagement just months later. On Twitter, naturally.
These days McIlroy primarily shares sponsor news with his 1.85 million followers, leery of using Twitter too much. "When you do well, you get hyped up so much, and when you do badly, they think it's the worst thing ever," he says of many Twitter followers. "So there is no real balance in it. I don't look at the comments that much, if I'm honest. I'll look at my timeline and people that I follow. But in terms of what fans and public are saying, I try not to look into it too much."
Ah, the timeline. That's the long list of tweets by users that a registered member of Twitter chooses to follow. This virtual ticker is consumable online, more likely these days on a smartphone.
The timeline may be the best and worst thing that's happened to how news is delivered. Every player interviewed for this story used nearly the identical phrase: "Twitter is my newspaper." "I use it as my news source, versus a newspaper," says 20-year-old Jordan Spieth. "When I get up or when I go to bed, I check it. I use it for news, scores, funny stuff, it's all of the above." While we pause to allow ink-and-paper aficionados to grieve, consider that Twitter has actually raised the profile of the media and information-sharers in the eyes of the "millennials" so coveted by advertisers (although monetizing that influence is proving a difficult trick).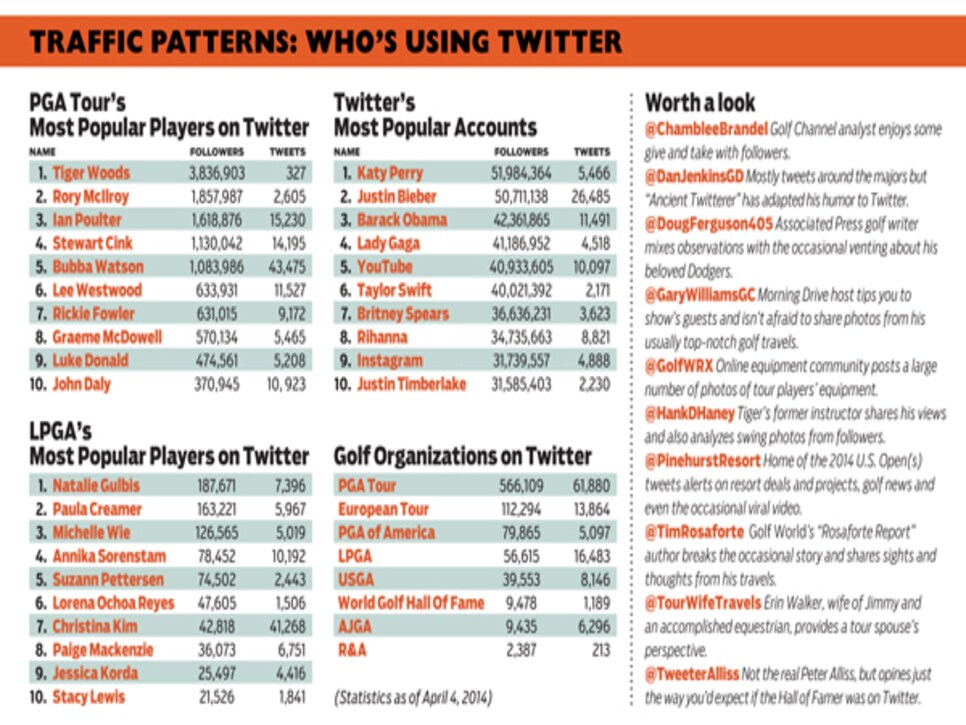 Nearly every player also says his or her passion for Twitter goes through phases.
"I keep thinking that it's going to fade out, like a MySpace thing, but it keeps chugging along," says Jason Dufner, who became a worldwide sensation for his "Dufnering" pose. That amusing image started with a tweeted photograph by a local TV reporter, which was then retweeted by Keegan Bradley and soon thousands of others. Dufnering was ultimately seen by millions and became a pop-culture moment when mimicked by famous people inside and outside of golf. A year later Dufner is only mildly tired of hearing about it, saying, "People still hang on to it. It sure took on a life of its own."
More fun for Dufner are the non-golf topics he likes to tweet, such as humorous dog photos or shots of pickup trucks driving down America's highways swollen to the brim with junk. "I still get about 50 tweets a week of photos like that," he says. "I love it."
For all of the fun, several unsuspecting players have gotten emotionally caught up in Twitter and pulled back. Poulter increasingly uses the "block" feature and moves on from the "trolls" who delight in attacking celebrities, and Stewart Cink, the other male PGA Tour pioneer on Twitter, now only tweets on occasion. Once willing to ask for a dinner recommendation in an unfamiliar city or reply to nearly every query sent his way, Cink was soured by how a few of his 1.13 million followers began hurling insults as he struggled with his game.
"I valued that interaction quite a bit because I felt like they valued it," Cink says of his initial Twitter years from 2009 to circa 2011. "It gave me a sense of connection to a fan base out there. But then as it grew and more of the people that followed me weren't necessarily fans of mine or fans of golf, a lot more negativity came in. I would still read all of my replies, but anyone who's been on Twitter knows there's a lot of nasty junk and people fire off negative stuff. I just got tired of reading that."
"I occasionally check my replies, and read them and answer as many as I can, and then I'll go weeks without checking. I was driven away by some of the goons out there."
Stacy Lewis experienced a similar issue, though hers was somewhat self-inflicted after playing amid unfriendly crowds in dense China smog last fall. The reigning Ricoh Women's British Open champion deleted her account soon after tweeting her dismay at fans cheering missed shots and taking photos mid-stroke. She also inferred that the tournament winner was lucky on the last hole, where Shanshan Feng's approach shot flirted with a water hazard before bouncing onto the green and hitting the flagstick, leaving a short putt to win. Lewis was bombarded with hateful messages. A more guarded Lewis eventually returned to Twitter.
"I've definitely gotten more selective, more tweets like, 'This is what I'm doing,' instead of a back-and-forth communication," she says. "When you post stuff that's not as controversial, people don't have as much to say."
Brandt Snedeker was a Twitter skeptic. He only enlisted after losing a bet with PGA Tour social-media coordinator Lauren Teague, joking that if he won at Pebble Beach he would sign on. The win came in 2013, and Snedeker now uses Twitter to interact with fans, give props to sponsors, or for fun things like offering free golf lessons to James Franklin, football coach at Snedeker's alma mater Vanderbilt, as long as he stayed on the job. (Franklin left for Penn State.)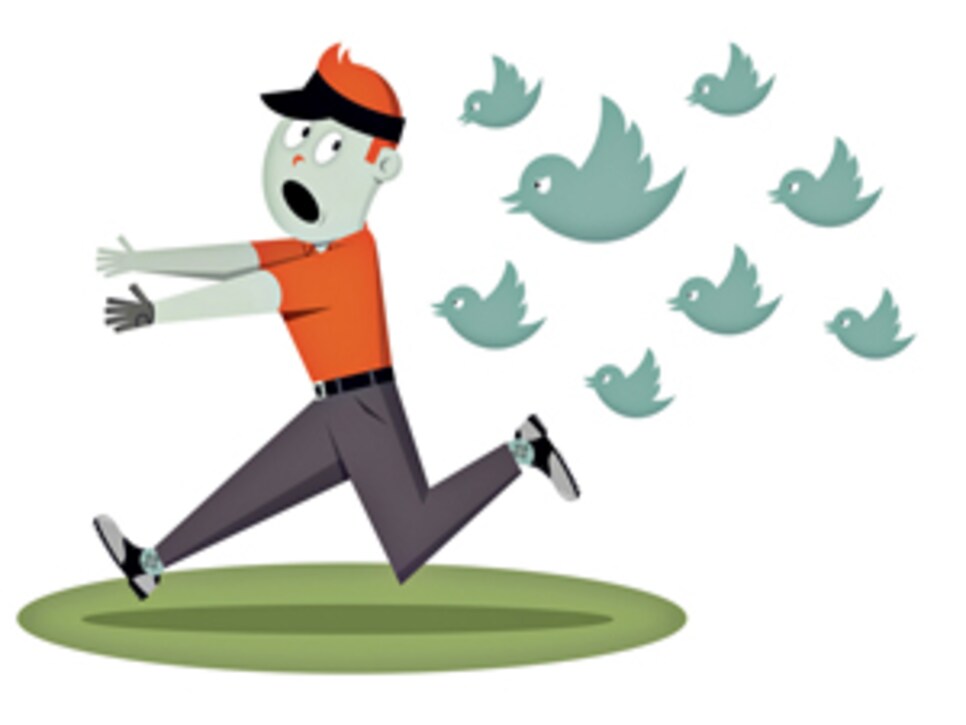 Snedeker is another who has adopted Twitter as a news source, second only to his hometown newspaper on his morning reading list. While Snedeker says he might break news on Twitter now and then, he does not see a day when players turn to social media in lieu of post-round sessions with reporters. "It's amazing how fast it's gone the last five years, but I can't see it going that way," he says. "I still think there will always be a need for face-to-face interaction. I certainly wouldn't resort to that."
On-site tournament interaction is the next area of growth. The PGA Tour crushes the LPGA in followers (566,109 to 56,615), but the women's tour is innovating in ways that have gotten the attention of the sports world. With an emphasis on players doing the messaging work in their own voice over the tour's official account, the LPGA has an array of well-coordinated initiatives.
For example, the Friday before a tournament, the tour sends out information to players on the upcoming week's sponsor, tournament initiatives and appropriate "hashtags" that will turn up in Twitter searches. There are "Twitter takeovers" on Golf Channel telecasts where a player answers fan questions while sitting in the broadcast booth. The LPGA has also contracted with the cutting-edge firm Digital Royalty to enhance content going out on its streams in the form of "social stunts" and to better coordinate the tricky week-to-week dynamics of different sponsors with different social-media views. And, most of all, the LPGA has made sure that players' Twitter handles are on pairing sheets and caddie bibs. It has even painted the searchable hashtags on tournament turfgrass. Fans can now tweet on-site at LPGA events and see their comments or images appear on an 18th-hole tournament video board, something that probably won't happen on the more conservative PGA Tour. "We're comfortable being uncomfortable and showing some skin," says LPGA social media director Tina Barnes-Budd.
The LPGA strategies gelled when Paula Creamer recently sank a 75-foot eagle putt to win the HSBC Women's Champions in Singapore. Since video wasn't yet available online, three accounts coordinated by the LPGA sent out a sequence of images featuring Creamer's epic reaction. By going viral, the putt aired on national newscasts -- which normally would not have shown an LPGA highlight.
While all of the major golf bodies are on the Twitter bandwagon, the Masters account's paltry number of tweets is conspicuous considering the club's propensity to break barriers in certain Internet categories. The club's Twitter-lite stance will perhaps soften in 2014 and beyond, depending on how this year's tournament plays out on social media. But considering Twitter's place in the sports pantheon, expect this year's Masters to be more talked about on Twitter than ever before, regardless of how much the event's official account tweets.
"It's a great tool," says Graeme McDowell, another player whose image has been enhanced by tweeting, but who lamented losing his "Twitter mojo" of late after going through the same phases many players experienced. "It's a great way to interact with fans and give them something they don't normally get from the TV screens. It's just the way the world is going."
And that, in a nutshell, is why Twitter is here to stay.