News
PGA Championship Is What It Is: A Major We All Would Love To Win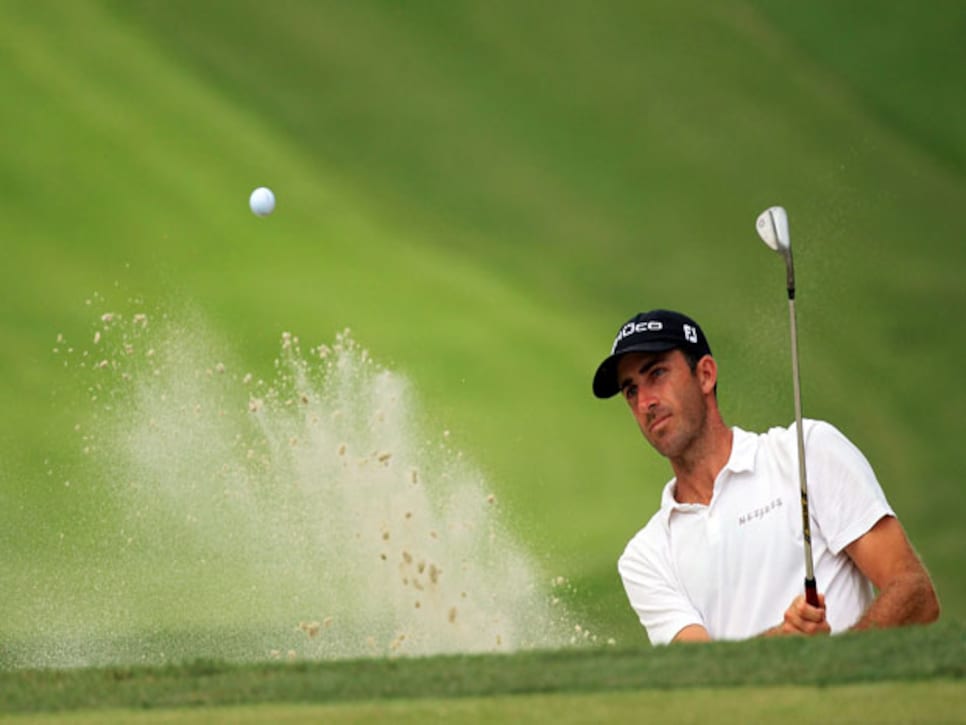 Geoff Ogilvy blasts out of a bunker at the 2011 PGA Championship.
It has always been easy to knock the PGA Championship, which is why so many do, I guess. Chronologically the fourth of the four majors -- and fourth-ranked in the minds of most golfers of all nationalities -- it has, at least in my experience, had something of an identity crisis. To be honest, I've never really understood why that is. To be fourth on an ultra-exclusive list of what are clearly the best four events in the game surely isn't such a bad thing.
OK, a typical PGA perhaps doesn't have an easily definable characteristic, one that sets it apart from non-majors. It doesn't stay in the same place like the Masters. It isn't the toughest test like the U.S. Open. It isn't played on a links (although Kiawah Island is close this year) or can claim to be the oldest in the game like the British Open.
Still, no matter which tournament you nominate as the fifth best anywhere in the world, it is a fact that a substantial amount of daylight exists between Nos. 4 and 5. If you polled every player on the PGA Tour in an attempt to identify, beside the other majors, a tournament they would rather win than the PGA, you wouldn't find one. The PGA is clearly in the top four. And it should be happy to be part of that elite group. Trying to move up is a battle not really worth fighting.
Besides, this truly is an event with a great and interesting history. Back in the days when nearly every professional golfer had a club job, the PGA was the "Players Championship" before we had a Players Championship. It was even contested at match play until 1958, a fact that did distinguish it from the other majors.
Some say it should be again. I have some sympathy for restoring match play, but I don't see it happening any time soon. Modern television doesn't lend itself to a format in which half the field disappears after every round. A host of star names departing prematurely isn't what financially minded executives like to see, a fact that also makes sense from a golf standpoint. The same two guys constantly on screen can be tough to watch, especially if the scoring isn't great or one player is winning by a large margin.
Moreover, times have moved on. Match play was great when the public discovered what happened in their newspapers the next day. And it remains great when you are there to watch it in person. Following a match and seeing up close players' reactions to the inevitable ebbs and flows provides wonderful insight into just how great a game golf is. You can learn a lot about the participants by watching how they react to every situation. But, again, on TV, that translates into too much down time.
So my message to the PGA is: Be happy with what you are, don't try to change too much and don't worry about trying to be something you are not. Having said that, I like that the championship is willing to take risks and go to places a little bit out of the norm, such as Kiawah Island. It will be fascinating to see, for example, what the scoring is like. When the wind blew on the last day of the 1991 Ryder Cup, most players were well over par. In addition to being different and distinctive, the Ocean Course is certainly going to be challenging.
And that, as well as being one of the four chosen ones, should be enough plusses for any event. What more do you need? Yes, "Glory's Last Shot" is a clever marketing slogan, but it smacks a little of desperation and brings unnecessary emphasis to what is already obvious.
After the PGA, eight months will pass until the next major comes along. Some players will start to prepare for the offseason after the winning putt is holed at Kiawah. Those facts alone emphasize what a big deal the PGA really is. No one is walking around saying Jack Nicklaus won 13 majors "and five PGAs." In the record books, a PGA victory means just as much as one at the Masters, U.S. Open or British Open. That's good enough for me.