News
Not All Pros Care About Courses, But Better Layouts = Better Golf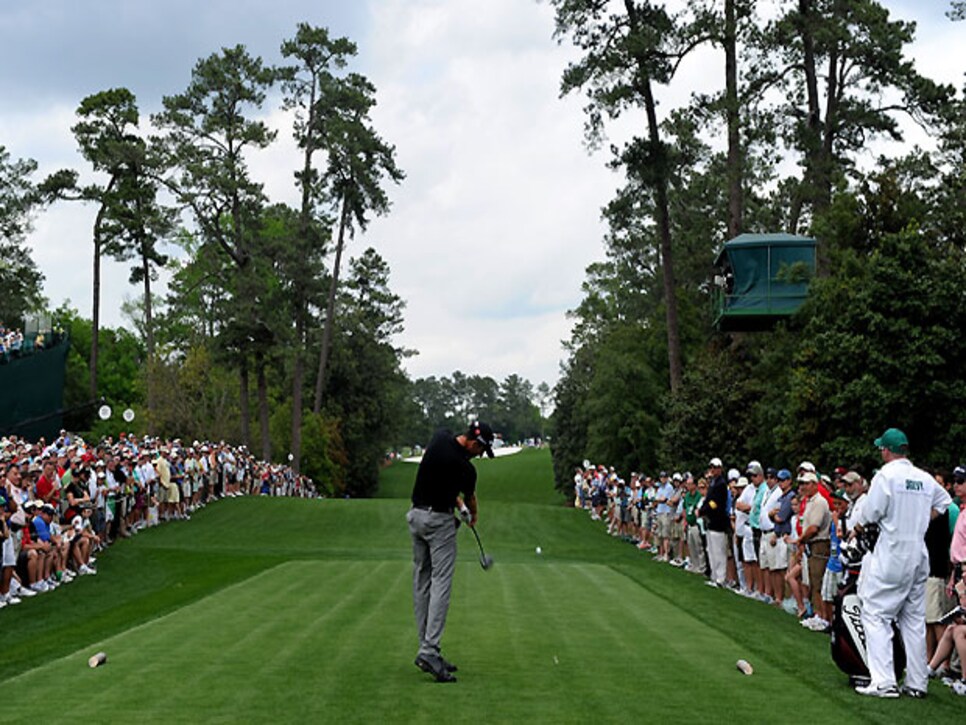 Ogilvy tees off during the second round of the 2011 Masters.
Don't worry, there's no big conspiracy going on. PGA Tour players look at golf courses the same way most people look at them. They like layouts where they tend to play well, maybe even more than the average golfer does. For amateurs the venue doesn't have quite the same effect on their ability to enjoy the day. What they shoot doesn't mean quite as much.
Likewise, it's hard for even a top pro to fall in love with a course he has trouble scoring on. Look at Lee Trevino. He always had issues with Augusta National, and he was one of the best players of all time. So, generally speaking, players look at courses through glasses of whatever tint matches their ability to perform.
Then again, many tour pros don't care where we play. Give us smooth greens and prize money, and we'll like any course. In fact, I'd estimate that almost half the tour membership wonders what other guys are talking about when they criticize--or praise--a particular course. They don't know what the fuss is about.
Most of the course commentary I hear is negative. Speaking to the media, players are capable of subtlety in their criticism or praise, but in the locker room any analysis is invariably brutal. The fairways are too narrow. The rough is too long. The bunkers are too deep. The sand is too soft. The par 3s are too long. Rarely do I hear players say a course is too easy.
A lot of pros play for a basic reason: They like smashing a ball farther or straighter than the next guy. Many of them never get past that, which is part of why they become great golfers. They work on how to be better than everyone else, and the course is merely where that happens. It's part of their equipment, like a club or a ball. But the course's design doesn't interest them.
When I get to a really bad course, I invariably revert to that same primal instinct. I focus on nothing other than scoring. I divorce myself from the surroundings. In contrast, when I'm engaged by where I am, I enjoy the experience more.
As for the PGA Tour, the older courses tend to be the best. They just are. Unfortunately, most events are played on courses built between 1960 and 1995. I'm not sure history will be too kind to that era. The courses that came out well in Golf World's survey--Riviera, Aronimink, Colonial, Pebble Beach and Augusta National--are at least middle-aged.
Not too much of the survey came as a surprise to me. It's not that I necessarily know what is great and what is not, but I know which courses the players talk about the most. For example, no one gets to the WGC-Accenture Match Play Championship and says, "what a joke Riviera was last week." Everyone loves it. But the week after other events you hear plenty of, "What a joke that course is. I'm never going back."
The quality of the courses is so much more important than the powers-that-be seem to think. If we took every tour event to a truly great course, the play would be more attractive to watch and the product would be better. And, in time, golf would be a bigger sport than it is now. If you're talking branding or product or entertainment value, the golf course is so underestimated.
I'm not sure there are many people in powerful positions who fully appreciate how much more interesting golf is when it is played on a great course--or how much better their leader boards would be. If the tour went to St. Andrews, Augusta National, Cypress Point, Royal Melbourne, Shinnecock Hills, Chicago GC and Merion every week, the finishing order would closely resemble the World Ranking. But if you go to courses that take away the advantages enjoyed by the truly great players--superior shot-making, imagination, strategy, flair--and bring them back to the pack, you get dodgy winners, odd results and strange leader boards.
The weird thing is we have a high-profile tournament that clearly illustrates my point. It is the perfect model. Think about it: Almost every year the Masters identifies the very best players and is, in the process, the most entertaining event. If you polled every golfer in the world, most would say it's their favorite event to watch on television.
There's no good reason why the PGA Tour can't be like that every week. All we have to do is play on better courses.