News
The Long Road Back To Hawaii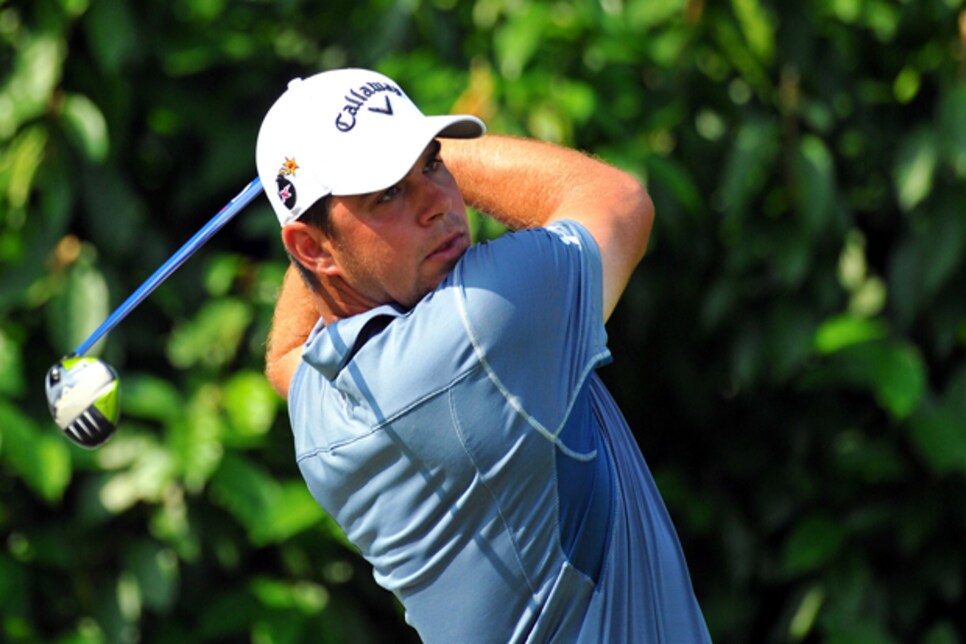 When he checked out of Kapalua in 2012, Gary Woodland didn't head home to Florida or back to Dallas for lessons with longtime swing coach and mentor Randy Smith. Instead, he headed directly to Las Vegas for seven straight days of rebuilding his golf swing with Butch Harmon. "Butch has taken people where I want to go," Woodland said at the time.
The Promised Land has been painfully hard to find, although Woodland has been showing signs during the past six months that Harmon's concept of taking a "Michael Jordan approach" to his transformation was the way to go. With Woodland's power and speed, Harmon felt comfortable trying to create a golfer who could do it all.
They worked six to seven hours a day at Harmon's golf school with Woodland hitting so many balls as he tried to turn his cut into a draw that his hands bled and his wrists ached -- to the point where he couldn't swing a club.
Sitting in front of his locker at the Plantation Course clubhouse two years later, Woodland recalled having tape and Band-Aids on every finger. Afterward he visited four specialists and took "cortisone shot after cortisone shot" until a cyst in his left wrist ruptured at the 2012 Masters, causing him to withdraw after a third-round 85.
The great experiment with the prototype athlete-turned-golfer looked like a bust until Woodland took the principles Harmon gave him, rebuilt his team and qualified once again for the Hyundai Tournament of Champions. Down on the money list entering last August's Reno-Tahoe Open, he won there, then finished T-2 in a FedEx Cup playoff event (the Barclays) before losing a playoff to Ryan Moore in the CIMB Classic in Malaysia in October.
The team-building aspect is a big reason for his success. Growing up a basketball player in the Midwest, Woodland reached out to an agent famous for working with Tiger Woods but with a background in hoops. While Woodland played college ball at D-II Washburn (before transferring to Kansas to focus on golf), Mark Steinberg played as a walk-on at Illinois. Early last year Steinberg recommended Woodland begin working with sport psychologist Julie Elion to get out of his funk.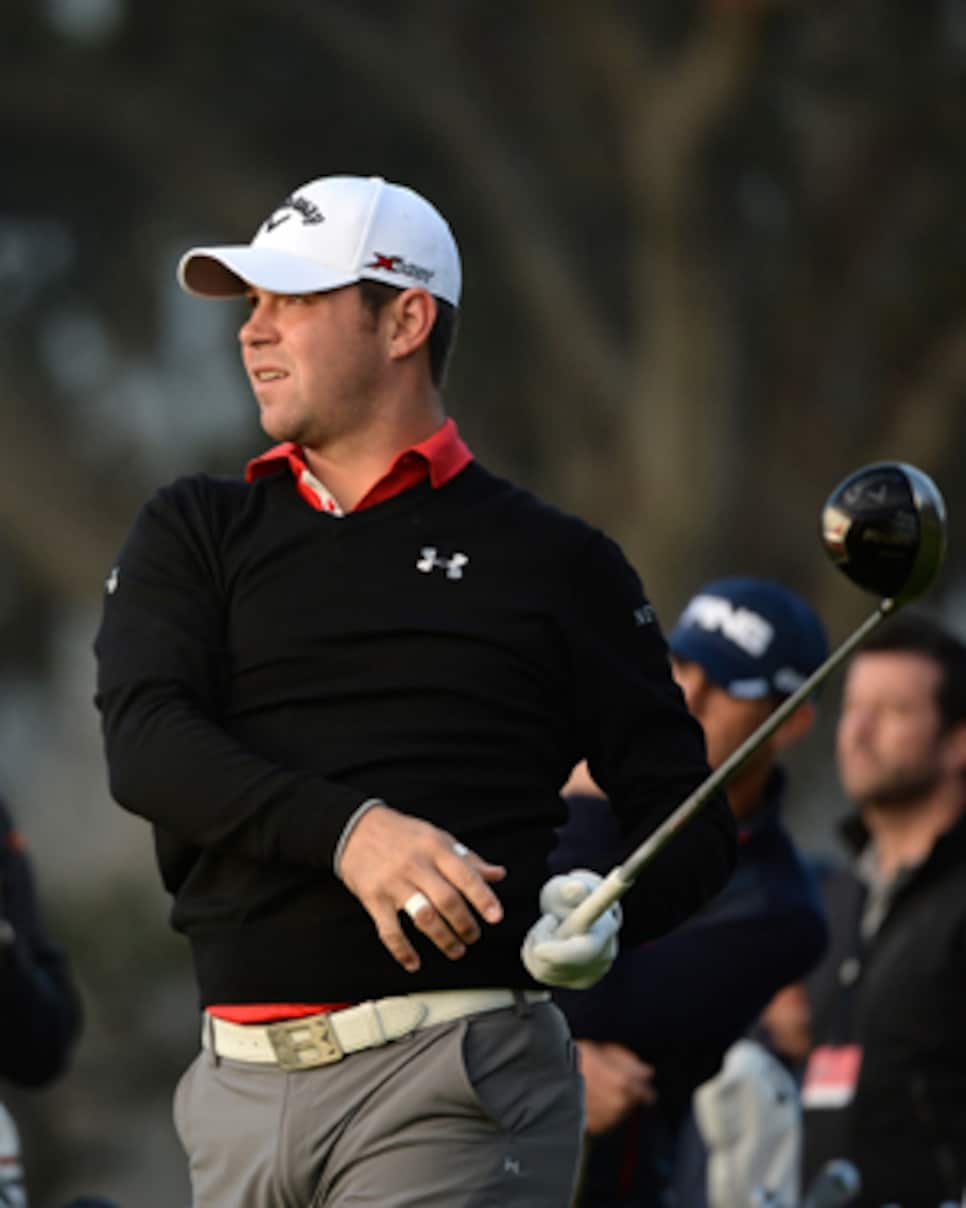 Most of Elion's early work involved getting Woodland to let go of his feelings about leaving Smith. "Randy was like a father figure to me," Woodland said. "That was the hard part of the whole deal." Phase II was to get Woodland to stop trying too hard last summer when he was making cuts but not factoring on the weekend.
Ranked 116th on the FedEx Cup points list before Reno-Tahoe, Wood- land qualified for the Tour Championship and also made the 2014 Masters. With his power game, and his confidence boosted by positive results, he could be considered a threat at Augusta National.
"To be honest with you, I'm able to do now what Butch wanted me to do," Woodland said. "I can go to No. 2 at Augusta, and I can hit that shot [a draw], which I didn't have before."
Woodland's latest refinements have come under Harmon's namesake son, Claude Harmon III. The younger Harmon works at the Floridian, less than a two-hour drive from Woodland's suburban Orlando home at Lake Nona, and is also out on tour regularly. Claude slightly altered the overall philosophy to Woodland's ball-striking by going to the draw on occasion but encouraging him to rely more on his natural left-to-right ball flight off the tee. "I don't think you can play on tour unless you have an absolute bona fide strength," said Claude.
However, Woodland's misses could often be wipes that would go right-to-right, and he tended to fall back on his 3-wood off the tee on holes that doglegged left. Most importantly, Claude used TrackMan to show Woodland how to confidently hit a more controlled "hold" fade with the driver that can be effective on holes that curve left.
Simultaneously, Woodland looked to improve his short game by hiring Pat Goss, longtime coach of Luke Donald. They worked for the first time at Hilton Head, with Goss breaking down the strengths and weaknesses statistically and providing new methods to chipping and putting. Woodland believes he has improved dramatically in every category. This year they plan more on-course work leading up to the major championships.
"He picked it up quickly," Goss said. "For somebody known for hitting it far, who was a great athlete, the impression I have is that he wants to be a great player. He wants to be known for winning championships. I wanted Gary to have confidence based on factual improvement."
The next piece was hiring Tony Navarro, a respected caddie who worked for Greg Norman and Adam Scott. Butch Harmon recommended the move, which Steinberg endorsed, and Woodland liked the fit immediately. "Butch told me a long time ago there's nobody better than Tony," he said.
In their second start, the CIMB, Navarro noticed how well Woodland handled the pressure. Instead of speeding up, he slowed down. "That's a great trait to have," Navarro said.
The final part of the process, surprisingly perhaps, was Woodland getting in better shape. He hired Ara Suppiah, an Orlando-based sports physician who has worked with Hunter Mahan, Ian Poulter, Justin Rose, Henrik Stenson and Steve Stricker. For 20 straight days last fall, Suppiah visited Woodland, fixing him shakes, monitoring his diet and supervising his workouts. Burning 1,000 calories in an hour, Woodland lost 10 pounds. His changed metabolism gave him increased energy even after returning from the Nedbank Challenge in South Africa.
With his 30th birthday coming in May, a 205-pound Woodland arrived at Kapalua and finished T-13. Instead of leaving Maui looking to make a change, he headed home to Florida, fully at peace with the detour he took to see Butch two years ago. "I'm 10 times the player I was in 2011," he said. "I'm just kind of coming into my own."
Since Barry McDonnell died in May 2011, Rickie Fowler had been without a swing coach until seeing Butch Harmon last month. In Fowler's next start, he finished T-8 in the Thailand Golf Championship. "He's done good work to clean up things in the swing mechanically," said Harmon, who'll see him again before his 2014 debut at the Humana Challenge. Harmon said to expect a different takeaway, with Fowler's arms more in front of his body. "The thing I like," said Harmon of the talented 25-year-old currently with one tour win in 107 starts, "is he's been saying, 'I want to be known more for my golf than my clothes and my hat. I want to contend in majors.' " Harmon shared the excitement expressed by Phil Mickelson when he asked for permission to add another player to his stable. "Phil said, 'It's awesome,' " Harmon said. " 'We need Rickie Fowler to play good.' "
Brian Gay's caddie, Kip Henley, arrived for the first round of the Hyundai Tournament of Champions wearing fluorescent-orange running shoes. That was a no-no as part of regulations caddies sign before every PGA Tour event. Officials warned Henley, who showed up for Round 2 wearing white running shoes with orange laces. Again, he was told his footwear did not conform to the specified "white or earth tones." "Times have changed," Henley said. "Performance shoes are more colorful. I only wore them the first day because I thought the rules had relaxed." Ironically, they are relaxed at the Sony Open, where caddies can wear flip-flops as part of Hawaiian tradition. "They say they don't want to attract attention from the players," Henley said. "I said, 'So … If I'm wearing bright orange tennis shoes and we're playing with Adam Scott, that's going to detract from Adam Scott? Are you kidding?' "