News
My Town: Erik Compton's Miami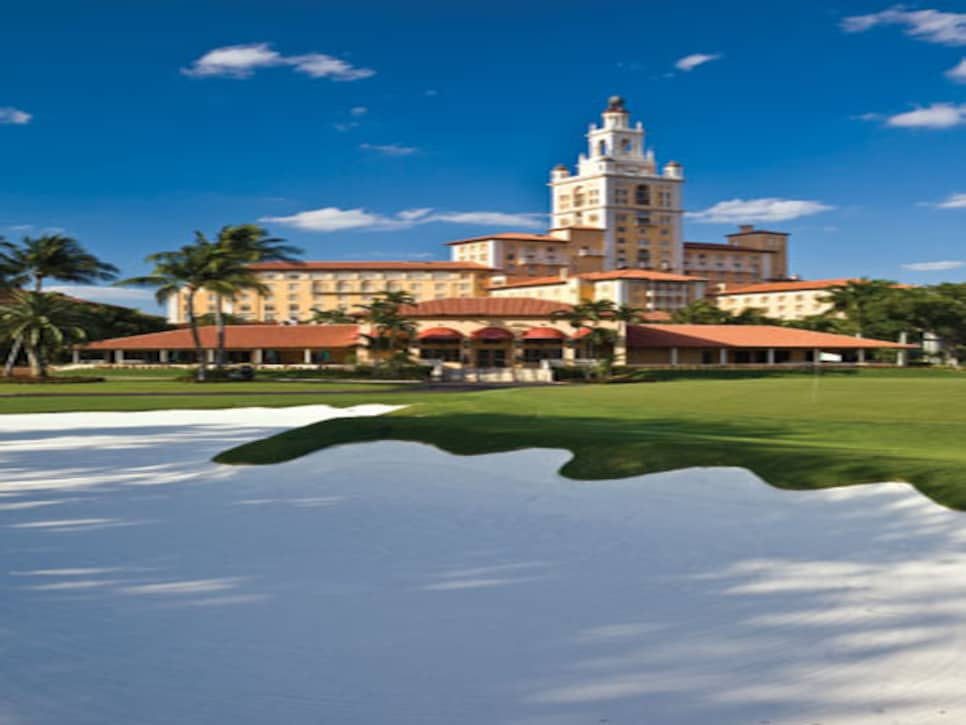 The golf course at the Biltmore.
Although South Florida is considered a winter escape for retirees from the Northeast, Erik Compton is an exception. Born in Miami in 1979, Compton has lived in southern Florida most of his life, making him uniquely qualified to pass along advice to visitors beyond simply what course to play.
"I like the variety of the area," says Compton. "There are so many things to do. Along with some really good golf courses, there are fantastic restaurants, great beaches, boating and an energetic nightlife. I'm an outdoors guy, so I like all the area has to offer. Plus you can do things all year round here." Compton also notes the easy access to the Florida Keys for those wishing to extend beyond the reaches of the city.
So what is one of Compton's favorite things to do? "You have to appreciate Miami for the diversity of its people," he says. "The people watching is just unbelievable. Just to watch the expressions on the faces. You might hear 10 different languages in just one night. It's really fun."
. The course bumps up against the airport, and you actually have time to go there and hit balls during a layover.
. I rank it as one of the top five golf courses I've ever played. It has a great history from when I was a kid watching Lee Trevino and Chi Chi Rodriguez playing in the Royal Caribbean Golf Classic. It's mangrove lined and extremely long and windy. But you have great views of the city and, on some holes, the ocean.
There are restaurants everywhere in the Miami area, and you can't beat their variety or quality. Joe's Stone Crab on Miami Beach is quite famous for its seafood, and I'll put Il Gabbiano, which is downtown, up against any Italian restaurant in the world. They have an appetizer of fried squash or zucchini that is cooked in olive oil and salted. It's almost like chips, and I'm definitely addicted to it. It's a great setting with an authentic Italian feel.
Mr. Moe's in Coconut Grove is a wonderful sports bar with not only burgers, but their own Sloppy Moe and some good barbecue. A lot of the college kids from the University of Miami go there. In the Coral Gables area Tarpon Bend is a good place to eat and has an excellent raw bar.
Two places truly stand out. The first is the St. Regis Bal Harbour. My father-in-law works there, and my wife and I went there for our anniversary. The rooms have magnificent ocean views, and the hotel has outstanding restaurants and amenities.
There's also Fountainbleu. Some recall this as the place where James Bond and Goldfinger played gin rummy by the pool. What makes this place great is that -- aside from wonderful rooms -- the pools are right by the ocean, and many of the rooms have views of the water or the lights of Miami Beach at night.
The Fairchild Tropical Botanic Garden is a great place to look at exotic plants, palms and fruit trees. There's also the Deering Estate at Cutler. It's one of Miami's historical landmarks. It's on the water. If you like shopping, go to the Miami Design District. On the second Saturday of the month they block off the street so you can walk there. There's also Lincoln Road Mall with plenty of shops and restaurants with outdoor seating. The Art Deco district is a must-see and, of course, the beaches. There's a great one in Key Biscayne next to the Ritz Carlton.