News
Manufacturers Give Club Pros Red Carpet Treatment At The PGA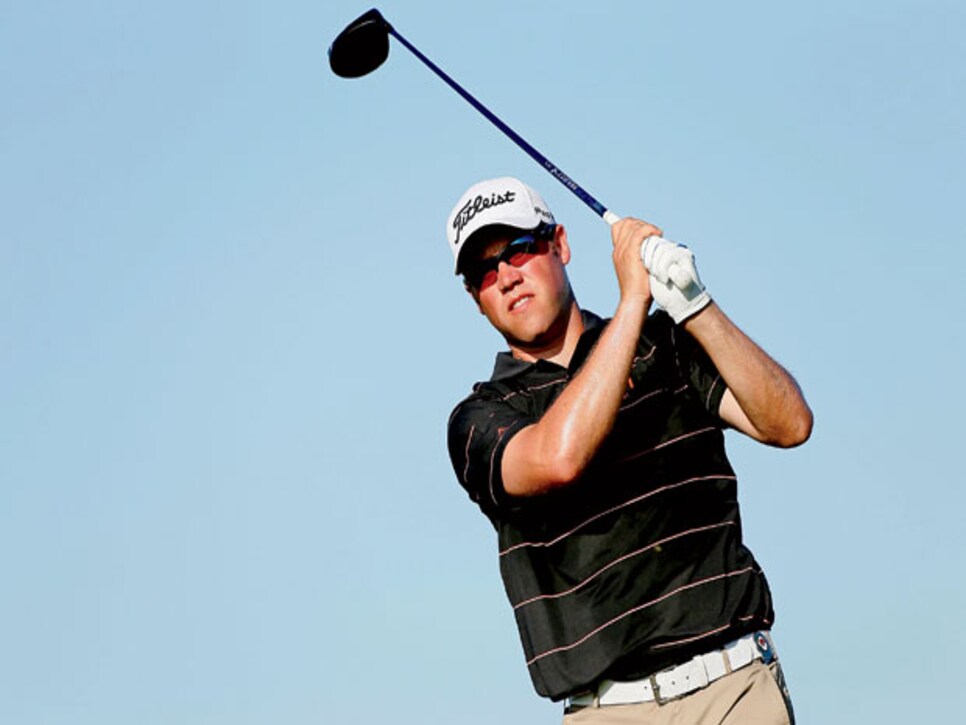 Perks A Plenty: PGA club pros such as Corey Prugh found a lot to like at the 94th PGA Championship.
Courtesy cars, lockers stuffed with goodies and the opportunity to access equipment vans (and the knowledge of those working in them) is a perk for PGA Tour players. But for the 20 club pros who teed it up in the PGA Championship at Kiawah Island Resort's Ocean Course, it is a once a year -- and for some, once in a lifetime -- opportunity.
Corey Prugh, an assistant professional from Manito G&CC in Spokane, Wash., playing in his first PGA, got a taste of the attention -- and attention to detail -- equipment reps give players.
"The guys from Titleist called and said, 'What can we get you?' " said Prugh. "Then the night before the tournament started, my rep called again and asked if I had changed anything. I hadn't, but it was interesting. The guys came to me instead of me having to go to them, which is different."
According to Cliff Walzyk, who heads the fitting of club pros for Titleist, keeping these staffers in the right gear is a year-round effort. "Our strategy is to not wait for the PGA, but rather do an initial fitting for our club pros once they qualify for the Professional National Championship (PNC)," said Walzyk. "We'll host some at our Oceanside, Calif., test center, but we also visit six sites around the country in the spring. Myself and five other fitters fit some 150 to 160 players, and we have contact with those players on a regular basis."
Getting ready ahead of tournament week was a theme voiced by several club pros. Brett Cairns, a teaching pro at Fox Hills Learning Center in Plymouth, Mich., had a yellow-colored shaft put in his driver prior to the PGA to complement the yellow ball and yellow golf bag he would use during the tournament. Yet several still took advantage of the opportunity at Kiawah to gain access to the type of service they usually provide rather than receive. Mark Brown, head professional at Tam O'Shanter Club in Brookville, N.Y., for example, obtained three (18-, 21- and 24-degree) Callaway X Utility irons -- a club currently only available to tour players.
For Jeff Coston, a teaching pro at Semiahmoo Golf Resort in Blaine, Wash., his fourth PGA appearance was a chance to get reacquainted with Nike's tour staff and request some clubs. "Last year they ground me a wedge, and I liked it a lot," said Coston. "But it's worn out. So I asked if I could get two this year. And can I get a towel. And I forgot my umbrella. They've re-gripped my clubs and really taken care of me. They've done everything but give me a facelift."
Although the equipment side is one perk for the club pros, according to Walzyk it is more the little things that give the club pros the "I'm kind of a big deal" feeling. "We'll do a club fill-in here and a wedge bounce there, but once they get here they're not looking to change equipment," he said. "Still, we provide them a full-tour experience. We send them shirts and shoes ahead of time, and they'll find plenty of balls and gloves in their lockers. We do regrips and get headwear for their caddies. If they need raingear or umbrellas, we're ready with it. Those playing here [Titleist had nine full-line players in the field] received a new Scotty Cameron putter cover made just for the PGA. Plus they talk with Bob Vokey about wedges or hit balls next to Rory McIlroy. It's a big week. It's our job to make sure they're comfortable."
For TaylorMade senior VP/GM David Abeles, making sure one of his players was comfortable went beyond the special-edition staff bags, hats and headcovers the company provides players at all majors or the dinner they held for their clubs pros prior to the tournament. It meant some heavy lifting -- literally. Abeles was asked by Darrell Kestner, head professional at Deepdale GC in Manhasset, N.Y., to caddie for him at Kiawah Island. The pair are friends, and Abeles obliged.
One club pro at the PGA, however, required little hand-holding. Marty Jertson was playing in his second-consecutive PGA. He also is a senior design engineer for Ping and needed no help with his equipment for the tournament other than building his own G20 3-iron that he bent to a 2-iron loft with a 1-iron-length shaft.
Being able to build your own club? Now that's service.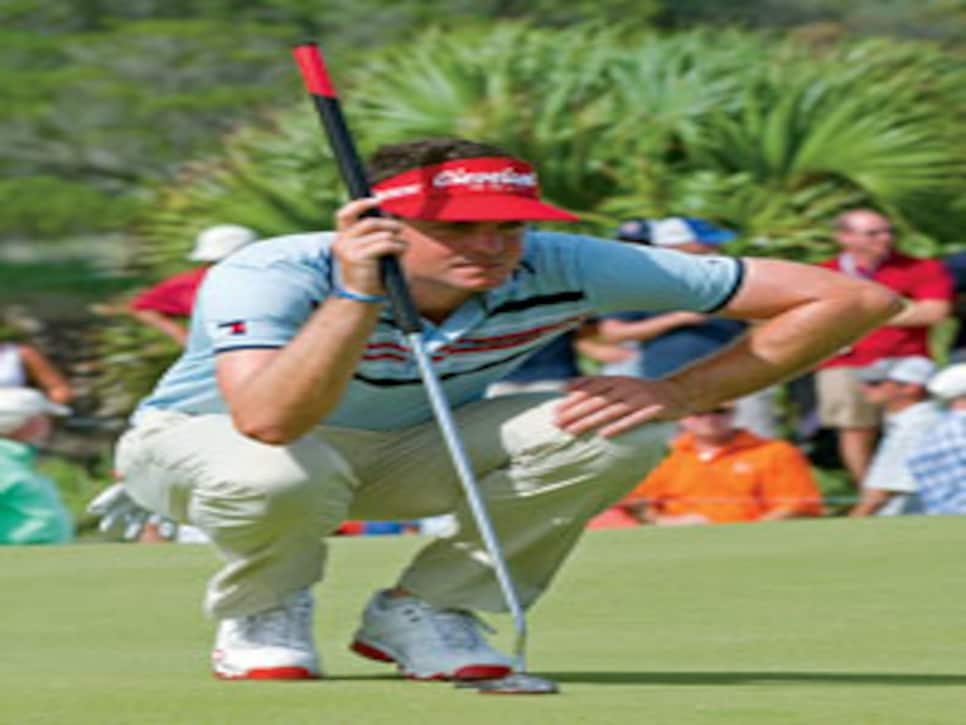 KEEGAN BRADLEY // Putter has "major" surgery __
When he won the PGA Championship at Atlanta Athletic Club last year, Keegan Bradley's putter made news because it was the first time one of the four major championships had been won by a player who anchored a belly or long putter to his body. At Kiawah Island, however, Bradley's 46.75-inch Odyssey White Hot XG Sabertooth was in the spotlight again because the club broke during a Tuesday practice round match with Dustin Johnson, Phil Mickelson and Rickie Fowler. Bradley had been using the club as a walking stick on the ninth hole, and the "spud" (a barrel-shaped extended piece of metal that the shaft fits over and, when glued, secures the shaft to the head) broke.
Luckily, Odyssey's tour techs were able to use the current double-bend shaft and put a new Sabertooth head on it, allowing Bradley to have a similar feel and look (save for an engraved shamrock in the back cavity) to the original. "Odyssey made me a putter that's exactly the same," said Bradley, who ranked 36th in putts per GIR at the PGA. "It feels great. No worries at all. It's amazing, with my old shaft, it looks the exact same, there's no difference."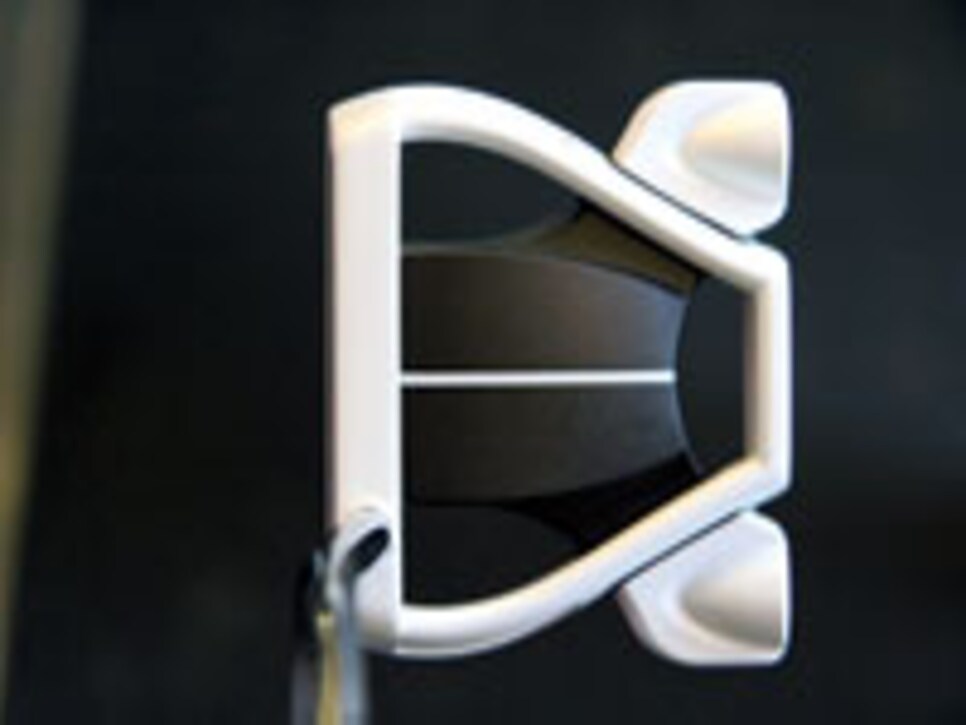 TaylorMade Ghost Spider S __
Although these putters aren't expected to be available until later this year, five players (including Peter Hanson, who finished T-7) put this prototype in play at the PGA. The primary difference between the new putter and older models is a head with contrasting white-and-black color in the alignment aid.
PGA champ Rory McIlroy did a bit of club tweaking in the last month. After putting Titleist's new 913D3 driver in play at the Irish Open, he put a prototype Mitsubishi Diamana shaft in the club starting Saturday of the British Open. Then at the WGC-Bridgestone Invitational, a new Titleist 910 5-wood (17 degrees) was added to the bag as were a fresh set of the company's 712 MB irons (his previous set having become worn). ... Trevor Immelman played well at the PGA (T-3 after three rounds, eventually finishing T-27) with a new set of Callaway RAZR X Tour irons and a 33-inch Odyssey White Hot XG #7 putter. Immelman said the face-balanced putter helped his consistency on the greens. ... Another player with a new set of irons at Kiawah Island was Carl Pettersson, who had Nike's tour techs build him a set consisting of VR_S Forged 4- and 5-irons, VR Pro Combo Split Cavity 6- and 7-irons and VR Pro Combo Blade 8-, 9-iron and pitching wedge. The irons included True Temper's GS 95 stiff Flex -- a shaft that is about 30 grams lighter than most iron shafts on tour. ... Small putter company Ontic had to be heartened when Retief Goosen used one of their sticks at the Ocean Course. Unfortunately, Goosen never contended, finishing T-48.