News
Little Pro Still A Man On The Go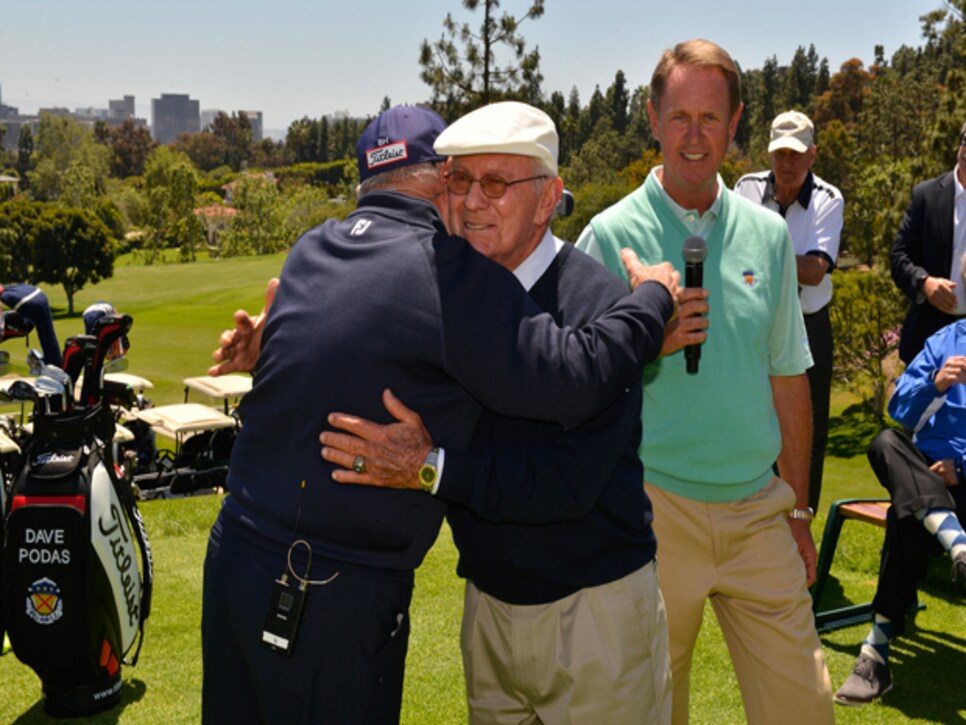 Honoree Harmon (left) gives Merrins a hug at an April 28 fundraiser.
Eddie Merrins flew the red-eye out of Los Angeles the Monday night before the 78th Masters, making a connection to be on the practice ground at Augusta National by 9 a.m. For Merrins, the 81-year-old pro emeritus at Bel-Air CC in Los Angeles, going to the Masters never grows old. He has been making the journey since 1955, when he drove all night from his home in Meridian, Miss.
In his white cap and club tie, the Little Pro is a throwback to another era and has an unmistakable presence wherever he is. Tour pros like Fred Couples, Jim Furyk and Lee Westwood stopped in the middle of hitting balls to greet him. Swing coaches, caddies, architects, managers and members from all the top golf organizations said hello as he walked the range, stood under the tree behind the clubhouse or made the rounds in the media center that Tuesday.
"I got to see and do everything I wanted to do," Merrins said last week from his office at Bel-Air. "Last year I didn't go, and I regretted it."
At 4 p.m. on Tuesday of Masters Week, a driver took Merrins to Charlotte, where he flew home to LAX, arriving at just about the time he left, 24 hours later. The next morning he was on the lesson tee at Bel-Air.
"You network with everybody there," Merrins said. "It has to do with the people you've met and the things you've done in the game of golf. Seeing all those people, all those memories come back at Augusta. It's well worth the journey."
Merrins' odyssey has included working winters for Claude Harmon at Thunderbird CC in the California desert and summers at Merion near Philadelphia. That was prior to his days at Bel-Air, where he has been for 52 years, including a double-duty stretch from 1975-89 when he also coached UCLA's men's golf team. On April 21, a celebration of those two careers came together once again at the Friends of Golf (FOG) tournament Merrins first organized in 1980. For Merrins it was like walking the range at Augusta again, with memories flooding back.
What began as a fundraiser for the underfinanced UCLA golf team is now a sold-out, double-shotgun extravaganza that has distributed more than $6 million to high school teams and other junior golf programs. This year's honoree, Butch Harmon, was a teenager when Merrins worked for Harmon's late dad, Claude, in Palm Springs.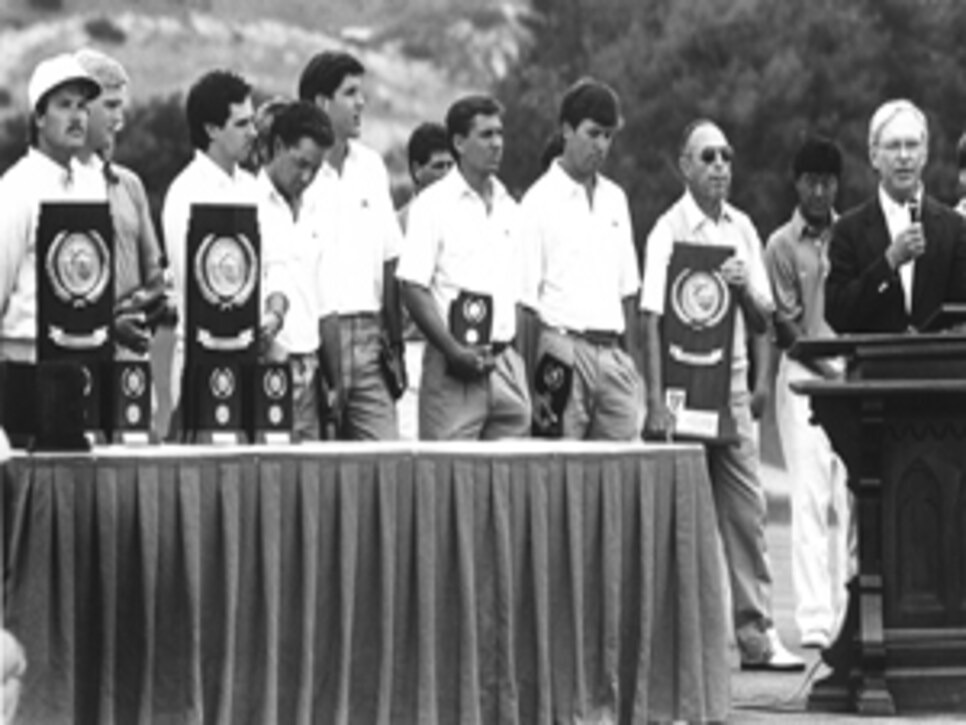 "He's a wonderful guy and the epitome of what a golf pro should be," Harmon said. "He loves the game, and the game loves him. He gives back. He's a wonderful man. And it's a great honor that they would entertain having me. It's a great cause by a great club."
The FOG is where Jack Nicklaus met Tiger Woods for the first time. As the honoree in 1991, Nicklaus gave a clinic that Woods attended when he was still playing in Southern California Junior GA events and for Western High in Anaheim. Byron Nelson was also in attendance, calling the FOG, "the finest one-day tournament of its kind in the country."
At that time Nicklaus joined a list that included Nelson, Lee Trevino, Arnold Palmer, Greg Norman, Ben Crenshaw, Hale Irwin and Raymond Floyd. Johnny Miller, Fred Couples, Tony Jacklin, Billy Casper, Payne Stewart and Annika Sorenstam have since made the trip. The past two years Ernie Els and Luke Donald flew in as honorees.
"We've had them all," Merrins says, proudly.
The back story of how this came to be involved the $6,000 budget Merrins was given his first year as UCLA golf coach -- less than a member's dues at Bel-Air at the time. "That would cover scholarships, salaries, travel, the whole bit," Merrins said. "You don't do much with $6,000."
Not when you're trying to recruit the best prospects in the world. Merrins lost Nick Faldo and Sandy Lyle to Houston, John Cook to Ohio State, Mark O'Meara to Long Beach State, Bobby Clampett to BYU and was on the verge of losing Corey Pavin until convincing the athletic department that the kid from Oxnard was worth a full ride.
With that, Merrins realized, "I've got to have some money to make this work," so he dreamed up the idea of a top-100 club. Using his connections as the head pro of Bel-Air, Merrins contacted everybody he knew in the L.A. area to see if they would be interested in contributing $100. John Anderson, whose name is on the UCLA School of Management, added clout by joining Merrins as co-founder. Bel-Air got behind it, opening its doors to the public.
Sitting at a restaurant in Westwood last Wednesday, Merrins looked back on those early days as UCLA's coach, when he would jog alongside John Wooden as the legendary basketball coach walked his five miles a day. Merrins' tenure as coach started the year Wooden retired, so the Little Pro and the Wizard of Westwood would talk golf and team-building.
In 1988 the UCLA golf team, coached by the ultimate friend in golf, won the first of two NCAA titles. That's another memory Merrins takes with him every day when he pulls up to Bel-Air, a giant of a man at 5-foot-6.
Erik Compton says he doesn't pay attention to the World Ranking, but maybe he should. His T-5 in the Zurich Classic -- his second T-5 in five tournaments -- moved the only tour player to have had two heart-replacement surgeries into the top 200 (at No. 185) for the first time. Here are some other numbers underscoring that Compton's career arc is headed in a good direction: 12 of 16, his cuts made/events played stat for 2013-14; $810,483, his earnings through the Zurich Classic for the tour's first wraparound season, a career best; and 65th, his standing on the FedEx Cup points list. Besides having more energy, Compton told me he has added more shape to his shots and has improved his short game. After a week off he'll return for the Players with the goal of getting into the remaining majors. "We've got a lot of great golf ahead of us," Compton said from his home in Coral Gables, Fla., on Monday morning. "My focus is on winning golf tournaments."
Patrick Cantlay is taking his time recovering from a hairline fracture in his L5 vertebrae because, at 22, he has the time. The former Haskins and Ben Hogan Award winner from UCLA hasn't played a tour event since finishing second to Trevor Immelman in the Hotel Fitness Championship during the 2013 Web.com Tour Finals. According to coach Jamie Mulligan, there is no timetable for Cantlay's return, but the golfer's prospects are encouraging. "The stress fracture is healed. He's just trying to make sure he's 100 percent pain-free," Mulligan said. "It's kind of a blessing in disguise. It's made him reflect, get stronger in the mind, stronger in the body. He's getting closer and closer."