News
My Town: Eddie Merrins' Los Angeles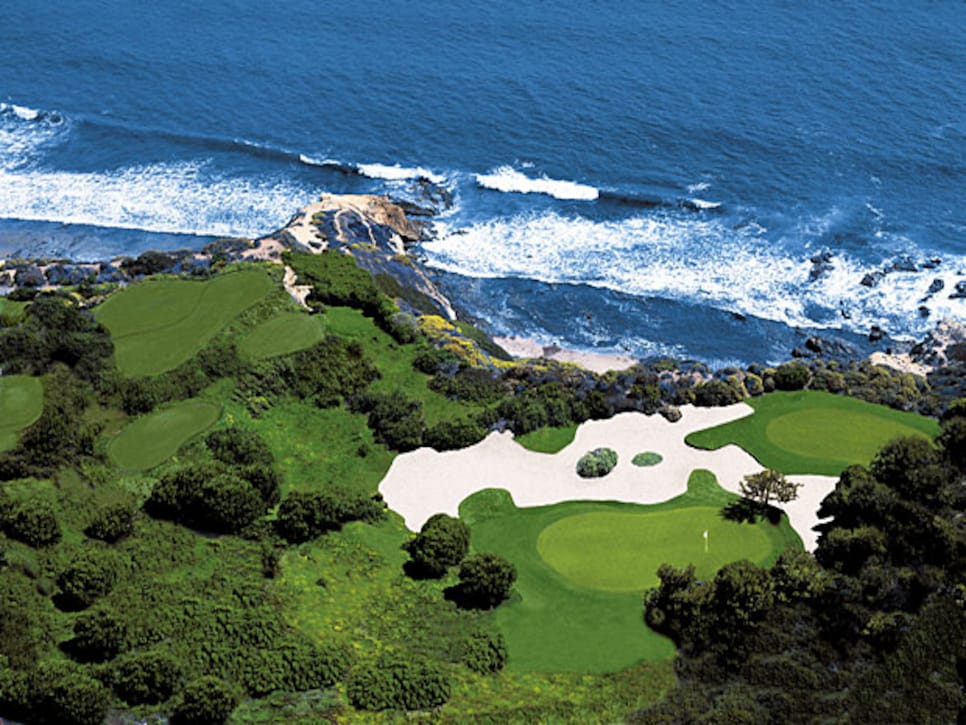 The 13th green on the South Course at Pelican Hill GC.
His roots may be from the south (raised in Meridian, Miss., educated at LSU), but for a half-century Eddie Merrins has been a fixture in and around Los Angeles. Following stints as a PGA Tour player and professional at some of the country's finer private clubs (Merion GC
in 1962 and has never left.
As the club's professional emeritus, the 79-year-old continues to pursue his passion--teaching golf. His clientele has included a host of tour pros, but also several giants of the entertainment industry, including Jack Nicholson, Dean Martin, Sean Connery, Glenn Frey, Ringo Starr, Fred Astaire and Dennis Quaid.
Widely known as "The Little Pro" thanks to his diminutive stature (5-foot-7), Merrins is also famous for his trademark coat and tie. The traditional garb, he says, "conveys a gentlemanly impression of the game, truly what it's meant to be."
Lost Canyons GC is about 40 minutes outside L.A. in Simi Valley, but is worth the drive. It has the Shadow and the
, a high-end facility with two Tom Fazio courses overlooking the ocean. They're beautiful, and they're good.
. The original design was by George Thomas, whose work includes Riviera
. It is exquisite, with a lot of history, in a beautiful setting.
In town is the municipal Griffith Park GC, which has two 18-hole courses, both also originally done by Thomas. They get a lot of play, but aren't so crowded that you can't get a tee time.
Dan Tana's on Santa Monica Blvd. in West Hollywood features Italian food, and it's a favorite of mine. The place hasn't changed since it opened in 1964, retaining its original charm, and is still one of the most popular restaurants in the area.
Mastro's Steakhouse on North Canon Drive in Beverly Hills, across the street from the Montage, is located on the site of the old Bistro Hotel, a great L.A. landmark. It's pretty crowded and a spot to see and be seen, but the food is also very good.
In the Brentwood neighborhood of West Los Angeles is another very nice Italian place, Ristorante Peppone. It's a favorite, particularly during the week of the Northern Trust Open.
In Westwood Village is Barney's Beanery, a terrific place for watching games. The food and service are good, the price is right and parking, always an issue in this city, is convenient; a large parking structure is across the street.
The Hotel Bel-Air recently re-opened after being closed for two years for a complete renovation. It has gone modernist, changing the mystique there considerably. Wolfgang Puck now operates the hotel's signature restaurant.
The Montage Beverly Hills on North Canon Drive is a very good hotel, as is the Beverly Wilshire at the head of Rodeo Drive. ... Down in Newport Beach is the Resort at Pelican Hill, which has a magnificent hotel overlooking the Pacific Ocean and the two aforementioned Fazio courses.
Pretty much anything you want to do you can find in Los Angeles and the surrounding area. The beach, Hollywood, you name it. For me, I always find Rodeo Drive in Beverly Hills to be fascinating. It's only three city blocks but is world-renowned for its shopping, billing itself as the "epicenter of luxury fashion."