News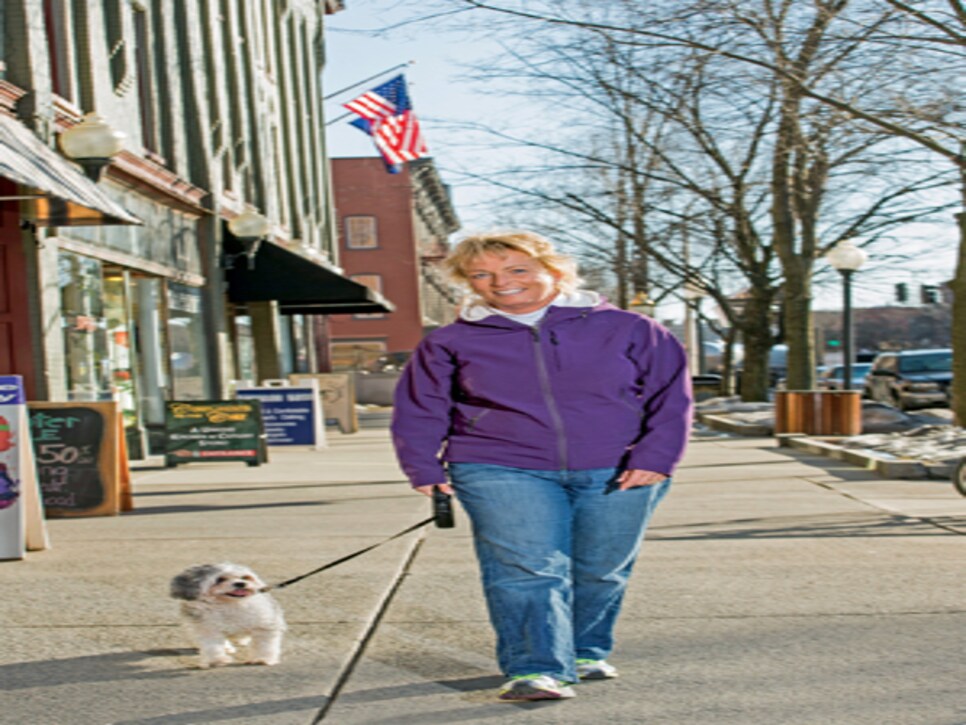 Return to her roots: Pepper and J.P., in downtown Saratoga Springs, N.Y., where she moved from Florida nearly five years ago.
Saratoga Springs whispers of a simpler time when trains brought New York City's elite up the Hudson River to the Adirondack Mountains region, away from the summer heat, to enjoy the racetrack and mineral springs. While fewer millionaires now visit Saratoga, the Spa, as it is known, is a year-round vacation spot for the masses with summer giving way to fall foliage season, which yields to a bustling ski business. And enough ornate mansions survive to give the town a homey, out-of-time feel -- a sense of the way America was.
This is where Dottie Pepper grew up. And it is where she has returned to call home again after walking away from a six-figure television job to become a volunteer board member for the PGA of America primarily charged with the task of growing the game, the central issue facing golf. This is not the first time Pepper, 47, has reinvented herself. She won 17 times on the LPGA, including two major championships, before injuries cut short her career and drove her to TV.
Pepper ended up back in the Adirondacks, far from the warm weather and planned communities of Florida where she lived for a long time, nearly five years ago to replant her roots because it just felt like the right place to be.
"This all sort of spiraled out of wanting to be back in a really vibrant community -- out of the gated community," Pepper says just a bike ride from where she grew up. "I had been behind gates for a very, very long time."
Something was missing in her life, and Pepper found it in her hometown. She also had found David Normoyle, who in 2010 became her third husband. And now, with TV behind her, Dottie is in Saratoga much more often with David and their dog, J.P., in a home she loves.
"I was at the 2008 Evian Masters and Brian Hammons of Golf Channel was telling me he had decided to move back to Indianapolis from Orlando with his family," Pepper says. "We were flying back to New York and got stuck in a holding pattern. It was a beautiful, crystal-clear day. Guess where we got stuck circling? I looked down and I said, 'Holy crap, that's the track. That's Saratoga.' And I thought, 'This is kind of eerie.' Now if that's not an omen!"
That was late July. A month later Pepper placed a deposit on a house she had yet to see, checked out for her by her mother, grandmother and aunt. By October she had closed on the place. The spacious home is only eight years old but was built in a style that blends in beautifully with the town's Victorian architecture.
In a space decorated tastefully with antiques and plants -- Pepper is an avid gardener -- most of the golf memorabilia is confined to David's office out back and Dottie's upstairs. One wall bears the framed cover of the March 11, 1968, Sports Illustrated that features her dad, Don Pepper, along with future Hall of Famer Johnny Bench and three others, touting them as the best rookies in baseball. Don played seven years of pro ball, including four games in the majors with the Detroit Tigers.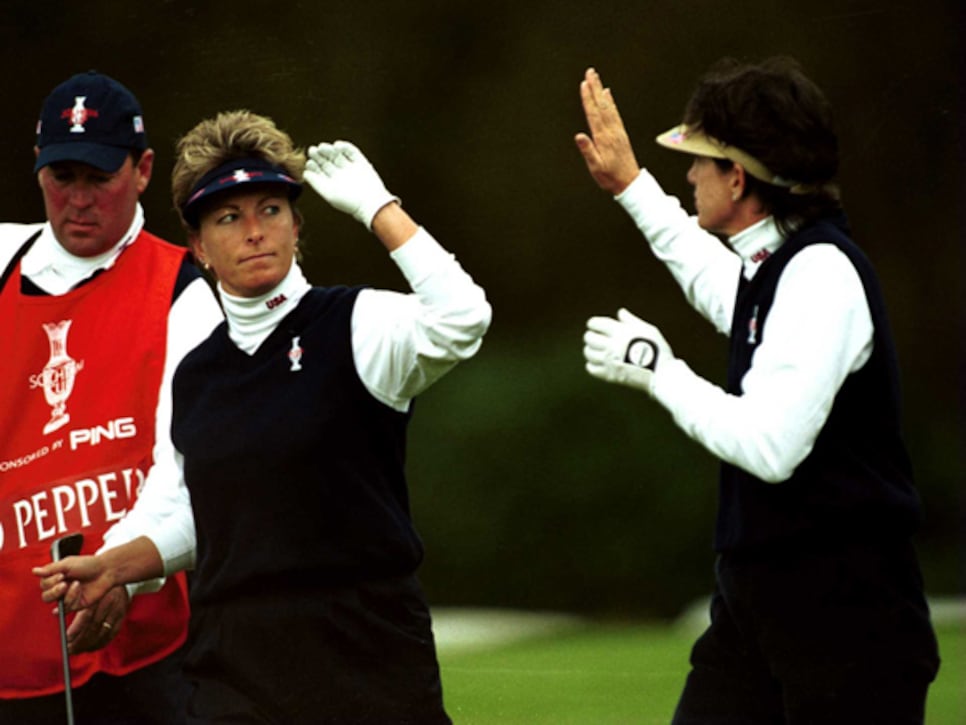 A large fireplace burns beneath a flat-screen TV that for now at least is tuned to Golf Channel. Limping slightly from surgery on her left foot, Dottie talks to J.P. (for Jack Pot), a 13-year-old Bichon Frisé/Shih Tzu mix, as if expecting an answer as she shows the house.
"Why did I walk away from TV to take a non-paying position on the board of the PGA of America?" she asks with a laugh that punctuates many of her sentences. "The problem was merely the number of weeks I was being asked to work. I couldn't do what I wanted to do for the game long-term being in a suitcase for 32 weeks a year. I can't do that. I don't want to do that. I don't need to do that. I loved what I did. I miss the guys terribly that I worked with. But that offers no life other than calling golf shots. That's not really how I'm wired."
Pepper had simply had enough of life on the road and wanted to re-plant her passion and give it a new focus. But when she talks about missing the guys -- and the pro game -- it makes you think the door is not closed to some select appearances, perhaps at the majors, perhaps as soon as Merion. And that would give her the best of both worlds.
"I did a 35-week deal when I was working Golf Channel and NBC at the very beginning, and I got to come home to do laundry, unpack, repack and take a sick dog to the vet because she was literally heartbroken," Pepper says. "And, newly remarried, it's no way to have a foundation of two people traveling and crossing paths like boats in the night."
Her decision, conveyed last October to executive producer and senior vice president of Golf Channel Molly Solomon, stunned everyone. Pepper, who stepped behind the microphone full-time in 2005, had emerged as one of the most respected commentators and, along with mentor Judy Rankin, was a pioneer for women in covering the men's game.
"We could have made a how-to tape from her work last year at the Ryder Cup and FedEx Cup," says Tommy Roy, producer, live tournaments/Golf Channel on NBC. "She was unbelievably good. I would call Molly and say, 'Dottie said X today at such and such a time. Put it in the seminar [for other announcers].' It surprised us all that she quit. It was kind of like when [former NFL great] Barry Sanders retired [at 31]."
Those who worked with her agree that, as an announcer, Pepper's biggest strength was her preparation. "She always had a tidbit about a player, the course or the event," Roy says. She was also candid and possessed the crucial and hard-to-teach skill necessary for TV work: knowing when to jump in and out, rarely interrupting and never rambling.
The fact that she was so good on the air exacerbated the surprise about her departure. "I was shocked. We all were," says longtime NBC colleague Roger Maltbie. "Our contracts were all up, and we'd sit around talking about it and she was very interested in renegotiating. She just made up her mind one day for whatever reason. Her marriage to David seemed to change her. She wanted to get back home and spend more time with him."
Normoyle, a thirtysomething former assistant director of the USGA Museum before starting his own business teaching golf clubs how to preserve their histories, sees what the move back home has meant to Dottie. "I think sense-of-place matters to her," Normoyle says. "She is welcomed here as a successful golfer, but is treated as someone who belongs."
A day for Dottie and David starts with deciding who is going to walk the dog, and that is generally Dottie. Then both retreat to their offices and rendezvous for lunch, sometimes in town. Hopefully, they can sneak in nine holes about 6 p.m., then cook dinner at home with a nice bottle of wine. "We have a share in a local farm," Normoyle says. "We cook with fresh local food and freeze items to use in the winter."
Except for her parents -- Don, a facilities manager for the Bob Evans restaurant chain, and Lynn, who works for Visiting Angels -- who live in Columbus, Ohio, and her sister Jackie in Bellingham, Mass., pretty much the rest of Pepper's family is in Saratoga. That includes Pepper's Aunt Cathy and Uncle Jack, two sixtysomethings who are fit enough to pass for 40. (Jack, according to Dottie, is known to dive from the second-story deck of his home into a backyard swimming pool.)
"She's blossomed in a whole new way," says Cathy Hay, her aunt, about Dottie's return. "After such a busy career, to have this connection with her hometown, you can see that she's glad to get back to her roots. We get to ski with her and have dinners with her. And David fits right into the family. He's a skier and, of course, a golfer."
Dottie grew up as a skier but discovered golf at an early age. "I got started by my grandmother [Dorothy] at this little driving range that's a half-mile down the street," Pepper says. "She bought me my first set. The sporting-goods store where she bought them is still there. Set of Chi Chi Rodriguez. I think there were seven clubs."
After Grandma Pepper was widowed, golf became her passion. "She was always very active and very fit," Pepper says. "She was about 5-10 and wore a size 11½ shoe. She was a solid German lady. Very stern. Very athletic. She skied. She played golf. There wasn't much she couldn't do."
Pepper first had a club in her hand at 7 and by 15 had won the 1981 New York State Women's Amateur. She also took the New York Junior Amateur in 1981 and '83, then entered Furman to play on its highly acclaimed women's team in the fall of 1983. She won five tournaments and was a three-time All-American before getting her degree in 1987.
Her first real teacher was George Pulver, a local pro who was in his 70s when he started working with Pepper and was nearly 88 when he died her junior year at Furman. "At the end, I'd have to tell him where the golf balls went," Dottie says. Pulver would put notes with swing tips into the Pepper mailbox. She still has them all and chokes back emotion when she speaks of her old coach.
Pepper had a lot of ability, but far greater than her skill was her work ethic and all-consuming desire to win -- a mindset that makes a not-too-compassionate listener to complaints of current players. "Hey, look, I got on a bus in Schenectady and went to Corning as a high school junior and tried to qualify," she says. "I ended up being a standard bearer. Well, I took some hits from [LPGA] players this year when I was critical of Americans who were just getting run over by the Asian work ethic. They'd say, 'We don't have the opportunities that they do,' and I'd say, 'I just want to tell you about my opportunity.' "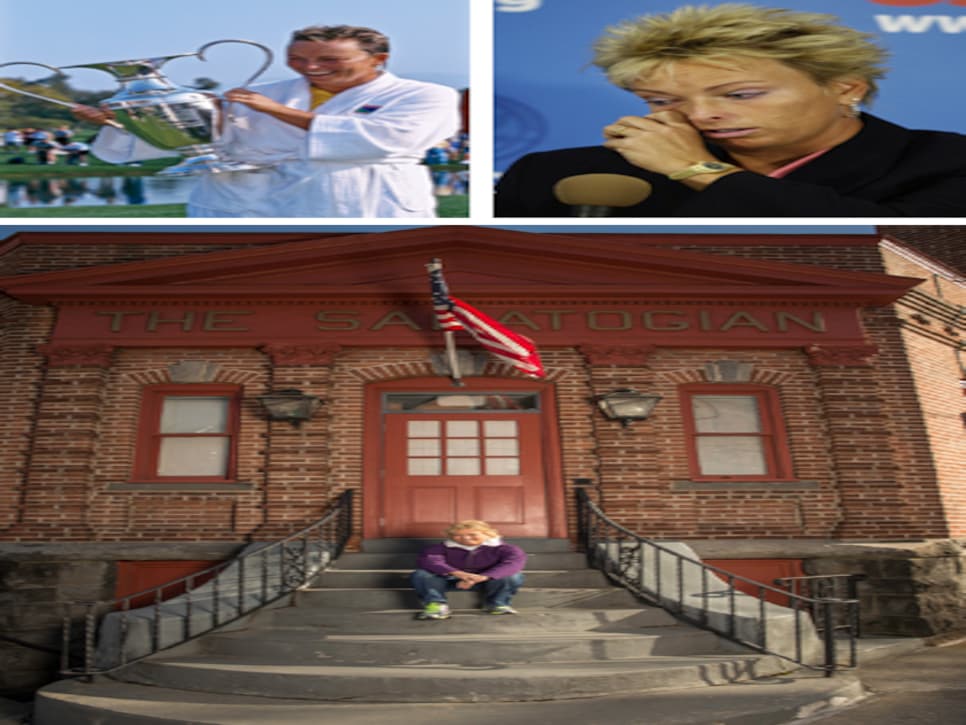 Shore; a tearful goodbye to competition in '04; on the steps
of The Saratogian, Pepper's hometown newspaper, earlier
this year. Photos: Donald Miralle/Getty Images;
AP Photo/Elise Amendola; Darren Carrol
Then she tells them how she borrowed $5,000 from her grandfather to play the 1987 U.S. Women's Open and finished T-12 to earn $5,939. "I walked back into the barn and handed him the cash," Pepper says. "I needed to play well and put up the numbers in order to stay alive. I had no sponsorships. So when I hear players complain, it bugs me a little bit. I'm pretty proud to say I made it happen. You just learn how to play hard."
The doggedness underpinned her innate knack for playing the game. "She was good enough at everything," Rankin says, without being the best at any particular aspect. Pepper was "good enough" to have 14 victories by the time she was 31, when injuries started to take their toll. She won only three more tournaments, retiring after the 2004 season at 39.
"I think it was the combination of realizing my body was breaking down and that maybe the fire was starting to turn into embers instead of flaming so much," she says. "I've had three major surgeries. And arthritis. I mean, my neck is a disaster."
The Solheim Cup is where Dottie cemented her reputation for intensity, compiling a 13-5-2 record (5-1 in singles) in six competitions. Her antics also annoyed opponents so much Europe once put her face on a punching bag in the team room. The Solheim Cup was also where Pepper made her most damaging bogey as a broadcaster, one that made her an outcast for many American players for nearly five years.
At Halmstad, Sweden, in 2007, thinking Golf Channel had gone to commercial, she referred to Laura Diaz, whom she has known since junior golf, and Sherri Steinhauer as "choking freaking dogs." Pepper apologized, but the damage was done.
"She's been saying things like this all her life, and now she just got caught," one furious member of the American entourage told Golf World. U.S. captain Betsy King said: "She's commentating because she's past her prime -- the older you get, the better you used to be."
Truth be told, "choking freaking dog" is the kind of thing Pepper would call herself if she failed in a crucial situation. And, truth be told, Diaz and Steinhauer had turned a 2-up lead with three holes to play into a halved match when Pepper commented. Still, you always have to assume the microphone is on.
"If you knew my family, you would say it came naturally," Pepper says about being opinionated. "I had a grandfather, staunch Republican, conservative and with an Oliver North for President T-shirt on during the Iran-Contra trial. Pretty large family, and if you didn't have an opinion and get to it quickly, you were going to get run over. So I suppose that primed me pretty well for television."
Pepper remained in the LPGA penalty box until last summer when Meg Mallon, whom Dottie has known since college, said at an emotional news conference at the U.S. Women's Open that Pepper would be one of her assistant captains at this year's Solheim Cup. And then in March, Mallon buried the hatchet completely when she selected Diaz as the other assistant captain.
"I spent my whole career with her, and I wanted her by my side," Mallon says of Pepper. "I know her strengths and my weaknesses, and I knew how she could help me. I needed to figure out what we had to do to get her back into the fold."
Mallon called people on the 2007 U.S. team and got a wide variety of responses, but all said they trusted her to do the right thing. During the 2012 Honda Classic, Mallon had Pepper over for dinner and ran the idea by her. "You know Dottie," Mallon says, "she was very, very emotional about it, and she had a little trepidation. But I'm glad everybody put on their Big Girl pants and realized, as we say in the Catholic faith, this was penance enough."
Pepper's voice still breaks when she talks about Mallon's decision. "I always loved her," Pepper said. "We always had a very good rapport, a good friendship. One of the people I really respect -- and she opened the door."
Meg chuckles at the emotion of her old friend. "She has mellowed throughout the years," Mallon says, adding that the move to Saratoga reflects a more at-peace Dottie. "I also see it with David. It is a very, very good match."
True to her nature, Pepper has thrown herself into her new three-year role with the PGA, which includes some travel but more conference calls from her home office. "I have landed myself on more committees than anybody," she says. "I managed to jump in with both feet already -- PR, communications, junior golf and membership. So I have a pretty full plate."
Pepper says the wheel need not be reinvented to grow the game. She points to pace of play as an issue, sings the praises of nine-hole golf, talks about positioning the sport as a family and fitness activity and, most of all, says people need to be reminded that golf is fun.
"We somehow need to figure out how to relax this impression that we are all stodgy and that we have no personality and no sense of humor," Pepper says. "And it's something you can do forever. And it doesn't have to be 18 holes of USGA competition where you post a score and wear your blue blazer. It doesn't need to be that way."
Dottie says she and David are perfect examples of the challenges golf faces. "Everyone has less free time," she says. They quit a club 30 minutes away to join Saratoga Golf & Polo Club, a nine-hole facility 1½ miles from their residence. "We can literally be at the house, decide to go play nine holes, and be back in the door in two hours," she says. On a recent afternoon, Normoyle played nine holes in 57 minutes. "It's the future of the game," he says. "A small facility, nine holes, not expensive to run and it provides a place to go and enjoy the game."
At Pepper's last TV appearance, December's PNC Father/Son Challenge in Orlando, colleague Jimmy Roberts said on air: "Those kids in junior golf have no idea what's about to hit them. They probably also don't know how lucky they're about to be." A choked-up Pepper responded: "Thank you for making me a part of your family," and then she headed back to upstate New York to be with hers.
The Olde Bryan Inn on Maple Avenue in Saratoga Springs is older than the United States, tracing its roots to 1773. The gray brick building with a red slate roof has exposed red brick walls inside and a fireplace that roars in the Adirondack winters, throwing heat across the hardwood floors. The bar is framed above by pewter mugs dangling down, each with the name of a regular customer who has paid $50 to become a member of the "Mug Club."
Sitting at a high-top table in the bar area for lunch, Dottie talks of family and the cozy comfort of home. She says she will continue her speaking career and the children's books in the Dottie and Bogey series, about a range ball named Bogey Ballton who wants to make it to the PGA Tour. "I'm here," Dottie says, glancing toward the fireplace. "I'm home. I'm not just a passerby."
Twenty-five years after her rookie season, Pepper is back where she started, and to anyone who knows her, back where she belongs.