News
He's In It For The Long Haul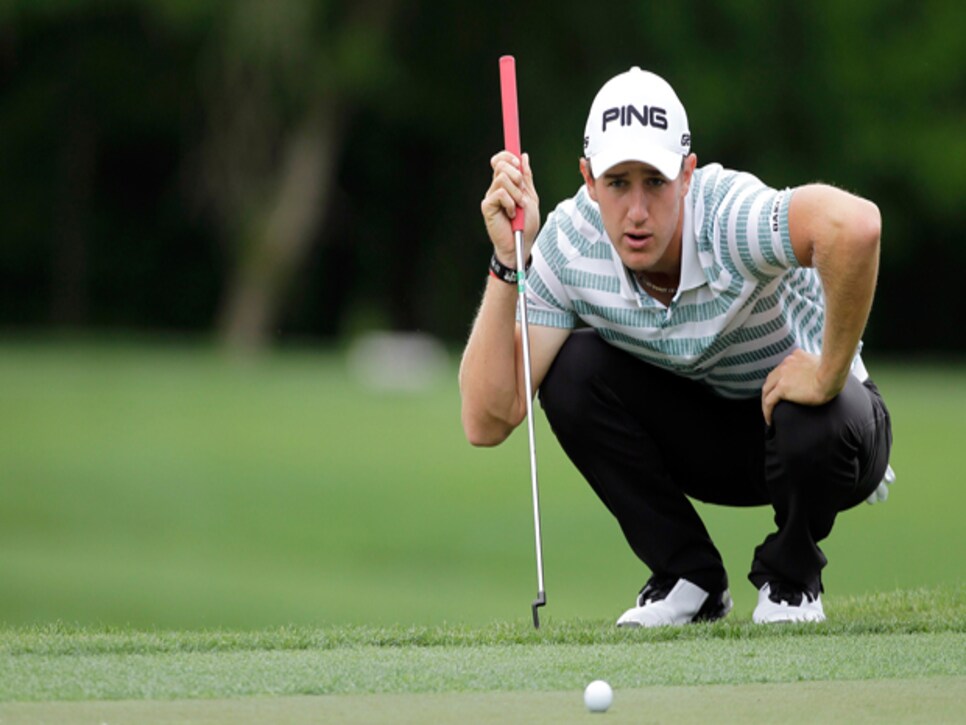 As defending champion of the Wells Fargo Championship, Derek Ernst returned to Quail Hollow last week almost as anonymously as he arrived last year as fourth alternate. Some of the security guards recognized him and said, "Repeat," as he walked through the clubhouse doors to register. But instead of calling him "Derek," Ernst admitted many of the fans in Charlotte referred to him as "David."
"No, David was the guy I played in the playoff," Ernst told them, referring to Englishman David Lynn. "I'm Derek."
Ernst's name hasn't changed, but he's a different guy from the one who won the Wells Fargo, his only tour win, as the 1,207th-ranked player in the world. He returned to North Carolina last week with a new swing coach, new sport psychologist, new fitness coach, new body (gaining 20 pounds), new manager and new attitude toward his career. At 23, with an exemption through 2015, he is thinking long term, not about his present world ranking (179th).
"This is on me," Ernst said. "This is about longevity out here; I just don't want to be around for a few years and be gone. I want to be around for a long time. I basically cleaned house with everything."
Although Ernst idolized Fresno State's Nick Watney growing up in central California, Tiger Woods has been more of a model. Ernst figured that Woods changed his swing "when he was winning everything," and even uses the Tiger word "process" to describe the learning curve he's going through back in Las Vegas with instructor Greg LaBelle. "You want to get better no matter what you're doing," he said. "I felt I needed to make the changes that I did, and I'll start seeing them pay off in the next couple years."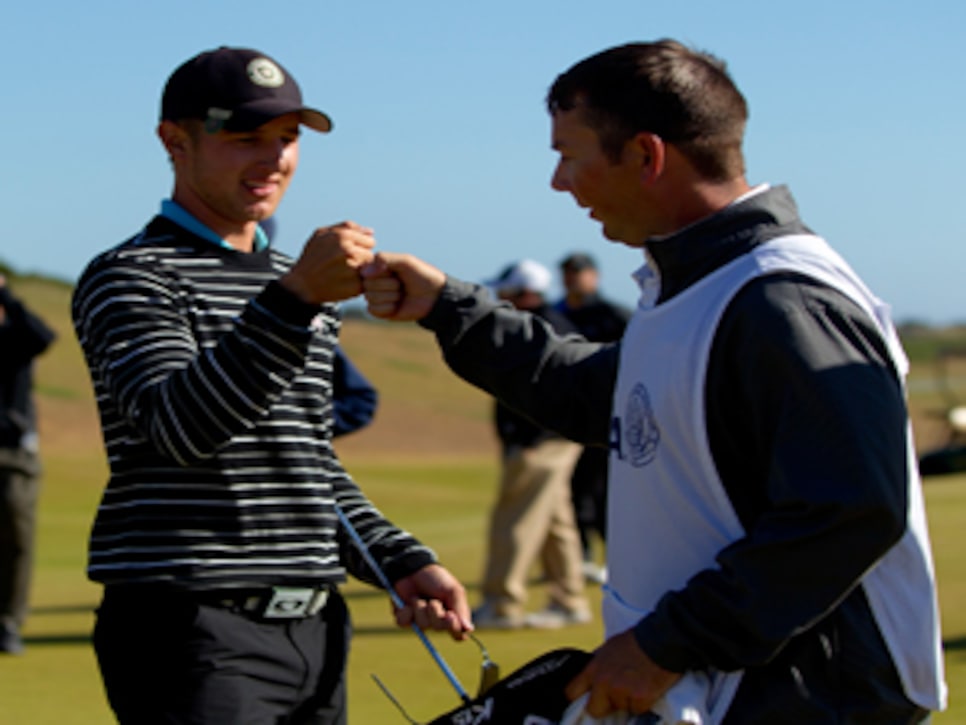 The results don't show it, but Ernst already feels like a better player than the one who held off Phil Mickelson, Lee Westwood and Rory McIlroy before beating Lynn in the playoff a year ago. He saw indications of that in his return trip to Quail Hollow, where he shot 68 on Friday to make the cut and even par on the weekend to finish T-30. Why was this encouraging in spite of two closing bogeys? Because his best finish since his victory is a 30th in the 30-man field at this year's Hyundai Tournament of Champions. In the last 12 months he has missed 19 cuts, including the Players, where he shot 81 in the second round a week after winning. With that comes a little chip.
"Someone had to win last year," Ernst said when asked in a pre-tournament news conference if the poor shape of Quail Hollow's greens in 2013 had led to him being a "fluky winner." "Someone had to overcome it."
Ernst has been overcoming for most of his life, and career. In the second grade he nearly lost his right eye when a sliver of PVC pipe lacerated his pupil while making a Valentine's Day present for his mother. He still has depth perception issues at sunrise and sunset, but it never held him back in sports or in percussion class. When an eighth-grade teacher asked him to go out for the marching band, Ernst turned him down. When the teacher asked, "How far are you going to get in golf?" Ernst responded, "How far do you think I'll get in marching bands?"
No wonder Ernst treated himself with a drum set after he won the Wells Fargo. The son of middle-class parents from Clovis, Calif., Ernst didn't have the money to play the AJGA circuit. Instead, he played Northern California GA events like the Napa City Amateur and the Salinas Valley Amateur until catching the eye of UNLV coach Dwaine Knight during the 2007 U.S. Amateur at Olympic Club. As Knight admits, "It's hard to give those kids a chance," but at age 17 Ernst earned it by eliminating Walker Cup-bound Billy Horschel of the University of Florida and advancing to the round of 16.
"I always felt you have to learn to win at whatever level you're on,'' said Ernst's father, Mark, a risk manager for Financial Pacific Insurance. "I know they're all working guys [in the NorCal GA], but they're all 2-handicaps."
Honing his game against hardened muny competition, Ernst was a two-time All-American at UNLV and made it to the final of the 2011 U.S. Amateur Public Links, losing to Corbin Mills. But while Mills hasn't gotten his card, Ernst went through all three stages of the last Q school in 2012. What made Knight proudest is that Ernst earned his degree and card, the only player coming straight out of college to do both that year. Not that it surprised him. He knew that with all the setbacks Ernst faced, he would eventually succeed by marching to his own drums.
"It ain't going to be easy," Ernst said. "I knew that going into it."
Randy Smith describes Martin Flores as "another of those kids who comes up on the doorstep." For the longtime instructor at Royal Oaks CC in Dallas, visitors to that doorstep include Justin Leonard, Harrison Frazar, Ryan Palmer and, at one time, Gary Woodland. Flores turned up after a relatively undistinguished career at Oklahoma, and has become one of Smith's favorite students. "He's done a wonderful job of going about it the right way," Smith said. "Plus he's one of the best people I've ever been around." Flores was disappointed with his career-best third at the Wells Fargo Championship, saying he just didn't have it during the final round. But Smith sees his day coming, based not only on work ethic but a vastly improved wedge game. "I'd love to see this kid win a golf tournament," Smith said. "He has done the work."
One of the success stories of the wraparound season has been Jason Bohn. With a T-2 at the Shriners Hospitals for Children Open, a T-3 at the OHL Classic at Mayakoba and a T-4 at the Wells Fargo Championship, Bohn is already well ahead of his earnings and FedEx Cup points totals since 2011. What happened on the last two holes of the Green Mile at Quail Hollow was more a matter of the clock than nerves. Bohn admitted he rushed his tee shot on the par-3 17th after getting a bad time on 16. With the wind gusting, Bohn rinsed his tee shot and made double bogey. "I'm more disappointed in myself and the way I handled that, than the golf shot I hit," said Bohn. He bogeyed 18 to finish three strokes back of J.B. Holmes, but after opening the tournament with three straight bogeys, Bohn was proud of the overall result. "It was a bad start and a bad finish, but I learned a lot in the middle and I played really good golf," he said. "Overall, I'm very pleased with my performance."