News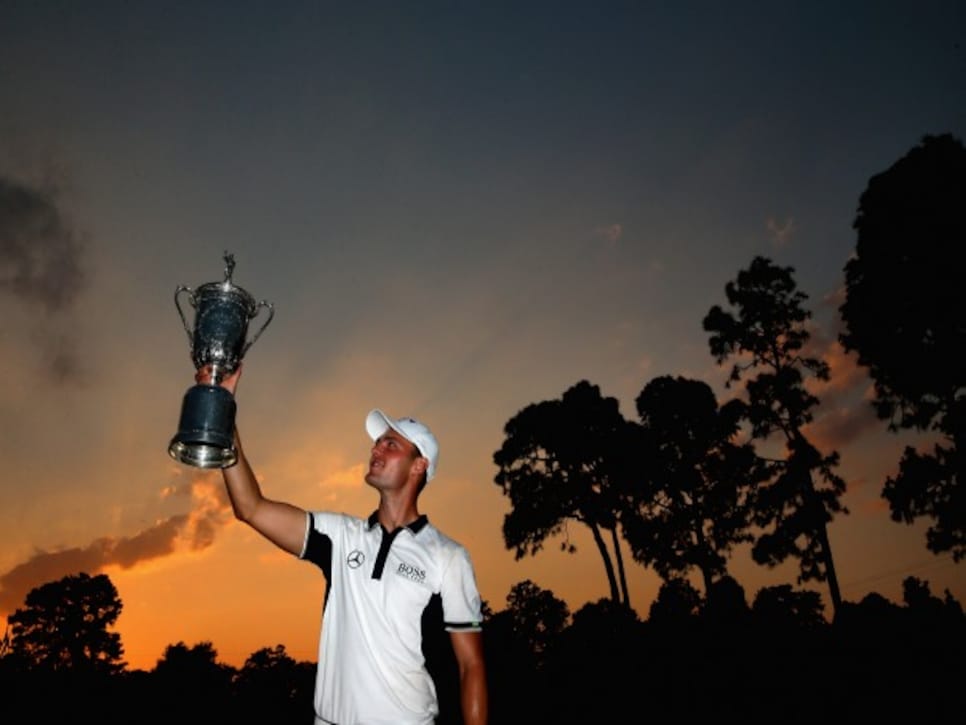 It's not only that the world has caught up to Tiger.  It has passed him at a high rate of speed and he is receding in the rear-view mirror even as we speak.
"To sit here with the U.S. Open trophy," Kaymer said, sitting there with the U.S. Open trophy late on Sunday night, "is . . . "
" . . . very, very happy. Very, very nice. Very, very satisfying."
Perhaps a page in golf history has been turned. Since Woods won the U.S. Open on that broken leg in 2008, four of the six winners of our national tournament have been Europeans. They are the heart of that side's Ryder Cup team. First came Northern Ireland's Graeme McDowell and Rory McIlroy. Then, last year, England's Justin Rose.  And now Martin Kaymer, a lean, lithe German with a whiplash swing and the unblinking look of the real thing.
"This is quite nice proof," he said, a gentle allusion to critics who saw his 2010 PGA Championship as one of those flukes that litter golf history, "to have two major championships under your belt and only 29 years old." Kaymer owned this Open the way Woods owned Pebble Beach's in 2000. Opening with back-to-back 65s will do that. Then Kaymer strolled through the weekend with 71 and Sunday's 69 for an eight-shot victory, nothing like Woods's 15-shot stampede at Pebble but matching McIlroy's margin, the fourth best in the Open's 114 years.
We may little note nor long remember this Open's golf drama, for there was none. On Open Sundays, pretenders wilt like tulips in the summer heat. Rickie Fowler, Dustin Johnson, and Erik Compton all were there should Kaymer bend. Not a chance. His three bogeys were inconsequential, and no one moved nearer than four shots.  It was over when Kaymer's birdies at 13 and 14 -- on putts of 18 and 28 feet -- put him 10 under par and eight shots up with four holes left.
Boring, even dull, in the way that sustained excellence can go unnoticed, this Open served best as affirmation of Kaymer's ascendancy.  That PGA Championship in 2010 came dramatically; he made a 15-foot putt on the 72nd hole en route to winning a playoff. For six weeks the next season, he was the world's No. 1 ranked player. He is one of only four players – Woods, Phil Mickelson, and Adam Scott the others -- who has won a major, The Players, and a World Golf Championship event. And if we've seen the putt on television once, we've seen it a dozen times -- Kaymer made a six-footer to clinch the 2012 Ryder Cup for the Euros.
Which is to say that Kaymer, who was 12 years old when Woods won his first major, is now a fixture among the game's stars.
Wait. Did I say there was no drama? There was drama of the best kind. What a story should Erik Compton have won -- a man on his third heart -- a man now 34 years old, given up for dead at age 12 and again at 28 – "I've been on my back twice and I never thought I would ever leave the house," is the way he put it -- and he comes to the last two hours of the world's most difficult golf tournament with a chance to win.
"On every hole, from the tee box to the putting green, people were cheering for me and I definitely felt the love and the support," he said.
That Compton didn't win, didn't matter. That his Sunday 72 left him tied with Fowler didn't matter. "Now I just finished second at the U.S. Open, which is — I don't think anybody would have ever thought I would do that, not even myself. . . . And for me to be here and to do this at such a high level is just as good of a feeling as winning."
It was a feel-good week. Even in the Sunday heat of an Open, Martin Kaymer did something so extraordinary and did it so quickly that it was clear only in slow-motion video what he had done with Rickie Fowler. On the fourth hole, with the game on, Fowler made a mess of three shots in his way to a dispiriting double-bogey. Kaymer's par there allowed him to stretch his lead over Fowler from six to eight shots.
As Kaymer walked across the green toward Fowler, he reached out to touch his opponent's shoulder, as if in consolation, as if to say, hang in there. Don't see much of that in majors.
Nor do you hear much of what the London golf writer John Hopkins heard one day from Kaymer.
They were leaving Florida after The Players tournament. Kaymer had won there, had won impressively, had picked up a check for $1.8 million. When Hopkins came across Kaymer sitting cross-legged on the floor of the airport departure, the journalist said something to the effect of what's a man like you doing in a position like that?
"It's all right," Kaymer said. "I'm charging my phone. I'm not a king, I don't need a throne."