News
My Town: Dan Hicks' Tucson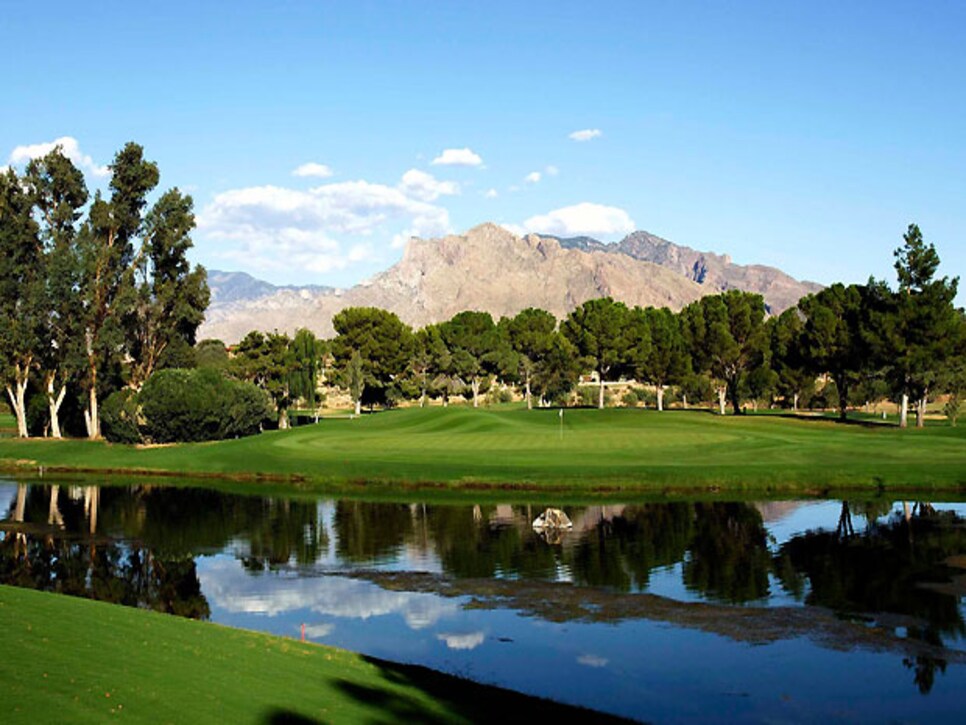 The third hole at Omni Tucson National's Catalina Course.
Dan Hicks' first link to golf came in the 1970s, when he would get the OK from his mother to miss school each year and attend the PGA Tour event in his hometown, the Tucson Open. "It was back when Dean Martin hosted it," Hicks, 49, said. "Johnny Miller was the best golfer around, and I would watch him tear it up. Who knew I would later partner with him on TV?"
His affinity for the game--Hicks has been NBC's main golf play-by-play announcer since 2000 and carries a 6.8 Handicap Index--mirrors that for old stomping grounds. Hicks stayed in Tucson for college, attending the University of Arizona, then began his broadcast career there, first with a local radio station, then the city's NBC affiliate.
Last fall Hicks' Tucson ties grew when he was made an honorary Conquistador by the volunteer group that helps run the area's current tour event, the WGC-Accenture Match Play. "I got a helmet and everything," Hicks said. "Johnny might have won the tournament, but he's not an honorary Conquistador. I will be sure to rub it in when we're there for the Match Play."
. You get a little taste of desert golf, but it's in the foothills area of Tucson so there's a different feel. It's not just all target golf.
Another favorite is the Lodge at Ventana Canyon. It's on Tucson's east side, where I grew up. There are two courses, the Mountain
, that are both good. The Catalina Mountains make for a gorgeous backdrop.
is a private course, but if you can get on, I highly recommend it. It's old-style Tucson. Again, not a typical desert course. I was never a member there but grew up a mile away. When I go back to Tucson, I try to play with some friends who are members.
Being just north of the border, you've got to think Mexican food. My go-to spot is Lerua's. They have the best green-corn tamales. The owner sends me a care package in the winter. It comes in dry ice. You put them in the microwave, and they're the sweetest tasting things you've ever had.
One of the best sports bars I've been to anywhere is Barrio Brewery. It's a micro brewery and has all different kinds of beers. It's near some train tracks and has the feel of a train depot. It's a real Arizona Wildcat hangout too.
There's a spot only old-time Tucsonians and people in the loop know about called the Arizona Inn. It's right in the middle of town, near the University of Arizona campus. It's oozing with character. It's got black-and-white photos on the walls that show you all the movie stars who stayed there, everybody from Clark Gable to John Wayne. It doesn't feel like you're at a hotel. Great style and elegance.
Again, the Lodge at Ventana Canyon is a spot to think about. You have great views and multiple courses to play. You can go out there and play golf or do the spa. There are wonderful trails where you can hike in the desert and you're in the foothills.
One other pretty cool place is JW Marriott Starr Pass Resort & Spa. It's got all the amenities you'd expect and some beautiful hiking and bike trails as well.
One of the great animal museums anywhere is the Arizona-Sonora Desert Museum. It's a natural museum, so it doesn't seem like a zoo. It has all the animals in one spot since sometimes in the desert they like to hide because it's hot.
Another spot is Sabino Canyon, northeast of the city. It's a gorgeous desert, but it gets into a little higher elevation so you will see the vegetation change if you take the trolley ride there. And Mount Lemmon is only 75 minutes away. You can ski there in the winter or if you want to get out of the summer heat, it's a great place to visit too.