News
My Town: Craig Stadler's Denver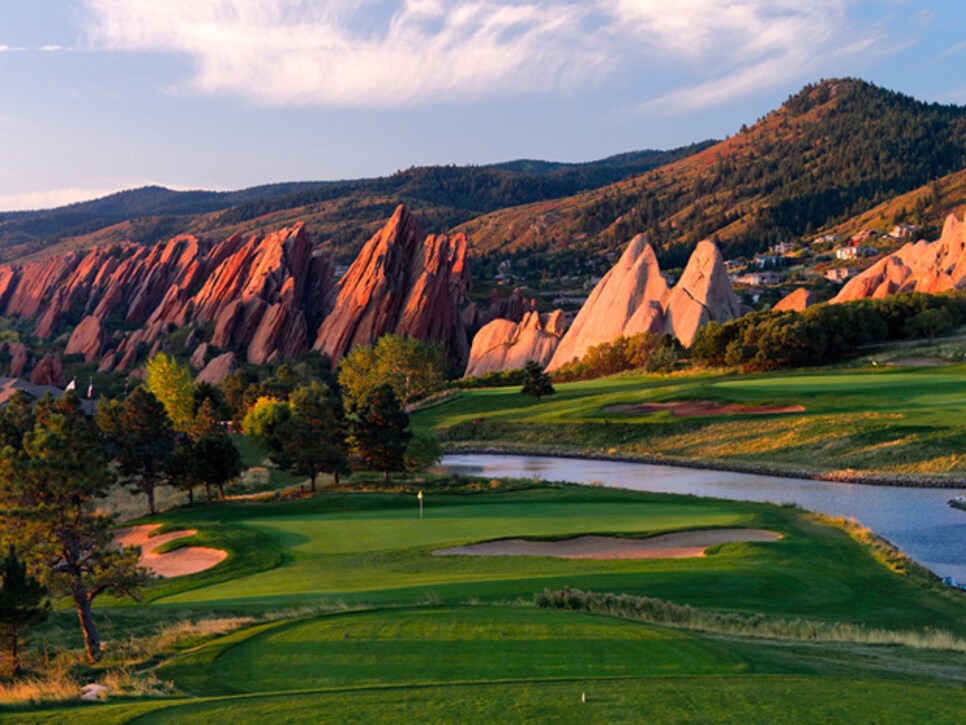 Arrowhead GC is a challenging Robert Trent Jones Jr. design.
Even though Craig Stadley isn't officially a native son of Denver, he sure feels like one. The 59-year-old Champions Tour member moved his family there from California in 1994 for several reasons, none of which directly involved golf.
Given how often it seemed "The Walrus" was flying through Denver from his Southern California home to PGA Tour events, Stadler thought he would save time by moving to the Mile High City, with the skiing and other outdoor opportunities Colorado offered tipping the scales. In 2003 Stadler moved to Evergreen, a suburb about 40 minutes west of downtown.
As he settled into his new home, Stadler became a fan of the NHL's Colorado Avalanche. Over the years he has befriended many hockey players.
"I've had some great memories in Colorado," Stadler says. "Denver is a perfect place to be. The city and surrounding area has a great sports scene, a wide variety of golf courses, a ton of things to do and fantastic restaurants. It's home, and we love being here."
Arrowhead GC is a challenging Robert Trent Jones Jr. design in Littleton. It's incredibly scenic, playing through red-rock formations. I helped design Grand Elk GC in Granby with Tripp Davis. Instead of a typical mountain course, it's a Scottish heathland-style layout designed so approaches can be played along the ground. Englewood's Inverness GC is a tough Press Maxwell layout with tight, sloping fairways and fast, undulating greens.
Two private courses to consider if you have connections: Castle Pines GC in Castle Rock and Colorado GC in Parker. Castle Pines is the Jack Nicklaus design where the PGA Tour played the International from 1986-2006. The players loved the club's famous milk- shakes as much as the course. Bill Coore and Ben Crenshaw designed Colorado GC, which held the Senior PGA Championship in 2010 and is hosting the Solheim Cup next year. It's a fantastic course blended wonderfully into the rugged native topography.
The best Mexican food around, including great fish tacos, can be found downtown at the Blue Bonnet Café. Also downtown, you can't beat the Cherry Cricket's unique burger combos and endless toppings list. Besides The Palm, you'll also love the steak entrees at Simms Steakhouse in Golden or Brook's Steak House & Cellar in Greenwood Village. For something more exotic, try The Fort in Morrison and El Rancho in Evergreen. The Fort features buffalo, elk, quail, wild boar and South Texas antelope while El Rancho serves wild game meatloaf, elk and buffalo.
There are two downtown sports bars with tremendous atmosphere. Jackson's is adjacent to Coors Field while the Pepsi Center's Blue Sky Grill opens during major events.
Two places to consider are The Westin Denver and the Brown Palace Hotel & Spa, both downtown. The Westin is next to the 16th Street pedestrian mall and is a short walk from Coors Field, the Pepsi Center, museums and restaurants. The Palm Restaurant in the hotel is one of my favorite steakhouses. The Brown Palace has hosted countless celebrities, including every U.S. president since Teddy Roosevelt in 1905, except for Calvin Coolidge and Barack Obama.
The Denver Art Museum has outstanding exhibits and family activities. The Denver Mint offers interesting free tours, and you can catch a movie at the Imax Theater at the Denver Museum of Nature & Science.
The Coors Brewery in Golden offers an informative 30-minute tour, followed by a cold Coors sample. And for an unforgettable experience, drive to Idaho Springs, where several river-rafting outfitters offer white-water rafting trips.