News
2013-14 College Preview: The Power Of One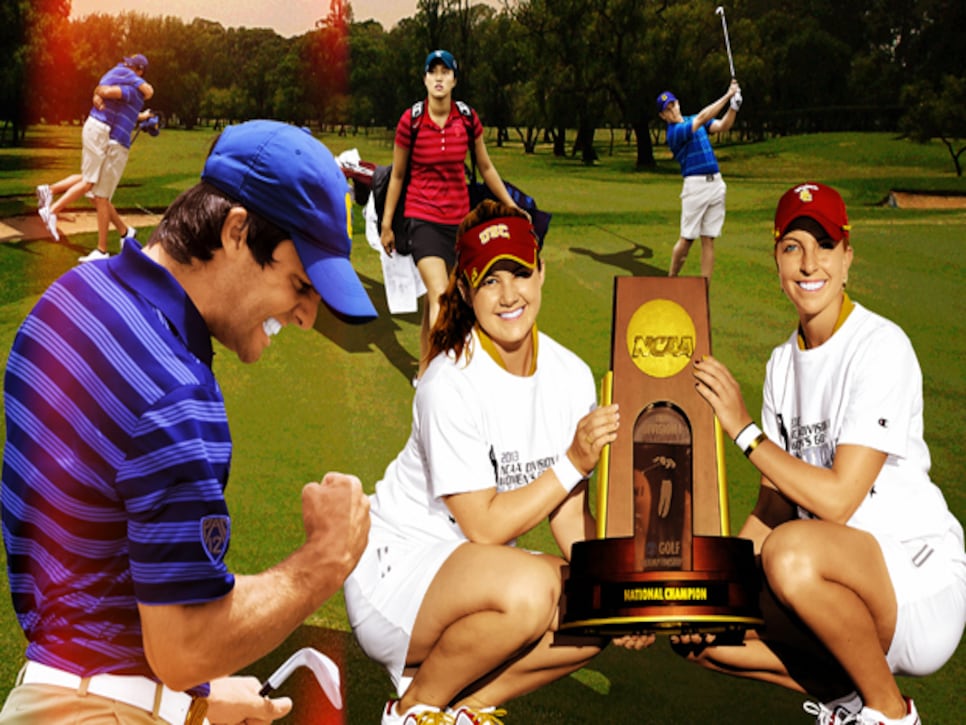 The Cal men and USC women could have folks talking in 2013-14.
It didn't come when he was being congratulated by fellow coaches. Or when he was posing for pictures with his players holding another piece of first-place hardware. Or when he was trying to display said hardware back in Berkeley, the spoils of his team's victories forcing him to find new nooks and crannies to show it all off. No, the occasion during which Steve Desimone, the California men's golf coach for the past 34 years, realized the success his Golden Bears team was having last spring had become bigger than he had even imagined came at a much more unlikely setting.
"It was a routine visit, and my doctor walked up to me and said, 'Great season, Coach. Run the table and let's see you win another trophy,' " Desimone said. "I just wasn't expecting it. But, you know, it's amazing how many places I'd go where I wouldn't think people were tuned in to college golf, but they were."
So that's what happens when your squad wins an outlandish 11 of its first 13 tournaments, is profiled by The New York Times, Associated Press, Los Angeles Times and San Francisco Chronicle and has golf writers searching through media guides trying to find apt comparisons. A team full of golfers suddenly becomes big men on campus.
Whether the fivesome of Michael Kim, Max Homa, Brandon Hagy, Michael Weaver and Joel Stalter -- all sporting 71.0 averages or better -- deserved the label "best college golf team of all-time" became the primary plot of the 2012-13 season. (It's an even more interesting question today since Cal did not win its 14th and final event, the NCAA Championship, losing in the semifinals of match play.) Fueling the debate was the logic that the current era of parity in college golf has too many programs investing too many resources for a Goliath to emerge. So when one program managed to rise so high above the rest, it had many observers searching for superlatives.
A run like Cal's hadn't happened in decades, and it probably won't again until … well not at least until this fall. As audacious as expecting a team to repeat a once-in-a-generation run sounds, the Golden Bears lose only Homa (albeit the NCAA individual champ) from the starting five.
And if not California, why not the squad that won the NCAA men's title, Alabama, a team most certainly deserving the label "most underappreciated eight-win program of all-time"? The Crimson Tide must replace Scott Strohmeyer (graduation) and Justin Thomas (who is turning pro after two All-American seasons in Tuscaloosa) but bring back U.S. Walker Cuppers Cory Whitsett and Bobby Wyatt and add blue-chip recruits Robby Shelton IV and Gavin Moynihan. They also start the new season having won their last six starts.
Truth be told, potentially the most potent team in 2013-14 isn't even a men's squad. USC won the NCAA women's title by a bruising 21 strokes in May and has national player-of-the-year Annie Park along with its other four starters attending classes again this fall. Also arriving on campus are U.S. Girls' Junior champion Gabriella Then and five-time AJGA All-American Karen Chung, leaving veteran coach Andrea Gaston with the enviable dilemma of how to keep seven of the country's best golfers content when you can only play five.
Having a few schools distance themselves from other programs might seem a recipe for tedium, eight months of monotony during the regular season followed by one week of inevitability at the national championship. Yet the rise of the "super team" in college golf could, in fact, be one of the best things to happen to it, particularly given the timing. Last December the NCAA and Golf Channel entered into a partnership where the cable network would provide the collegiate game more exposure. What better way to whet the appetite of unfamiliar fans than serve them its version of prime rib?
Indeed, a dominant program (or two) in both the men's and women's game offers various positives. For starters, they can provide a narrative that can boost the profile of the entire sport beyond just highlights on Golf Channel. Rather than appear redundant, Cal's repeated wins a year ago turned the Golden Bears into a story that grabbed attention beyond the usual campus newspaper and golf weeklies. New York Times editors aren't generally inclined to write about college golf. They'll do it, though, if there's a compelling reason.
Additionally, having a lead dog can do wonders to inspire the competition. As California enjoyed its limelight, 2,300 miles away the players in the Alabama program watched with one part appreciation, the other part frustration.
"It sort of put a little chip on our shoulder throughout the year," according to Wyatt. "We didn't get any credit [for what we were doing]. We were under the radar. We had a fantastic spring, and they were all the talk."
Alabama competed in the same events with California just once during the spring semester, while Pac-12 rivals UCLA and Stanford saw them upward of three times. With each loss, the belief that Cal was beatable decreased, but at some point, teams also start to grow tired of getting beaten. In that sense, a rising tide lifts all boats. To keep up with the best, you have to work to improve, which improves the overall quality of play.
Meanwhile, just because a "super team" appears unbeatable doesn't mean it actually is. This is golf, a sport that's impossible to predict at the professional level let alone when it involves 17- to 23-year-olds who are immensely talented but still trying to master the game. There are going to be weeks when players aren't at their best, sometimes during the most important week of the year. In 1981-82, UCLA won 13 events but was sixth at NCAAs. The 10-win Oklahoma State squad in 1985-86 also couldn't capture the big one, and now the 2012-13 California team joins them. Moral of the story: They don't play the NCAA Championship on paper.
Which brings us back to Desimone and the Berkeley Bears. The dejection that washed over the team when it fell to Illinois in the 2013 NCAA semifinals was obvious, their place in history no longer quite so lofty. If there's a team with a chip on its shoulder entering 2013-14, it would be Desimone's.
"We achieved so much last year that will never be taken away," said the Cal coach. "But that last goal is still out there."
Did you hear that everyone? Don't say he didn't warn you.