News
Making The Most Of A Mulligan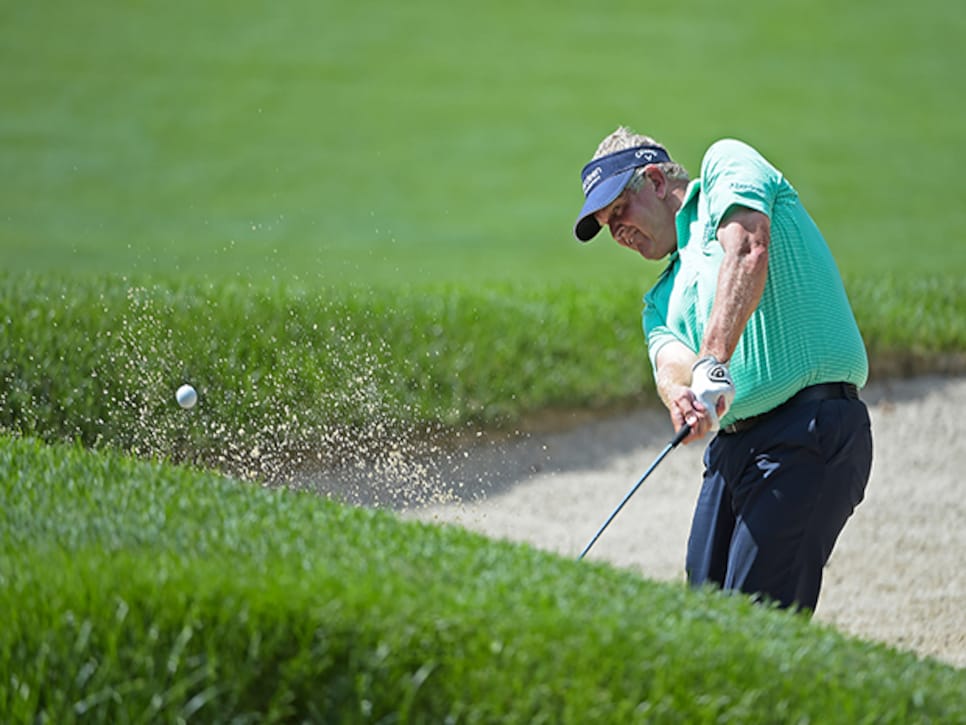 The scene outside the clubhouse at Fox Chapel GC, of Colin Montgomerie hanging out with the caddies watching the European Tour on a flat screen, would not have been imaginable in the Hall of Famer's previous life. Certainly not before the opening round of a major championship in the U.S., where the thin- skinned Montgomerie became the target of some of the crudest forms of ugly American fan behavior ever directed at an international golfer.
Last week he returned to Pittsburgh to celebrate two anniversaries. Twenty years ago Montgomerie nearly won the 1994 U.S. Open at Oakmont. What most remember about Monty that week is the sweat-stained dark shirt and matching trousers he wore on a disgustingly hot Monday for the 18-hole playoff with Ernie Els and Loren Roberts.
It was two years earlier that Monty's cherubic red cheeks appeared on our TV screens for the first time, when he posted 70 early, before the worst of the heavy winds kicked up at Pebble Beach, and he was congratulated on his first U.S. Open victory by none other than Jack Nicklaus on ABC. Tom Kite had something to say about that, and for Monty, who also finished behind Jeff Sluman, it was the first of many heartbreaking losses in the majors.
From those two moments in golf history evolved this love-hate relationship that spun out of control most famously at Bethpage Black in 2002. Twelve years and an enjoyable experience on the Champions Tour that started at Fox Chapel in 2013 seem to have cured all.
Monty celebrated his year on the senior circuit with a tidy T-15 in his first senior major since the Senior PGA Championship in May in Benton Harbor, Mich., after famously going 0-for-71 in majors on the regular tour. Coupled with his candid commentary during major-championship coverage on Golf Channel, and his 2013 induction into the World Golf Hall of Fame, the figure once razzed as Mrs. Doubtfire has a new kind of cool persona.
"It's been a real reversal," Montgomerie admits when we chat. "I wouldn't be speaking as happily before a tournament in the '90s. Now it's different, and it's been fantastic."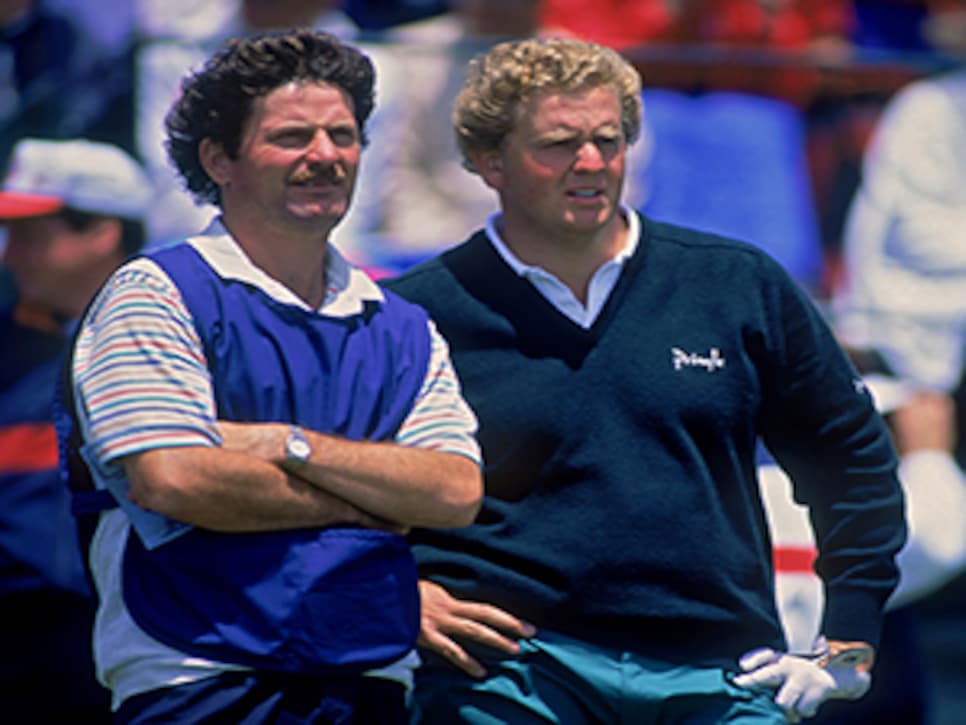 Part of the love affair with America has evolved from Monty making the effort to learn the U.S. from the ground up, driving the country from west to east and south to north between Champions Tour events.
The journey from Newport Beach, Calif., after the Toshiba Classic, to Biloxi, Miss., for the Mississippi Gulf Resort Classic, took over two days. Traveling across Interstate 10, stopping to see friends along the way, the Montgomeries learned west Texas wasn't exactly the Scottish Highlands, but Monty and wife Gaynor listened to '80s music and hung out in a rented SUV as time slipped away.
"Only 8½ [hours] this time," he says, as if it were nothing making the drive from Chicago to Pittsburgh with a stop in Cleveland for a charity event.
One of the beauties of the Champions Tour, he explains, is that with most of the tournaments starting on Friday, it gives him an extra day. He sends photos back to his daughters, who post on his website and Instagram Monty's postcards from the U.S. "I get a Suburban or an Escalade, that's me, and I feel very safe," he says. "I have my own choice of music and all the auxiliary things. I do enjoy it. I see this country. It's bigger than you think."
This may be the first time Montgomerie has experienced this type of overall happiness, both personally and professionally. He jokes that he and Gaynor were still married after their journey to Biloxi. "I'm happy at home. You can't perform if you're not," he says openly. "I tried that, and I failed. I couldn't be happier. I've been made to feel so welcome. The caddies, the players, the warmth and the hospitality have been quite superb."
I dare ask, if like Gary Player, he counts the win at Benton Harbor over Tom Watson as a major. Always quick, he chimes right in with typical Monty candor. "He doesn't have to. I do," he says. "He has majors, I don't. So yes, of course, I'm counting it. I don't have any." With that, he talks about playing Valhalla at the PGA Championship and the pride he'll experience seeing the Senior PGA trophy at his home near Gleneagles.
His peers seem to love him. Loren Roberts and Kenny Perry told me how much fun he is to be around in the locker room, how Monty's a lighthearted joke teller. They see value in having Monty around the Champions Tour, especially when he is volunteering to go to private dinners with sponsors. "For us players it was different from what the fans saw," Roberts said.
Perry sees the same Monty today as the one he competed against 10 years ago -- except maybe mellower. "I laugh a lot with Monty," Perry says. "Maybe he's softened up over the years. I know he didn't get along with volunteers and spectators, but now he's a doll, a delight to be around."
Monty explains he was just off the phone with his 84-year-old father, James, the former club secretary at Royal Troon. They are planning a trip to this summer's Senior British Open at Royal Porthcawl in Wales. Their accommodations will be at Celtic Manor, where Montgomerie captained the European Ryder Cup team to victory in 2010.
That's another reason for Colin Montgomerie to be grateful, in this second life of his.
This won't be quite like the native areas around Pinehurst No. 2, but the big change to Oakmont CC as it prepares for the 2016 U.S. Open is less rough, specifically around the course's famed bunkers, which surprisingly will mean more of a challenge to the field. That wasn't a feature in the 2007 Open, but under the direction of USGA executive director Mike Davis, Oakmont superintendent John Zimmers has already executed new mowing patterns. "The way the bunkers are at Oakmont, we were doing them an injustice by having rough cover them up," Davis said. "We had to figure out a way in the drive zones to get the fairways much closer to the bunkers, and then on the inside of the bunkers, not to have four-inch bluegrass-rye rough." As Davis pointed out, that's a tough ask for Zimmers' crew, but they have executed it for club play. The deepness of those fairway bunkers will create more of a British Open feel, where players will be able to advance their ball but rarely reach the green.
Mike Bertha gets an assist for Bernhard Langer's victory in the Constellation Senior Players Championship. As the Champions Tour equipment technician, Bertha usually packs up his van on Thursday, but the Pittsburgh resident was still on-site Friday when the aluminum tip on the end of the shaft of Langer's driver cracked hitting a tee shot on the 18th hole at Fox Chapel GC. "He would have been in trouble," said defending champion Kenny Perry, who finished third. "I told him he was lucky on the range today." Langer had a backup driver but preferred to use the club that has yielded success the last 2½ years. "Mike looked at me and said, 'I think I can fix that,' " recalled Langer. "It looked like there was a piece broken, and I was surprised he had that piece."