News
Thoroughly Modern Maestro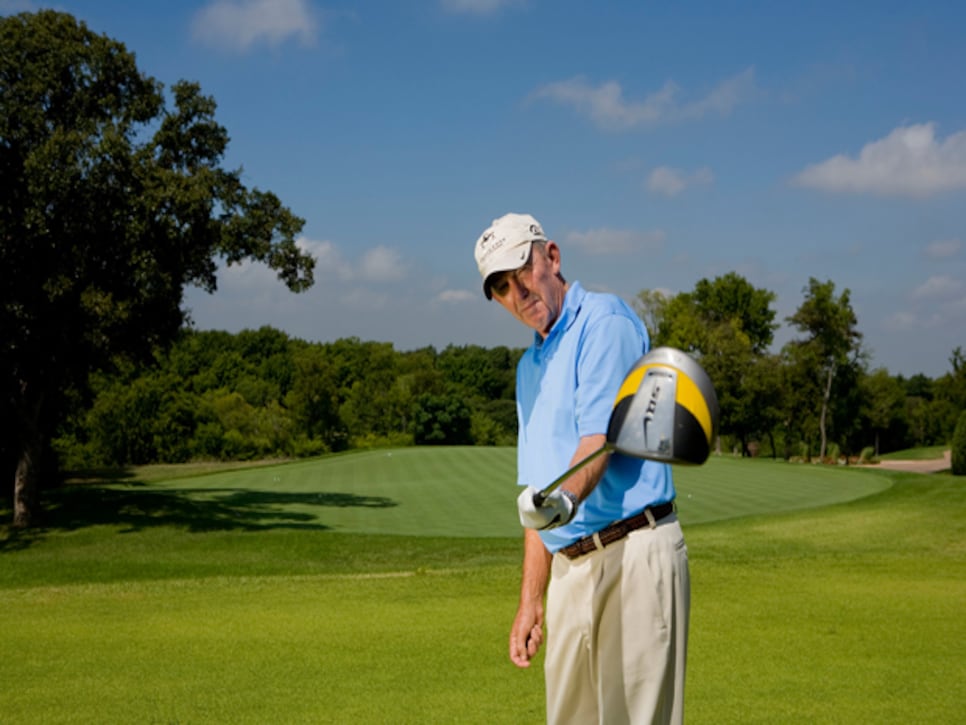 Chuck Cook didn't see himself going into the 2014 Masters with three players capable of winning the green jacket. In the years after Payne Stewart died in a 1999 plane crash, working tour ranges just wasn't the same.
Back in the 1990s, Cook coached Stewart, Tom Kite and Corey Pavin to U.S. Open victories. This week he'll arguably be the hottest instructor working the range at Augusta National GC.
"Actually, after Payne died, I sort of got out of that end of the business," Cook said from his rented home in Augusta, Ga., last weekend. "A lot of guys wanted to work with me. I turned them down. That deal [Stewart's death] was painful."
What put Cook back in the spotlight was his odd-couple relationship with Jason Dufner and how that grew his business to include Luke Donald and Keegan Bradley. To Cook it is like having a 21st-century version of Stewart, Kite and Pavin, right down to each being a distinctive character.
Donald is like Kite. "A shorter [hitter] who wants to build the best golf swing he can," Cook said.
Bradley is like Stewart. "A feel player, with a lot of natural ability," Cook said.
And then, there's Dufner, "who," said Cook, "is not like anybody I've ever known in golf."
The beauty of their chemistry is that Cook never seemed to care when Dufner bleached his hair and wore earrings. And Dufner kind of liked it that Cook, now 69, was old enough to be mentored by Harvey Penick and to have watched Ben Hogan hit balls at Shady Oaks. For Christmas he gave Dufner a framed 1955 Life magazine cover of Hogan.
Their relationship started as a favor to Layne Savoie, former master teacher at Cook's golf academy in Austin. When Savoie was offered the head coaching job at Arkansas, he knew there wouldn't be enough time to watch over Dufner. That's how Cook came to experience a career renaissance.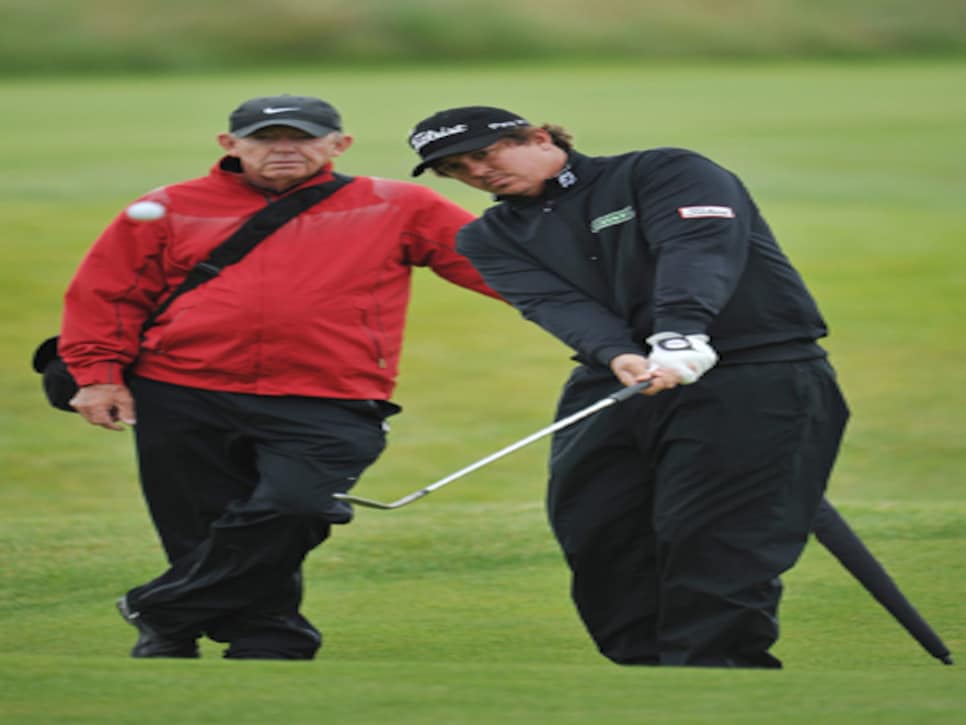 First came Dufner's runner-up finish to Keegan Bradley in the 2011 PGA Championship and then, ultimately, Dufner's win at last year's PGA. Donald was the first to follow, making the transition as Dufner was claiming the title at Oak Hill. In December, just after Donald defended his title at the Dunlop Phoenix in Japan, Bradley started working with Cook at The Bear's Club in Jupiter, Fla., where he and Donald are members.
How Cook came to work with Donald is a story unto itself. After working with Pat Goss since his days at Northwestern, Donald wanted to change his full swing and approached Sean Foley, the instructor for Tiger Woods, Justin Rose and Hunter Mahan. Having a baby at the time and not wanting to take on new students, Foley recommended Cook -- in spite of their differences over swing mechanics.
"He started teaching Tiger with stuff that I thought was going to hurt Tiger, so I called him up and called b.s. on what he was doing," Cook said. "He took it in a great spirit, and we developed a dialogue on golf instruction, particularly as it relates to Tiger."
With Bradley, Cook played the sage. At first he tried to talk him out of leaving Jim McLean. Unlike Donald, who he got to swing more with a body release than a hands release, Cook thought Bradley was already the best driver in the game. So while Bradley's swing became a little more rounded off, it's mostly short game and course management that he and Cook have worked on.
Camped out early at Augusta with Dufner, Cook could have predicted a phone call was coming after Bradley followed an opening-round 66 with a 77 at the Shell Houston Open. "I told him, 'Keegan, your golf swing is not going to change overnight. What were you thinking differently?' " Cook said. "That guy gets so wired."
How has Cook stayed so relevant? By being ahead of his time on many fronts. When Cook left the Golf Digest Schools in the 1980s and eventually started his own academy, he was among the first to incorporate experts in fitness (Al Vermeil), biomechanics (Dr. Ralph Mann), short game (Dave Pelz) and sport psychology (Dr. Richard Coop) on his advisory panel. Long before TrackMan, he was among the first to use a launch monitor and prides himself on not only being well-versed in Homer Kelley's The Golfing Machine, but also for his Level 2 certification as an instructor by the Titleist Performance Institute.
While he's stayed up-to-date, Cook laughs at the notion he's become popular because he teaches all the modern stuff. It's not much different than what he passed on to Bill Rogers before Rogers won the British Open in 1981 at Royal St. George's or to Mark Brooks before his victory in the 1996 PGA Championship at Valhalla. "Modern stuff," Cook said, laughing. "Modern like Ben Hogan."
With his 70th birthday coming up in December, Cook still trains with a series of sprints inspired by Vermeil's training programs, and he likes to brag about the time he beat Lance Armstrong in a 40-yard sprint. Although he did bring Stewart's yardage book from Pinehurst with him to Augusta, he generally keeps young by not living in the past.
"I guess because I never stopped, I never look back," he said. "I think about those times, and it's not like I don't appreciate it, but I don't go back and say those were the glory days. I still keep going."
After winning the Valero Texas Open, Steven Bowditch headed to the Shell Houston Open distracted a bit by his invitation to the Masters. "Still on a bit of a high; I was never in that position before," Bowditch said from his home in Dallas after missing the cut in Houston. "I wasn't there mentally, and physically I was tired as well." There was also a buildup of media requests outside the golf realm focused on his battle with depression. While he answered questions, Bowditch's wife, Amanda, who also serves as his manager, took care of the logistics in Augusta, Ga. Defending champ Adam Scott reached out with an invitation to his Tuesday game at Augusta National with countrymen John Senden and Oliver Goss. This will be Bowditch's second major, and he has never played Augusta other than on PlayStation.
Beating Keegan Bradley, his Hopkinton (Mass.) High School teammate and Tequesta, Fla., housemate, by three shots at the Shell Houston Open wasn't a thrill for Jon Curran -- not after he played his final nine holes three over and finished T-31. Indeed, Curran still has to make good by taking Bradley, their girlfriends and a group of 10 to the Capital Grille to celebrate his March 16 victory in the Brasil Champions on the Web.com Tour. Ahead of his disappointing Sunday in Houston (where he played on a sponsor's exemption), Curran fired a Saturday 69 alongside Webb Simpson, whom he knew from his junior and college days. Curran has recently benefited from a sense of calm after working with sport psychologist Greg Cartin. "It was still a good week for me," Curran said. "It was just a matter of time before I started feeling it, and I guess I did. I think Keegan had getting ready for Augusta on his mind."