News
When Camilo Villegas drove away Sunday from Liberty National after finishing his final round at the Barclays, he thought his 2013 PGA Tour season was over. The native of Colombia missed a par putt from six feet, five inches on the 72nd hole that seemed would be the difference in advancing to TPC Boston and the next event in the FedEx Cup Playoffs, the Deutsche Bank Championship.
Stopping in Manhattan, where he spent the night, Villegas checked the scores on his iPhone and saw that Aaron Baddeley bogeyed his 16th hole. Projected to be 101st in the FedEx Cup standings, Villegas (who started the week 110th) still believed he was finished. His plans were to attend the opening of the U.S. Open tennis championship with girlfriend Maria Ochoa the next day, where they would watch countryman Santiago Giraldo, then head home to South Florida to ride his racing bike and get ready for the tour's 2013-14 season.
"When you play bad, like I did on Sunday, you just want to get out of there," Villegas said when we spoke two days later. "I had already debated everything. I figured, 'I'm done.' "
Instead he was riding a train to Providence, which is where we caught up. As it turned out, Baddeley bogeyed 17 as well, then missed a five-foot, four-inch par putt on the 72nd hole. Instead of being done, Villegas had new life. "It's a crazy game," Villegas said en route to the Boston area. "I know what it feels like to miss a putt at 18. I feel for Badds. I felt the same way."
As it turned out, Villegas' week in New England was in part an extension of the first 34 weeks of the season. He needed to climb 30 spots in the FedEx Cup standings to advance to the third playoff event, the BMW Championship. Instead, he shot 71-68-67-69 to finish T-35 and jump only 18 places. With the shortened off-season, he has five weeks to figure out how to make up the one shot difference per round between his 2008 season and today.
"I'm an analytical guy," Villegas said. "I'm always trying to see how to make something better."
Five years ago Villegas finished T-3 at the Deutsche Bank, before winning the final two playoff events, claiming titles at the BMW Championship and the Tour Championship. Under today's system, where points are reset before the Tour Championship, he would have won the Cup. As it was, Villegas finished second to Vijay Singh, who also won two playoff events. Still, based on that finish and three top-10s early in 2009, Villegas rose to No. 7 on the World Ranking and earned a spot on his first Presidents Cup team.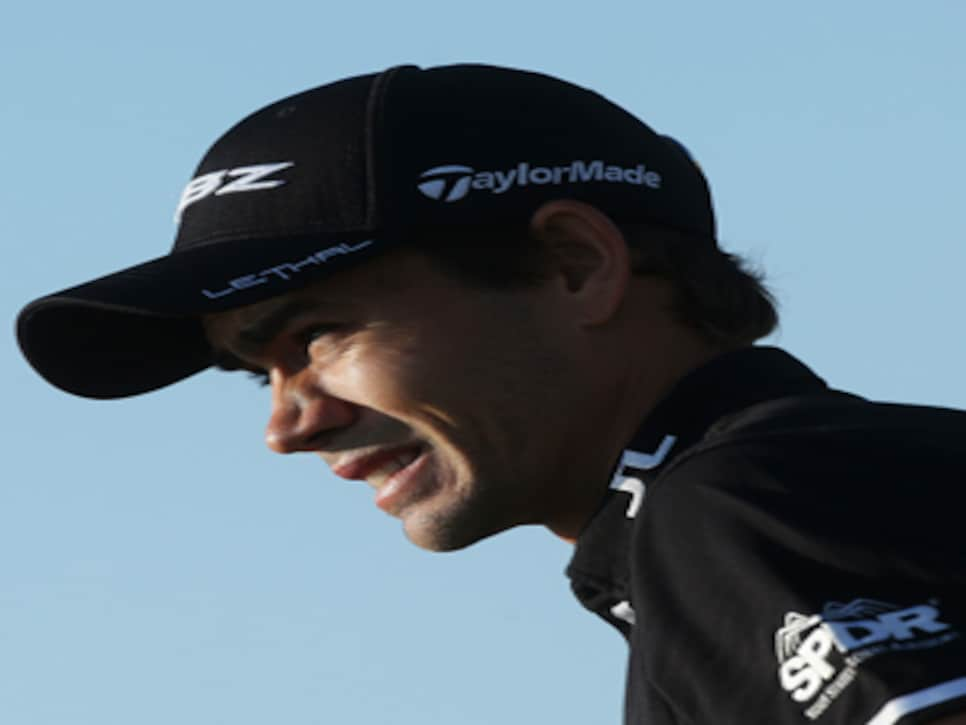 Villegas' star was brightest, both on and off the course, in 2010, when he won the Honda Classic and appeared nude in his trademark Spiderman pose for ESPN the Magazine. His last solid season was 2011, when he made another strong run in the playoffs but was passed over by Greg Norman for a captain's pick on the International Team. In 2012 Villegas ranked fourth on tour in greens in regulation, but ended up at Q school for the first time in his career.
At 31, Villegas admits he's at a phase in his life when sometimes he doesn't enjoy packing for trips and the little things that aren't a bother when the putts are going in become aggravating. But unlike the skinny kid from Medellin who came to the University of Florida weighing 138 pounds and unable to speak fluent English, Villegas doesn't feel like he has to remake himself. "I just have to be more like a kid," he says.
A kid, he could add, who makes putts.
Villegas has not ranked higher than 135th in strokes gained/putting since 2009, which puts pressure on his ball-striking. He opened the Byron Nelson, the Travelers Championship and the Barclays with 65s, and the Honda and John Deere Classic with 64s, but surprisingly only cracked the top 50 in one of those events. Shockingly, he actually missed the cut at the Honda.
The fact he got 22 starts this year despite not having full status on tour (he was No. 144 on the 2012 money list, leaving him in the No. 126-150 category) is a testament not only to the three tour wins on his résumé, but the fact he wrote thank-you notes to his pro-am partners and treated the game with respect. With his world ranking plummeting to 291st in July, he played in no World Golf Championships and only one major, missing the cut at the British Open. Despite all this, he is taking a philosophical approach.
"Obviously the last 2½ years haven't been great, but I've learned so much," he said. "Funny thing in sports, when you have a great year, that's the standard … and sometimes that's the problem. All you want to do is do better, and it's interesting how you cope with the new standard. It can be good in a way. It can be bad in a way. I've learned to appreciate life."
Living by the water in Tequesta, Fla., cycling when he's not on tour, practicing at The Bear's Club as hard -- if not harder -- as he did to get to the top 10, Villegas has found a balance. Going to the U.S. Open and riding the train to Providence with Maria is part of that. She jokingly calls him a masochist, because he plays golf for a living, and because the next thing Camilo likes doing is riding his racing bike along the congested A1A in Florida.
"I love the bike, love riding. It gets me away, just totally away from golf," Villegas said. "It's suffering, but just in another way."
Arron Oberholser, Scott McCarron, Steve Marino and Jhonny Vegas competed on medical exemptions at last week's Hotel Fitness Championship, but none were "taking spots" from others hoping to get into the first event of the new Web.com Tour Finals. Oberholser didn't intend to play at Sycamore Hills GC in Fort Wayne, Ind., until his wife, Angie, encouraged him to check with the tour about his status. Officials told him that he (and others with medical exemptions) were eligible and that they would be "add-ons" to the field rather than bumping others out. "I told Angie, 'I'll call, I'll ask, but if there's a set number of spots and I'm going to take [one] from another guy that worked his butt off all year then I'm not going to play," said Oberholser, who finished T-18 in just his fifth start on either the PGA or Web.com tours since 2009. "I couldn't."
Eight years ago, Claude Harmon III made a $100 bet with his father that Trevor Immelman would win a major championship before Adam Scott. Butch paid up when Immelman won the 2008 Masters. But last week Immelman was at the Web.com Tour Finals while Scott was still celebrating his first major triumph. Coming back from wrist surgery and reuniting with Harmon (after seeing countryman Ernie Els win the 2012 British Open under Claude's guidance), Immelman hopes his career will take off again after winning the Hotel Fitness Championship and securing a PGA Tour card for 2013-14. "He's as good as Adam Scott. He's as good as Justin Rose. He just has to believe it," said Harmon, who spent the Sunday prior to Immelman's win working with him at Isleworth and convincing him better days lie ahead. "I still believe in him, still believe that he could be top 25 in the world, and still win majors," Harmon said.