News
My Town: Cameron Beckman's San Antonio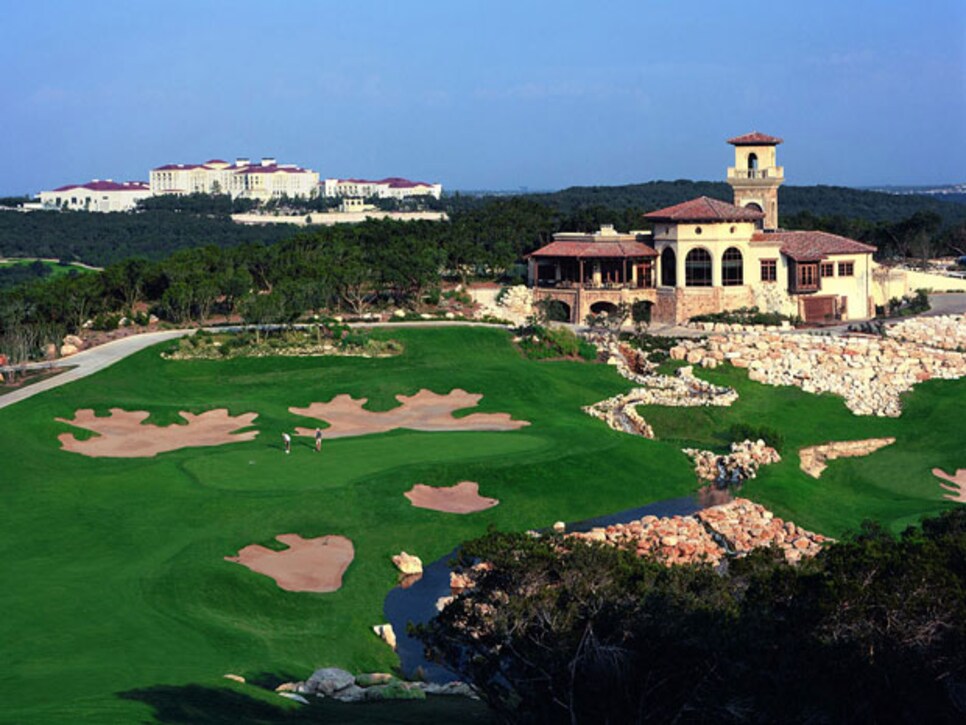 Aerial view of the 18th green at the La Cantera Resort Course.
PGA Tour veteran Cameron Beckman didn't have to be coaxed to live in San Antonio by his wife, Jennifer, when they got married after college. He had already fallen in love with the city while the two dated at nearby Texas Lutheran, where Beckman majored in art and excelled in golf.
"We spent a lot of time down there in college, and I just thought it would be a great place to live," Beckman, 42, a native of Minneapolis, explains. "Jennifer's parents live there, and I have always thought the people there are so nice, and I love the culture."
It didn't hurt that Texas' second-largest city and the seventh largest in the U.S. (with roughly 1.3 million residents) offers great golf and an ideal climate to enjoy it.
"The golf weather is really good. You can play all year round," said Beckman, winner of three tour titles. "It's not as humid as some other parts of Texas, and it's a little dryer right on the edge of the hill country. OK, it can get to 116 degrees, for sure, but that doesn't happen often, so it's great for golf."
The TPC San Antonio is one of the best because it has two great courses, the Oaks
, designed by Greg Norman, and the Canyon
, designed by Pete Dye. They're brand new, in great shape, and I think they are really good and very distinctive. The Dye course is a little easier, a little more wide open, a softer Pete Dye. The Norman course is tougher, fast greens--a real tournament course that is a great test.
for a great private spot, another course that used to host the Texas Open. It's an old-school Tillinghast that's always in great shape with great bunkering and just classic shot-making tests.
I'm partial to Mexican dishes, TexMex food, spicy stuff that gives you an authentic taste of the area. El Mirasol is my favorite restaurant. It has great dishes and the best margaritas. La Fogada is near the top of my list too. Both have great fresh choices, good salsas, things you'd want to experience if you're going out to eat in San Antonio. They also both have a really good atmosphere.
High Velocity in the JW Marriott is really an awesome bar for watching sports. It has private booths where you have your own TV, and the lounge has flat-screen TVs, but the coolest part is this 120-foot-long media display. The food is very good, including great chili, and it offers locally crafted beers and fruit-juice cocktails.
The neat thing about San Antonio's better courses is there are some pretty good places to stay that aren't very far away. You have the JW Marriott San Antonio Hill Country Resort & Spa, which is where the TPC courses are. It's brand new and just a beautiful facility with everything you can imagine, including a great spa. The Westin La Cantera Resort I always thought was a nice spot too, with six swimming pools, hot tubs, tennis courts, etc. And the rooms have great beds. Hyatt Regency Hill Country Resort & Spa is another good spot, plus it has a four-acre water park if you're bringing the family.
Witte Museum has a little bit of everything with natural history and science and local history. ... Six Flags Fiesta Texas is a great amusement park near La Cantera. There is also Sea- World, which kids are always going to love.
Of course, you also have to see the Alamo, the former mission complex and fort where the battle of the Alamo occurred (in 1836). It's now a museum, and there are a lot of period artifacts to see. They also re-enact the battle.