News
Harmon Keeps Thinking Young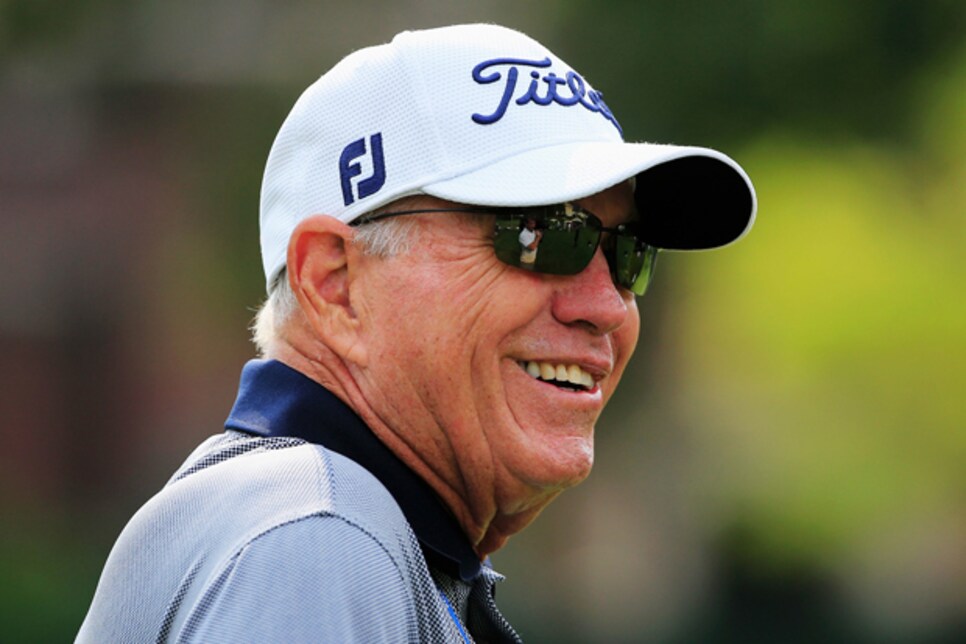 There's not a morning when he's home in the suburbs of Las Vegas that Butch Harmon doesn't drive to the "Bread & Butter" coffee shop. While trendier than some of the greasy spoons he ate at during his days growing up in New Rochelle, N.Y., the idea of starting his day with coffee and a bagel -- and "shooting the s---" with the guys -- is a lifelong habit. "There's nothing as good as that," said Harmon.
Set to turn 70 on Aug. 28, Harmon was in a sentimental mood. In many ways this has been the best year of his career, if not his life. Phil Mickelson's British Open victory was certainly the most emotional and rewarding win Harmon experienced. He also was the winning partner of President Barack Obama during a nine-hole match at the Floridian GC in February, afterward giving the President a lesson along with son Claude III, who is following in the tradition of Harmon Family instructors.
To celebrate his birthday, Harmon was not going to be working the range at the upcoming Deutsche Bank Championship or having dinner with Mickelson. Instead, Harmon planned to share a meal at his favorite restaurant with wife Christy and 18-year-old son Cole, who they are taking to college at San Diego State.
"Yeah, I'm happy to be here, happy that I made it this far. Thirty years ago, around 1983, I hit rock bottom trying to get through to the next day," said Harmon, referring to a period in which, according to his memoir, The Pro, he was "broke, alone, unemployed, homeless and in debt."
"Somehow I got through this far with a great wife and a great life, which is something to be thankful for."
Old enough to be a grandfather, yet young enough at heart to have a freshman in college, Harmon approached the milestone birthday by playing the usual Friday game with his friends at Anthem CC, where he and Christy live overlooking the 18th fairway. He is not looking at retirement, but is cutting back after the 2014 season when his contract with Sky Sports expires. Of course, he has said that before.
"I don't feel 70," he noted. "I may be old looking. But I don't think I'll ever get old."
Harmon's namesake father, Claude, the former Winged Foot GC pro and 1948 Masters champion, died when he was 73. Butch's brother Dick died from complications of pneumonia at 58 in 2006. His youngest brother, Bill, turns 63 on the same day Butch hits 70. Craig, 67, is celebrating his 42nd year as head pro at Oak Hill CC.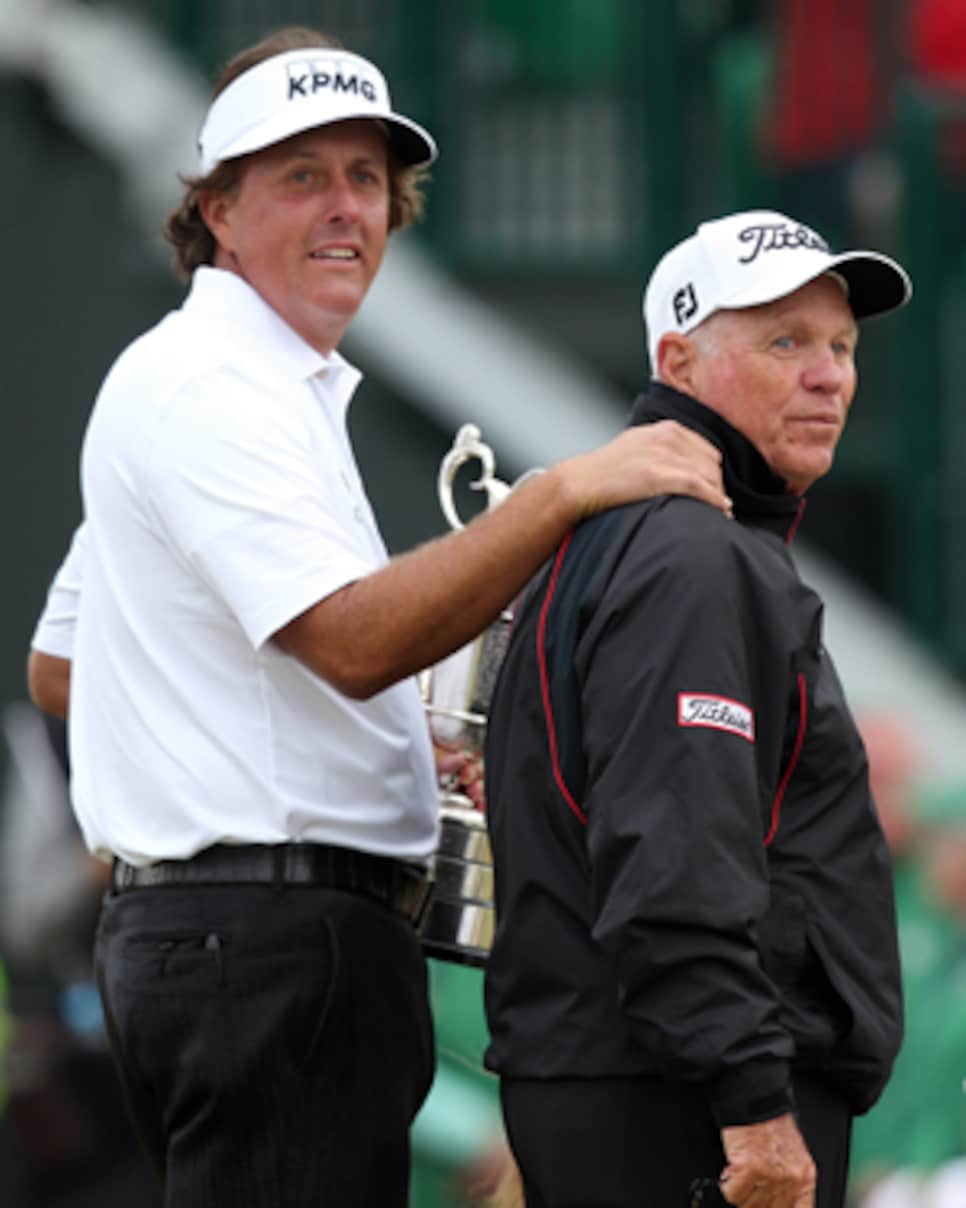 Mortality may be a reality, but when the brothers are around each other, as they were in Rochester for the PGA Championship, they again become the boys who grew up in their dad's pro shop, all inheriting different characteristics of their father.
"Dad would be very proud of all four of us," Butch said. "You can see a lot of him in all of us."
Recalling Mickelson's Open triumph, Harmon says the victory was produced not by any technical advice involving Mickelson's swing. It was simply putting the idea in Mickelson's head that he was the left-handed Seve Ballesteros, and that his game was made for the links.
Harmon called Mickelson's closing 66 the best final round he had seen in a major since Greg Norman's 64 at Royal St. George's in 1993. "When you deal with the greatest players in the world, they all know how to hit a golf ball," Harmon said. "A lot of it is handling and knowing their mindset. They're different on that level. You have to be on mentally as well as physically with them."
Harmon's career moment had always been standing next to Earl and Tida Woods when Tiger came up the 18th fairway at Augusta National about to win the historic 1997 Masters. He remembered Claude telling him the best feeling in the world was coming up the 18th hole with a big lead when he won in 1948, a feeling Butch was convinced Tiger would experience someday as well.
With Mickelson the wins have been more personal after going through wife Amy's cancer, Phil's arthritis and the most recent emotional golf blow of finishing second in the U.S. Open for a record sixth time at Merion. It was special when Phil asked him to be in the family photo, along with caddie Jim Mackay, on the 18th green at Muirfield.
Harmon also cherished Adam Scott's major championship breakthrough in April at the Masters, the two having worked together until 2009. Scott was so appreciative of their relationship he sent Harmon an autographed Augusta National pin flag that read: "Coach, Mentor and Great Mate! Thank you for all you have put into my game on my journey to become Masters champion!"
"What he wrote on the flag almost made me cry," Harmon says. "He's a great kid, and he does have the best swing in golf."
While the circumstance was different, Scott leaving Harmon to work with brother-in-law Brad Malone wasn't much different than Norman leaving in 1996 or Woods leaving in 2003 or Nick Watney leaving this year. Even as Golf Digest's No. 1 instructor -- a title he has held for 12 years -- Harmon knows how it works. Star players come and star players go. It's part of the business.
So while he's cutting back at the end of 2014, it doesn't mean he's going to drive off into the Nevada sunset. You've got to have something to talk about down at the coffee shop.
"I'll always teach," he said. "That's what I do."
Much maligned when it made its 2009 debut as host for the Barclays, Liberty National has made enough of a comeback that it is now being considered a serious candidate to host the Presidents Cup in 2017. That's the year it's scheduled to host the Barclays again in the rotation of New York-area courses. The dramatic backdrop of the Freedom Tower, Statue of Liberty and Manhattan skyline sends the message the PGA Tour likes about the scale of its product. With that harbor serving as the symbolic gateway to the world, the tour would consider swapping it out as the site of the opening FedEx Cup event. Plus, having it as a Presidents Cup venue would one-up the PGA of America, which by all indications is headed to Bethpage Black with the Ryder Cup in 2024. Liberty National founder Paul Fireman told Golf World that although the tour has yet to accept bids, he has discussed the idea with commissioner Tim Finchem.
Pat Goss has been Luke Donald's coach since the Englishman's freshman year at Northwestern in 1997. Part of that changed last month at Oak Hill CC when Donald began working on swing changes with Chuck Cook, coach of eventual PGA champion Jason Dufner. Donald first approached Sean Foley, but the latter didn't have time to take on another client and recommended Cook, who in the 1980s and 1990s coached Tom Kite and Payne Stewart. Cook, 68, wants to get Donald swinging more around his body, taking the body slide and hand release out of his swing -- theoretically improving his driving accuracy. "Modern stuff," Cook said. "Modern like [Ben] Hogan." Goss sensed a loss of confidence during their sessions this summer and has no hard feelings. He will remain Donald's short-game coach.