News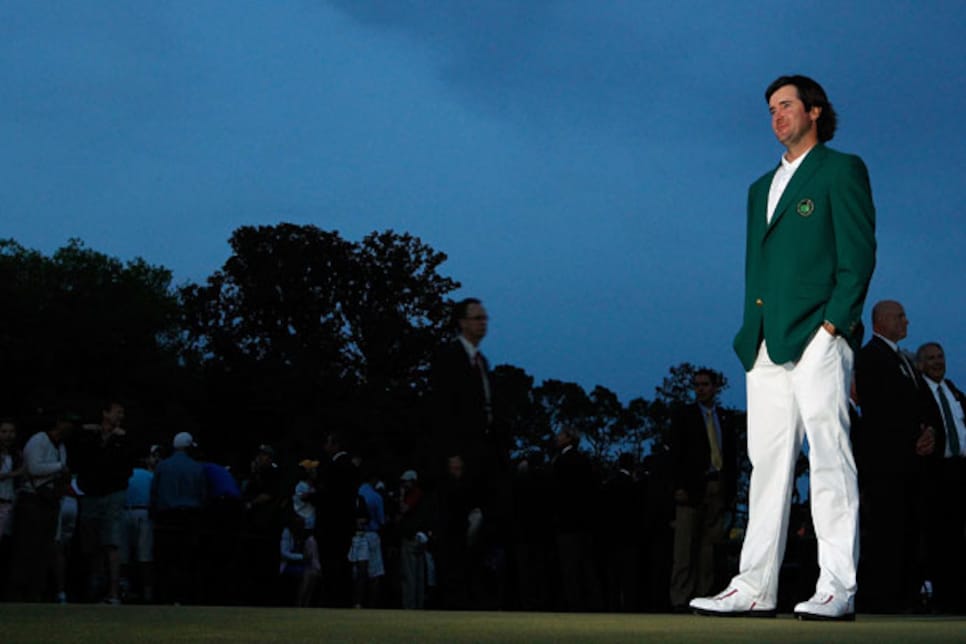 Is Bubba Watson going to be a true star?
Not just a character or an occasional winner. But a real force, a major figure, a virtuoso who through performance and personality can help carry the game. As improbable as all that might have seemed over the last few years, post Masters it doesn't seem far-fetched at all.
Now Bubba from Bagdad has a green jacket and is ranked fourth in the world. Suddenly, all the things that used to make him an amusing novelty act with too much baggage for the elite ranks are being reassessed as potential parts of the total package.
There's the huge game, specifically the immense power that gives him the ability to dominate the par 5s, yet accompanied by a so-far underappreciated accuracy and control for a player who has never been worse than No. 2 in driving distance in his six full seasons on the PGA Tour.
Watson's most distinguishing feature is a mesmerizing originality. His ungainly but majestic swing is completely his own, learned without a lesson. It contains all kinds of dramatic angles and moves that conventional wisdom says are liabilities for someone as tall and lanky as the 6-foot-3 Watson. But the resulting clubhead speed allows him to produce the most drastic curves in the game. Watson's unique shapes are reminiscent of the way soft shafts, persimmon heads and balata balls allowed shots to be worked in past eras, except with extra zip and ADD-fueled creativity. Bubba's best example was the mind-bendingly hooked gap wedge from oblivion in sudden death that won him the Masters. Not since the similarly self-taught Lee Trevino came from nowhere to win the 1968 U.S. Open has a method and style almost instantly gone from being regarded as limited to transcendent.
In many ways, Bubba has worked his career with similar flair. His all-white outfits at Augusta and his pink driver brought attention to the man, but also to two of the many charities he helps. His long hair and nerdily fastened top button might suggest questionable taste, but they also establish a distinct individual style. So has the Golf Boys video, in which Watson appears in a pair of overalls with no shirt, and his purchase of the General Lee muscle car from "The Dukes of Hazzard." Watson is also all over Twitter, carving out a part-country, part-wisenheimer persona that plays well with his more than 543,000 followers.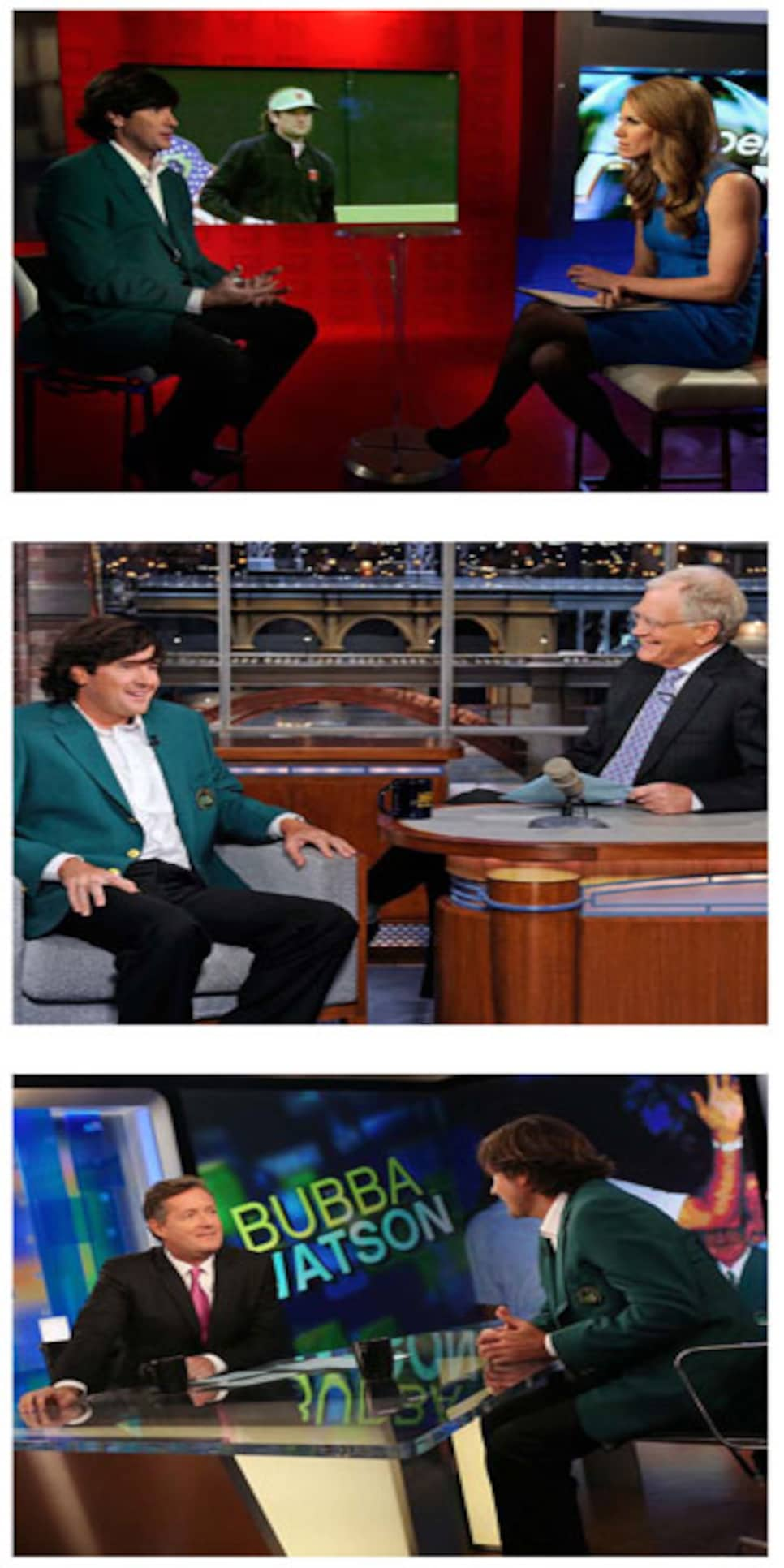 But as much as he likes being noticed, Watson has been ambivalent about the obligation of his talent. He has tried to remain Bubba the free spirit just playing a game for fun, not Bubba the guy gifted with the tools to drum people. Questions about his potential and underachievement drew testily defensive answers, and until the Masters, Watson seemed a player at odds with himself. But in a whirlwind media tour of Manhattan the week after his victory over Louis Oosthuizen, Watson seemed to be comfortable with how good he clearly is, and perhaps even how good he can be.
It's doubtful any golfer, let alone any athlete, has done appearances on as many high-profile shows as Watson did in two days. The lineup included "Late Night with David Letterman," "Piers Morgan," "CBS Morning Show," Darren Rovell's "Sports Biz," "Charlie Rose," "Morning Joe," "PTI" and "Morning Drive," as well as radio gigs with Dan Patrick and Scott Van Pelt. On the big stage, it turned out Bubba being Bubba is a natural.
Speaking in the staccato bursts of an enthusiastic kid, Watson was alternately respectful, emotional and boldly irreverent. He gave credit to his Christian faith and choked up when asked about his late father, his mother, his wife Angie, his recently adopted infant son, Caleb, and even Tim Tebow, who Watson presented with his still-in-the-box Masters badge because it was No. 15.
But he also told "CBS Morning Show" that his greeting to President Obama's congratulatory call was "Hey, buddy, how you doing?" He later tweeted, "Hey @BarackObama when we playing a game of Bball at your home court??" Throw in telling Morgan he had been a "p---k" on "America's Got Talent," and it appeared Watson was tempting a media disaster. But with the chutzpah he demonstrates when hitting a driver off the deck with a 50-yard cut, Watson got by unscathed.
He clearly charmed Letterman, who after asking Watson to describe his style of golf, cracked up at the answer -- "Awesome." Morgan would tweet that Bubba was one of his favorite interviews. And the day after Bubba told Luke Russert on "Morning Joe" that the only two suits he owns were the ones he received to wear at the Ryder Cup and Presidents Cup, host Joe Scarborough said "a lot of people called in and said that was the best interview we've ever done." Tebow said that Watson "is just real," and added, "I think there's a lot of kids who want to be the next Bubba Watson."
It's possible. With the cessation of Tiger Woods' domination, golf fans are hungry for new stars. Rory McIlroy became an outsized sensation after his U.S. Open victory last year, and so did Keegan Bradley after the PGA. But for the moment at least, no one in golf possesses Watson's panache.
In applying it, he can both follow and improve on the path of two long-hitting, Southern, self-taught and immensely talented predecessors -- Sam Snead and John Daly. The young Snead was a force of nature when he came out of Virginia in the mid-1930s, and he was coached by promoter Fred Corcoran to get publicity by playing the hayseed. But Snead would come to resent the stereotype that for the length of his long career kept his considerable intelligence from being acknowledged.
Daly was an even longer hitter relative to his peers than Watson when he won the 1991 PGA at Crooked Stick. But unfortunately his personal demons too soon eroded his gifts and turned him into a redneck caricature.
By contrast, Watson is a teetotaler who in 2008 went back to the University of Georgia to complete his B.A. And for all his big-kid propensities, at 33, he is more equipped to deal with sudden fame than were either Snead or Daly. He can play the hillbilly when it suits him (or occasionally when it doesn't, as with his poorly phrased comments about France last year), but Watson has also shown, either in front of a microphone or through social-networking savvy, that he has the wit and self-awareness to be himself.
What will ultimately determine where Watson ends up is what he does with all that game. He is that rarest and most envied of players, the very long hitter with both tee-to-green command and artistic flair. It's a very high bar that few -- regardless of record -- have ever cleared. Ben Hogan, Byron Nelson, Jack Nicklaus, Greg Norman, Ernie Els and Phil Mickelson all lacked some degree of at least one of the three qualities. Probably in the history of golf, only Snead, Seve Ballesteros, Fred Couples and Tiger Woods at their best have been able to pull off the trifecta.
It might seem premature to say about a player who has only won four tournaments, but strictly in terms of style and ability, Watson is in that class. In fact, Bubba might have more shots that his peers can't hit than any golfer in memory. It's why for a few years Tiger Woods made him a practice-round partner.
One observer who has seen them all, instructor John Jacobs, is impressed.
"If golf is controlling ball flight -- and I firmly believe that it is -- then Bubba is one of the best I've ever seen," said the 87-year-old Jacobs from his home in England. "He always knows exactly what he is doing to the ball, and that's the mark of a great player. Yes, his swing is unorthodox, but I wouldn't change him at all. I would never change him until he plays badly. He is ever so much better than he looks. Believe me, there's genius there."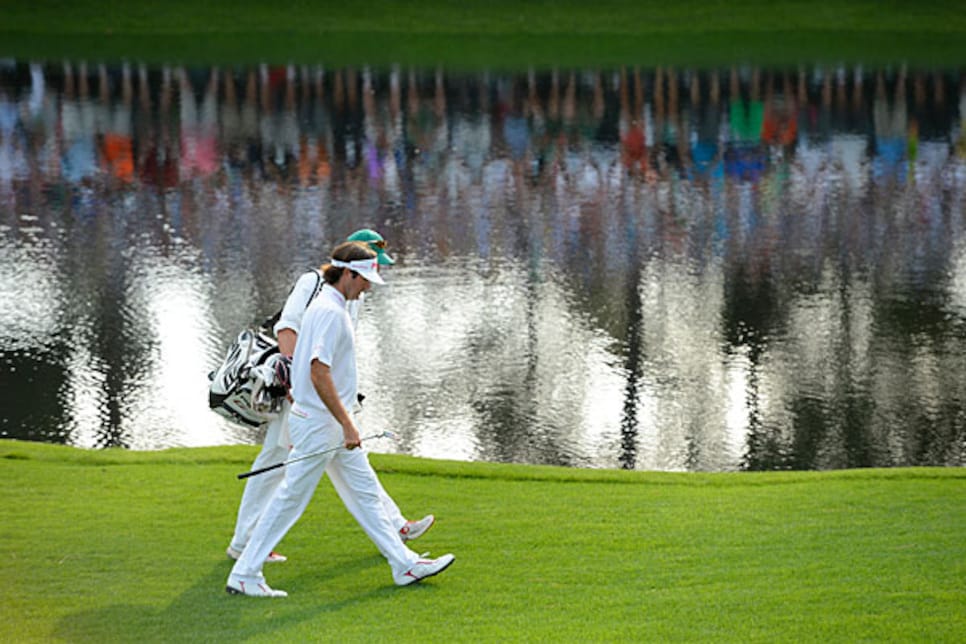 It's clear that to win more, Watson will have to improve his putting. He has always languished in the bottom of the PGA Tour's putting statistics, never ranking better than 82nd in the all-important "strokes gained" category since 2006. This year he is 161st, and at the Masters, he was just good enough on the greens, his 120 putts 13 more than the lowest total for the week.
The iffy putting, the self-made physical phenomena of a swing, the power and imagination to dramatically curve the ball, all are reminiscent of the player Watson is most like, Couples.
They also share mercurial temperaments. A cautionary tale for Watson was the way Couples was put off by new demands on him after winning the 1992 Masters and reaching No. 1.
The head game is Watson's biggest challenge. In competition, he admits to being jumpy and moody. Little things, like slow play, can set him off. A YouTube favorite was his 2008 meltdown with Steve Elkington, "Veterans can kiss my ass." Such states of mind are the main reason Watson never won a pro tournament anywhere until the 2010 Travelers Championship and why he generally hasn't been an effective closer when leading or in contention after 54 holes.
"Bubba's putting mechanics are actually very good," says Matt Rollins, Ping's tour manager. "His problem has always been just getting nervous. As he's learned to get comfortable in the moment -- keeping the negative thoughts out -- he's putted much better. He's definitely improved when he's really under the gun, and he proved it at Augusta."
Watson has never been diagnosed with ADD, but he doesn't dispute having the condition. According to Dr. Edward Hallowell, a leading expert on ADD who loves watching Watson, the condition is an important source of the golfer's strengths and weaknesses. "The shots that Bubba can see, the unique way he solves what the course presents, is a classic example of an ADD mind at its best," says Hallowell. "But the distractibility -- the nervousness and the irritability -- untreated, comes with the package. If Bubba learns to harness the power of his mind, I believe he'll become a dramatically greater golfer."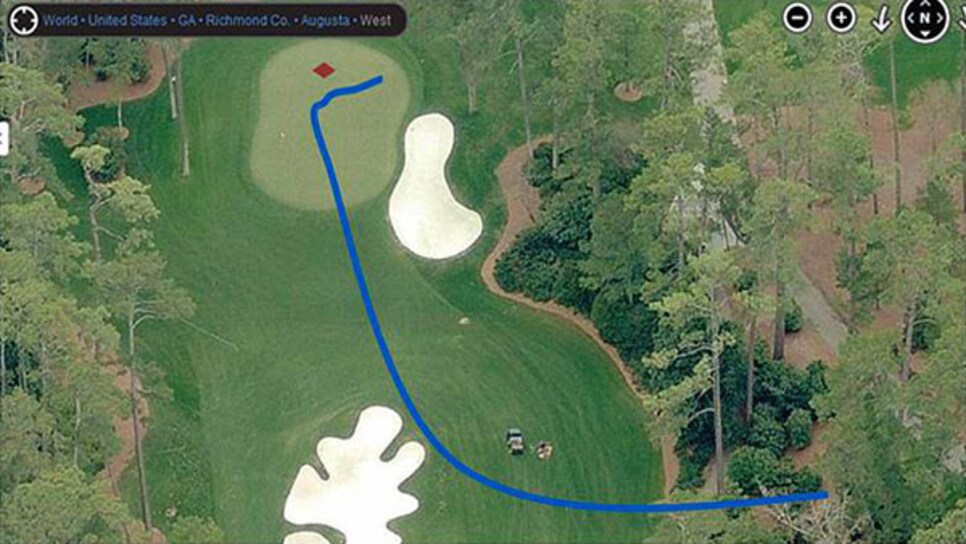 Watson has chosen not to seek professional evaluation, deciding, as he does with his golf swing, to work it out himself. "Bubba doesn't want to rely on other people with his golf," says Rollins. "He doesn't want to get in a position where he's making phone calls to feel good about his game." Watson definitely achieved an outward serenity at the Masters, perhaps stemming from the contentment of being a new father on Sunday. He didn't let a first hole three-putt bother him, and he remained in the moment the entire back nine and in the playoff, especially during a clutch run of four straight birdies.
Watson's ultimate place in the game will come down to what he wants it to be. Sometimes, like when he sought out Woods to play practice rounds, he seems to desire greatness. More often, he has low-balled his ambition. But his confident performance at Augusta and in the revealing days that followed last week suggest a different Bubba is emerging.
If so, and Watson does become a true star, it will be a gift to the game, and his most gratifying "You're welcome" ever.