News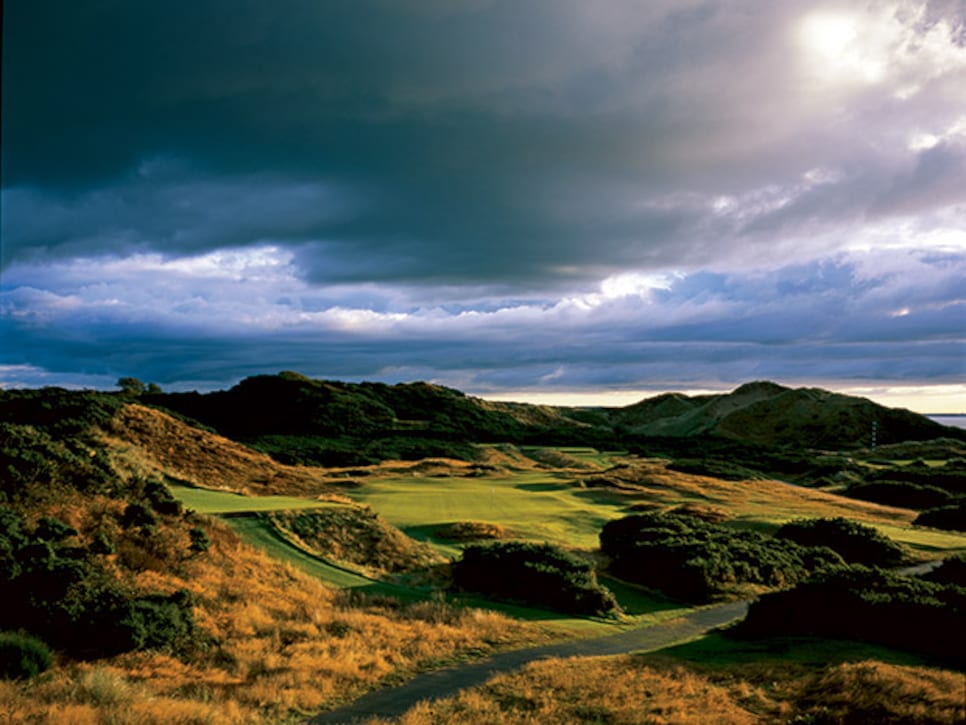 An art form emanating from an increasingly bygone age rather than a modern-day science project, golf by the seaside has long provoked a range of emotion and conclusion. To those disinclined to the unexpected, the unpredictable or, heaven forbid, the "unfair"—aka a sizable percentage of 21st-century tour professionals—the idea of a lot of bounces good and bad is anathema.
But for the more romantic soul, the same scenario represents proper golf, fascinatingly multi-dimensional, the ball on the ground as much as in the air. Given such divergence of opinion, Royal County Down—known as RCD to locals—has always had a polarizing effect within the unwinnable debate between prosaic and poetic. At the Irish Open, former British Open and U.S. Open champion Ernie Els called the design—originally conceived by Old Tom Morris and later altered by Harry Vardon and Harry S. Colt—"one of the top three links in the world."
Another leading professional deemed it "an unplayable nonsense." Then again, U.S. Open champion Martin Kaymer said RCD is "an outstanding course, where you have to expand your mind-set and be creative."
Perhaps the only common ground can be found in the unimpeachable view that this broad expanse of classic linksland in Newcastle, at the foot of Northern Ireland's spectacular Mourne Mountains, is one of the most beautiful golf locations on the planet.
"What I like most is that every hole has a story to tell," says former European Ryder Cup player Ken Brown. "You have to live each one, which is something of a throwback to what golf is really all about. It's getting from point A to point B using what is there. For me, a really great course works hand in hand with nature. Old Tom Morris was at Machrihanish when he said, 'The Almighty had golf in his eye when he created this place.' But he could have been talking about Royal County Down."
Across the floor from Els and Brown sit those unmoved by the humps and bumps and eccentricities of RCD. Standing outside the clubhouse before the start of the tournament, a group of grizzled but giggling European Tour caddies entertained themselves with the thought of just what their "by the numbers" employers would make of such an atypical tournament venue. With good reason.
"It's just not inspiring," said one veteran competitor. "Too many of the features are caricatures, exaggerations of what would be great golf. Plus, there are too many blind shots. Unlike Royal Portrush [Northern Ireland's other links classic], this isn't a course I'd like to play every day."
He won't have to, of course. Not on the European Tour, a place former European Ryder Cup captain Paul McGinley labels as "sanitized."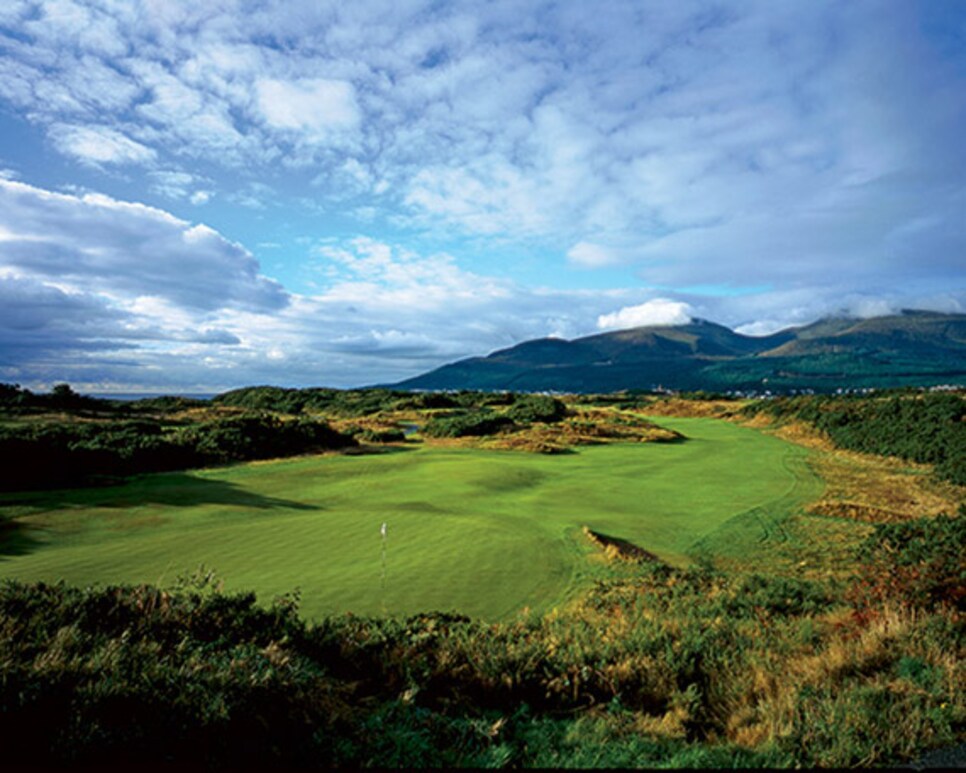 Royal County Down ranks No. 1 for courses outside the U.S. (Stephen Szurlej)
"Today there is an obsession with courses being green and long," said the 48-year-old Irishman. "And as that has increased, the skill required to play the game well has diminished. Back in the day, professional golf wasn't just a test of strength. Today, the importance of power is disproportionate. We need to bring the skill back in, and one way to do that is to play courses like RCD.
"What we have here is so interesting. The course runs north to south. But the wind nearly always blows from the southwest. So you are constantly playing in a crosswind. Very rarely will you play a hole directly into or straight downwind. It will always be into or down off the left, or into or down off the right. That's what makes it so fascinating to play. If you look at the greens, they are shaped for that wind. They are also pinched in at just the right spots."
Not always bosom buddies, McGinley nevertheless has a philosophical ally in his successor as Ryder Cup skipper, Darren Clarke.
"With modern technology, the kids these days play the same way—bombing it through the air," says the 2011 British Open champion. "This course requires more guile and patience. And it's still a sensational test, regardless of how far technology has moved on. It's all about draws and fades, holding shots against the wind and using the ground."
The most notable—and controversial—example was the green on the 144-yard seventh, which caused much consternation over the two days it took to eliminate No. 1-ranked and tournament host Rory McIlroy and the four to identify Soren Kjeldsen as the new Irish Open champion. Played into a strong right-to-left breeze and to a green with a left half that slopes sharply in the same direction, the deep bunker left of the putting surface saw an inordinate amount of action.
"The obvious shot is a 'hold-up' fade into the wind," McGinley said. "So there is maybe a 10-yard-wide area to land the ball. And it has to land softly. The ability to hit that shot requires greater skill than does the guy who hits it 325 yards off the tee through the air. To me, that is the essence of golf. And we don't have enough courses where that sort of talent is needed or tested. It's a shame.
"You could tell—without seeing the ball flight—by how a ball reacts when it lands whether or not the player has hit the proper shot. If it lands and bounces straight left, you know he hasn't played the shot. I think we've lost that subtlety. And we've lost it because of a widespread obsession with courses that must be perfectly manicured."
Still, the biggest criticism aimed at RCD is that the number of blind shots is excessive. The big hills at the second and 11th complete with marker poles are the most obvious examples. But those, according to McGinley, are fine. It's elsewhere that he finds more subtle fault.
"Over the years many of the cross bunkers 100 yards or so short of the greens have grown higher," he says. "I'm betting that, a century ago, those bunkers were relatively flat. But over the years the sand has blown out and [sight-obstructing] hills have developed. So I'd love to go in and cut out little 'windows.' "
McGinley's point is well made. To be the very best, RCD needs those little areas to be opened up so that the challenge can be more visual as well as technical. A great skill in golf is playing with your eyes—being able to visualize how to get close to the hole. And too, seeing where to land the ball and where to take advantage of any slopes. All of which is part of what goes into creating interesting shots. But too often, pieces of that puzzle are at least partially hidden on RCD. And not even the most magnificent backdrops can make up for that.
It would be wrong, however, to end any analysis of Royal County Down on a negative note. Since 2007, Golf Digest has ranked it the best course outside the United States four straight times for good reason. As the scores on the final day of the Irish Open made clear, it's a test for the best, yet in non-tournament conditions always playable for the rest. A rare combination, made even better by a timeless and wondrous setting.