News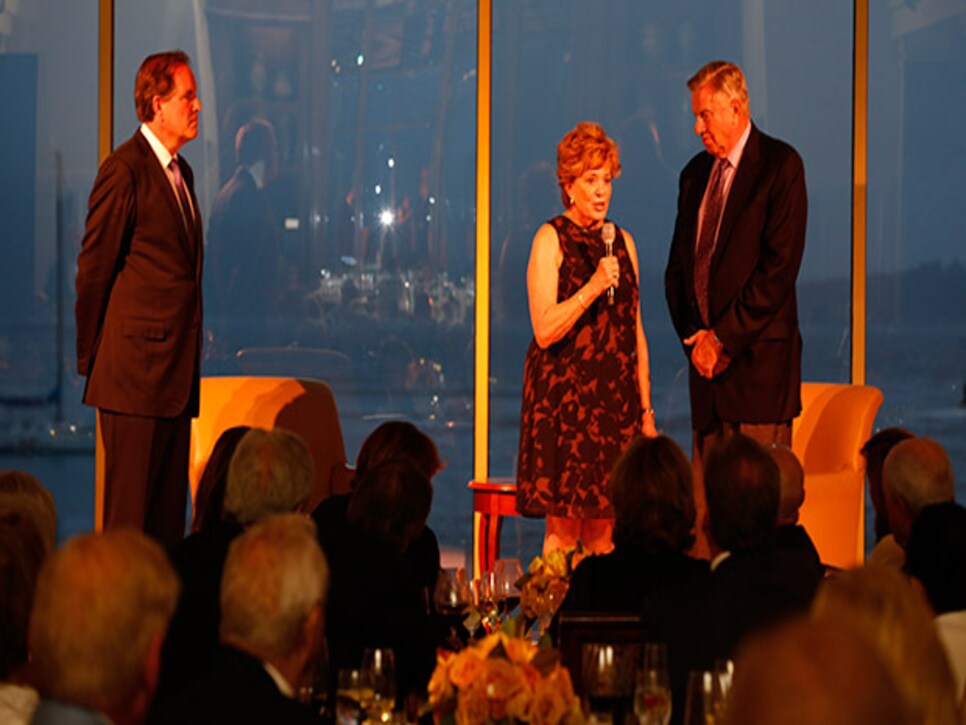 With his wife Roothie at his side, Peter Oosterhuis announced that he has early onset Alzheimer's during a fundraiser in May for Jim Nantz's National Alzheimer Center.
Peter Oosterhuis slowly flips the pages of an aged scrapbook from his playing career, one of several compiled by his parents since he was a  boy in the London suburb of Dulwich. The yellow newsprint and black-and-white photos have never been more important.
One book includes dozens of clippings from 1965 to 1972. In one story, the venerable English golf writer Leonard Crawley wrote the following  of the already 6-foot-5 adolescent, "Oosterhuis, a giant of strength, has  a magnificent style."
The next book, limited to 1973, captures his best year, which included leading the Masters by three after 54 holes before finishing third (his best finish in a major other than two runner-ups in the British Open), capturing three European Tour events, winning his third of four straight Orders of Merit  and defeating Arnold Palmer in Ryder Cup singles.
Sitting at a table in the well-appointed Charlotte apartment he shares with his wife, Roothie, Oosterhuis occasionally looks up, and in the high-pitched and amiable British accent that is so familiar to golf fans, adds to the written accounts with dates and names and episodes. "It was wonderful of my mother and father to put these together, but I never looked at them much," he says. "Now I really value them because of this … condition."
Oosterhuis has a hard time saying the official name of his diagnosis: early- onset Alzheimer's. The disease is one in which proteins that form a destructive plaque progressively take over brain cells, causing the afflicted to lose memory and other mental functions. One of every three seniors in the United States dies of Alzheimer's or another form of dementia, and there are projections that the disease will have grown to epidemic proportions by 2050. Currently, there is no cure.
Now 67, Oosterhuis was given the bad news by a Charlotte neurologist last July. He had been aware of some memory loss that was affecting his commentary on CBS and Golf Channel. "Maybe in the course of my commentary, I wasn't giving a lot of information like I used to; I would just talk about what's on the screen," he said. "But I didn't feel like I had those things ready in my mind to call on to make a point, like I used to." Still, he was surprised at the severity of the diagnosis.
For several months, he and his wife told no one. "It was so shocking," says Roothie. "We were depressed. We were lost."
But with Oosterhuis' contract expiring in November 2014, he informed his agent, Sandy Montag, and CBS colleague and friend Jim Nantz of his disease. Other friends and members of the CBS team were also told. In January, after consulting with his wife—"Roothie was pretty convincing"—Oosterhuis issued a statement that said, in part, "I feel it is the right time to step away to focus on things in life that I have always wanted to do."
It wasn't the case. Peter loved broadcasting golf and his lifestyle and had wanted to work for many more years. "Well, yes, I miss the job, because it's an amazing job," he says. "There's a lot of travel, but the places you go are wonderful, and you have friends everywhere. It was awesome."
Oosterhuis is revealing his story publicly because he wants to do what he can to help Alzheimer's treatment and research. That means joining the major fundraising efforts of Nantz, who in 2011 founded Nantz National Alzheimer Center at Houston Methodist Neurological Center. Nantz's father, Jim Jr., was afflicted with Alzheimer's for 13 years before he died in 2008, an ordeal his son chronicled in his 2009 tribute book, Always By My Side.
Since December, Oosterhuis has been treated by specialists at the center and has been in a program for an experimental drug in its third trial that is designed to break down the formations of plaque in the brain that cause Alzheimer's, and which has given scientists hope that a breakthrough might be near. Last month, at a fundraiser for the center played at Pebble Beach, the Oosterhuises each took the microphone during a Saturday-night gathering of 140 invitees and revealed that Peter was suffering from the very disease they were all there to fight. (Click here to watch a video of their announcement.) They received a standing ovation, and Nantz was later told that the money raised represented the most ever by a private fundraiser at Pebble Beach.
"It was a magical, sad, uplifting moment," Nantz said. "The day before, Peter had been out on the course entertaining everyone. They had no idea, which made the impact that much greater. Glen Campbell has been important to Alzheimer's awareness, but golf has never had someone take on this role. For me, golf has another hero in Peter."
The moment at Pebble Beach was bittersweet and cathartic for Peter and Roothie. "It gave us a chance to say goodbye to everybody in a beautiful way, and it gave us the new focus of being part of Jim's incredible effort," Roothie said. "As human beings, it took awhile to come back to ourselves, but now, even though we don't like the cards we were dealt, we are ready to play them. Because we are basically happy people, and we can still have happiness."
Oosterhuis' most dominant trait as a player and a broadcaster was a genial cheerfulness, and he has retained it amid his ordeal. Asked if he is ever angry, he answers with a question: "Angry? Am I angry, Roothie?" His wife, admittedly a high-spirited extrovert, says, "He doesn't really get angry." Oosterhuis shakes his head, remembering some missed short putts. Then he says, "I don't think of it as a bad break, at least not yet."
He is trying to stay active. Besides offering his help to Nantz, Oosterhuis is doing a Saturday-morning radio show on Sirius XM with co-host Fred Albers. He still drives a car, still plays some golf at nearby Quail Hollow. But it appears he is also careful not to look too far forward. Roothie recently watched "Still Alice," in which Julianne Moore, in the role for which she won an Academy Award for Best Actress, plays a woman stricken with early-onset Alzheimer's who through the course of the film dramatically declines, but Peter hasn't.
"This is the kind of illness in which you don't want to think about what the future holds," says Renton Laidlaw, his friend and former broadcast partner for Golf Channel's European Tour events. "Peter is a man of high character—it's why he was such an excellent companion in the commentary box—and what he's doing by going public is very brave. But I suspect the best way he can deal with it all is just to live day by day."
Although they might have noticed the recent decline in his broadcast skills, his friends say Oosterhuis is very good at hiding any melancholy.
"There is no sweeter, kinder, more humble person in all of golf," says Ian Baker-Finch. "I'm sure he is sad, but when we get together, he doesn't dwell, and we follow his lead. But sure, we miss him, and he misses us."
The CBS crew makes sure to let Oosterhuis know he's in their thoughts. At a Dublin, Ohio, restaurant during the Memorial Tournament, a lubricated group of 10 called Peter and Roothie on their wedding anniversary and sang them a loud song of congratulations.
And Friday at dinner in Charlotte, Oosterhuis was his jovial self while exchanging greetings with fellow Quail Hollow members. But shortly after dessert arrived, Roothie received a text that she showed to her husband. It was a photo of Baker-Finch posing with the owner of a favorite restaurant in Hartford, Conn., where Oosterhuis had often dined during the tournament. The message read: "Thinking of you, mate."
Oosterhuis glanced at it quickly and softly said, "Oh, my." And for the first time all day, he looked sad.