News
My Town: Bob Ford's Pittsburgh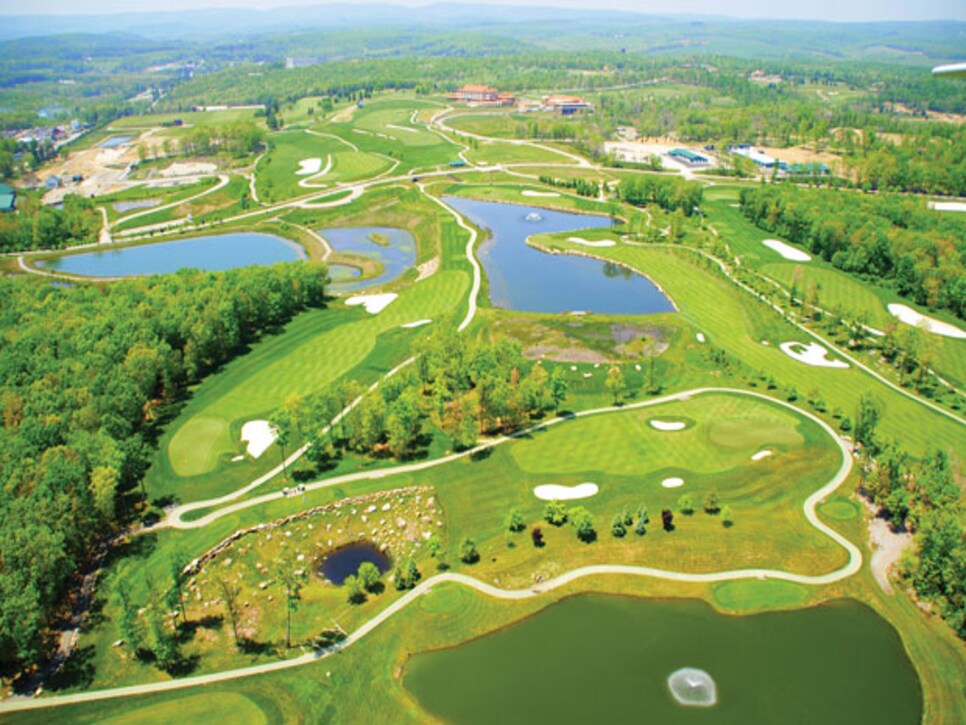 Aerial view of Mystic Rock.
Oakmont CC head professional Bob Ford might be as much a Pittsburgh institution as Franco Harris. Born in Pittsburgh, Ford moved to Philadelphia as a child then returned to the Steel City at 17. He has worked at the highly acclaimed Oakmont, Pa., club for 38 years, the first five as an assistant hired by head pro Lew Worsham, who Ford succeeded when the 1947 U.S. Open champ retired.
Ford, 58, has also held the head professional's job for the last 12 years at another venerable course, Seminole GC in Juno Beach, Fla., where he works from Oct. 15 through April 15 before returning north.
Aside from his rare dual status, Ford is one of the PGA of America's top merchandisers and teachers, as well as a highly successful player. He has earned most of the top national and regional PGA awards, and belongs to four Halls of Fame.
"I love my work," Ford says, "and that Oakmont and Pittsburgh have played such an important role in my life."
I can rattle off several courses people should consider. Quicksilver GC, near the airport, is a solid-enough course to host our U.S. Open qualifier. Olde Stonewall GC is a nice layout in Ellwood City and features lots of elevation changes. Mystic Rock, a tough Pete Dye design, is part of the Nemacolin Woodlands Resort and used to host the PGA Tour's 84 Lumber event. Totteridge GC is a Rees Jones layout with an open feel on the outskirts of town.
Another very good Dye course is Montour Heights CC, a private facility built on the McCune Estate that takes public play. Oakmont CC is available to the public three times a year for charity outings. A number of the area's other great private layouts -- including Fox Chapel GC and Pittsburgh Field Club -- also hold Monday outings.
Oakmont has some of Pittsburgh's finest restaurants. My favorite is a little spot called Casey's Family Restaurant, which serves good, hearty homestyle breakfasts, lunches and dinners. Hoffstot's Cafe Monaco, an outstanding Italian family restaurant for 41 years, has a separate bar area with multiple TVs. Franco's Italian Restaurant, across the river from Oakmont, is also fantastic, as is Jimmy Wan's, an Asian restaurant in Blawnox. Mount Washington, a touristy section of Pittsburgh overlooking downtown, also has a lot of neat restaurants and stunning city views.
For downtown locations, the Omni William Penn Hotel has been an outstanding, luxurious Pittsburgh institution open since 1916. ... Outside of the city, there's a terrific eight-room bed-and-breakfast located across from our club called Doone's Inn at Oakmont, which is owned by an Oakmont member.
The Pirates and Steelers play in great downtown facilities. Watching major-league baseball at PNC Park is an amazing experience. The views of the field and downtown are superb, and tickets are always available. ... Heinz History Center's Sports Museum features a ton of Pittsburgh sports history, including that of Oakmont. Also worth visiting is Clayton, the really cool and very popular historic estate of Henry Clay Frick, a wealthy 19th-century industrialist.
The Carnegie Science Center near Heinz Field is fun for families, as is the Pittsburgh Zoo & PPG Aquarium, where my wife used to take our kids when they were younger. The Phipps Conservatory and Botanical Gardens near the University of Pittsburgh is terrific, and riding either the Duquesne Incline or Mon Incline from the city up to the Mount Washington section is also very popular.