News
New Perspective, Swing Have Helped Fuel Allen's Senior Rebirth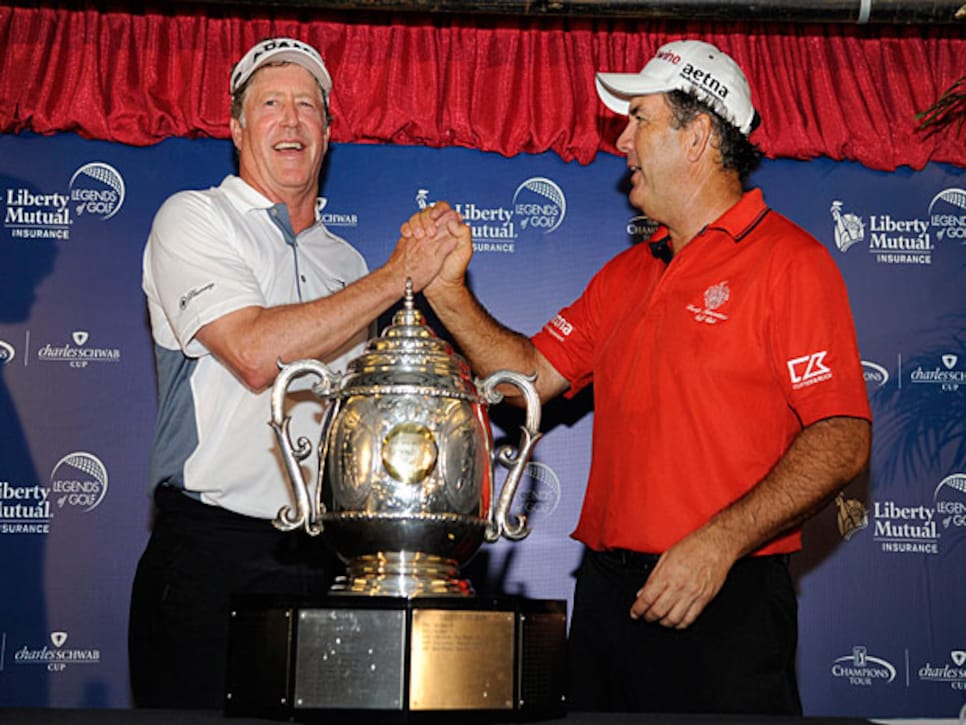 Michael Allen and David Frost after winning the Liberty Mutual Legends of Golf.
Michael Allen believes pressure is self-applied, and for many years he was overdosing on the tension of tournament golf. Nerves tended to overwhelm him, particularly on the greens, sabotaging a natural talent and free spirit who as a teen had no qualms about rock climbing a 1,500-foot mountain, where a mistake could be much more costly than a double bogey.
His career was like a business that would have a few good months, close, re-open in a different location, prosper for a while but have trouble again. It is a route taken by many of golf's journeymen, for whom Allen, who successfully got through PGA Tour Qualifying School nine times, could have been a spokesman.
The difference between Allen and many other players who have toiled in anonymity, shooting scores noticed by only friends and family, is what has happened to him the last few years. He is older, wiser and, at 53, actually better--now the golfer to beat on the Champions Tour. The latest evidence was Sunday's victory with partner David Frost at the Liberty Mutual Insurance Legends of Golf in Savannah, Ga., Allen's second consecutive senior win.
He is living up to the potential he showed when, as a 50-year-old still competing primarily on the PGA Tour, he won the first Champions Tour event he entered, the 2009 Senior PGA Championship. "I played with him that week," said David Eger, "and I was thinking, 'Stay over on the regular tour, buddy. You don't need to come over here yet.' He hits it hard, and the long putter certainly has helped him."
Allen's peers wouldn't mind if he still had one eye on the PGA Tour given he has 23 top-10s in 43 career senior starts. As have other golfers who flourished in their second acts following lukewarm primes--he won the 1989 Bell's Scottish Open on the European Tour and 1998 Greater Austin Open on the Nationwide Tour--Allen has put the pieces of the competitive puzzle together. He has worked on his body and swing, but the transformation began with his outlook.
"You're not in war, you're playing golf," said Allen, wearing shorts on the eve of the Legends of Golf. "It's supposed to be fun. If you can get that attitude, it makes it a lot easier to deal with. Golf is not this incredibly stressful, terrifying experience that it used to be for me."
Chris Dorris, a friend of Allen's who is a life coach, got him to change his attitude in a way Allen's many sessions with different sport psychologists couldn't. "He's the one who made me realize this should be fun," Allen said. "I don't have to show up and play tournaments. I'm doing it because I want to. That's a big factor in life, to understand that it's an option to have a good time."
Refining his swing under the tutelage of instructor Mike Mitchell, Allen has flattened his plane, reduced hip movement on the downswing and is taking smaller divots. He goes through extensive workouts with trainer Bobby Duvall and believes regular massages aren't indulgences but rather an essential part of being an over-50 professional athlete. "Getting someone who is specialized in stretching and tissue work seems imperative to me," Allen said.
Allen is candid about how much a long putter has helped. He first used one at the 1994 U.S. Open at Oakmont CC at the suggestion of Australia's Brett Ogle, admitting the storied course's wicked greens weren't the best place for a test drive. He won the Senior PGA with a belly model but has returned to a long putter. "It's been the best for me," said Allen, who is ranked sixth on the Champions Tour in putting average this season. "Stroking with one hand, I can only get half as nervous."
He dearly would love to give the long putter another whirl in a U.S. Open. The national championship is at Olympic Club in San Francisco, where Allen, who grew up in San Mateo, Calif., has been a member since he was 14. When he was 7, he spectated at the 1966 Open at Olympic, collecting Arnold Palmer's autograph and a few Spalding Dots that had flown the practice range. In 1998 he was first alternate at Olympic and didn't get in. The June 4 sectional qualifier at nearby Lake Merced is a priority. "I'm going to make sure I'm ready to go and give it my best shot," he said. "Thirty-six holes is a long walk for an old guy."
During a year of his golf rebirth, it would be only fitting if that walk resulted in a spot in the U.S. Open field.