News
When It Comes To Golf's 'It' Factor, Winning's But Part Of The Equation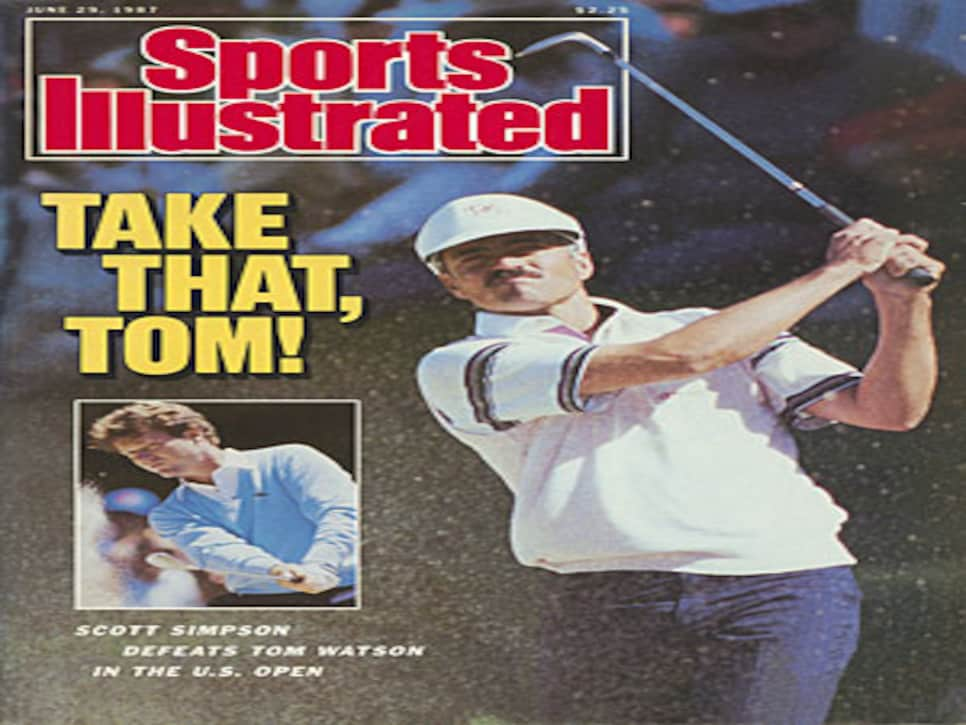 Scott Simpson was not the popular choice to win the 1987 U.S. Open over Tom Watson.
During a week when so many are focused on who is shooting what at the Masters, it is appropriate to remember that golfers, despite the big, delightfully retro boards that track the plot so well at Augusta National, are more than scores after their names. Their relation to us--from immediate interest to enduring memories--revolves around a great deal more than their relation to par.
This may not be fair, but it is so. I recall a Saturday evening 25 years ago in San Francisco. A national golf writer I knew was crying in his vodka over the fact that Scott Simpson was poised--and playing well enough--to win the U.S. Open. "He just hits fairways and greens," he said. "It's boring."
Of course, that's the way Ben Hogan won four U.S. Opens and the way most golfers win one, as Simpson did the following day at Olympic Club when he defeated Tom Watson, who missed some short putts a beginner at the nearby Lincoln Park muny could have made. Simpson earned his victory as legitimately as any legend ever had, and, in time, would reveal an appealing dry humor as Bill Murray's longtime partner at Pebble Beach, yet at Olympic, through no fault of his own, he wasn't the people's choice. Without the distinctive Hogan back story, mystique and dynamic swing technique, a taciturn nature and tidy game didn't do for Simpson what it had done for the Hawk.
By 1987 Watson already had eight major championships and a reputation for having been the young gunslinger who stood up to, and even usurped a couple of times, golf's longtime sheriff, Jack Nicklaus. Even to observers who didn't know exactly how hard Watson prepared to succeed on the big stage and how hard he was on himself when he failed, they sensed he cared and saw a man handle the thorny challenges of a difficult game with rare equanimity. Watson wasn't warm and fuzzy or especially revealing about his life outside the ropes, but from Turnberry 1977 to Turnberry 2009, in victory and defeat, he was real.
Take three-time Masters champion Jimmy Demaret. He was more than vermilion or chartreuse or tangerine. A genuine, playful spirit chose the colorful fabric he had tailored into his golf clothes. Demaret was a man who embraced the day--and the night--and whose attitude lightened the atmosphere during a time when pros played for checks cut to the penny. In a subsequent era of much larger paydays, Payne Stewart dressed in throwback attire. The look could have been construed as gimmicky, but Stewart pulled it off, building a connection with fans who thought it cool.
It didn't hurt either that Stewart was a stylish swinger of the club and a winner. Getting noticed is one thing; maintaining an appeal is harder and ultimately hinges on results. Tiger's red shirt/black slacks wouldn't be nearly so iconic if there hadn't been a certain outcome on 72 Sundays, give or take a delayed finish or two. At some point, even in today's potential-can-be-enough world, if Rickie Fowler doesn't win on the PGA Tour and contend regularly in majors, it seems inevitable that his reputation will be muted despite his loud outfits.
The way and the why golfers captivate is like ineffable beauty, but we know it when we see it. To one degree or another, by dint of grace, strength or idiosyncrasy, in swing or personality, they are not like everyone else. There was an "it" factor long before it had a name. Athleticism, intensity, willpower, physical appearance--alone or, more powerfully, in some combination (Sam Snead, Arnold Palmer, Mickey Wright, Seve Ballesteros), can result in charisma. An athlete's longevity also can contribute to the appreciation we have, whether it's seeing Snead playing four decades younger than his age, Watson nearly winning the British Open at 59 or the Big Three merely striking one tee ball--thanks for the memories--at Augusta National.
Nancy Lopez, who would know, noted on television recently that LPGA star Yani Tseng is "playing happy." That kind of joy, as we are discovering golf truly is a global pursuit, translates pretty well beyond borders and language barriers, all the more when the golfer smiling between shots possesses a strong swing, Wright-like in its command, a few amps more powerful than the competition.
Will the golfer who captures the Masters be someone who also captures our imagination? Until early Sunday evening the definitive answer is maybe.