News
A Prodigy's Painful Journey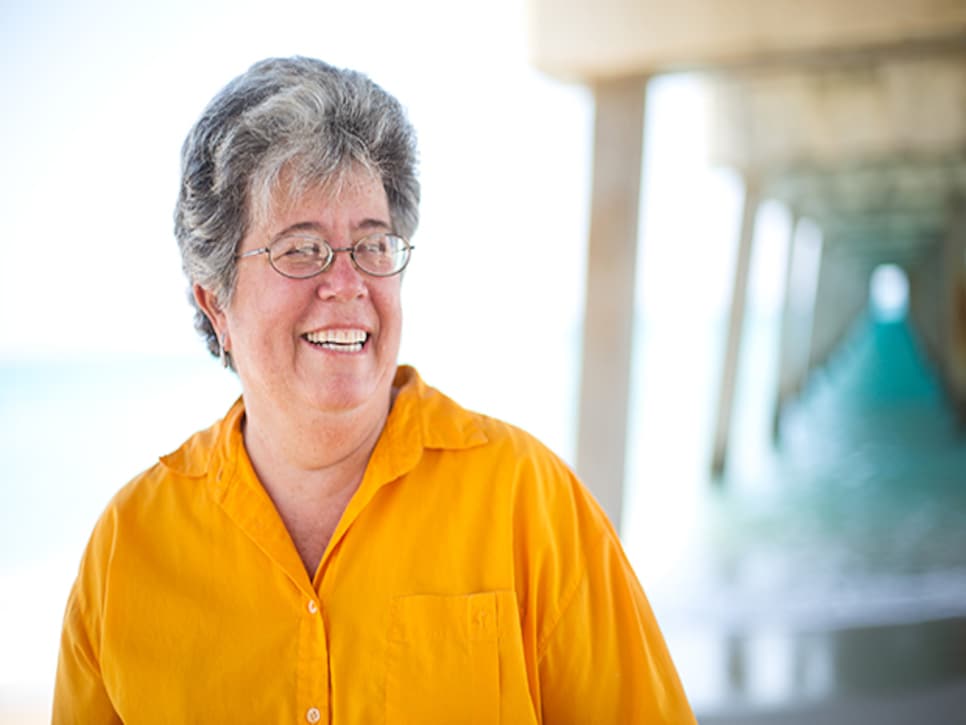 There were tears welling up in her eyes, the fragility of her life brought to light once again. "I don't want this to be a sad story," an emotional Beverly Klass said at the end of lunch last week in West Palm Beach, Fla. "I want this to have a happy ending."
Klass gets interview requests every time a sub-teen does what Lucy Li did May 19 when she qualified for the U.S. Women's Open at age 11. There were calls when Morgan Pressel and Lexi Thompson qualified as 12-year-olds; there were more after the record feat by Li, who is a year older than Klass was when she played the 1967 Women's Open at age 10.
Now 57, Klass lives an anonymous life in an apartment with her dachshund, Liberty. She spends her time metal-detecting, fishing for snook off the pier at Juno Beach or volunteering at the Big Dog Ranch Rescue in Wellington. She hit balls earlier this year and pulled a back muscle. Her social life is church. She is trying to make ends meet, still receiving a pension from the LPGA.
The memories she has of childhood are unpleasant, whether the source was her abusive father or the socialization issues she experienced in the real world. She would like to teach golf again, "at a nice country club," but has been retired since Turtle Bay GC at the Century Village in West Palm Beach closed in 2008.
Reliving what her father put her through at such a tender age -- the pushback she received from the LPGA after shooting 96-96 in the Women's Open 47 years ago; the two-year court case her father waged against the LPGA; and the exploitation of traveling to Japan as a fifth-grader -- is all part of a book she has been working on since 2000. She is looking for a publisher and a writer.
"It was a lot of hurt, a lot of pain, getting beaten with a belt [by my father] for not practicing," she said. "He really pushed me. I lived in fear. My family feared him. He was just a frustrated man."
Jack Klass was a building contractor and would-be Hollywood agent from Woodland Hills, Calif., who saw Beverly as a way to a better life. His wife and Beverly's two older sisters were caught in the draft of Beverly's practice schedule and golf career. Beverly and her remaining family have been estranged for 33 years.
"I had no love for my dad at all," said Klass, who didn't attend Jack's funeral when he died in 1981. It took Klass 20 years to track down her mother, and when she did, there was still resentment.
"I really don't know where she is; she doesn't want to be found," Klass said. "She feels like everybody has to live their own life, so she ran away, literally after my dad passed away. I found her, and she changed her phone number."
The differences in the Klass story and the more recent girl prodigies is that Beverly did not factor in or win major championships early in her career the way Pressel and Thompson did. At 17, Pressel lost the 2005 Women's Open at Cherry Hills to Birdie Kim's improbable hole out on the 72nd hole. In 2007 Pressel came back to win the Kraft Nabisco at 18. Thompson was 19 when she won the Kraft two months ago and is the No. 5-ranked player in the world. By contrast, Klass never finished better than second at an LPGA event, walking away at age 32 after 13 seasons with $234,331 in career earnings.
There are other major developmental differences between Klass and her contemporaries. Klass learned the game hitting off mats at the Van Nuys (Calif.) Par-3 while dealing with the handicap of seeing only through her left eye because of a disease called amblyopia (commonly known as "lazy eye"). Li won her age group in the Drive, Chip and Putt Championship at Augusta National and set a record by qualifying for last year's U.S. Women's Amateur at age 10.
The equivalent for Klass was winning the 1964 National PeeWee tournament by 65 strokes. That got her booked on the Johnny Carson and Mike Douglas shows. At 4-foot-9, the 8-year-old pro shot a pair of 88s in her debut at the 1965 Dallas Civitan Open won by Mickey Wright. Unlike Li, she didn't have to qualify for the Open; pros were automatically entered, which was all part of Jack Klass's scheme to cash in on his daughter.
That's the other more crucial difference in Klass's life and those of Pressel and Thompson, who came from loving families that supported their careers, rather than exploited them. Pressel's grandparents raised her after her mother died of cancer. Thompson is part of a golf family that includes brothers Nick (who plays on the PGA Tour) and Curtis (a junior on the LSU golf team).
Klass repeatedly attempted to run away from home and was ultimately successful at age 19, packing her belongings in boxes and riding a Greyhound bus cross country to Miami for the 1976 Q school at Kendale Lakes, where she finished fourth. Befriending the likes of Judy Rankin, Sandra Post and, later, Betsy King, Klass built a social network. Through King, she started attending Bible study and converted from Judaism to Christianity, becoming what she called "a completed Jew."
I asked if she ever thought about getting married, or if she missed not having a family. This is where she hopes the happy ending comes. "I have not been able to find a husband, but it's not over yet," she said when we caught up on the phone the next day. "God is seldom early, but he's never late."
Instead of crying, Beverly Klass is laughing, freely. "Because I've changed," she says. "After years of counseling, struggling and mental abuse, you learn to fight your way out. I have a problem now and then, but I'm not like I used to be. I'm more of a normal person."
Yes, Jason Dufner missed a putt of two feet, two inches on the 11th hole Sunday at the Crowne Plaza Invitational at Colonial. And yes, as Dufner pointed out in a text to swing coach Chuck Cook, he missed some other makable ones. But overall, Dufner's tryout of a counterbalanced Scotty Cameron Futura X Dual Balance brought with it some positive signs -- like the clutch 25-footer he made for birdie on the 72nd hole, or the two playoff putts he made, of three and four feet, to stay in the game with eventual winner Adam Scott. The idea was pitched by close friend Keegan Bradley at the Players, and Cook is "all in" on the concept. "I keep trying to convince him he needs all the help he can get," Cook said. "If he hits a bad putt, the design of the club could save him."
The Peter Uihlein who arrived at Wentworth Club for the BMW PGA Championship was not the happy, healthy, confidence-filled Uihlein who won 2013 European Tour rookie of the year honors. Uihlein, 24, pulled out after three holes of the BMW and withdrew from U.S. Open qualifying, flying instead to Boston for an MRI of his back. The 2010 U.S. Amateur champion steps aside with 10 missed cuts and one WD in 15 events, dropping from a high of 60th in the World Ranking in late 2013 to 92nd. Long term, there are no worries in his camp. "I'll get him back on track," said Butch Harmon, Uihlein's instructor. " He's just floundering around in limbo. I told [dad] Wally [that son Peter] needs to come home, relax, get away from golf for the next two weeks, get the batteries recharged. He's been struggling, trying everything under the sun. It's hard when you're out there on your own in another country."