News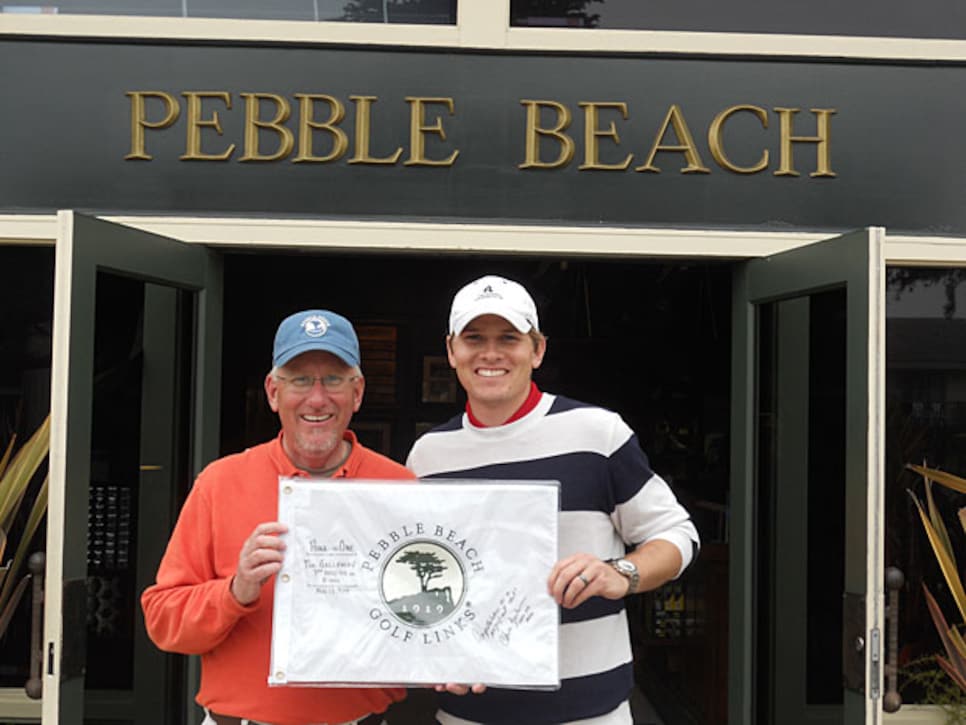 Months before thyroid cancer claimed him, Tim Galloway (left) and son Winn fulfilled a lifelong dream to play Pebble Beach GL together. They ended up making a memory.
It began as a dream, a boy, 16, and his father, descending the steps behind The Lodge at Pebble Beach and gazing wistfully at Eden. Some day, the boy vowed on behalf of both of them, before life intervened, as inevitably it will. Maybe next year. There would always be a next year.
Then the lump appeared on the side of the father's neck. There were X-rays and tests, surgery and experimental drugs, and finally hope surrendering to heartache. Tim Galloway, a popular and affable Frontier Airlines flight attendant from Loveland, Colo., had medullary carcinoma, thyroid cancer, and it was winning.
"I needed to create a memory," his son Winn, now 27, says. "I wasn't sure what was going to happen. But I wanted to create a moment for him and me, something we could talk about for a long time, and if he passed away, a memory I could hold onto."
It wasn't that the Galloways were without memories. Golf was a bond between them, a shared passion, Tim having introduced Winn to the game at 2. Tim had given him a cut-down 3-iron, "probably a foot-and-a-half long," Winn says, that the boy used to hit plastic golf balls around the yard. Eventually his father began taking him to Cattail Creek GC, an executive course, then to the Olde Course at Loveland, where Winn honed his game to the point he became captain of the Loveland High golf team.
Winn's most vivid memory was the family vacation that began in Northern California and took them south to the Monterey Peninsula. They took the requisite drive down 17-Mile Drive and eventually made their way to Pebble Beach.
"I'd seen it on television," Winn says, "and I probably played it a couple of times on video games. As soon as we got on the property, Dad was really excited to show it to me. We walked through the [Lodge] and down those steps; just a sight to see, such an amazing course. We walked down the cart path on 18, and we're just, 'Wow, we'd love to play this some day,' just kind of dreaming."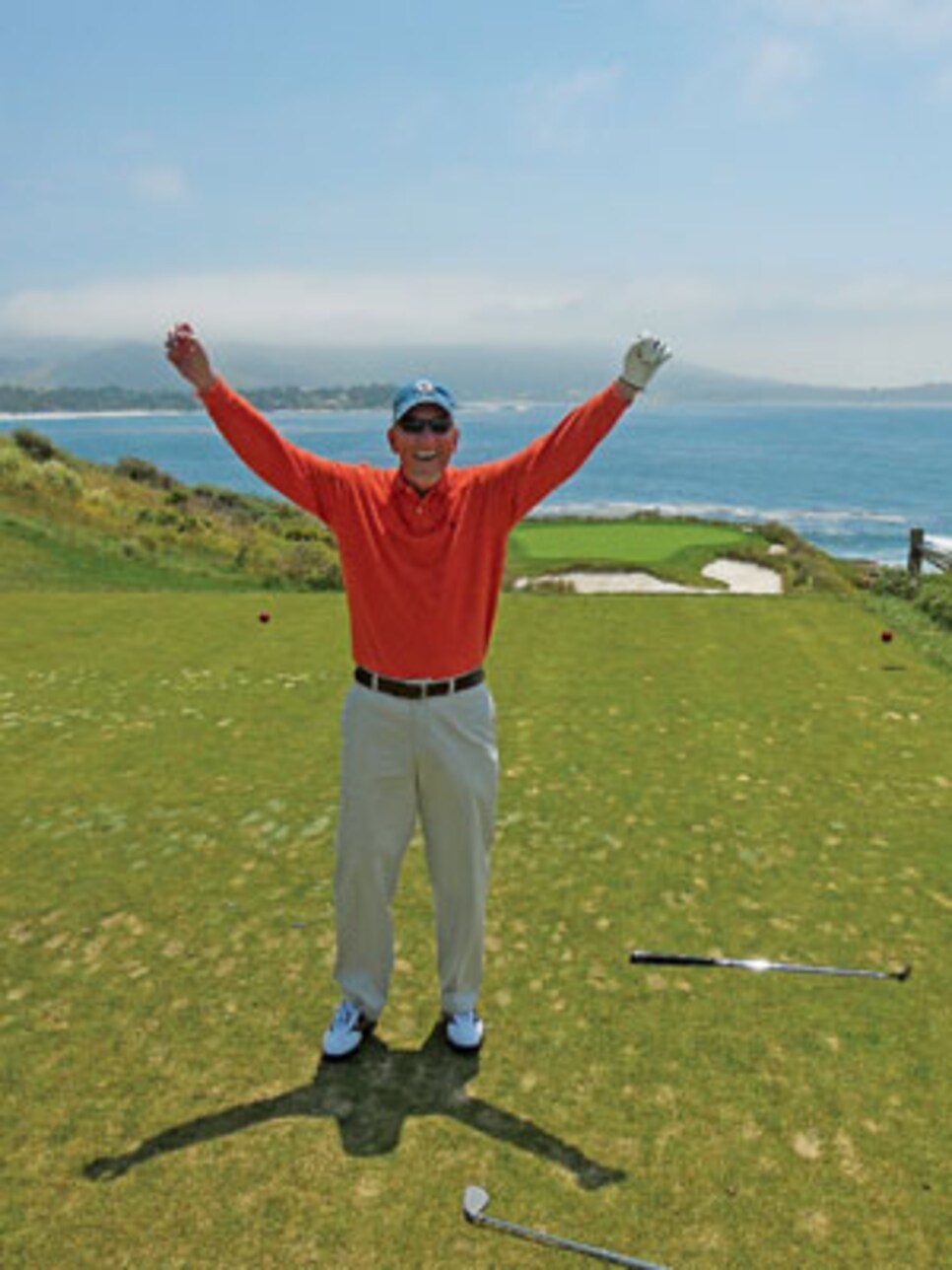 A decade later cancer shook the dream from its dormancy and replaced it with a sense of urgency. In May 2011, Winn, a senior marketing consultant for Land Advisors Organization in Irvine, Calif., decided to surprise his father with a trip to Pebble Beach.
Tim experienced a mix of euphoria and apprehension, the latter a product of his declining health, which included a broken rib. "He was quite nervous about going," Winn says. "He hadn't played golf in a long time, and he wasn't certain about his strength."
Tim's wife (and Winn's mother) Kim convinced him that the quality of his golf was immaterial. "You taught him how to do something you've shared your whole life," she said to him. "So change your focus from golf to hanging out with your son at a place that's once in a lifetime. Make golf secondary."
Kim had her own concerns -- that Tim's depleted energy level might not sustain him through the experience. In preparation he had gone to a range and hit a bucket of balls that exhausted him, requiring a long nap afterward. Kim put out a prayer request on their website, Healing Wings for Tim, that had been created to provide family and friends with updates on Tim's condition. "I could use prayers for supernatural use of time," she wrote. "Winn is super excited and I just know that the Lord will show up and make this a very special weekend. I am anticipating greater than I can pray [for] or even think it to be."
When the day, May 19, 2011, arrived, Tim, 54, was too weak to play every shot or complete most holes. He was content with taking photographs, and when they arrived at the scenic par-3 seventh hole, his camera worked overtime.
"Are you going to play some golf or not?" Winn finally asked, after hitting his own tee shot. The pin was back right, and Winn had taken the safe route, hitting wedge to the middle of the green. Tim chose an 8-iron and an aggressive line, straight at the pin. The ball landed softly a few feet short of the hole, and fate took over from there.
When the ball tumbled into the cup, a hole-in-one on one of the most famous par 3s in the world, Tim tossed his club in the air and Winn hugged him and spun him around. "All of a sudden I started receiving texts," Kim says. "Then they called me, and they were crying on the phone."
When they returned to the pro shop, Tim received a certificate that Pebble Beach awards those who make aces, and a flag signed by the head pro, Chuck Dunbar. They celebrated at the Tap Room at the Lodge, the flag prominently displayed on the table, Tim regaling anyone who would listen with the story of his ace.
The next day, the two returned to Southern California, where Winn and wife Lindye live, and Kim joined them. Tim was exhausted, but between his naps, he smiled a lot.
"It gave my dad so much life in his last six months," Winn says. "Twelve hours before he passed away, six months to the day after his hole-in-one, he was emotionless, out of his mind on drugs. We had a moment where it was just him and me. I said, 'Hey, Dad, remember that hole-in-one?'
"He grinned from ear to ear."