News
2012-2013 College Preview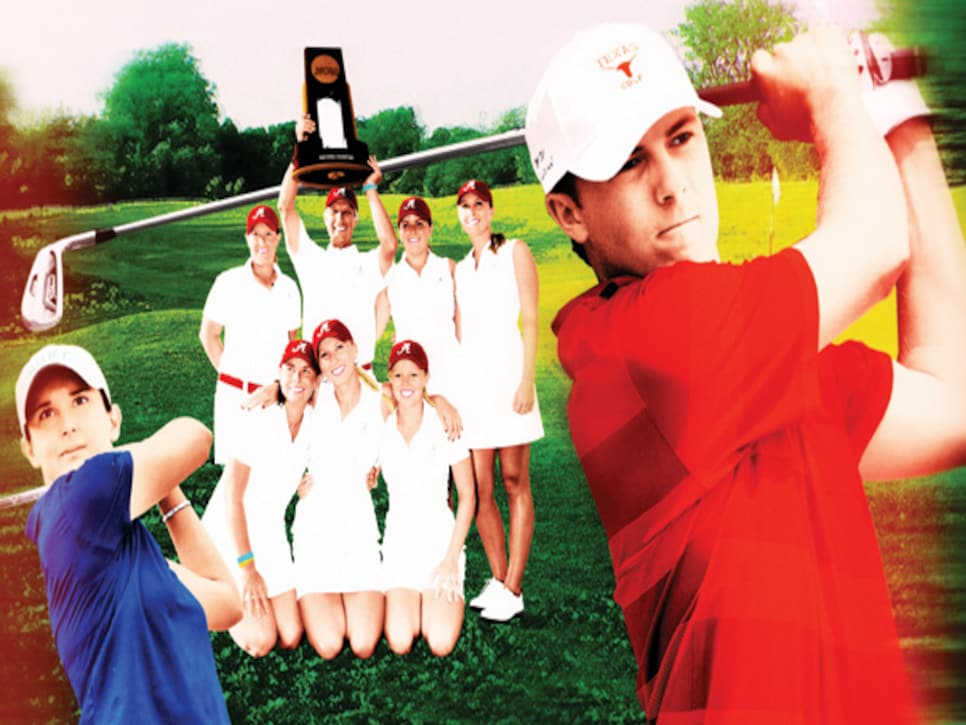 Season's Greetings: (from left) Duke's Duncan, 'Bama's women and Texas' Spieth are part of the preseason conversation. Photographs by J.D. Cuban (2); Getty Images
Faster than you can say "summer vacation," the 2012-13 season beckons. Those who follow the college crowd know the window between the end of the NCAA Championship and the start of the fall schedule -- 89 days in Division I men's golf, 97 for the women -- offers little in the way of an "offseason." It's enough time, though, for a handful of storylines to take form as the Texas men and Alabama women look to defend their NCAA titles.
With that, Golf World offers some thoughts on various plot points for the drama set to begin.
Will freshmen reign supreme again in the men's game?
That Alabama first-year golfer Justin Thomas was the consensus national player of the year last spring isn't unprecedented. Twice in the previous five seasons a rookie has claimed the Nicklaus and Haskins Awards (USC's Jamie Lovemark in 2007 and UCLA's Patrick Cantlay in 2011). That his closest competition, though, would be from two other freshmen -- Texas' Jordan Spieth and Stanford's Patrick Rodgers -- speaks to how the young were restless in 2011-12.
"I think this was a once-in-a-decade class, maybe once-in-a-generation," said Jay Seawell, the Crimson Tide coach who saw first-hand Thomas' exploits, last spring. By year's end four of the top nine players in the Golfstat Cup ranking (TCU's Julien Brun) and five of the top 18 (Washington's Cheng-Tsung Pan) were freshmen who combined for 12 individual victories.
Clemson's Cody Proveaux, the 2011 AJGA Rolex boys POY, and South Carolina's Matthew NeSmith, the favorite for the honor in 2012, carry the banner this fall. They might be the latest to have an immediate impact upon arriving on campus, but the class as a whole isn't quite as top-heavy. Moreover, barring a sophomore slump from last year's magical class, the competition from that crew won't make things any easier.
How much longer will Spieth be at Texas?
A year ago Cantlay was the fixation of golf's futures speculators regarding whether he would leave school early given his success moonlighting in PGA Tour events. With Cantlay making the jump in June, attention turns to Spieth, a 19-year-old from Dallas who had two wins and seven top-five finishes in 11 starts as a freshman while helping the Longhorns end a 40-year NCAA title drought.
Fueling the discussion is the fact Spieth, a two-time U.S. Junior champ and member of the 2011 U.S. Walker Cup team, is flirting with moving on. He said he intends to enter this fall's PGA Tour Qualifying School as an amateur, having earned an exemption into the second stage by making the cut at last June's U.S. Open.
Although Spieth hasn't had the breakout success Cantlay did in his tour starts, he hasn't chopped it up either. In eight appearances he has made the cut five times with two top-25 showings (including a 69-70 weekend performance at Olympic Club to claim low-am honors).
Should Spieth reach the final stage, ensuring at least some status on the Web.com Tour for 2013, it's likely his time in Austin will end after just 1½ years. Even if he stalls in second stage, some believe he might still turn pro and use his name recognition to attract sponsor's exemptions. Unless his game suddenly goes south, it's doubtful Spieth wears the burnt orange past June.
Does Duke's Lindy Duncan go out with a bang?
Crafting a memorable season at a program as storied as the Blue Devils' is tougher than at other schools. By any measure, though, the accomplishments of the 21-year-old from Fort Lauderdale during her junior year were impressive: four wins, 10 top-10s in 10 starts, 71.07 average. Had Duncan taken just three fewer strokes during her 31 rounds in 2011-12, she would have bumped Amanda Blumenherst as the school's single-season scoring leader at 71.0.
On the course Duncan appears emotionless, her color-inside-the-lines style lacking flash but so precise it would make the Swiss applaud. Maybe that's why her accomplishments haven't quite garnered the attention accorded some Dukies of yore. Still, Duncan's game has shown such a natural progression in her three seasons in Durham that it is reasonable to expect still more improvement during the three-time first-team All-American's senior year.
Meanwhile, there's an intriguing goal to aim for. Duncan enters 2012-13 with a 72.17 career average, trailing only Blumenherst (71.67) in Duke's record book. A repeat of last season would dip Duncan's final tally below 72, a number worthy of consideration not just among the school's but the college game's all-time greats.
Are the women any closer to adopting the ".500 rule" or match play for the postseason?
That the men's and women's games have separate standards to qualify for NCAA regionals, let alone different formats for crowning their champions, is bizarre to many observers. This includes more than a few coaches of women's teams who have watched from afar how requiring men's schools to have a winning head-to-head record to be eligible for the postseason has shaken out since being adopted in 2007-08. With few schools left home that would have otherwise qualified and many high-profile tournaments having become more accessible to lower-profile programs, there appears to be growing interest to consider a similar change for the women's game.
Likewise, the dramatic finishes in the men's championship since moving to match play in 2009 have been noticed. Yet twice in the last three years the NCAA women's title has been decided by just one stroke after 72 stroke-play holes, each claimed by a first-time team winner (Purdue, 2010; Alabama, 2012). Given the excitement and inclusiveness of the championship, the shift to match play likely seems farther away.
Can Longhorns and Crimson Tide repeat?