News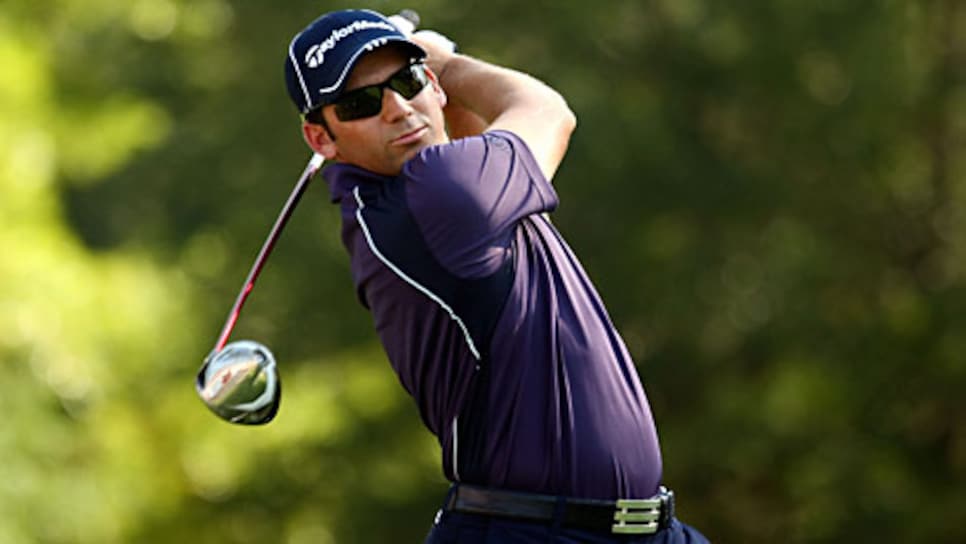 Sergio Garcia saved his biggest of maybe three smiles all week for Sunday evening. His courtesy car was double-parked, and golf was in the rearview mirror. "Won't pick up a club for a while," gushed Sergio, who hung around to crown his replacement Players champion, Henrik Stenson. At least the crystal trophy was bequeathed to a fellow European. Many thought Sergio would wind up holding Tiger Woods' coat. "Flying to Germany for business, then home," Garcia went on. For 72 holes, that plane could have landed on his lower lip, but now Sergio's personality was back, as if he were saying hello when it was time to say goodbye. "Just a stage I'm going through," he concluded. "It will go away. I'll be OK."
Garcia did not arrive at the TPC Sawgrass' Stadium course in a festive mood, and with rare exception, he stayed that way. "I still love golf, but it has been resisting me more than usual," sighed Sergio, who organized practice sessions around Arsenal vs. Manchester United, and Barcelona vs. Chelsea. Playoff soccer. "Futbol, futbol!" he corrected. He began his Players defense birdie-birdie, finished with 71 and seemed utterly unimpressed. On Friday, a stroke beyond the cut line, he birdied 16 and 17. He acknowledged applause with a faint wave that wouldn't have altered a mosquito's flight. Garcia three-putted 18 from seven feet, but still made the weekend. He flipped his glove to one delighted youngster and donated a ball to another. Sergio's clubs, lugged by caddie Glen Murray, were safe from dispersal, however.
"I haven't been myself," said Garcia. "I'm usually happy, but I'm not having much fun on the course lately. My parents and friends are worried about me, but it's just a stage." In March, Garcia's relationship with Morgan-Leigh Norman—daughter of Greg and Laura—ended. "That's part of it," Sergio admitted. "But I don't like to talk about my private life in public or [with] the media." On Saturday, Garcia played one twosome behind the Brit he calls his best friend on tour, Luke Donald. Had their third-round scores matched up, they might have gone off together Sunday. "Maybe I can put a smile on his face," mused Donald. Not, cautioned Garcia. "You don't want to play with me now," he said. Donald chuckled. "Sergio's just in a funk," he said. "We all have them."
Indeed, another of Garcia's pals, Adam Scott, is also a mess. "He's missed five straight cuts? Hard to believe. … I need to spend more time around Adam," said Sergio, who was somewhat cheery Sunday, perhaps because it was almost over. Being obligated to the aforementioned ceremony, Garcia would have endured two excruciating idle days had he shot more than even-par 144 for 36 holes. He survived a second cut, too. Still, for the final round in scalding heat, he wore all black. To fit his temperament? "No, no, I don't sweat much," he said, grinning. "And I'm trying to lose weight. For my next career." What, soccer? "Futbol, futbol!" he corrected again. "Not too late. Or tennis." Garcia and Mike Weir were briefly put on the clock, so Sergio sprinted from the 12th tee after driving. Shades of Medinah '99, El Niño, young and ebullient. But wait. He's only 29, and if you're out here long enough, you collect toys in the attic.
Indeed, embalmers sized up Garcia after he lost the 2007 British Open in a playoff. But Sergio rallied in '08. On signage everywhere around the Stadium course, there he was fist-pumping, kissing his putter, raising his trophy last May after thanking ailing Tiger for being absent. Garcia began '09 as No. 2 in the world. It can happen again, and probably will. For his next U.S. start at Memphis, Garcia will be flanked by caddie Gary Matthews, who had been looping for Camilo Villegas, another buddy of Sergio's. Matthews will split chores with Murray; Sergio routinely uses two caddies.
Whether Sergio will bring his new weapon to Memphis is unclear: a longer putter, four inches extending above his hands. "It feels better, helps me load the club," said Garcia, who was not particularly kind to his driver at the Players. Snippets of him banging it were repeated on TV, so here we go again. "I am who I am," said Garcia. "Emotional." He rapped Augusta National after the Masters. If some peers agreed, they abstained from comment. He caught grief, then apologized. "Sometimes, you make mistakes," reasoned Garcia, who stewed quietly last week. "Sick game," he decided.
But it's still just stick and ball. Real suffering exists back home in Spain, where Seve Ballesteros wishes he could experience that stage of hating golf again.