News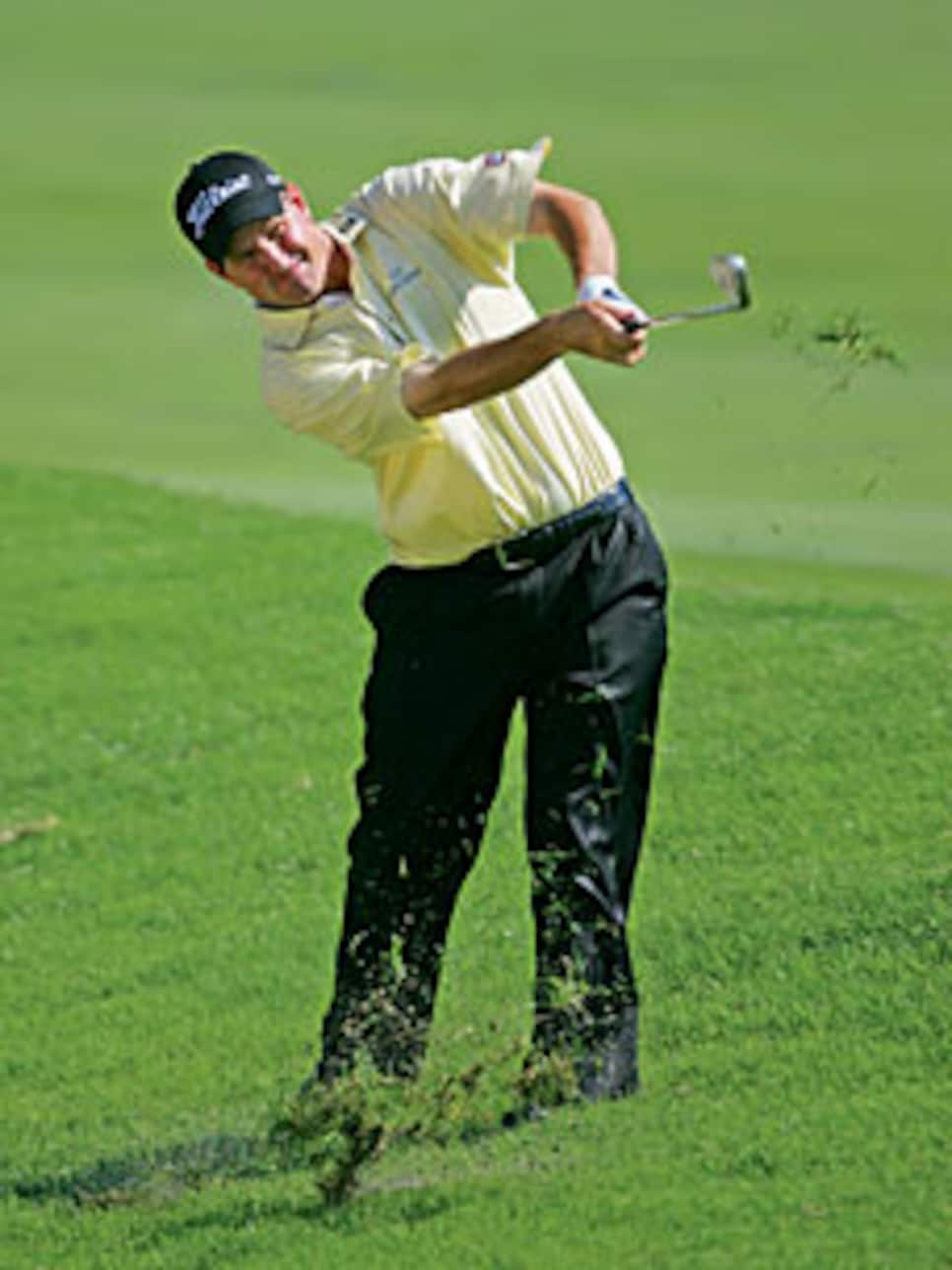 Klauk doesn't know every blade of grass on the course where he played so often, but his local knowledge paid off big.
In the locker room of the TPC Sawgrass Sunday evening, Jeff Klauk relaxed with his feet up in a leather chair, watching the finish of the Players on three big high-definition TV screens. Sitting beside him was his swing coach, Cody Barden, and they were breaking down Klauk's effort in his first tournament on a course he not only grew up on, but a course where he cut the grass, filled in the divots and dreamed of a day and an ending like this.
"You know, I did good," Klauk said. "I did really good."
Barden wondered aloud if the T-14 finish was the best debut by a Ponte Vedra Beach or Jacksonville-based native or resident, but Klauk, who got into the event as an alternate when Lee Westwood pulled out, was already looking ahead, albeit with some inspiration from the past, specifically Mark McCumber's victory in 1988, when Klauk's father, Fred, was in his second year as the golf course superintendent on the famed Stadium Course.
"I really want to win this golf tournament one day," Klauk said. "Now I know I'm good enough to win this golf tournament."
As a kid, Jeff Klauk was a standard bearer and divot filler during tournament weeks. Rocco Mediate wrote him a check to get started on tour. David Duval's father, Bob, gave him lessons. He mowed Brad Fabel's yard and hit balls on the back of the range with tour pros such as Vijay Singh and Jim Furyk. More than 200 family and friends, including his grandparents, followed Klauk around in the heat, and former tour commissioner Deane Beman, recovering from quadruple-bypass surgery last fall, came out to watch him warm up.
What did the week prove? That Jeff Klauk, Nationwide Tour grad, has the scores, statistics and confidence to build on his performance and factor not only on the PGA Tour, but in major championships.
That's saying a lot for a 31-year-old rookie, but the numbers don't lie: On a track as fast and demanding as the tour will play, Klauk led the field in driving accuracy, was 12th in greens hit and had a good weekend with the putter. The highlights and lowlights of the week all came on the same day, when he went out in 32 Friday morning but came home in 40. If not for a conservative, cash-saving closing bogey on the 72nd hole, he would have finished in the top 10—much as he did on another tough layout in March, when he finished fourth at the Honda Classic. As he told Barden afterward: "As soon as I get enough money, and secure my job, I promise I'll get that putt to the hole."
Klauk was 9 when his father took the job as caretaker of Pete Dye's design. Jeff estimates he played 1,000 rounds on the Stadium Course growing up, which longtime tour executive Duke Butler figured would cost him $50,000 in past-due greens fees. But while the golf was free, Fred made sure his children knew the value of money. He made Jeff—and his brother John—mow lawns to pay for their entry fees into junior golf tournaments. And when Jeff got a $350 speeding ticket coming home from an AJGA event on Hilton Head Island, he made his son pay it off by cutting greens at the TPC. In his news conference Wednesday morning, Klauk talked about how sore he was after a day of working the fly mower on the club's lake banks.
"We had to tie some responsibility to it," Fred Klauk said. "Believe me, they fussed just as much as all the junior players fussed, but we felt it was important to their character building."
"Looking back on it," Jeff said, "it was the best thing he could have done."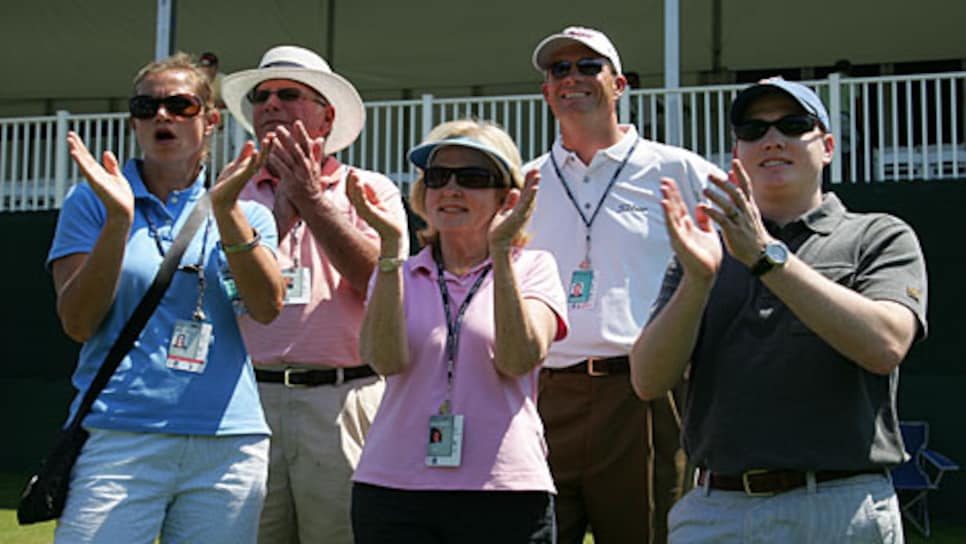 As Butler pointed out, Fred also insisted his sons use blade irons, so they knew the feeling of a solid hit. John was an All-American at the University of Texas. (Another brother, Jason, ran track for the Florida Gators. Peggy Klauk, the boys' mom, was an all-state tennis player for Miami Palmetto Senior High and played some matches against Chris Evert.) Jeff, who didn't have the same amount of junior success as John, played at Florida Southern, but won the 2000 Division II national championship by seven strokes and earned player-of-the-year honors.
Tour players Mediate, Lee Janzen and Marco Dawson played for the Moccasins, but one of the school's all-time great golfers turned out to be Jeff's wife-to-be, Shanna Nagy, who had already won one of her two NCAA titles for Florida Southern when they met in the pro shop of the TPC clubhouse in 1996.
"He came in and said, 'Hi,' and later I was [on the practice range] hitting balls," Shanna said. "He just came up and said, 'Hey, I'm Jeff Klauk, I'm going to Florida Southern.' That's how it started. I gave him my number on the second hole."
Family members believe that without Shanna's background, Jeff wouldn't be the golfer he is. Saturday night after a post-round nap, he was putting in the family room with the couple's 4-year-old son, Jackson, until 9:30 p.m. "I don't think he could have a wife who doesn't understand the game," Shanna said. "A lot of guys don't want to go home and talk about golf at all. Jeff is not that guy."
Klauk seemingly had his card locked up in 2002, but weather wiped out the final-round of the Nationwide Tour Championship and he ended up 22nd on the money list, two spots from exempt status. Four years later he suffered two undiagnosed seizures, and Shanna believes they were the reason her husband injured his shoulder in 2007 and subsequently needed surgery. She witnessed the first seizure and calls it, "The worst moment of my life." To combat the seizures, which may be stress-induced, Klauk takes a medication called Trileptal.
That troubling period seemed far away as Jeff drove home to St. Augustine Sunday night, after dropping off Barden at Fred and Peggy's place inside Sawgrass. He called ahead to have Shanna order a couple of pizzas and once they had put the kids to bed, the couple drank a glass of wine and celebrated.
"He just held together and never gave in," said Fred on a cell phone as he manned the barbecue Sunday night. "He just tried and tried and tried. He's just going to play every hole like Tiger does, until it's over. I think he's on his way now."