News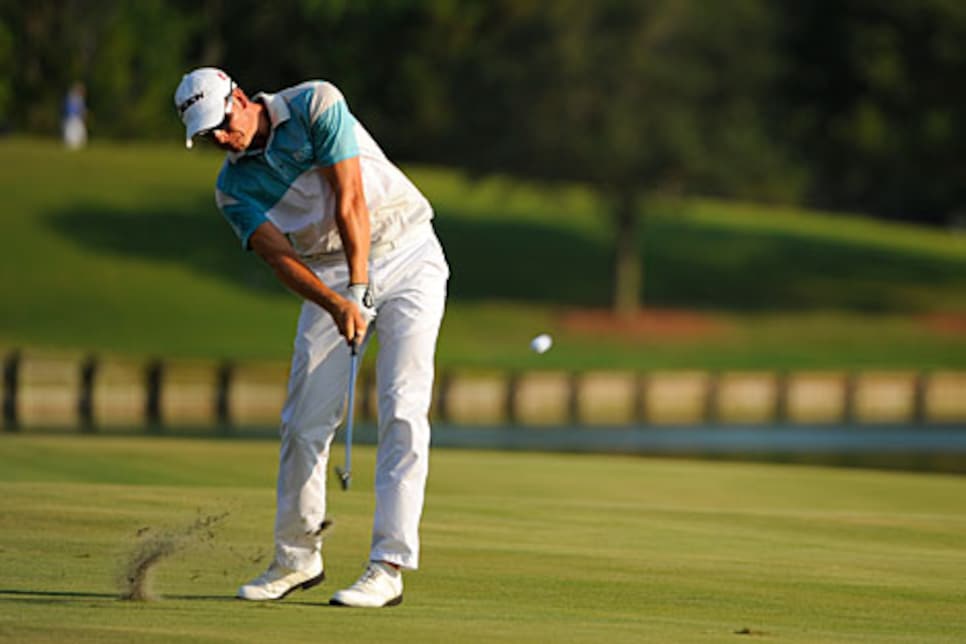 putting on a clinic: Five strokes behind after 54 holes, Stenson played flawlessly in the final round. With a six-under 66 on a firm and fast layout that was giving most players fits, the Swede won by four strokes.
His comedic instincts are subtle, his wit as dry as the rain gear he is slightly famous for not wearing, which partially explains why Henrik Stenson had no problem stripping to his underpants before hitting a shot from the edge of a water hazard two months ago at Doral. The man is from Sweden, a place where funny bones are supposedly in short supply, although pro golfers with premium-field victories haven't exactly been growing on trees there, either.
Stenson could claim both before the start of the Players, although it's not as if anyone actually noticed. His rise to the game's top tier has occurred in virtual anonymity, his seven career wins more impressive on paper than at the box office. These days, it's not whether you win or lose, but how you play a recovery shot from shallow water.
"I thought I was going to see the picture a few times and get a few nice comments, but you guys turned it into a worldwide thing," Stenson said, leaving it unclear whether he was thanking the media or scolding it. "I got as much publicity off that as I got from my results the last 10 years."
So if triumph No. 8 led to the most attention Stenson has ever gotten with all his clothes on, it won't be nearly enough. Not after he rallied from five strokes back at the beginning of the final round to win the Players by four, not after a bogey-free 66 Sunday on the Stadium Course at TPC Sawgrass, where mistakes are magnified, even glorified, by the tumult they inflict on the leader board.
In recent years this tournament has specialized in crowning winners amid the rubble. Before Stenson's closing gem turned a tightly contested, error-infested battle into a rout, the previous two Players were decided largely by water balls at the par-3 17th—Sean O'Hair's in 2007, Paul Goydos' in 2008. Fred Funk emerged from a pile of 76s to win in 2005, a year after Adam Scott's shaky homestretch left him hoisting the crystal with unsteady hands.
This was a lot different. Stenson's charge was described as "pretty incredible" by Tiger Woods, who was neither pretty nor incredible while smoke-and-mirroring his way to a solo eighth despite his worst ball-striking week in four years. A water ball from the pine straw at the par-5 second seemed to end any chance Woods might overcome his shabby form and will himself to a second Players title in 12 starts. At some point you have to start hitting golf shots around here, even if you find yourself teeing off with Alex Cejka in Sunday's final pairing.
Cejka certainly did his part—the five-stroke lead he amassed after 54 holes had disappeared entirely by the time he walked off the sixth green. Stenson, playing two groups ahead, had just made his first birdie of the day after opening with six consecutive pars, then became the only guy on the leader board to reach the par-5 ninth in two shots. Two putts and one birdie later, the lead was his for good.
"It's a golf course I really enjoy playing," said Stenson, a line you don't hear at this tournament all that often. "It suits my eye, suits my game. I mean, I just like the whole concept of risk and reward. You can see pretty clearly what you have to do, and if you pull off the shots, you're going to get rewarded. I think it's very fair and square in that sense."
Many of his tour-pro brethren see a pot-luck factory that favors no particular style of play other than driving it straight, and thus, is a bit like the political disposition of the PGA Tour itself: too democratic, with an undue emphasis on defensive strategy. Avoid mistakes and you'll be OK, mainly because the punitive nature of Sawgrass means what would be a one-stroke error somewhere else usually ends up costing about a stroke and a half.
"You look at the history of this tournament, nobody plays consistently well here all the time," said one veteran caddie. Of course, one could argue that a player should be held to a high standard of efficiency when first place pays $1.71 million, but if everyone thought this was the greatest test on earth, some guys would look elsewhere and find a new gripe.
As it turned out, Stenson's performance made it all a moot point. Four more birdies on the back nine made this no less a clinic than Davis Love III's vintage final round in 2003, when Love romped to his second Players title with a 64 on a windy and chilly but rain-softened version of Sawgrass. The tour moved this shindig to May to improve its chances of getting the course firm and fast, and they don't get much firmer or faster than a roulette wheel baked in four days of 90-degree sunshine.
The offbeat Swede hit just one driver Sunday, and not because he'd gone into the conservative mode. "I hit a good [3-wood] down the 18th the other day and saw the ShotLink board," Stenson said of the long walk to his second shot. "It said 313 or 318, something like that." That's 318 yards, which ought to delight the equipment-rollback fanatics and prove that outrageous length and dependable accuracy aren't always mutually exclusive in the power era.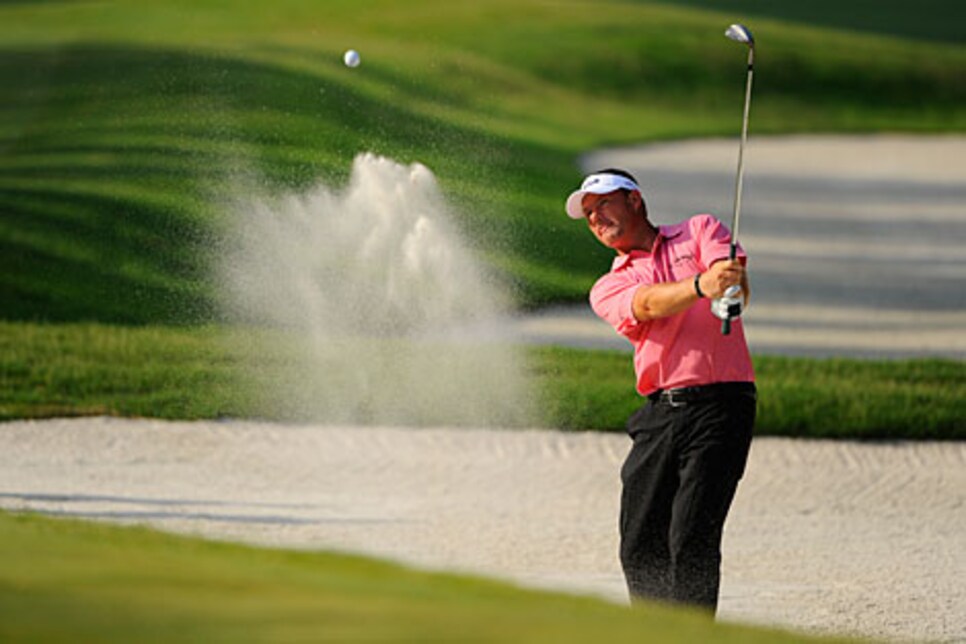 Stenson hit 26 of 28 fairways on the weekend and still averaged the greatest distance off the tee (294.8) among those who finished in the top 10. His towering draw is a formidable weapon just about anywhere, his 3-wood an invaluable tool considering he almost quit the game due to driver yips back in 2001. To this day, Stenson still isn't terribly fond of the longest club in his bag, but when you hit it as far as he does with something else, you don't have to be friends with any piece of equipment that isn't nice to you.
All that aside, Stenson hardly looked like the guy who would emerge from the pack of six players positioned at six under through 54 holes. His tidy Saturday afternoon succumbed to a series of late lapses—bogeys at the 14th and par-5 16th, then three putts for another bogey on the island green. Truth be told, Stenson was the biggest reason Cejka led by five heading into Sunday. No contender had given so much away so late.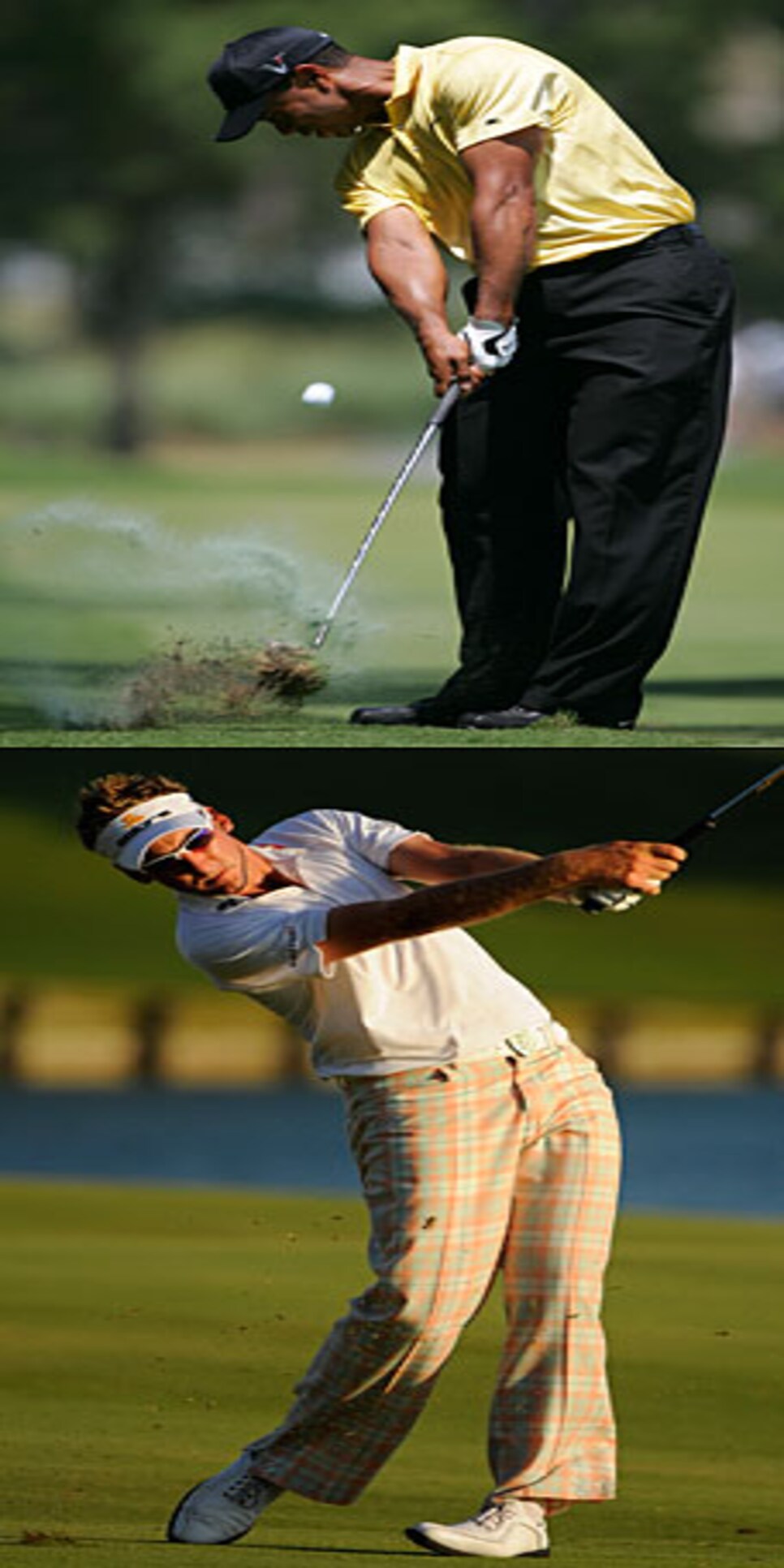 "I was still in good spirits," Stenson said. "I told whoever was listening [after the third round] that I was going to go out there and finish strong [Sunday] and I did, so I'm very happy with how I handled my mental game this week."
As well he should be. The perils of Sawgrass are enough to wear down any man, which takes us to the misfortunes suffered by Cejka. It wasn't easy to find someone who thought the veteran journeyman would actually hold on and win this tournament, but a five-stroke lead is still five strokes, and there are worse places to be heading into Sunday.
There are also better places to be than in the final pairing with Woods, a fate that felled Cejka from the very start. He pulled his opening drive, ran through the green with his recovery shot and needed to make a five-footer to save bogey. He knocked his second shot into the water at the fourth, then followed up the ensuing double bogey with bogeys at the fifth and sixth.
"Good shots, bad breaks, bad lies," is how Cejka characterized his front-nine 42. "I didn't make any putts, couldn't get any momentum going." Maybe the guy did learn something from Woods: How to rationalize the mess he had made with a healthy sense of denial, a trait normally reserved for superstars only. Asked about the guy playing alongside him, Cejka offered a much clearer and less positive perspective.
"He didn't strike it well," was his assessment of Tiger. "It looked like he was trying to cut the ball too much, like he was trying to hit it way up in the air. We're all human out there. You can't play at 100 percent all of the time."
Woods, of course, comes the closest, which made last Sunday's struggles so noteworthy. Since barging his way into the fray during the final round of the Masters, then faltering late, Tiger has turned the weak finish into habit. He hung around much longer in Charlotte two weeks ago than he did at Sawgrass, where his mistakes from tee to green were so alarming that it was hard to figure out how he'd worked his way into the final group.
The flawed Eldrick can be a joy to watch, his competitive ambition so strong that anything seems possible, but there clearly is a problem with his swing right now, which isn't to say he's admitting it. "If I had a two-way miss, I'd obviously be more concerned," Woods said. "A one-way miss [to the right] like today, you can aim for it and [eliminate] one side of the golf course, but on a course like this, if you're not on, it's really hard to shoot a good number."
In his universe, 73 definitely doesn't qualify, not when someone else runs off and hides with a 66. If Stenson is forever remembered for the five minutes he spent in his skivvies, it won't be for the lack of other unforgettable moments, or that he just won the biggest tournament hosted by the tour on which he has declined full-time membership.
It's the same tour that saw fit to scold the 2009 Players champion for his public striptease shortly after it occurred, as if to prove that memories aren't a funny thing. "Not everyone has a sense of humor," Stenson said last week, a line he delivered with a straight face.