News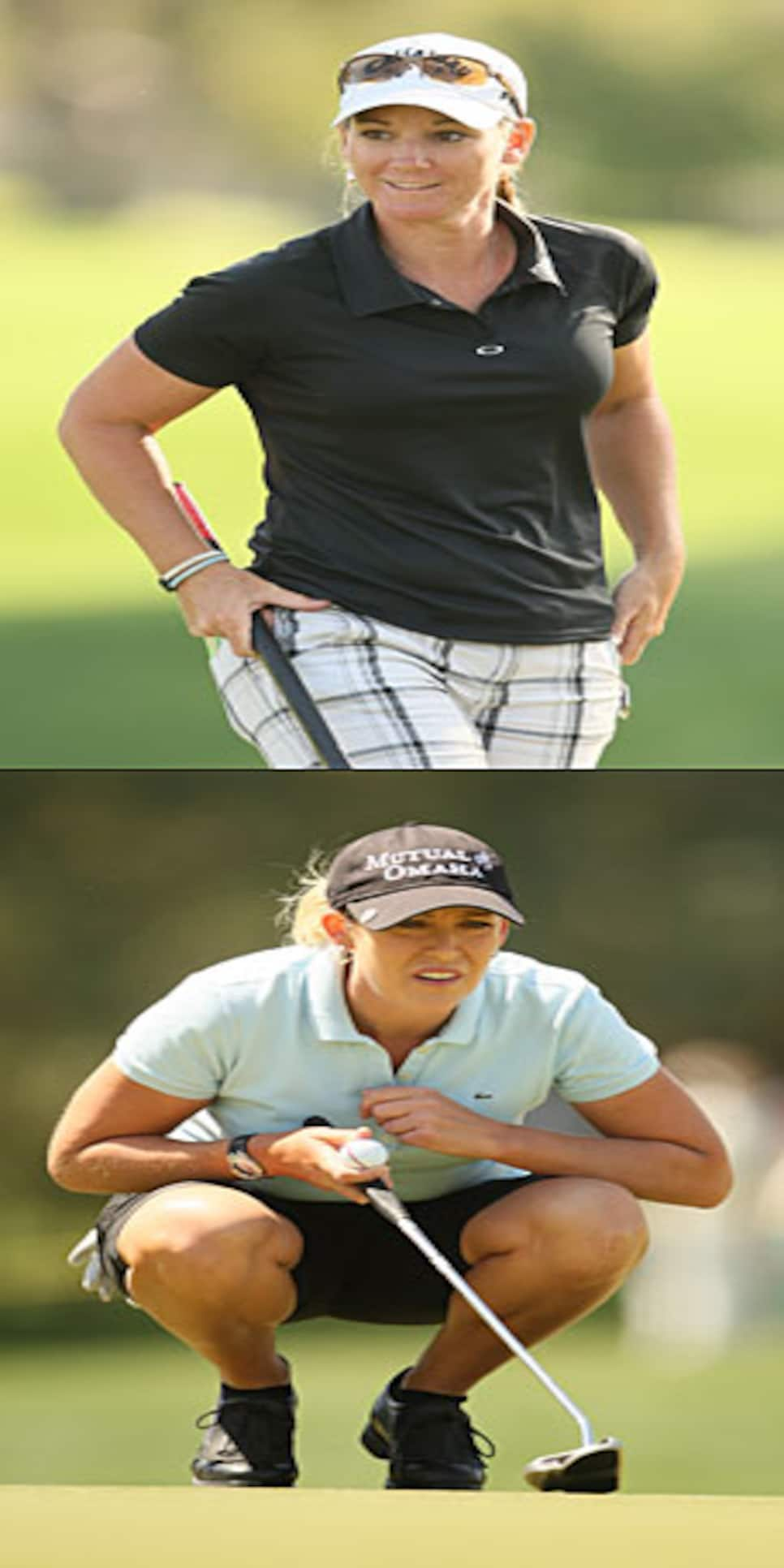 making their move: For late-blooming McPherson (above) and veteran Kerr (below), T-2 finishes at the Kraft Nabisco Championship bode well for U.S. 2009 Solheim hopes.
Perhaps all that is needed to get Americans to hold their own amid the deep pool of international talent on the LPGA Tour is to stage the Solheim Cup every year. There appears to be nothing like the dash to make the squad to get the Yanks motivated. And with the biennial competition against Europe looming in August at Rich Harvest Farms outside Chicago, a passel of U.S. talent has bolted from the gate with impressive play in the first seven tournaments of the year, winning three, including a sweep of the top three spots at the Kraft Nabisco Championship led by Brittany Lincicome.
Five different Americans stepped to the winner's circle last year and in 2006. But in '07 and '05—both Solheim Cup years—eight and seven different Americans won respectively. With Lorena Ochoa as No. 1 in the world, only three Americans in the top 20 of the Rolex Rankings and Asians emerging as major championship winners (in '08 Yani Tseng of Taiwan and Koreans Inbee Park and Jiyai Shin joined Ochoa as major champions), an oft asked question has been: "What's wrong with the Americans?" The answer, right now, seems to be, "Nothing at all, thank you very much."
Cristie Kerr and Kristy McPherson tied for second at the Kraft Nabisco, giving the United States its first sweep of the top three spots in a major since the 2003 U.S. Women's Open. From that sweep at Pumpkin Ridge, won by Hillary Lunke in a playoff with Kelly Robbins and Angela Stanford, until this year's Kraft Nabisco, Americans won just four of 21 majors. The two biggest surprises at Mission Hills (which bode well for U.S. Solheim Cup captain Beth Daniel) were Lincicome and McPherson. Lincicome was an early bloomer who appeared to have lost interest while McPherson is a relatively late bloomer in this age of teen stars.
"To be on that team and to represent your country, there's no feeling like it," said the 23-year-old Lincicome, who was on the 2007 squad after winning twice in her first three years on tour. But she had a miserable 2008 in which she missed 11 of 22 cuts amid whispers she didn't practice enough and often gave up on rounds. "It's really cool," she says about her memories from Halmstad, Sweden in 2007 when the U.S. drubbed Europe, 16-12. "That would be my No. 1 goal [this year], to play on the Solheim [Cup team]." Toward that end, a refocused Lincicome has changed swing coaches and taken on the Vision 54 team to help her with the mental side of the game.
McPherson needed four tries to get her LPGA card, but the 27-year-old out of the University of South Carolina had six top-10 finishes in 2008 and has carried that improved play into this year, finishing no worse than T-31 in seven starts. A gritty competitor who took up golf because an immune disorder prohibited her from playing sports that required running or jumping, McPherson showed her pluck by not being satisfied with her also-ran role at the Kraft Nabisco.
"It would mean a lot more if that last putt went in the hole," she said about the Solheim Cup points she earned after her 30-foot birdie try on the last hole at Mission Hills barely missed, leaving her one stroke behind Lincicome. "[The double points earned] should help me out some, but I've got a lot of work to do, I've got a long way to go."
That kind of talk is inspiring for Daniel, who saw potential U.S. team members Meaghan Francella, Christina Kim and Pat Hurst join Lincicome, Kerr and McPherson among the top eight at the Kraft Nabisco. In addition to Lincicome, Hurst and Stanford have each won in '09, the latter adding the season-opening SBS Open to two late-season wins last year. Another American on the rise is Jane Park, who was T-30 at the Kraft Nabisco and is currently 14th in Solheim Cup points.
"I am having a great time watching them get fired up to make the U.S. team," says Daniel. "The final day of Kraft Nabisco was really fun. I saw great golf and determination as they all tried to win there."
The most consistent of the Americans this year has been Kerr, who had three top-10s before the Kraft Nabisco and another after it. Paula Creamer, who leads the U.S. Solheim Cup points list, has finished third twice despite battling an intestinal disorder. Brittany Lang, a fourth-year player from Duke, also appears to be nearing her first LPGA victory. She has five top-20 finishes this year, including two T-7s and a T-4, and has moved to fourth in Solheim Cup points.
"My number one goal of the off-season was to get confidence," says Lang. "I've always had a lot of talent, and I work extremely hard, so my goal was to gain confidence, and I'm doing that progressively." She is also working with Vision 54 coaches Pia Nilsson and Lynn Marriott.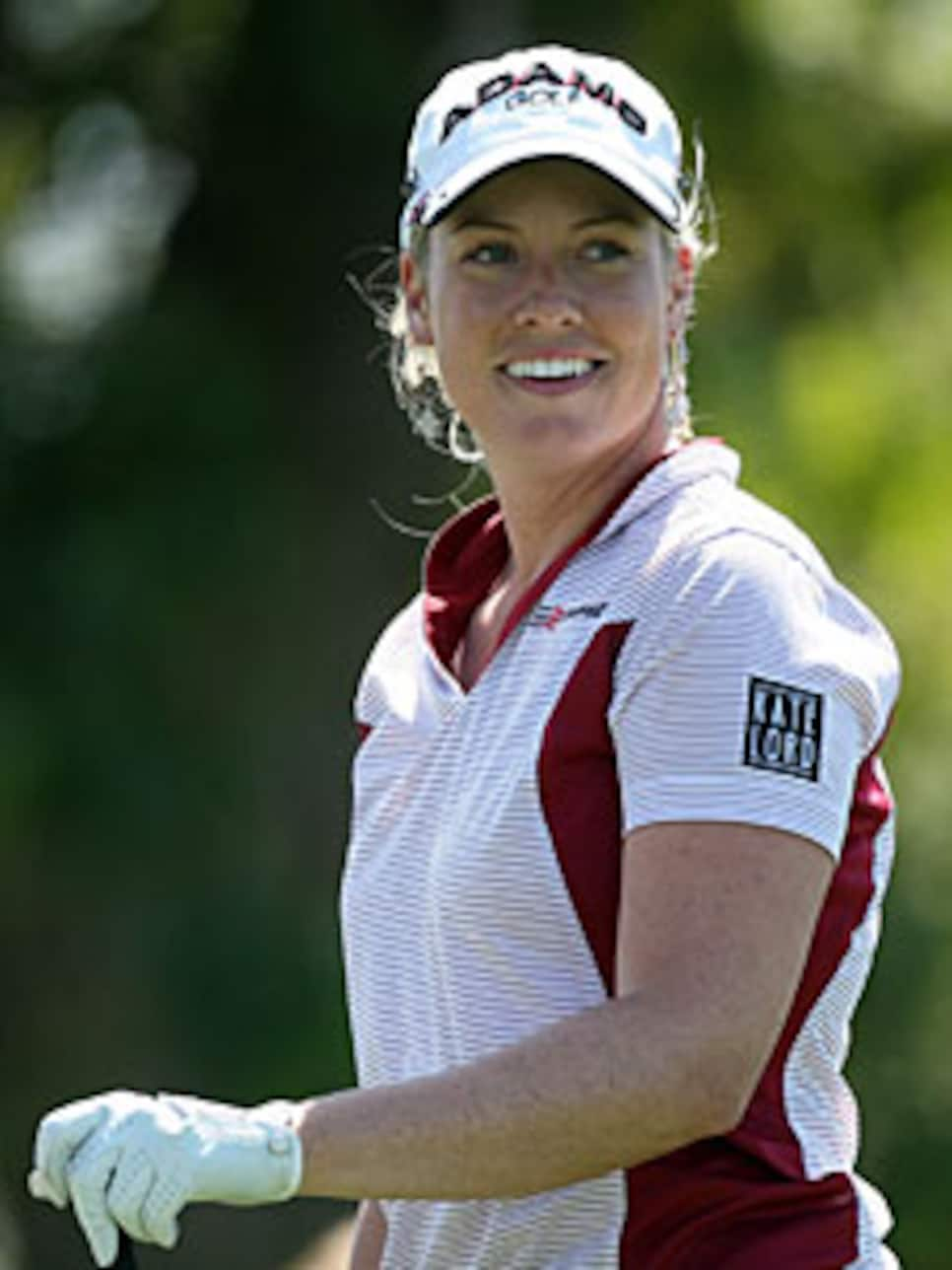 Creamer, Kerr and Stanford are virtual locks for the U.S. team, with third-place Stanford enjoying a nearly 180-point lead over Lang. Among those on the 2007 team who are still in the top 10 but could be threatened by the likes of McPherson and Lang are Nicole Castrale, Morgan Pressel, Laura Diaz and Stacy Prammanasudh. Natalie Gulbis has slipped to No. 13 and Juli Inkster to No. 15.
The three rookies thought to have a chance to make the team have some work to do. Michelle Wie is No. 26 in Solheim Cup points, thanks to a second-place finish at the SBS Open; Vicky Hurst is No. 33 and Stacy Lewis is T-55. But with double points awarded this year—quadruple in the majors—they still have time before qualifying closes after the Ricoh Women's British Open in August, three weeks before the Solheim Cup.
What this means for Daniel is an embarrassment of riches. She could have more than half of the team that dominated in 2007 not return and still come in with a squad that would be the clear favorite. It's a Solheim Cup year, and the Americans are no longer getting lost in the international crowd at LPGA tournaments.