News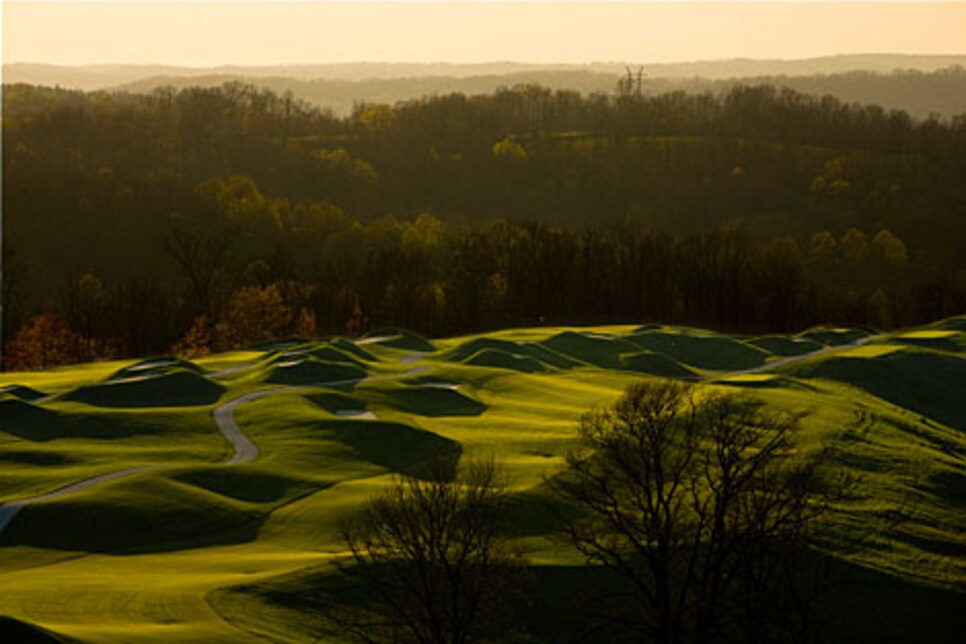 attention to detail: Dye made more than 100 visits while building his course, which features unique "volcano bunkers" and can be stretched to more than 8,100 yards.
French Lick is a little town in southern Indiana known for spawning the legend of basketball great Larry Bird, but Bill Cook has invested 15 years and $500 million to make it known as something else: the next great golf destination. In this economic climate, when resorts are scaling back and courses are closing, Cook is swimming upstream. Is he crazy? A genius? We're about to find out.
Cook, 78, originally from Canton, Ill., is the richest man in Indiana, so he can afford to take some chances. He made his $3.5 billion fortune in medical supplies, with innovations that included coronary stents and specialized surgical needles. He also has a soft spot for old buildings— which is where this story begins.
In 1995 the Historic Landmarks Foundation of Indiana asked Cook to donate $500,000 to restore the West Baden Springs Hotel. For a building once referred to as the "Eighth Wonder of the World," Cook donated $1 million. The town of West Baden Springs is French Lick's neighbor. They have two separate governments and a combined population of 2,600. And when Cook first visited his investment, he could see its potential.
Cook bought the old West Baden hotel, along with the French Lick Springs Hotel, two existing courses and 40 acres of property in the hills of French Lick, with the idea of building a brand new golf course, one that would be the beacon of his vision: today's French Lick Resort.
"I purchased the properties to restore the buildings and grounds, to preserve history and generate financial resources if possible," says Cook. "A private enterprise can operate a business better than government, and the intent is to keep the resorts as a valuable company asset for future generations to enjoy."
A half billion dollars later, he has 1,500 employees and a lot to show for his efforts, including the latest from another legend, Pete Dye.
The West Baden Springs Hotel is once again spectacular. It resembles a miniature Roman Coliseum with a fancy top that changes colors. Forty of the 243 rooms have a balcony and look onto an indoor atrium. Cook added a 14,000-square-foot spa and the best restaurant in town. The French Lick Springs Hotel is a 440-room castle-like structure that also enjoyed an expensive face-lift. It is the home of a new casino.
Cook's golf courses benefited from similar attention. He turned a Tom Bendelow design of the early 1900s into nine holes and attached to an indoor/outdoor golf learning center. Lee Schmidt restored the 1917 Donald Ross course's bunkers and green complexes to their original design. (Golf Digest cited it as the second-best course remodel of 2007.) And then there's the new Pete Dye Course, which opened April 24.
A new golf course these days is as rare as a robust 401(k). But what Dye has built in the same hills where young Bird used to run as a kid is impressive. The hall-of-fame architect, who was born in Ohio but has maintained an Indiana residence for more than half a century, committed the last three years and the soles of his hiking boots to making sure this French Lick comeback wouldn't fall flat. More than 100 visits later, Dye, 83, hopes the course, which began as a sketch on a napkin, becomes a piece of cherished artwork. So does Cook. The future of his investment depends on it.
Dave Harner, 50, is Cook's director of golf and a native of the area. "This is a dream come true," says Harner. "This is the next great destination. People like to say French Lick is in the middle of nowhere. I like to say we're in the middle of everywhere."
"Everywhere" is a stretch, but French Lick and West Baden Springs, two towns with one traffic light, aren't as remote as one might think: an hour's drive from Louisville, 2½ hours from Cincinnati and Lexington and within four hours of Nashville, Columbus and Indianapolis.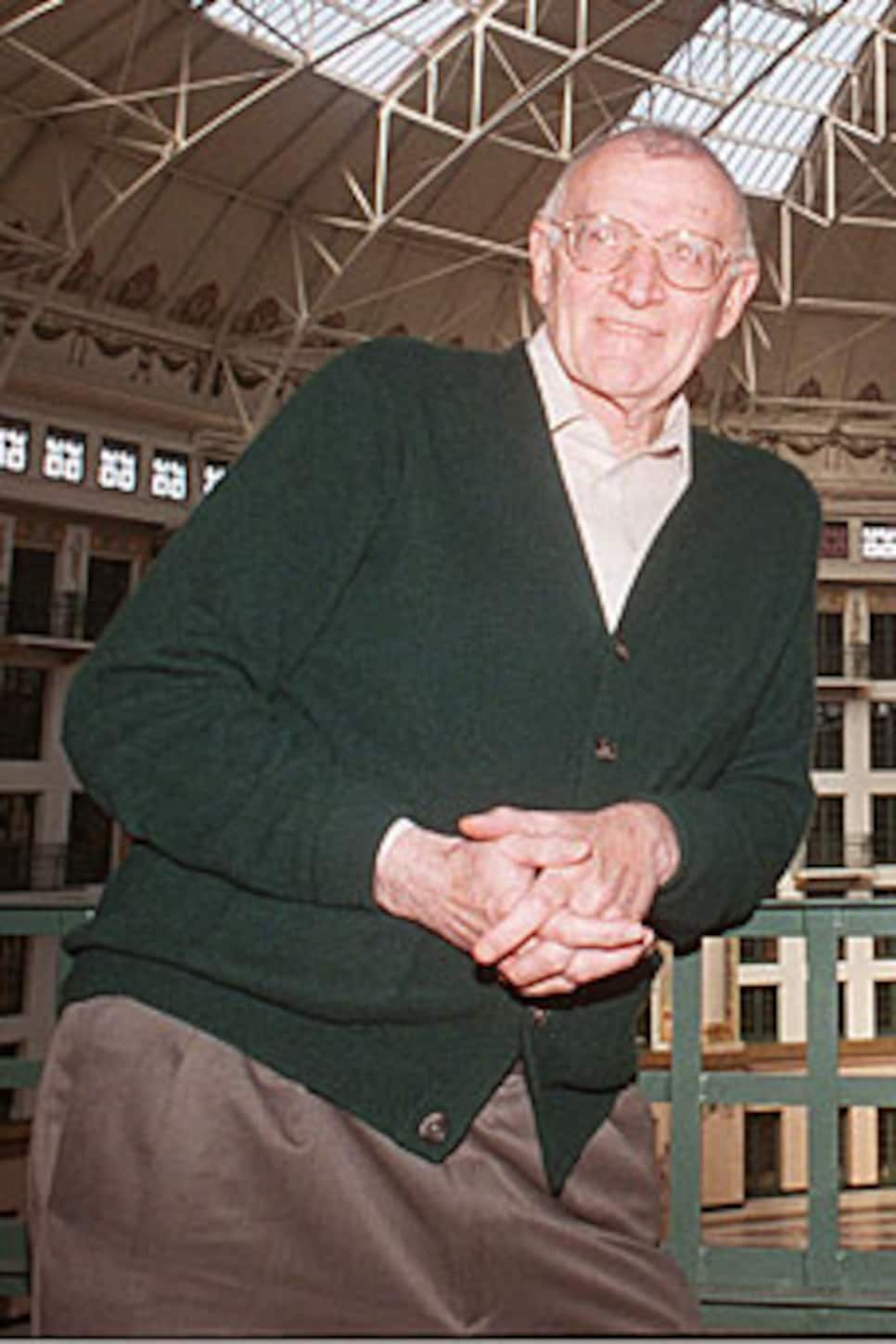 The centerpiece of a thriving gaming industry of the early 1900s and later a vacation spot for presidents and where the Chicago Cubs and Joe Louis trained in their heydays, the two towns have had a run of obscurity for more than 50 years.
French Lick didn't experience an up-tick until a skinny senior at Springs Valley High School, across the street from the resort, put up 30 points and 20 rebounds a game in 1974 in a little gym that could have doubled for a set in "Hoosiers." Bird caddied at the Ross Course as a kid and once had as low as a single-digit handicap before he developed a bad back and landed his current job as president of the NBA's Indiana Pacers. Bird has monitored Cook and Pete Dye's progress on the Internet but hasn't seen or played the finished product.
"I can't believe they put a golf course up there," says Bird. "They must have moved a lot of dirt."
Two million cubic yards, actually. The course is on Indiana's second highest peak of 950 feet and it offers 30-mile vistas in every direction. It's the elevation in an otherwise flat expanse, narrow fairways and volcano bunkers that make this Dye course unique.
That's right. Volcano bunkers.
According to Dye, as the crew piled up dirt at a stage of the building process, he liked what he saw. "I told them to leave them like that and top them off with sand." The volcanic-looking hazards line the ultra-thin fairways, only nine paces wide in some spots, and they fall off at a steep slope down to another flat landing area of short rough. The result is a better lie if you miss it by 20 yards than you do if you miss it by two yards. "We plan on keeping the rough cut down so Joe Golfer can hit it and go find it," says Dye.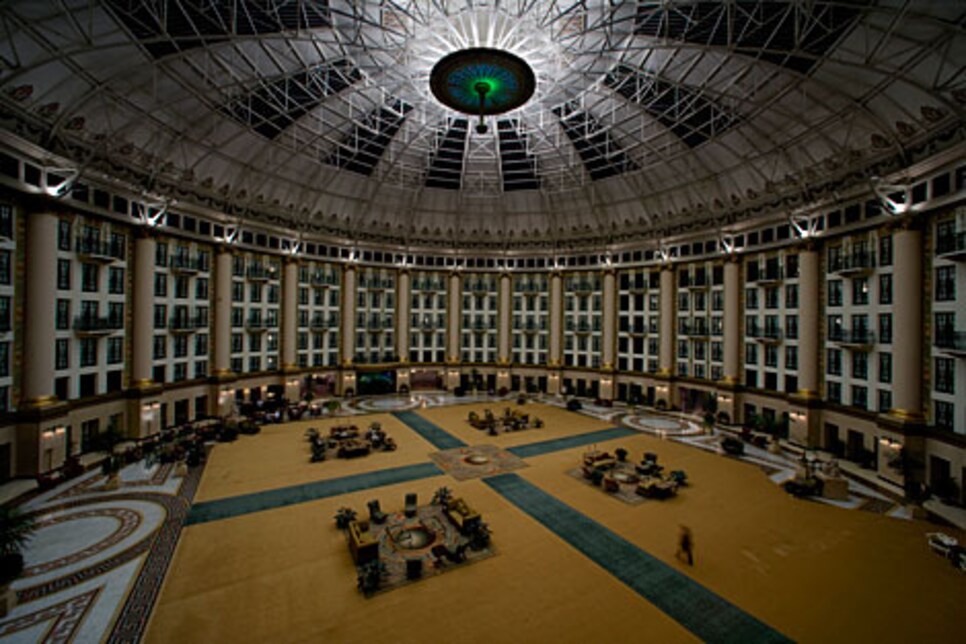 The course can be stretched to more than 8,100 yards if necessary. "If the USGA can't control how far these kids are hitting it today," says the cantankerous course architect, "then I thought I would."
So thanks to Cook and his deep pockets, the shine is on the old trophy. French Lick Springs Hotel and West Baden Springs Hotel are back on the mantle and ready to be admired for what they are. The new casino is a big draw. The Ross course is affordable ($115 on weekends with a $20 replay rate). The hotels look more like monuments, and there's the terrific new Dye course.
The speed bump in the road to recovery might be the latter's green fee. The opening day ticket was $350, which would be hefty in a successful economy. But French Lick president Steve Ferguson, is not budging. Not yet.
"When you've spent as much as we have," says Ferguson, "at some point you have to start making it back."
Which brings us to the last question: Will French Lick make it back? Cook is confident. "It's a good town with nice people," he says. "In a few years it will be a prime example of what a Midwest town should be like."
Dye can try to control the golfer, but he can't control the ownership. "If I had my choice, I'd let people play for free," he says. "But they'll figure it out."
Bird can see the course on his computer screen but can't see playing it. Not for $350. "They've priced me out of the game," he says. "But I'm happy for the people. It creates jobs, and I hope it continues to do well."
In the midst of all the question marks, Harner, forever Mr. Positive, is bracing himself and his two little towns for the flood of interest. "With all that's going on, I think this summer is going to be different than anything we've ever had," he says. "We may have to put in a second traffic light."