News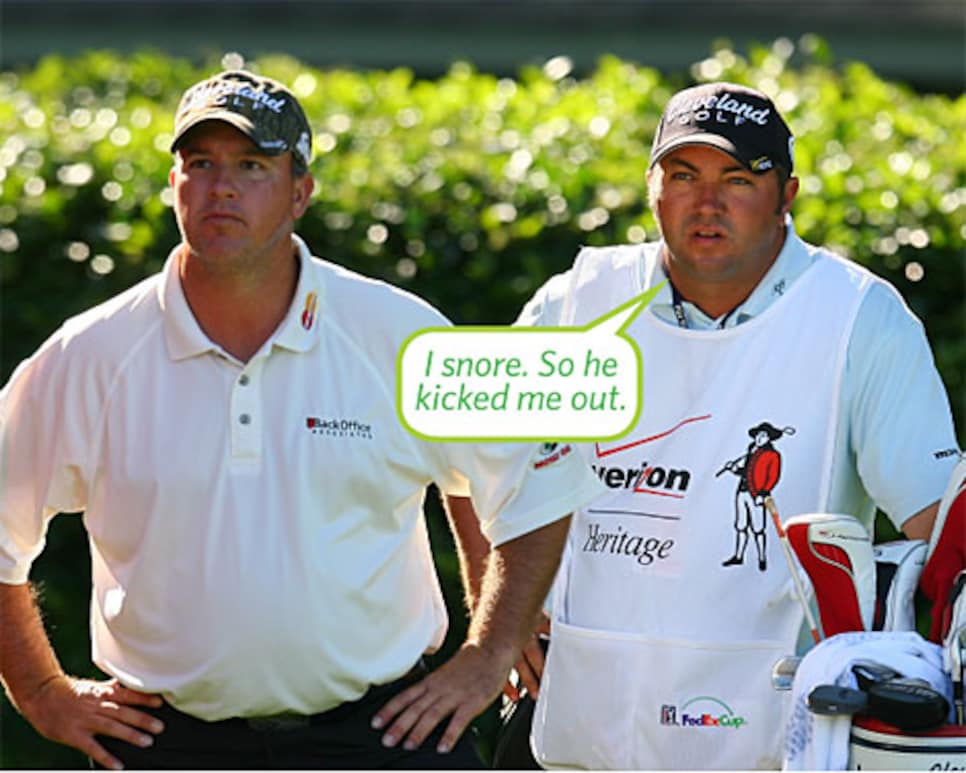 Sure, Joe LaCava has fun working for Fred Couples, but Joe Pyland's job as Boo Weekley's bag man is a blast, too--although it's not his most important job ever.
Grillroom: How did you and Boo hook up?
Pyland: He was three years ahead of me at Milton (Fla.) High School. I looked up to him because he was a great golfer. I dreamed of doing what he does. Wasn't good enough.
When did you start together?
At a Hooters Tour event, early '06. After I got back from the service. He was just on the outside of the Nationwide Tour, which he finally made, and he's never looked back.
Did you ever imagine Boo would make it big?
Yes, sir. Just a matter of time till he got his confidence. And after a few tournaments, I said to myself, "This is what I want to do ... this is my career."
It wasn't easy climbing the ladder.
No. We roomed together for a while. He's a good roomy. Very neat, doesn't iron. But I snore. So he kicked me out.
Twice. Enlisted in the Army, then went back as a civilian contractor. PGA Tour is almost like the Army. Players are like the officers, caddies are like the enlisted men.
For me, yeah. You can see why people like Boo. And he's great with soldiers. He did a clinic for them at the Masters. I was at a bar in Augusta and a couple of them came up to me saying Boo was unbelievable. Good heart.
You know, when Boo wants something like he wanted that, he really plays hard. I didn't know about his Happy Gilmore thing, though, until later that Sunday night. I was walking ahead on the first fairway.
You don't talk much about Iraq.
It's tough. People over here don't understand how tough. Wouldn't wish it on anybody. But people also don't hear about good things we've done over there.
You probably appreciate the golf life more than most.
Absolutely. When people think winning the Ryder Cup was big, that's true. But the proudest thing I've done is enlist in the Army and wear that uniform, serving my country.